Welcome to the 224th Tablescape Thursday!
Three or four weeks ago I posted this tablescape below for a Tablescape Thursday. Sunday I had a little dinner party and at first I set the table with my Lenox, Winter Greetings pattern. At the last minute, I decided the table was feeling a bit more formal than I wanted for this gathering. I wanted our party to feel more cozy and casual. So I decided to recreate the table below for the party.
Here's a view of the previous "woodland" tablescape from a few weeks ago. For our dinner party, I made a few small changes.
Since we weren't having soup I didn't use the acorn soup tureens this time.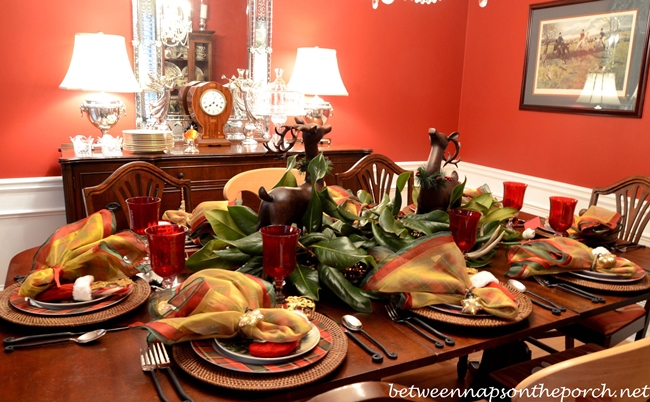 The only change I made with the centerpiece, besides gathering fresh magnolia, was adding glittery pine cones here and there throughout. Do you see them?
Here's a little close-up showing one.
The other changes were:
1. Shimmering napkin sheaths: Previously, I used the plaid napkins alone
2. Mercury-glass napkin rings: Previously I used a rustic acorn tied with red ribbon
3. Little fur-topped stocking ornaments for my guests filled with goodies
4. Flatware: I only have 6 sets of the antler flatware (which was what I used previously) but had 8 guests coming for dinner. I decided to go with my Gourmet Settings Treble Clef flatware available HERE. I love its casual look and love the dark color with the plaid dinner plates. Also, the curled handle on the tip of the flatware mimics the curled antlers on the glittery deer ornament down inside the little red stockings. The red stocking also held an old fashioned candy cane.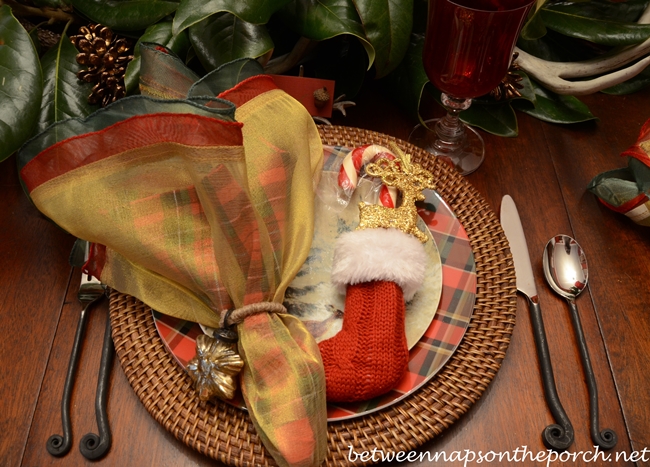 A little napkin ring story: I saw these napkin rings on the Pottery Barn site last year and also in their stores. They were reasonably priced and I almost bought them. Not sure why but I never did. Last year after Christmas, I was looking for mercury-glass napkin rings on eBay and came across them again. They were a little bit higher than they had been in the stores, but not much. I remembered PB sold them with both a silver and a gold-ish finish. I didn't want the gold looking finish…really wanted the silver looking finish.
It was hard to tell which finish they were in the seller's picture on eBay, so I e-mailed the seller (before buying) to verify the finish since her ad implied the standard silver finish. She e-mailed back saying they were the silver finish, not the gold. They arrived and surprise, they were the gold finish. Even said so on the box.
I would normally send something back when it's not as advertised but I decided to just keep them. I'm glad I did now because silver would not have worked in this setting near as well as the gold mercury-glass finish. They were perfect with the shimmery gold look of the napkin sheaths and the gold, glittered finish of the ornament. Funny how things sometimes work out, huh?
I made two more of my DIY placecards and using a gold sharpie, I filled in the names for each of my dinner guests. (Tutorial for place cards can be found under the category heading, Tablescapes/Tabletop Idea and Tips/Creative Napkin Rings and Place Cards at the top of the blog or click here: Never Buy Place Cards for Your Tablescape Again
Here's how they looked in place on the table, resting on antler ornaments (from Walmart last year) turned into place card holders.
Several folks brought yummy desserts. Wish I had thought to take a picture of the desserts during the party. Here's a "before" the party picture showing the Cranberry trifle I made. I made more of the "candied orange zest" for the top than the recipe calls for because it's really yummy. You'll find a printable copy of the Cranberry Trifle recipe under the category heading Good Eats/Recipes at the top of BNOTP or at this link: Cranberry Trifle, Great for a Holiday Gathering
For the party I placed a candlelit centerpiece on the porch table, in case someone ventured on to the porch. The kitchen got pretty warm with both ovens going so we had the door to the porch open a fair amount during the party, especially since it wasn't that cold out.
A wooly throw and a furry friend waited on the swing in case someone wanted to curl up on the porch for a bit.
I have to share this miracle candle. After the party I went around and blew out all the candles I had burning in various rooms and on the porch. I double-checked one last time before going to bed. I totally forgot the candle in the lantern on the front porch.
So the candle inside this lantern burned from around 5:30 in the evening on Sunday until around 12 noon the following day when I happened to look out the sidelight window and noticed a "glow."
After burning for over 18 hours, this is as far as the candle had gotten! Can you believe that? Talk about a long lasting candle! It wouldn't have hurt anything if it had burned down since it was inside a metal and glass lantern atop a brick porch, but WOW, had no idea any candle would last so long! I just checked on the bottom and it's a Colonial Candle candle. Figures, they make awesome candles.
One more funny story from the party. When I was getting ready for the party, I came across these he/she deer antlers in Dollar Tree. They were only $1 for a pack of two. The "girl" deer antlers are the cream-colored ones with the touch of fur around the headband. I placed one on the chair at each place setting, depending on who would be sitting there. I had 5 women and 3 men attending this party so I bought 5 sets to get the colors I needed.
I forgot about the antlers and as everyone went into the dining room, I dashed into the kitchen to get something. When I came into the dining room, all my crazy friends dinner guests were wearing their antlers. I totally cracked up. I took this picture later in the evening when I realized not a single person had ever removed them. I figured they would be good sports and try them on…never guessed they would keep them on. We laughed all night about these antlers and no one ever took them off. I wonder if any neighbors drove or walked by and looked in through the windows. lol
My friend, Ann loved the muff/hat I had displayed on the sled out front and asked to see it. She remembered having one as a little girl.
I brought it in and she had great fun pretending to be a kid again in her hat and muff, striking some fun poses for the camera. We were laughing and having the best time.
Of course, the guys had to try it on, too. Someone pointed out that Dave's shirt coordinated with my checked draperies. We were in rare form that night. 🙂
Great party with fun friends! Why don't we do this more often? Do you ask yourself that after every gathering of friends? 🙂
Looking forward to all the tablescapes for this TT!
Please Read:
If you are participating in Tablescape Thursday, please be sure to add your permalink below, and not your general blog address. To get your permalink, click on your post name, then copy and paste the address that shows in the address bar, into the "url" box when you link up.
You'll need to include a link in your post back to the party in order to link up and participate. That's so visitors to your blog will be able to find the party and the other Tablescape Thursday participants.
If you would like to use the Tablescape Thursday logo button in your post, just copy and paste it to your computer and upload it to your post as you would any photo.
Please, don't add your post name/blog name ALL IN CAPS…it tends to create big spaces between the rows of links. Thanks!


*If a post is sponsored or a product was provided at no charge, it will be stated in post. Some links may be affiliate links and as an Amazon Associate, I may earn from qualifying purchases. *