Welcome to the 475th Tablescape Thursday!
Over the last few days I've received some wonderful photos from BNOTP readers, sharing the amazing tables they put together for Halloween this year.
Norma's Spooky but Elegant Halloween Table
Norma created an elegant black and white table with beautiful silver accents.
Notice how she used simple, white dinnerware. If you've got a basic set of white dinnerware, you can create a table for any occasion or holiday. White china is such an excellent backdrop on which to let your imagination run! Love the mix of spooky and elegant touches with lace edged napkins and a big spider crawling across each plate. 🙂
Such a fun way to display cheese and crackers for a gathering! Thanks, Norma for sharing this elegant, spooky Halloween setting!
Sandra's Halloween Table for Two
Sandra had some fun with her Halloween decor this year. If you would like coffee, you'll have to get past the crow who's guarding it first! 🙂
Sandra had a friend over for lunch and I love the table she created for the two of them! The dinner plates are by Laurie Gates.
Sandra used a mix of salad plates. Sandra said, "I used different salad plates because I'm more of a mix and match, than all matching. Found my salad plates at a variety of stores and antique shops over the years."
Love the black cat rimmed plates! Ummm, wonder what's inside the coffins marked, "Do Not Disturb!" Maybe it's the appetizer. Hee, hee. 🙂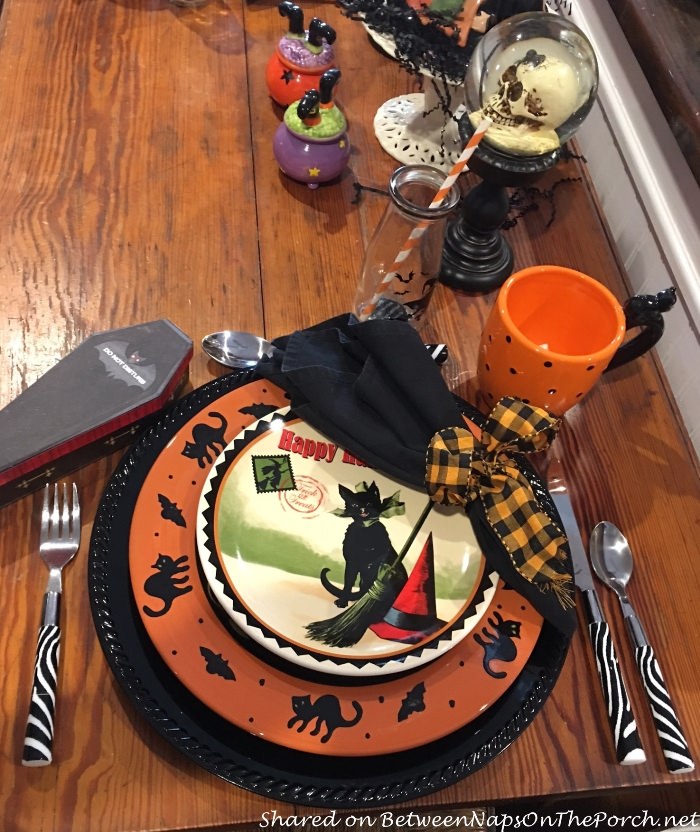 Sue's Halloween Birthday Table
Sue created a fabulous Halloween table for her son's birthday. She did something I've always wanted to do, and that's incorporate dry ice into the setting. Do you see the spooky mist rolling out of the purple urns and down onto the surface of the table? Soooo perfect for a Halloween setting!
Sue found the awesome mummy stemware in the store, And That.
Oh my gosh, I love this effect! I would love to dine at a table with this spooky mist rolling across the table! lol
I've always heard that dry ice has to be handled carefully, you can't touch it. I asked Sue for a bit more information on how she worked with it for this setting. Sue said, "We put it in an ice chest and put a towel over the ice. We put warm water in a vase and added several pieces of dry ice. The white vapor rolls out of the vase and onto the table. It lasts between 5 to 10 minutes. It is a dramatic effect. Be sure and pick the dry ice up with tongs. Do not touch the dry ice."
I have got to do this sometime for a Halloween party…just love it!
Thanks so much to Norma, Sandra and Sue for sharing their fabulous Halloween tables for this week's Tablescape Thursday! If you have any questions about the settings, ask away in the comments and I'm sure these three talented ladies will be happy to answer.
Looking forward to all the beautiful tables posted for this week's Tablescape Thursday!
Pssst: I post almost daily to Instagram. Follow Between Naps on the Porch on Instagram here: Between Naps On The Porch.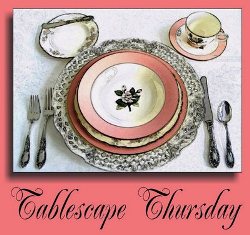 If you are participating in Tablescape Thursday, please be sure to add your permalink below, and not your general blog address.To get your permalink, click on your post name, then copy and paste the address showing in the address bar, into the "url" box when you link up.
You'll need to include a link in your post back to the party to link up and participate. That's so visitors to your blog will be able to find the party and the other Tablescape Thursday participants. Requiring a link back also prevents businesses and scammers from linking up to sell their products. (Yup, that really happens, unfortunately.)
*If a post is sponsored or a product was provided at no charge, it will be stated in post. Some links may be affiliate links and as an Amazon Associate, I may earn from qualifying purchases. *