Happy Weekend!
Well, I finally did it! I finally pulled the trigger and ordered my very first Balsam Hill Christmas tree. It arrived yesterday and is currently setting on the floor of my entry, awaiting its unboxing. I'll do that today to make sure everything works. Not sure when I'll decorate it, there's plenty of time for that still.
After much angst, this was the one I chose, the Balsam Hill BH Fraser Fir. Balsam Hill's most popular and highly rated trees appear to be the BH Fraser Fir and the BH Balsam Fir. The BH Balsam Fir is super dense with more branches. I like to have a little hanging space and the Fraser Fir (when I used to buy a real tree) was the type I always liked. They are grown nearby in the southern Appalachian mountains, so they've always been easy to find here at Christmastime.
Update: I'm returning this tree, it's nothing like it's depicted at the Balsam Hill website. Read more about why I'm returning it in this post: This Balsam Hill Fraser Fir Tree is Going Back.
Two Perfumes I'm Adding or Have Added to My Collection
I'm a big fan of Tiffany & Co. jewelry. When I heard they had a fragrance coming out, I couldn't wait to try it. Recently Marie and I attended a Breakfast at Tiffany event in Atlanta. Instead of being an outdoor affair in a pretty garden like it was last time, this time it was held in the Atlanta store, so I had an opportunity to test this new fragrance.
I love it and had to have a bottle. The bottle is gorgeous, like a little jewel sitting on the dresser. I guess it's designed to look a bit like a beautiful, cut diamond, very appropriate for Tiffany.
I usually go for the biggest size when I love a fragrance since it's normally the better buy, but this time I went for the medium size because the bottle was just so cute in that size. Tiffany & Co. Eau de Parfum is available here: Tiffany & Co. Perfume.
Hermes has come out with a new fragrance and it's been getting rave reviews. I'm driving down to the Atlanta Hermes next week to purchase a bottle. If you don't have a Hermes Boutique near you and would like their latest perfume, it's available here: Hermes Twilly Perfume.
I love the little mini twilly around the neck of the bottle. It can be taken off and worn on the wrist or tied onto a handbag or pretty much anything. I like the adorable Bowler hat on top, too. Bowler hats always make me think of one of my favorite movies, The Thomas Crown Affair. If you haven't seen that movie, it's a good one! Google for the trailer to check it out.
About Those Boots I Ordered
So remember the pretty Old Gringo boots I ordered recently? Well, they came and I love them, but they had a defect which is highly unusual for Old Gringo boots since they are all hand-made. See where the arrow is pointing, there's a round ball, I think a stud, stuck under there.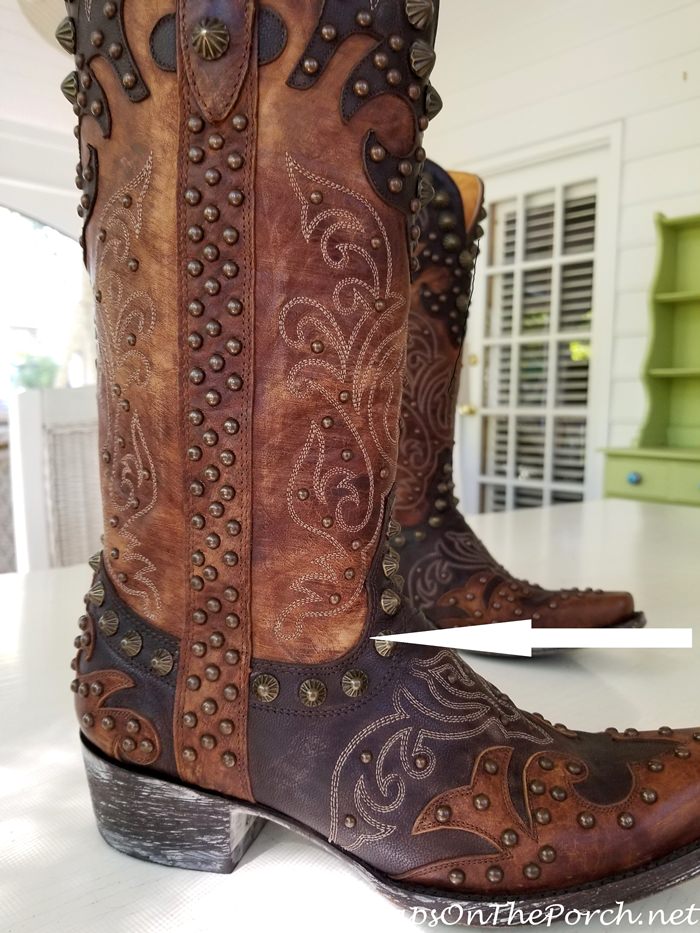 I contacted Old Gringo via phone to see if they could get it out and re-stitch that area and they said, no. So, sadly I returned them. I was worried that one day the stud (or whatever is under there) would wear through the leather.
Dancing in the Sun!
But I wasn't sad for long because I found these babies. Oh.My.Gosh, do I love these adorable boots! When I first discovered them at Robert Redford's online shop, Sundance, they had them in my size, size 7. I waited a minute before ordering, and when I checked back, my size was gone. 🙁
I Googled and couldn't find them anywhere. I called Old Gringo again (they're going to know me well if I keep this up-Ha!) to ask if they knew where I could find them. They said that Sundance had recently ordered some. I figured they meant the ones that I had already found, but were sold out. I decided to check one more time, just in case. So glad I did–surprisingly, my size was back in stock!
They are supposed to come today, so I'm eagerly awaiting their arrival. I just checked now and they only have a size 9 left. They had all the sizes just the other day. Apparently, this style is flying off the shelf! Hopefully they will get more in.
If you wear a size 9 and love these cute boots, you'll find them here: Boots.
I got 15% off when I purchased my boots using the code, EMAF10. I think it works for anything at the site if you spend $100 or more. It also gave me free shipping, automatically.
Update: While I was creating this post my boots arrived, and I'm obsessed! Oh my gosh, I LOVE them!
One thing I love about Old Gringo boots is there's no "breaking-in" period. They fit great right from the start. They also run true to size with space for a heavy/thick sock. If you don't wear socks with your boots, or wear very thin socks, you may need to size down 1/2 size.
It's official! I'm never taking them off! Ever! They're going to have to bury me with my boots on! 😉
I'm pretty obsessed with Sundance in general. It was started by Robert Redford back in 1969 at the base of Mount Timpanogo in Utah. Visitors would stop there to shop, then would call back later wanting to buy more things. Eventually, they began offering items via their catalog in 1989.
There are so many beautiful clothes and shoes at their website, I can see why people were calling and writing back for more. Read more about how Sundance got started here: About Sundance.
Note: When using the code, EMAF10 , to get 15% off at checkout, the discount is reflected on the "order review page." I'm using it right now to buy a couple of their turtlenecks and it's showing a message saying the discount shows up on the review page.
Below, I've gathered together just some of the items I fell in love with at Sundance. I love almost everything on their website! You'll find their website here: Sundance.
Click on any picture below to access that item.
Pssst: I post almost daily to Instagram. Follow Between Naps on the Porch on Instagram here: Between Naps On The Porch. If you enjoyed this post, subscribe for free email updates when a new post is up here: Subscribe for post updates.

*If a post is sponsored or a product was provided at no charge, it will be stated in post. Some links may be affiliate links and as an Amazon Associate, I may earn from qualifying purchases. *