Welcome to the 186th Tablescape Thursday!
Greetings! Hope your week is going great. Spring is in full swing here; everything is blooming up a storm! For this week's Tablescape Thursday, I did something I've always wanted to do in a table setting.
I've always wanted to use Wisteria in a centerpiece. It's just so beautiful and fragrant and it grows wild here in the south. Each spring you'll see it growing all along the side of the roads. So today when I spotted some not far from my home, I hurried home, tossed a bag and some hand clippers into the car and headed back. Before I left home, I sprayed my arms and legs with insect repellent. I have no idea if chiggers hang out where Wisteria grows, but having gotten those evil things twice, I wasn't taking any chances.
This is the area where I cut the Wisteria. I took this photo just before I got started. I knew wisteria had a nice scent but I didn't realize just how wonderful it is. Truly intoxicating!
Have you ever gotten chigger bites? They are positively awful and they make you miserable for several days. You know that chigger rid stuff they sell in the stores? Forgetaboutit. It doesn't work one bit. You just have to suffer them out, or at least that's been my experience.
The first time I got chiggers was while picking blueberries. The second time was when a friend and I stopped to enjoy a picnic lunch along side the path on which we had been biking. If you ever get them, you will never forget it. They don't usually start itching until a day or so after you actually encounter them, so say a little prayer I didn't bring any home with me yesterday. I'll be on chigger watch today! 😉
I think I know why you don't see Wisteria in a lot of floral arrangements. I found it tends to wilt pretty quickly, despite being in water. I managed to snag a few pics before it started drooping too badly.
I love the wild, free-form look of the wisteria and that gorgeous purple color is so beautiful!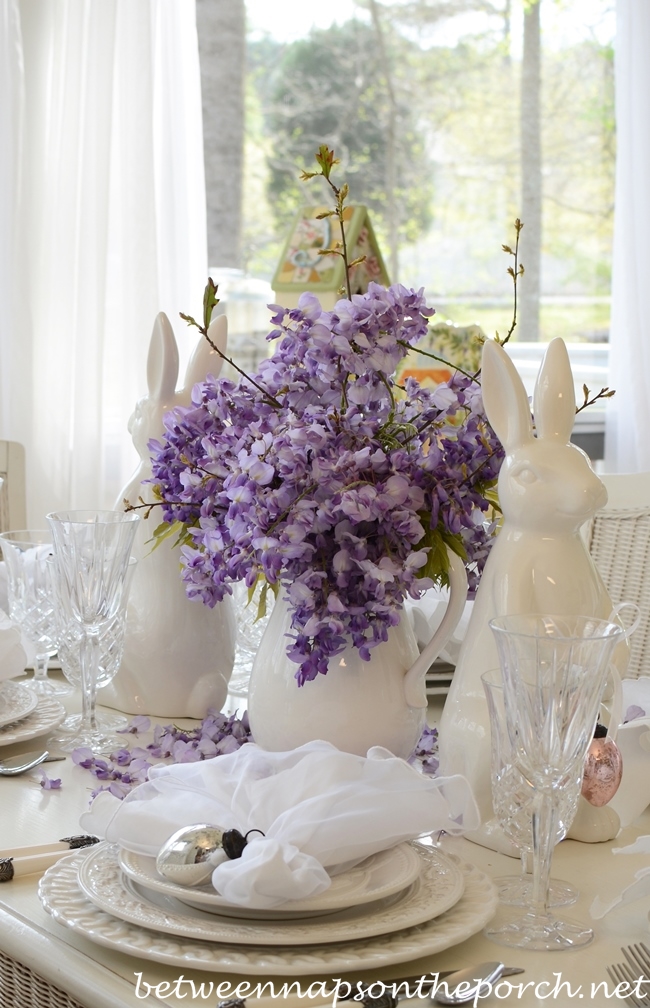 A view looking down the length of the table…
The mercury glass eggs tied with ribbon create a sweet napkin ring in this setting.
Napkin sheaths add to the airiness of the setting. Flatware is by Hampton Forge and available here: Hampton Forge San Remo.
Bunny salad/dessert plates are from Pottery Barn. I really love the simplicity of the all-white pattern.
Stemware is by Noritake. The pattern is Vendome Clear. You may remember seeing them in this Valentine's Day table setting and this Halloween table setting. I find myself using them often. They are so elegant and work in so many different types of table settings.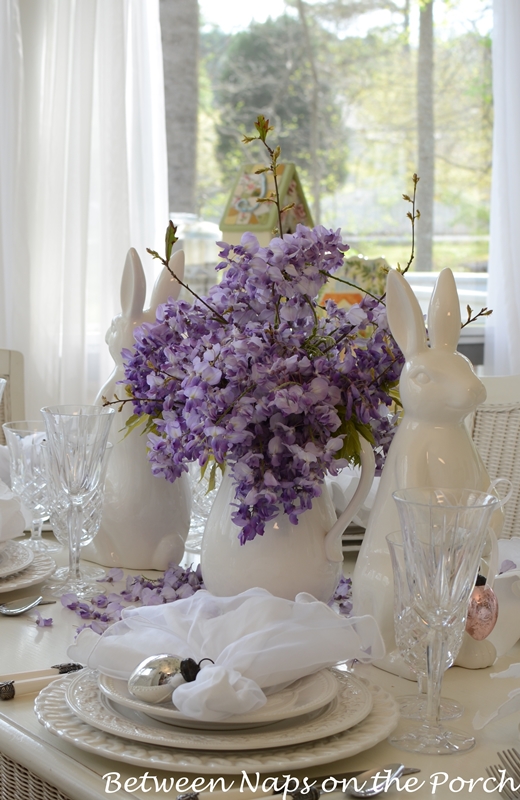 Each napkin was decorated with a silver, mercury-glass egg.
I'm hooked on mercury glass these days…love using it in table settings. I gave each bunny a pink mercury-glass egg. Fortunately, the bunnies were designed with just enough space to slip a ribbon behind their folded arms. Wouldn't they be adorable with a little basket hanging in front? I could see a little floral necklace around the neck, too. Today I went for simplicity.
You'll find additional Easter tablescapes under the category header, Tablescapes/Holiday/Easter at the top of the blog.
Looking forward to all the beautiful table settings linked below for this Tablescape Thursday!
Resources:
Chargers: Horchow, 4+ years ago
Dinner Plate: Pfaltzgraff, Pattern is Country Cupboard, provided by Mikasa
Bunny Salad Plate: Pottery Barn, this season
Flatware: Available here: Hampton Forge San Remo
Crystal Stemware: Iced Beverage, Waterford, Araglin; Goblet: Vendome Clear, provided by Noritake
Bunnies: Marshall's, this season
Mercury Glass Eggs: Pottery Barn, this season
Napkins: Found antiquing
Organza Napkin Sheaths: The Magnolia Room, 2 years ago
Receive BNOTP updates right in your Inbox:
To receive the latest posts, as well as updates about blog parties, subscribe To BNOTP posts via an RSS Reader. Or, have BNOTP delivered right to your Inbox. You'll find links to subscribe via RSS and/or e-mail at the top of this page on the right side. Thanks for reading; so glad you are here!
Reading this post via e-mail or RSS feed?
*If you are reading this via email or RSS feed, to view all the tablescapes linked for Tablescape Thursday, click HERE.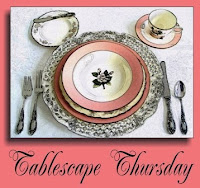 Please Read:
If you are participating in Tablescape Thursday, please be sure to add your permalink below, and not your general blog address. To get your permalink, click on your post name, then just copy and paste the address that shows up in the address bar, into the "url" box when you link up.
You'll need to include a link in your post back to the party in order to link up and participate. That's so visitors to your blog will be able to find the party and the other Tablescape Thursday participants.
If you would like to use the Tablescape Thursday logo button in your post, just copy and paste it to your computer and upload it to your post as you would any photo. Or, grab the html code you'll find under the "Parties" heading at the top of this blog.
Please, don't add your post name/blog name ALL IN CAPS…it tends to create big spaces between the rows of links. Thanks!
Let's try something fun today! Please visit the person who linked before you and after you…that way everyone will get some visits. Hope you'll visit more, of course.


*If a post is sponsored or a product was provided at no charge, it will be stated in post. Some links may be affiliate links and as an Amazon Associate, I may earn from qualifying purchases. *