Hope you had a fun Halloween evening! I had a lot of Trick or Treaters, as usual. I think it grows every year. I had over 75 last year so I purchased even more candy this year. I lost count, but I think I exceeded last year's numbers. The ones who are trick or treating for the first time are so adorable!
Halloween has always been one of my most favorite holidays because I have such good memories of Trick or Treating from my own childhood. One of my favorite moments last night was when I dropped several pieces of candy into one little girl's bag, she looked into the bag and then looked back up with the biggest smile and exclaimed, "I got something I liked!" 🙂 It was the cutest thing ever!
Here's how the porch looked last night. If you follow Between Naps On The Porch on Instagram HERE, you saw this when I posted it last night. I found the Black Cat needlepoint pillow for 60% off in the Atlanta location of Ballard Designs a couple of days ago. I think they may still have them online, but not sure.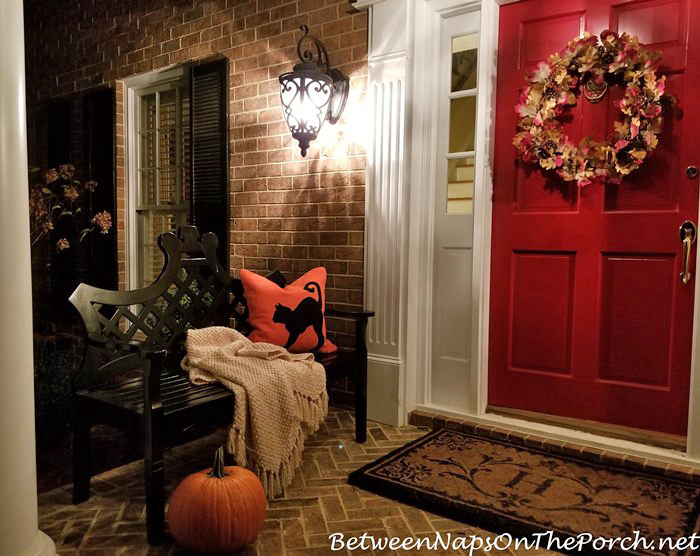 A Life Changer!
Changing gears, I love using Google's Message App on my phone because I can easily speak a message to family or friends so much faster than I can type it. For some time I've been thinking that there must be a way to do this for email on my home computer. Well, there is! If you use Chrome as your browser, you can add the extension called "Email Dictation" to the browser and dictate away!
I think my laptop has a microphone built into it, but when I'm using the computer during the day, it's always my desktop. I mainly use my laptop when traveling. Unfortunately, my desktop computer doesn't have a microphone built in/attached.
After doing a bit of research, I purchased this microphone below, and it's excellent! Plus, it was only $22! All I had to do was plug it in to a USB port on the back of my computer and my computer instantly recognized it and loaded the drivers. I didn't have to do anything! Love that! Then I added the Email Dictation extension to my Chrome browser in just 2-3 clicks of the mouse, and I was off and running.
You'll find the microphone I'm using here: Microphone. Check out the reviews, it's really good!
You'll find a tutorial explaining how to add the Email Dictation extension to your Chrome browser on your desktop or laptop here: Email Dictation Extension Tutorial . It's super easy, but I love that tutorial since it shows exactly how to dictate an email once you've added the extension. I love using it for Google Searches, too. You can also use it for Google Docs which I've just started trying out.
Definitely a life changer and a big improvement over how I was emailing before!
It's Back!
I have the unique ability to discover something I MUST HAVE about 5 minutes after it's been discontinued or is out of stock. Truly, I'm the master at this…it's a cultivated talent!
Last year when I was stalking boot trays, looking for one to put by my front door to hold gardening shoes and rain boots, I found this adorable Moose boot tray. Of course, it was a previous year's model and no longer in stock. There were plenty of other cute boots trays available online as seen in THIS post, but no Moose boot trays to be found. Stubborn that I am, I decided to just wait.
I just started looking again this year and I found several cute ones, but I was super excited to see the one I most liked is actually back in stock! I'm not sure how long it will be available since I think it's an older style. Maybe they just came across a few extras somewhere…not sure. Anyway, if you have a hankering for a Moose boot tray, you'll find this one here: Moose Boot Tray.
They have tons of other designs, too! Mine is scheduled to arrive today and I can't wait to use it for my garden Sloggers that I keep near the door. It will also come in handy for the rainboots and duckboots I wear occasionally.
A Comfy Place to Put on Boots
Recently I gave my closet a mini makeover. If you missed that post, you'll find it here: Closet Update. Usually when putting on tall boots, I plop down in the middle of the small rug I have in this closet, stick my foot/leg part way in, then stand up and while balancing, pull them the rest of the way on. I've been thinking how much easier it would be if I had a little chair or something to sit on here in the closet. You can't see it in this photo, but off to the right side inside this closet is a space that's perfect for a chair or small bench.
At first I searched for small ottomans or poofs, but ultimately decided I needed something firmer and more stable for wrangling on boots, especially my Frye boots that don't have a zipper. In my search, I came across this bench. It had pretty good reviews and was the right size to fit in the space I have available in my closet.
I also liked that it didn't cost a lot, only $64. I didn't want to spend very much because once I renovate the bathroom that's just outside this closet, there's a good chance this closet will no longer exist.
If you need a small bench for a little mudroom or closet area, you'll find this one in several finishes here: Small Bench. I have plans for the storage area underneath and purchased THESE canvas storage bins. I'll share how this looks/works once it arrives and I put it together. It's nothing overly fancy, but it should meet the need for a place to sit while pulling on boots.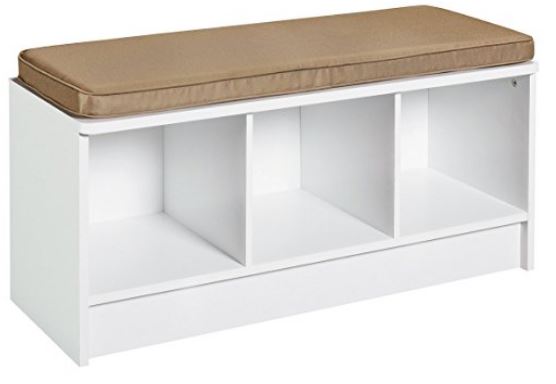 I loved the look of this cute bench below, but it's about a foot too long to fit in the space I have in mind in my closet. It's also $40 more and doesn't come with a cushion, although I could have lived without a cushion since I'll only be sitting long enough to put on my boots/shoes. If you have more space and won't miss the cushion, it's available here: Bench.
Christmas Lit Houses
I'm starting to think buying Department 56 houses is a better investment than the stock market! lol Recently someone messaged me, I think on Facebook, asking if I would sell my Christmas Vacation, Department 56, "Margo and Todd" house because they couldn't find one anywhere. That seemed so strange since I wouldn't have thought Margo and Todd's house would be that popular.
Do you remember this little house when I shared it last year in an antiquing post to A Classy Flea? Normally Department 56 lit house go for around $80-125, or something like that. It depends on if the house has been retired and how popular it is, etc…
I was surprised to see this house was only $10 in A Classy Flea! It was missing its little light, but I have plenty of those and they are easily ordered online. It also had a small chip in the snow down on the left front corner, but I knew that could be easily covered by "snow" when it's on display. For $10, there was no way I could pass it up.
This is what the house normally goes for, or at least it did when it was available: $110.
I was wondering why the person who messaged me was having so much trouble finding it. Out of curiosity, I googled for the house and my eyeballs about fell out of my head. This is what it's selling for on Amazon right now!
This year I went ahead and ordered Clark's home for fear it would shoot up in price one day. If you're a big Christmas Vacation fan and love Department 56 lit houses, I wouldn't wait too long to buy them. The season is upon us, so I'm not sure if they will become scarce like Todd and Margo's house has, or not.
I may just be planning a little Christmas Vacation table setting, so look for that soon. 😉 You'll find The Griswold's home available here: Griswold Home in Christmas Vacation. It has several light settings, including a flashing setting. It's a riot! I made a video of it the other day and emailed it to my son. I love these little lit houses!
In the meantime, here are two Christmas table settings where I've use some of my Department 56 lit houses in the centerpiece. View this table here: Department 56 Christmas Table Setting.
View this table here: Department 56 Christmas Churches Table Setting.
See you tomorrow for Tablescape Thursday!
*If a post is sponsored or a product was provided at no charge, it will be stated in post. Some links may be affiliate links and as an Amazon Associate, I may earn from qualifying purchases. *