Note: If you're still having problems seeing the most current posts here at Between Naps On The Porch, clear your browser cache and that should fix it. If you're not sure how to clear your cache, Google the phrase, "How to clear cache in XXX browser" filling in the XXXs with the browser you use, and directions should pop right up.
Happy Weekend to you! The sun is shining and it's so beautiful outside, but the cold is keeping me inside where I'm STILL putting up Christmas decorations. Getting sick after Christmas really put me way behind, but I should finally be done today.
Today I'm sharing a few updates that I think you'll enjoy, along with a few new things that are making life a lot easier. Recently I purchased my first ever agenda and I am loving using it here on my desk.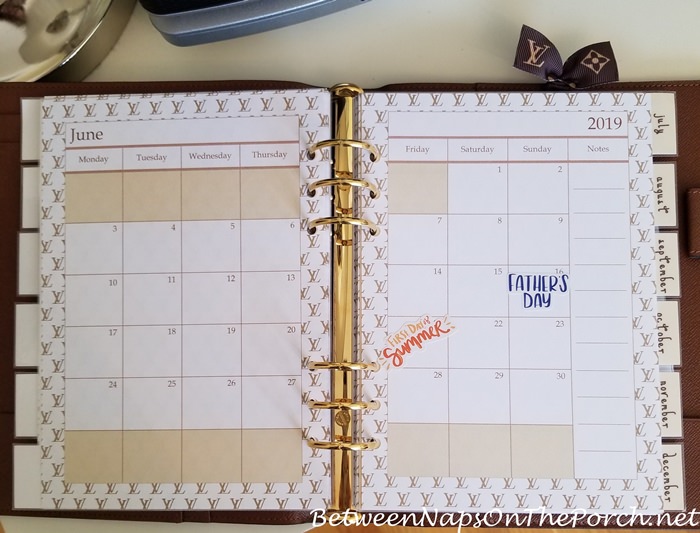 Just for fun, I searched to see if I could find some cute stickers to decorate a few of the pages and highlight some of the important holidays and dates.
I fell in love with these, they are perfect for my needs and added just the right amount of fun to my agenda. This set mainly focuses on holidays and important dates throughout the year, but there are plenty of more generic stickers mixed throughout, like balloons and flowers. I was thinking those would be great for keeping up with birthdates. I can just write the name of the person beside the sticker. You'll find these available here if you would like to dress up your agenda or calendar: Holiday/Event Stickers.
It's funny how the little things can brighten up your day!
I'm still completely obsessed with these adorable dividers/dashboards! I've purchased quite a few and plan to swap them out during the year for the various seasons. I just love them! I purchased mine here: Dashboards/Dividers. She also has other goodies, including cute "Note" pages.
Obsessed with this Perfume!
Recently, I came across a review of this perfume on YouTube and the person reviewing it was absolutely in love with it! Up until now, she would only wear her signature scent which was Coco Mademoiselle, but this perfume completely changed that. With such a strong testimonial, I had to check it out.
Yesterday I stopped by a store that carries all the Jo Malone fragrances and gave it a sniff. Oh my gosh, she was right, it is wonderful! I smelled a lot of the other Jo Malone scents but this was the one that captured my heart.
It's a floral and oh, so pretty! It's light and refreshing, yet lasts all day long on me. The scent is truly beautiful! It's funny because I used to always try some of the edgier scents, but whenever I tried them, I found I quickly tired of them. The ones I truly love and seem to always garner the most compliments are the soft, feminine fragrances.
Here's how this perfume is described:
The wildness of honeysuckle, winding through the English countryside. Climbing. Twisting. Ever more alluring after dark. Fresh with rose and the aromatic, fruity twist of davana. Woody with moss. Warmed by sunshine.

Fragrance Notes:
Top Note: Davana, a green plant with hints of liquorice, brings vibrancy to the fragrance and a touch of a fruity note.
Heart Note: Honeysuckle, with a radiant floralcy and imbued with accents of honey, brings a rich character to the heart of the fragrance.
Base Note: Moss
Chanel Chance Eau Tendre is another perfume that always gets tons of compliments. This one is beautiful in a similar way, yet very different. I can't recommend this lovely scent highly enough! You'll find it here: Honeysuckle and Davana.
I purchased it in the smaller size which is not like me. I usually go for a larger size when buying any perfume. But this size is so perfect for slipping into my handbag or carrying with me when I travel, I decided to go with it. I doubt it's going to last very long, though, as much as I love it, so I may go ahead and invest in a large bottle and save this one for when I travel.
One More Beautiful Easter/Spring Pattern to Consider for Your Spring Tables
Thanks to Elena for alerting me about this beautiful dinnerware that's perfect for spring and Easter. It's all on sale right now 20% off, so a great time to purchase if it steals your heart! You'll find it here: Spring Dinnerware/Salad Plates.
While I was checking out the sale, I came across this wonderful pattern.
I love the salad plates. If you're like me and don't necessarily want to buy a whole new set of dinnerware for spring or Easter, consider purchasing just the salad plates and using those with your existing dinnerware. They are currently on sale here: Bunny Floral Plates for Spring.
Gentle Way to Remove Spiders, Ladybugs and other Inserts from Your Home
I had to share this, although it's not as pretty as everything else I've shared in this post. LOL This is another tip I saw on YouTube for dealing with little bugs that find their way into your house like spiders. I always feel so guilty when I accidentally vacuum up a spider when I'm vacuuming the house. I try to notice them and scoop them up into a Tupperware container and put them outside, but sometimes I don't see them when I'm vacuuming until it's too late and I've sucked them up.
This little device lets you suck them up gently so it doesn't injure them and you can put them outside. It will work for any kind of bug, but it's mainly spiders that I will need to use it on since those and the occasional wayward stink bug are mainly the ones I find inside.
After it arrived, I decided to give it a try and went looking for any spiders I could find in corners around the house. It took a while, this being the dead of winter, but I finally found this guy hanging out under the sideboard in the dining room. It worked great and sucked him up very gently into the tube, then I put the cap on and took him outside where I let him go free.
I think I will go around the house and do this before I vacuum each time, then I won't have any issues with accidentally sucking them up into the vacuum. This sure beats my previous method of trying to catch them in a Tupperware container to take outside. You'll find this nifty gadget here: No-Kill Bug Vacuum.
Have an awesome weekend! See you Monday for Metamorphosis Monday!
*If a post is sponsored or a product was provided at no charge, it will be stated in post. Some links may be affiliate links and as an Amazon Associate, I may earn from qualifying purchases. *