If you're feeling behind right now, know that you're not alone. I feel a little like that guy on the old Ed Sullivan show (dating myself here) who is up on stage spinning 20 dinner plates at one time. I think that's the way my brain works best, though. I'll start a Christmas decorating project, get 2/3rds of the way in, starting feeling a bit bored and start another one.
Last night, determined to get the garland project completed, I got a book going on Audible and dived in, adding ornaments to the second 12-ft garland. Fifteen minutes in, the lights went out. Arggg. That's the second time that's happened in the last couple of weeks, you may remember me mentioning it a few weeks ago.
The weather was completely calm out, so have no idea what caused it, but when I looked out the window I noticed all the houses around me were in darkness, too. I logged on via my phone, reported the outage and got back to work on the garland via candlelight.
The little glow over on the wall is one of the little emergency lights I have plugged in all over the house that light up when the power goes out. I love those things! They are so reassuring I don't ever worry about being left in the dark during a power outage, now. (You can read more about them here: Blackout Buddy.)
At the other end of the counter, I had one of the little lanterns going that I've shared here before on the blog. The power was out about an hour this time. I would really love to know what caused it. Probably wouldn't understand it if someone explained it, but I'd still like to know.
At one time I looked out and a HUGE power truck was out in front of my home, with men working inside the big green box in the corner of my front yard. Have no idea what's under there, but they were using a very, very, very long pole/tool to do something inside the box.
You know that expression, "I wouldn't touch that with a 10-foot pole." Well, the pole he was using was about that long. lol Wonder if that's where the expression comes from. I figured they were dealing with something very dangerous (high voltage) and maybe the long pole was a device that would keep them from getting electrocuted.
I'm happy to say the garland is done and is officially up! I may add a few more ornaments to it here and there. I need to work on fluffing it a bit better, it looks kinda wonky in the photo. It was too cold outside to fluff a lot last night.
I'm not thrilled with the wreath I currently have up. I normally hang a live wreath, much prefer those. I thought I'd try this wreath sent to me by Martha Stewart many years ago, but I'm not loving it with my ornament-covered garland. It's just too much having them together. I'll purchase a pretty live wreath in the next few days and will share a photo of the porch with the garland lit up real soon.
Where Did You Get That Lamp?
A few days ago when I posted this photo, several folks asked about the lamp in my kitchen and where I purchased it. I love, love, love having a lamp in the kitchen. I have it on a timer so it automatically comes on every evening around the time it begins getting dark outside. It's so nice to come downstairs at night and walk into a glowing kitchen. If you've been reading BNOTP for very long, you know I'm a lamp fiend! If I can squeeze a lamp into a corner somewhere, I will!
To answer the question several folks had about where this lamp is from, I purchased it in HomeGoods a few years back after seeing one in Linda's beautiful 3-season porch. (See that previous post here: Decorate the Porch in Tartan for Christmas.)
I looked online to see if someone has it available this year. I didn't find the exact same lamp but I did find another that would be really cute to have out for the holidays. You'll find this lamp available here: Lamp.
Another project I started mid-garland yesterday was getting the tree up. I found this tree last year when the lights on my old one gave up the ghost and were un-fixable after many futile hours of trying.
I made myself add the "cranberry" bead garland to it last night before going to bed. That's the one part I never look forward to when decorating the tree. I'm so particular about how it looks, I think I put too much pressure on myself!
I stopped hanging garland when I got to the very top and found a stink bug perched on one of the limbs. I tried to knock him into a Tupperware container to take him outside, but I have no idea what happened to him because he wasn't inside the container when I looked. Maybe he was already dead and is now somewhere down inside my tree. That's a lovely thought.
This morning, with daylight to aid me, I finished hanging the last of the cranberry bead garland while keeping a wary eye out for stink bugs along the way. If you're looking for a beautiful tree, this one is available again this year. I just discovered they are still selling it like mine with all white lights HERE, or you can get it with dual white and color lights here: Christmas Tree.
I have one little present under the tree so far…
…a sweet gift from my camel-riding buddy, Teresa. 🙂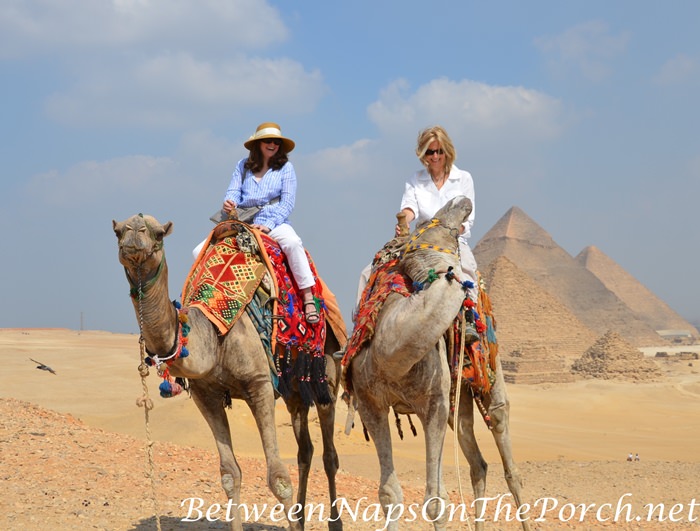 I'll get the ornaments on it today, looking forward to that part! They are all currently on the sofa waiting to be hung. When I share the tree in a day or two, if you see a stink bug on a limb somewhere, just consider him one of the ornaments. Ha!
Carnage in the Upstairs Family Room
This is how my upstairs family room currently looks…packages are everywhere! Usually, you only see the presents once they are lovingly wrapped and under the tree. This is the chaos that goes on ahead of that! lol
There are more boxes on the window seat behind me in this room and the big sledding disks I shared HERE are propped again the armoire, waiting to be wrapped. I'll spare you the full carnage that's taking place in this room, this picture is enough craziness for now! 😉
I'm waiting on some tissue paper I ordered to use inside all the boxes. If you need white tissue paper, I found a good deal here with good reviews: White Tissue Paper for Gift Wrapping. Oh, I just noticed they have it in red and green, too. Wish I had ordered that! I think I'll order it, as well.
Ring Doorbell Update
So, about that Ring doorbell post I promised you: Comcast cable is coming out tomorrow to check my high-speed internet. When they look at my modem/router in their system, the one they've provided me, they are seeing the signal drop in and out. That may explain the issue I'm having with the video sometimes working for the Ring doorbell, and sometimes not.
If whatever they do tomorrow doesn't fix it, I have a WiFi signal extender arriving today that may take care of the issue. Apparently, there can be issues with how the Ring system works if your modem is more than 25 feet away from the doorbell. But since mine works part of the time, that may not be the issue.
I'll share more about that when I share the install process in an upcoming post. So far, I'm glad I purchased the Ring doorbell and I think I'll be able to get it working as it's intended soon. Will let ya know more since I know so many of you have expressed interest in the Ring.
Okay, I'm off to decorate the tree and hunt for wayward stink bugs.
Psst: I'm working on a table for Tablescape Thursday, looking forward to sharing it on Thursday!
*If a post is sponsored or a product was provided at no charge, it will be stated in post. Some links may be affiliate links and as an Amazon Associate, I may earn from qualifying purchases. *