Welcome to the 428th Metamorphosis Monday!
I absolutely love it when you share your "Before and Afters" with me! Recently, I received an email from Eric and Denise who said, "Having followed your site for several years I hesitated to share but thought the time was right to share a small change we made to our second home in NC. When we bought the house as a foreclosure we knew the moss-covered decks on the back would not work for us. They were too narrow, had no shade on a southern exposure and we're not structurally sound."
When I read Eric's description, I could so identify with the issues he was having with the existing deck(s) on his home because similar problems are what prompted me to tear off my old deck and replace it with a screened porch. The back of my home also faced south and the decks were so hot during the day, you couldn't walk on them while barefoot.
Here's how Eric and Denise's home looked prior to the renovation.
Eric sent along some great pictures showing the construction process for his porches. Eric said, "You can see I leveraged some of your ideas. The ideas came from searching many sites. When I saw your porch it had many of the features we wanted."
The only thing better than a porch is two porches! 🙂 I absolutely love a double porch! When building a porch, if you have the space and the design will work for you home, go up with the ceiling! A gable roof makes a porch feel so spacious and open and I really do think it helps with airflow on those hot summer day. Porch breezes are the best!
Eric said, "We used many of the same features you had on your porch. I struggled to find a builder who would build the open gable, so I came up with a design, then had an engineer draw the plans.
I asked Eric for more information about the concern his builder had regarding the open gable. I remember when my porch was being built, my contractor filed a building permit and one of the requirements our county inspector insisted on during one of his visits was something called "hurricane clips." We rarely get hurricanes here in the Atlanta area, but we do get some very strong winds from time to time.
Eric said, "Yes. The ability to withstand coastal winds (hurricanes) was a concern of the builder. However, after working with an engineer, we convinced him it was ok. The house has been through a couple of hurricanes since then but nothing directly over the home. We interviewed several builders before settling on the final candidate, Brad Loy. I would recommend him again to anyone building here."
In the photo below, you can see that the ceiling has been installed. Eric said, "We used several of the features you had on your porch. You probably recognize the fans. We also wanted the ceiling finished, so used solid soffit panels to cover the vaulted ceiling."
Eric said, "The second level is used by the bedrooms on that level and has additional seating. The whole process took about four months and went fairly smooth. One of the challenges was working on details while living remotely. The one feature that did not come out quite the way we hoped are the screens which are not removable. We will change that when it comes time to replace them."
A view of the staircase that leads from the lower porch to the upstairs porch.
Eric said, "Each level has a side deck. That was a requirement my wife had."
Wow! Such a gorgeous view! From the porches, Eric and Denise have a wonderful view of the lake behind their home.
Eric said, "The ground level was originally going to be sand but we elected to have the concrete pad extended and now it's open to the lake side."
Ready to see the finished porch?
Eric said, "All the furnishings were yard sale or second-hand. The dinning table and chairs, and brown chairs were yard sale finds. The couch and padded chairs are sunroom hand-me-downs from a friend."
That's a great shopping tip! When adding on a porch, shop yard sales, estate sales, Craig's list and other second-hand stores. It's amazing the great pieces you can find where folks have moved and may not have a porch or sunroom in their new home. You can really find some pieces that way.
There's that amazing view again! Love!
Eric said, "The house is located in North Carolina on the Outer Banks. We had searched for several years until we found this place with a small lake behind and the sound across the street."
Thanks so much to Eric and Denise for sharing this amazing transformation! Porch season is here and I know those lake breezes are going to feel amazing this summer! Such a wonderful spot for entertaining friends and family or just relaxing on those lazy summer days!
Ever wonder how much it costs to add on a porch? I break down all the details and share the cost of adding on my screened-in porch in this previous post: Screened-in Porches: How Much Do They Cost to Build?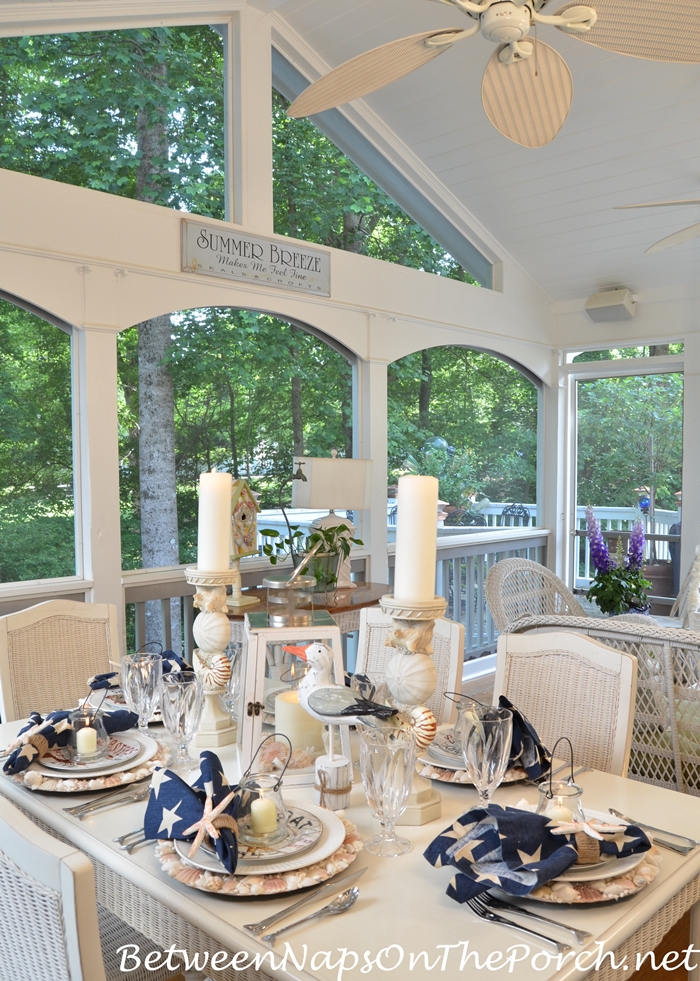 Thinking of adding a porch or double porches to your home? You'll find another fabulous double porch design here: Beautiful Porch and Deck Addition.
Metamorphosis Monday
Metamorphosis Monday is a party that's all about Before and Afters. If you are participating in Met Monday, please link up using the "permalink" to your MM post and not your general blog address.
To get your permalink, click on your post name, then just copy and paste the address that shows up in the address bar at the top of your blog, into the "url" box for InLinkz.
In order to link up, you'll need to include a link in your MM post back to the party so the other participants will have an opportunity to receive visits from your wonderful blog readers.
Please observe these few rules:
Please link up Before and After posts that are home, gardening, decorating, crafting, painting, sewing, cooking, fashion or DIY related.
Be sure to include a link back to the party in your post, so your readers will be able to find and visit the other bloggers who are participating.
Do not link up to the party if you're doing so to promote or sell a product.
To those who are linking up: If you notice a shop or store linking up to sell products (yes, unfortunately that does happen) please let me know so I can remove their link from the party. No one wants to click a link expecting a Before and After, only to find a spam link to an online business/store.
*If a post is sponsored or a product was provided at no charge, it will be stated in post. Some links may be affiliate links and as an Amazon Associate, I may earn from qualifying purchases. *