I discovered something new on this last international trip. I discovered that I much prefer taking the longer 8-9 hour flights during the daytime, instead of at night. This was the first trip I've been on where the longest flight took place during the day time. I always thought I'd be bored to death on a long flight, but I purchased the in-flight WiFi and that, along with some interesting reading, made the time pass amazingly fast.
1. Travel Pillow
During the last few hours of the flight since my body was still on Morocco time, I became really sleepy. The two glasses of wine I had on that flight may have contributed to that a bit. 😉 I pulled out this pillow that I had just recently purchased, blew it up with 4-5 puffs and put it to the test.
It worked perfectly and has definitely become my new favorite travel pillow for sleeping on flights. When I awoke, the guy who was sitting beside me wanted to know where I had purchased it. I guess he noticed how well I had slept.
There are several ways you can use it. I decided to try what the makers of the pillow call the Freestyle Method, and it worked great. You can see that method at the end of THIS short video. I did loop my hands through the bottom as they mention in the video. I was out like a light and slept soundly for a couple of hours, never having to readjust the pillow at all. It didn't budge. If it had been a night flight, I have no doubt I would slept for many more hours. It was that comfortable!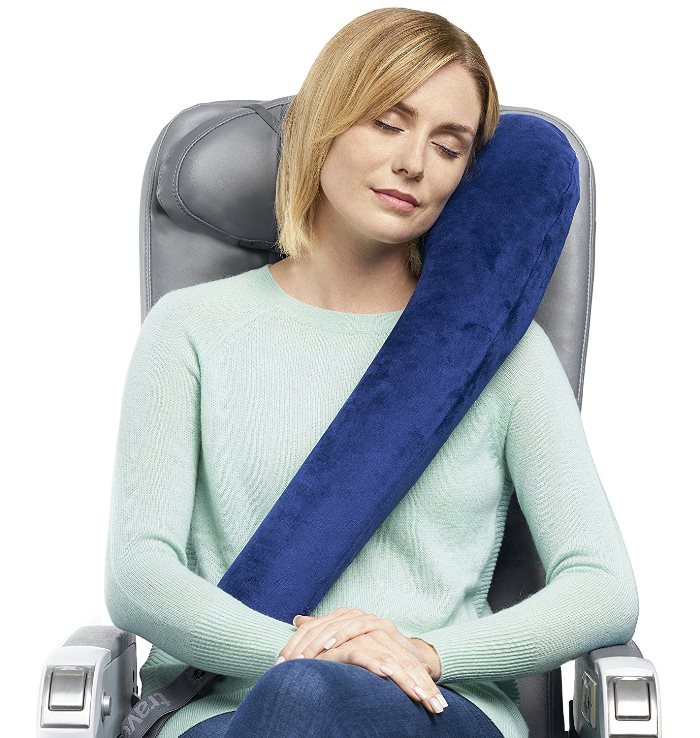 When I was done with the pillow, it only took 2 seconds to let the air out. Then I rolled it up as shown below and stowed it back in my carry-on bag. I love this pillow and definitely recommend it! I bought mine here: Travel Pillow.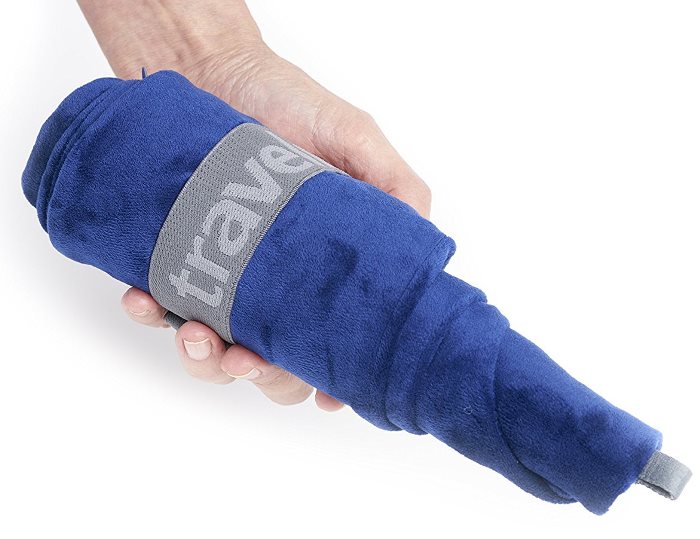 2. Adapter Set
I always Google to see what type adapter I will need before leaving on a trip to another country. For my trip to Morocco, I took along the Type E/F adapter shown below. I purchased this set of adapters a couple of years ago when I first began traveling. It has worked great since it has all the types needed for international travel. I purchased my set here: Adapter Plug Set for World Wide International Travel.
3. My Holy Grail Travel Item, I Will NOT Leave Home Without It!

The most important thing that I ALWAYS carry with me on every single trip I take no matter where I'm going is this International Voltage Converter. I LOVE this thing! I've had fellow travelers tell me that laptops and cellphones are designed to handle any voltage and all I need is an adapter. That may be fine for them but there is absolutely no way I'm going to take a chance with my $1,800 laptop and my Samsung smart phone. They costs too much to risk damaging.
This Voltage Converter gives me complete peace of mind, plus it lets me charge everything I need to charge all at once. It's perfect for couples who are traveling together because you can have 7 things charging at one time. At night when traveling, I always have my laptop and phone charging. Sometime I'll also have my Bose Noise-Canceling Headphones plugged in, especially if I've used them on the flight over or I'm staying in a noisy hotel and have used them for sleeping the night before.
I've also used it to charge my Kindle and my iPad when I've taken those along on trips. And I always use it when I style my hair with my electric curling brush/blower. The one time I tried to use the blower/styler with just an adapter, it would not even run despite the instructions saying that it would work on any currency. It works perfectly when plugged into my converter, though.
If I had to choose between taking clothes and this voltage converter when I travel, I would choose the voltage converter. I simply will NOT travel without it! It's the most important thing I take on every trip I go on. It's really like an old friend now. It's the first thing I take out of my suitcase when I get to a hotel and it's such a comfort knowing that it's keeping all my electronics safe. Can't sing its praises enough! I purchased mine here: International Voltage Converter.
Update: After I wrote this post, I ordered a second one of these converters. My first one is still working great after using it on trips to Kenya, Italy, Holland, Belgium and Morocco, but I don't ever want to be without it. So I ordered a second one just in case they ever stop making it or I accidentally leave it behind somewhere.
4. Sun Hat
I shared a bit about the sun hat I took on this trip in a previous post here: Hat Storage That's Both Functional and Decorative. When I travel in the future, one of the two sun hats with the bows will definitely go with me.
I loved wearing the navy one in Morocco, including on a ride through the Sahara Desert.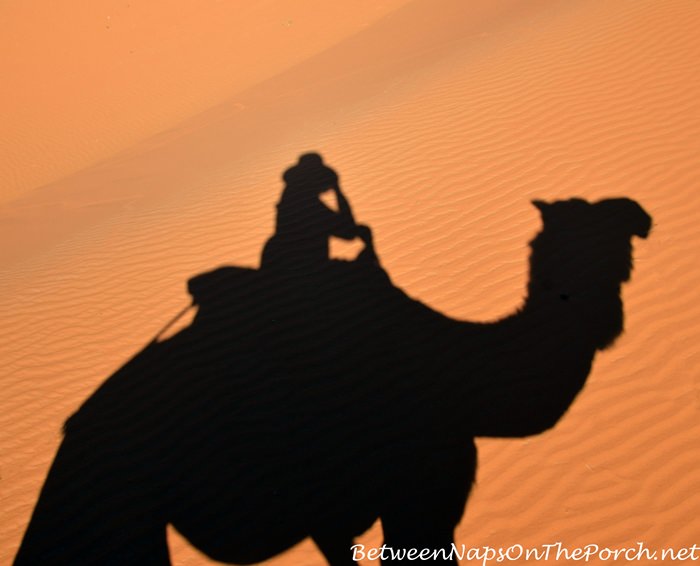 This was the nice camel that took me for my Sahara Desert ride. It's really amazing how they crouch down so we can get on and off. When I first got on, my camel turned his head around and rubbed the side of his face very firmly against my ankle. It almost felt like he was marking me, although he may have been telling me that I should have lost that last 10 lbs I was hoping to lose before my trip. 😉
I'm holding the sunhat I wore and it's available here: Sunhat. It packed beautifully for the trip. I just stuffed the hat with clothing I was taking, placed it in the center of the suitcase and packed all around it, including placing clothes on top of the brim. So it didn't take up any space in the suitcase and looked perfect when I removed.
Our camel ride took us to a small desert village…
…where we spent the afternoon touring a farm where they grow all kinds of crops, including dates. Those are Date Palm trees in the photo below. Such an amazing trip! Will definitely be traveling with OAT again sometime in the future.
5. An Anti-theft Travel Bag or Purse
I thought I'd try another style bag for this trip, of course sticking with an anti-theft bag. I ordered this one a few days before I left. Unfortunately, per my house sitter, it arrived about an hour after my driver picked me up for the airport. They didn't have it in the color I wanted when I ordered it initially, so I purchased it in the "pewter" color. I returned it once I got back since I had really wanted it in their Indigo color anyway. You'll find it available in three colors here: Anti-theft Travel Bag.
So the bag I took on my trip was the one I've used on all my previous trips. I like this bag a lot because just like the bag above, the strap can not be cut off your shoulder, the sides are slit-proof and the credit card slots inside are RFID protected so a bad guy can't scan your purse and get your credit card numbers.
I always wear it cross-body so it can't be snatched off my shoulder. It really is worry free. The other bag I had ordered was a little bigger. I may order it the next time I travel, although this one below is still working great. You'll find this bag available here: Anti-theft Travel Bag.
You'll find a previous post where I shared how it looks inside and what fits inside here: A Peek Inside My Travelon Travel Purse.
So, those are my 5 essentials that I always take when traveling internationally. Won't leave home without 'em!
What do you always take when you travel internationally? What always makes the trip with you?
*If a post is sponsored or a product was provided at no charge, it will be stated in post. Some links may be affiliate links and as an Amazon Associate, I may earn from qualifying purchases. *