Welcome to the 437th Metamorphosis Monday!
Happy Monday! Hope your week is off to a great start! For this week's Met Monday, I thought I give an update on whatever happened to the Hermes scarf I bought on eBay, the one that arrived sporting an ugly, oily looking stain in one corner.
In a previous post I shared this photo. (See that post here: Washing an Hermes Scarf and Madame Paulette.) This was the photo the seller had posted in his listing on eBay. The stain wasn't really visible in the photo, just looked like another wrinkle in the fabric. The seller must have missed the stain because there was no mention of it in the listing.
I didn't notice it when it first arrived, but a few months later when I took it out again to wear it, that's when I spotted the stain. Looking back at all the seller's photos, I could see the spot had been there all along. It was too late to return it and I really wanted to keep the scarf anyway. So the challenge was how to clean it without ruining the scarf and without dulling down the colors. Unfortunately, that had happened in the past to other silk and silk-like garments when I had them dry cleaned at my local cleaners.
I had read great things about The Laundress Delicate Wash (read more about this product in THIS previous post) and was considering hand-washing the scarf. I've had great luck using their wool shampoo for wool sweaters in the past. I was all set to wash the scarf myself, but at the last moment I decided to try a dry cleaners I had read about in New York called, Madame Paulette. (View their website here: Madame Paulette.)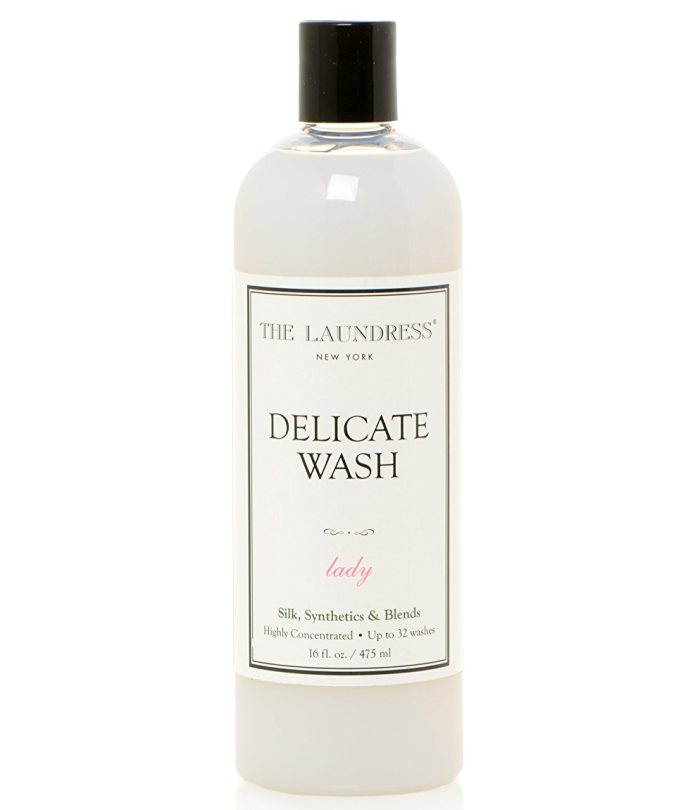 From what I've read, Madame Paulette is THE place to send those special items you worry about having cleaned. They even hand-wash items when needed. They also do a lot of restoration work on vintage/antique clothing. From the pictures at their website, they appear to be miracle workers!
I was worried the cost would be really high to have the scarf cleaned by Madame Paulette, but it wasn't near as much as I had feared. The price I was quoted was $30, and that included the cost of shipping it back.
Before shipping it to Madame Paulette, I asked two questions: 1. Would the process dull the colors in the scarf, something I had experienced with my local cleaners in the past when having silk fabrics cleaned, AND 2. Did they know to not press the hems on a Hermes scarf. I was pretty sure they knew this, but figured it was better to ask then to just assume.
I was told that cleaning it would not dull the colors and they confirmed they knew to not press down the hem. I asked if they would please give my scarf to someone who was very experienced. The Madame Paulette representative said the person who would be cleaning it had worked with Madame Paulette for 25+ years and was very good. Feeling much better about the process, I decided to let Madame Paulette take care of cleaning the scarf for me.
So, how did it come out?
The stain is completely gone and as far as I can tell, the colors are still vibrant and not dulled down.
I don't think the process dulled down the scarf, but it's really hard to say since I obviously can't compare it to its previous self, prior to cleaning, but I think it looks fine. Please don't compare this photo to the seller's photo at the start of this post, because that photo really doesn't depict the color of the scarf.
I feel completely comfortable recommending Madame Paulette for dry cleaning special garments or clothing that you feel uncomfortable taking to your regular dry cleaners. If it's a special piece, it's jut not worth the gamble.
I'm so glad I purchased this scarf because even with the cost of having it cleaned, it was still a very good deal. It reminds me so much of the beauty I saw during my trip to Kenya almost two years ago. (See posts I've shared about that trip here: Africa.)
I love this scarf so much, I was thinking of having it framed. It would be kinda cool if I could put it in a frame that would mount in such a way, I could turn the scarf to view it from all four sides. Have you ever seen a frame like that, one that would allow you to turn a picture while it was hanging on the wall?
But then again, it would be wonderful to wear it. Wearing a Hermes scarf is like wearing a piece of art. At least I know it can be safely cleaned if needed. Thankful for Madame Paulette!
Pssst: I post almost daily to Instagram. Follow Between Naps on the Porch on Instagram here: Between Naps On The Porch.
Looking forward to all the great Before and Afters linked for this week's Metamorphosis Monday!
Metamorphosis Monday
Metamorphosis Monday is a party that's all about Before and Afters. If you are participating in Met Monday, please link up using the "permalink" to your MM post and not your general blog address.
To get your permalink, click on your post name, then just copy and paste the address that shows up in the address bar at the top of your blog, into the "url" box for InLinkz.
In order to link up, you'll need to include a link in your MM post back to the party so the other participants will have an opportunity to receive visits from your wonderful blog readers.
Please observe these few rules:
Please link up Before and After posts that are home, gardening, decorating, crafting, painting, sewing, cooking, fashion or DIY related.
Be sure to include a link back to the party in your post, so your readers will be able to find and visit the other bloggers who are participating.
Do not link up to the party if you're doing so to promote or sell a product.
To those who are linking up: If you notice a shop or store linking up to sell products (yes, unfortunately that does happen) please let me know so I can remove their link from the party. No one wants to click a link expecting a Before and After, only to find a spam link to an online business/store.
*If a post is sponsored or a product was provided at no charge, it will be stated in post. Some links may be affiliate links and as an Amazon Associate, I may earn from qualifying purchases. *