Welcome to the 477th Tablescape Thursday!
This past week has been a super busy one, and a tad stressful. It was filled with major updates being made to the blog/site, which thankfully went well, Christmas tree shopping and dentist/doctors appointments. Remind me to never schedule both of those in the same week! Too crazy!
Life definitely got in the way of me putting together a new tablescape for this week, but I have something to share that I think you're going to love! Actually, two somethings that I think you're going to love!
Remember this table setting from a few Christmases back?
In that table, I used these adorable Better Homes and Gardens salad plates with the cutest scene ever of a bunny sitting near a snow-covered tree. I have the coordinating dinner plates but mixed it up for that setting using plaid dinner plates. (View that table setting here: Christmas Table Inspired by Nature.)
I know a lot of folks wanted this set of dinnerware and it appears they've brought it back! You'll find it available here: Christmas Dinnerware.
They've created a new salad plate this year featuring a cute snowman. You'll find a set of just the salad plates here: Salad Plates.
I was also happy to see they brought back another one of my favorite plates that I used in this table setting one Christmas. (Table setting can be viewed here: Christmas Table Setting with Victorian Dollhouse.)
Remember the woody car, bringing home the tree. 🙂 Love this so much!
You'll find the woody car available in this set here: Christmas Dinnerware. I can't tell if that set has a mix of plates or just woody car plates, but all the plates are wonderful. I've collected as many of the different patterns as I have been able to find over the last few years. Love them all!
Beautiful 12 Days of Christmas China
Oh, Better Homes and Gardens, why do you do this to me?! lol I don't need more Christmas dinnerware, but how can I possibly resist their new line of Christmas china featuring the 12 Days of Christmas! I saw the salad plates in Wally World, but didn't realize there was a whole beautiful set available.
This set is so pretty and it's actually porcelain! Better Homes & Gardens is definitely stepping up their game with a porcelain set. I ordered two sets of this dinnerware this morning with free shipping, so look for a table featuring this beautiful pattern sometime soon. You'll find this set here: 12 Days of Christmas. I'm sure it will go fast as all their Christmas sets do this time of year.
Here's a close up of the salad plates. If you would just like a set of the salad plates, they are available here: 12 Days of Christmas Salad Plates.
There's also a beautiful platter–it's available here: 12 Days of Christmas platter. Love this pattern!
Looking forward to all the beautiful tables posted for this week's Tablescape Thursday!
Pssst: I post almost daily to Instagram. Follow Between Naps on the Porch on Instagram here: Between Naps On The Porch.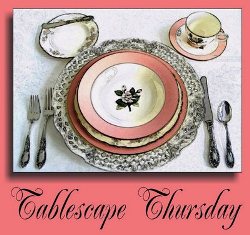 If you are participating in Tablescape Thursday, please be sure to add your permalink below, and not your general blog address.To get your permalink, click on your post name, then copy and paste the address showing in the address bar, into the "url" box when you link up.
You'll need to include a link in your post back to the party to link up and participate. That's so visitors to your blog will be able to find the party and the other Tablescape Thursday participants. Requiring a link back also prevents businesses and scammers from linking up to sell their products. (Yup, that really happens, unfortunately.)
*If a post is sponsored or a product was provided at no charge, it will be stated in post. Some links may be affiliate links and as an Amazon Associate, I may earn from qualifying purchases. *