Recently I shared a few photos of my deck as I was cleaning it for summer. In that post I also shared a picture of the bottle tree that lives on my deck. I received quite a few questions and emails about the tree asking where I found it. I tried to answer everyone's questions but if I missed any, you'll find more information about the tree and where I purchased it in this previous post: Bottle Tree Dreams.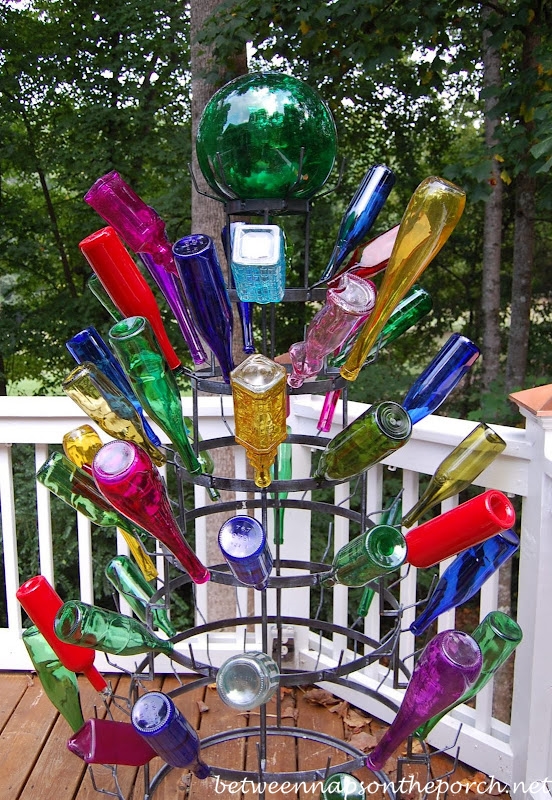 Darlene, a BNOTP reader left a lovely comment about her hubby, John's bottle tree on that post. Later she shared some photos with me via email. and information about where they found their bottle tree.
Darlene wrote, " I don't have pictures of every month, for example in March it was all green bottles (various shades) and for November it has brown, orange, yellow, gold bottles. He really loves changing it for every season and holiday. In June, John only uses blue bottles, which is the color legends say all the bottles are supposed to be."
I didn't know that about the blue bottles, so interesting! That makes total sense though because it was not uncommon back in the day to see porch ceilings of old homes painted blue. Some thought the blue would help keep your home safe from any bad spirits entering inside because the spirits would see the blue and become confused, thinking it was the sky. Blue porch ceilings were also thought to keep wasps and such from building nests since they would think the blue was sky, too Not sure if that actually works, but love the folklore behind it. 🙂
Darlene's husband, John, decorated their tree with blue and white bottles for winter.
Red and white was perfect for February in honor of Valentine's Day.
Darlene said, "After Easter, John used colors of iris, blue, purple, and yellow because we always use iris house flags then. He has been very creative in changing it and has gotten lots of enjoyment from the tree."
Isn't this wonderful for the 4th of July!
Here's how the tree looked last October for Halloween decked out in orange, white, black and yellow bottles.
If you're looking to purchase a bottle tree, Darlene shared information about where they purchased their tree. She said, "We first saw the bottle tree in Blowing Rock, NC. The man who makes them has a studio there but he actually lives in Charlotte. His name is David Lee and he has lots of different designs." You'll find David's website by Googling for "High Country Bottle Trees."
Darlene said, "In our woods at the back of our house we have what David calls the "coke" bottle tree, designed for small Coke bottles. That one has small blue bottles on it all year, except at Christmas when I use the Coke bottles. I must admit though, my favorite is still all blue – that is my favorite color and the color of our shutters. We have blue hydrangeas too, so it always makes me smile when I come down our driveway and see it in the sunlight."
Thanks so much to Darlene and John for sharing these photos and the information about where they found their delightful bottle tree! See you tomorrow for Tablescape Thursday!
*If a post is sponsored or a product was provided at no charge, it will be stated in post. Some links may be affiliate links and as an Amazon Associate, I may earn from qualifying purchases. *