When I last shared a few pics of my bottle tree, it was looking pretty puny. (If you're wondering what in tarnation a bottle tree is, check out this previous post: Bottle Tree: The Poor Man's Stained Glass I've been waiting for Hobby Lobby to have another "glass" sale. In the meantime, I've collected 3-4 more, via consumption. Plus, my BFF, Jan, dropped a couple by recently, too. I think she took pity on me after I posted about her amazing bottle tree.
Guess what! Hobby Lobby has all their glassware on sale right now…50% off. If ya got a bottle tree, now's the time to head to HL. I think the sale ends tomorrow. If you miss it, it will be back in a few weeks…they run their glassware on sale pretty often.
So here's how the bottle tree is looking now! Much improved!
See the yellow square/rectangle bottle there on the right…that's from Hobby Lobby. At 50% off, I believe it was around $4.
Here's a close up of it. The tall pink one is a bottle in the shape of kitty cat…a gift from Jan.
The tall ones, like this purple one, are some of my faves. Again, this one came from Hobby Lobby and was just $4 on sale.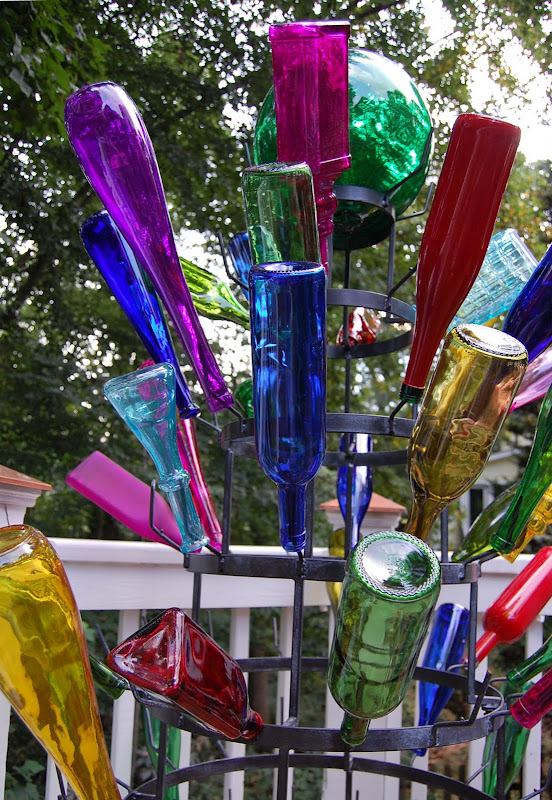 I bought the tall yellow one during a previous HL sale. It also comes in lots of colors. So far, I have it in yellow, purple and hot pink.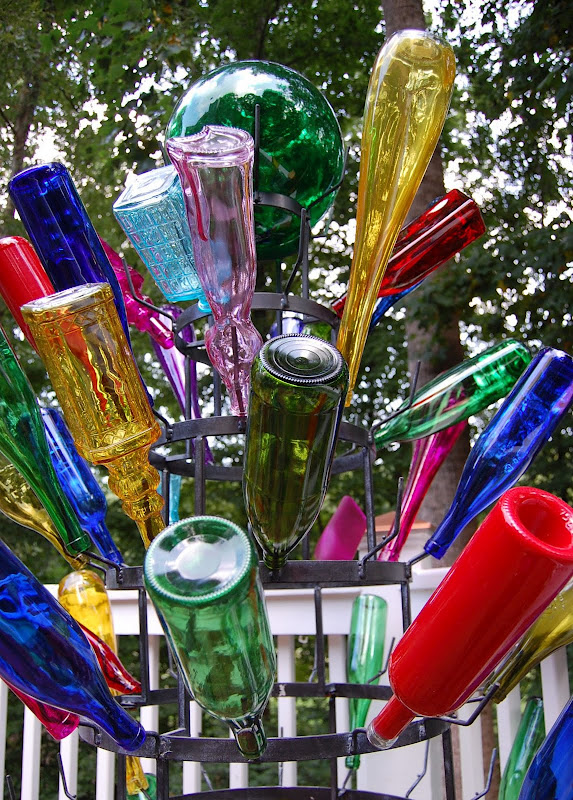 The square bottle comes in lots of colors, too…including hot pink.
They even have this pretty blue color. Imagine a whole tree done in those and maybe one other color. The possibilities are endless.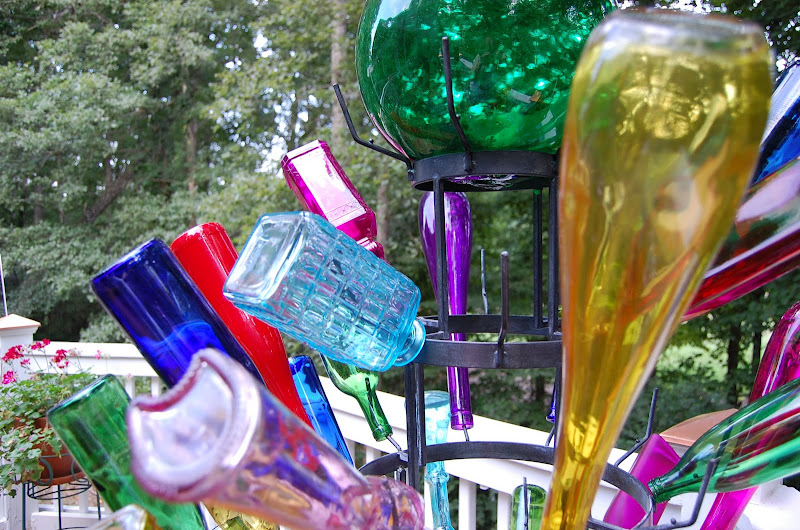 I just bought the small blue one today. The small ones are great for filling in between the larger bottles.
The triangular shaped opaque ones are really inexpensive…only $2.50 on sale. I bought two of those, today. They are really pretty when the light passes through them. I held them up in the store…just to check.
I'll have to catch some pics when the sunlight is shining through this tree. My yard is kind of shady so there aren't too many opportunities for that. Hey! I just had a thought! Winter is coming and the leaves will soon fall from the trees. That may be the best season for the bottle tree. Something to look forward to…
The kitty cat bottle again…
The red bottle is a "Luna di Luna" Merlot wine bottle. After searching and searching for red bottles, I'm now thinking of removing all the red ones. I'm finding the colors I like on my bottle tree are the colors I also like in a garden: purple, lavender, pink, yellow, green, blue. I'm not a big orange or red fan when it comes to the garden…although, I do like red geraniums on the porch. Ummm…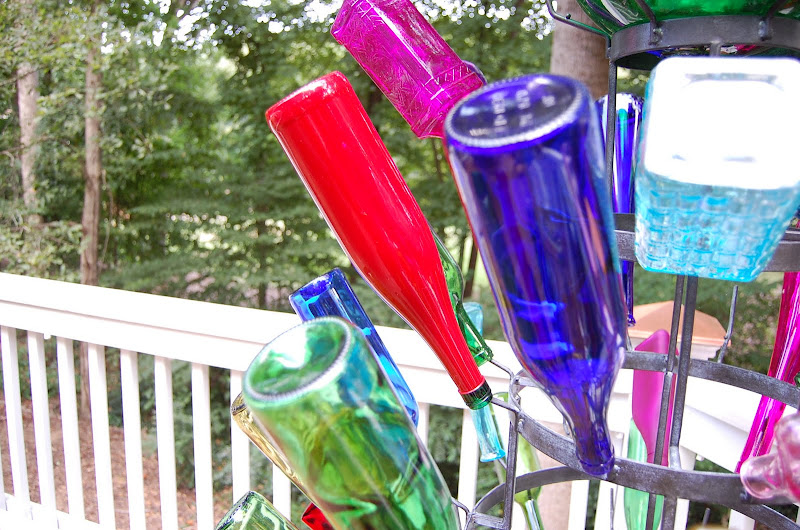 Whimsy…I crave it like air.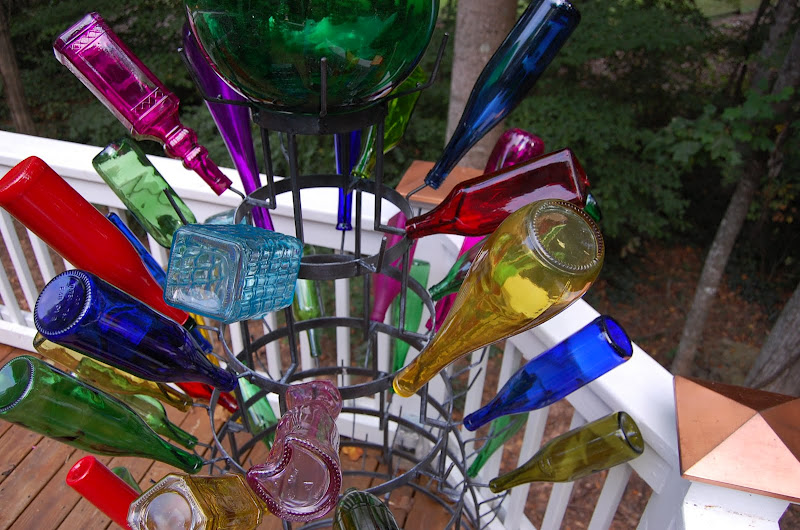 Send me pics of your bottle tree (betweennapsontheporchatgmaildotcom) and I'll post them here at BNOTP sometime.
For more bottle tree posts check out these links below:
Bottle tree, Cure for those Pesky Nighttime Spirits
Bottle Tree Shopping at Trader Joes
Beautiful Bottle Tree
*If a post is sponsored or a product was provided at no charge, it will be stated in post. Some links may be affiliate links and as an Amazon Associate, I may earn from qualifying purchases. *