Welcome to the 524th Tablescape Thursday!
Brenda and Tom are newlyweds, they were just married in August. Together they live at Peaceful Valley Farm in Canada. What a beautiful place! It certainly lives up to its name!
Brenda said, "We are retired but we have a hobby farm with two horses, Lady and Foxy. We also have 6 black Angus cows, (Tour of Duty, Rosebud, Daisey, Feiria, Roscoe, and Arlene) over 60 laying hens, 10 beehives and three dogs named Porsche, Rolls and Bentley. We make our own preserves and maple syrup in the springtime. We recently added two sheep, Dolly and Candy."
Brenda was kind enough to share photos with me of her Thanksgiving table for this year. Thanksgiving has been officially celebrated as an annual holiday in Canada since November 6, 1879. It is always celebrated on the second Monday in October. Similar to our American Thanksgiving, the Canadian Thanksgiving is all about spending time with family, feasting and being thankful for what one has and the bounty of the previous year.
Brenda said, "There are a few differences between Canadian Thanksgiving and an American Thanksgiving. Our Thanksgiving is focused mainly around the harvest time as our climates are cooler at this time of the year and our fall season. We give our thanks for a bountiful harvest."
Brenda set a truly stunning table in celebration of Thanksgiving this year!
Brenda mixed two different china patterns to create this beautiful harvest table: Harvest Pumpkin and Harvest Pumpkin Wreath. Brenda said, "I decided to choose the salad plates as when you are serving something on them you still get the benefit of the pattern around the edges of the plate." Such a stunning pattern!
Brenda said, "The dishes are gorgeous and what I liked about them is they are focused a lot on a fall theme rather than Thanksgiving so they are more versatile to use throughout the fall season."
Both Harvest Pumpkin and Harvest Pumpkin Wreath are still available and on sale here: Harvest Pumpkin.
I love the contrast of the beautiful dinnerware against the rustic charger plates. Brenda said, "The chargers were handcrafted from wood and we bought them in Orangeville Ontario Canada at a shop called Dragonfly Arts on Broadway. We love this flatware and it was a wedding present to ourselves recently. When we saw it we thought it would fit perfectly in our farm."
Here's a better view of the beautiful Harvest Pumpkin dinner plate. The colors in the pumpkins are so vivid and beautiful against the dark background.
Love the huge turkey Brenda used as her centerpiece! Brenda said, "The turkey I purchased at Home Sense which would be just like your Home Goods in the US. The glasses I purchased years ago and I do not remember where. The table runner was from Home Sense as well.
The stemware is a pattern called Anderson by Park designs, it was inspired by an 18th-century iron pot stand."
As a wedding gift, Tom gave Brenda this wonderful antique school desk. Brenda said, "Tom and I got married August 11, 2018. Tom, as a wedding present, had this old school desk refinished we bought at an auction sale for me. You can see it has our initials on it. His thought was whenever we had to go back to school, we would have our vows put on it–until he heard how long my vows were. Now he is looking for a banquet table! lol"
What a sweet idea and such a sweet gift!
Resting on the desk in the photo above is a beautiful Harvest Pumpkin platter. I love this platter! It's available on sale here: Harvest Platter.
Thanks so much to Brenda and Tom for sharing her wonderful Thanksgiving table! Looking forward to the beautiful tables linked for this week's Tablescape Thursday!
Pssst: I post almost daily to Instagram. Follow Between Naps on the Porch on Instagram here: Between Naps On The Porch.
If you enjoyed this post, subscribe for free email updates when a new post is up here: Subscribe for post updates.
Tip: Please do not use a Hotmail e-mail address to subscribe if you can avoid it. Hotmail is notorious for filtering out perfectly good emails. I've found Gmail to be awesome, it's what I use and it's free! Plus, they don't filter out good e-mails in error.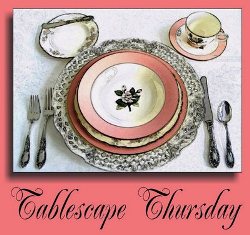 Tablescape Thursday
If you are participating in Tablescape Thursday, please be sure to add your permalink below, and not your general blog address. To get your permalink, click on your post name, then copy and paste the address showing in the address bar, into the "url" box when you link up.
You'll need to include a link in your post back to the party to link up and participate. That's so visitors to your blog will be able to find the party and the other Tablescape Thursday participants. Requiring a link back also prevents businesses and scammers from linking up to sell their products. (Yup, that really happens, unfortunately.)
*If a post is sponsored or a product was provided at no charge, it will be stated in post. Some links may be affiliate links and as an Amazon Associate, I may earn from qualifying purchases. *