Thanks so much to Ginger for telling me about this fun "luxury" travel toothpaste. The toothpaste comes in some pretty exotic-sounding flavors.
The description describes them this way:
This set contains 1.3oz travel sizes of all three limited edition toothpaste flavors in Marvis' Wonders of the World collection, inspired by an imaginary and adventurous journey around the world.
I purchased one set for me and one for my friend, Teresa, who planned our upcoming trip to Egypt. You'll find them available here in case you're curious to try them or you're looking for a unique gift for someone who loves to travel: Wonders of the World Toothpaste.
I'll be visiting the only surviving member of the seven, ancient "Wonders of the World" next week (the Great Pyramid at Giza) so it's only fitting to have toothpaste to match. Hee, hee.
I wrapped Teresa's gift in wrapping paper purchased recently in my local Marshalls. (Hope she doesn't see this post…hopefully, she's too busy packing!) The wrapping paper depicts wonderful, old-world maps. This paper HERE looks very similar.
By the way, if you ever want to know how to tie a "Tiffany Bow" which is a knotless bow, there are quite a few videos on YouTube showing exactly how it's done. A knotless bow makes untieing the ribbon on a package really easy for the recipient.
It was a little tricky to tie with the velvet, red ribbon I used because it was only pretty on one side. I recommend using ribbon that's the same on both sides when tying a Tiffany style bow. It will make it much easier to follow the tutorials on YouTube.
Anti-theft Travel Handbags
Today, I got a wild hair and ordered a new travel handbag: HERE. I'm not sure if I'll keep it because I'm still quite happy with my current travel handbag, but a new trip always makes me want to update some of my existing travel gear.
I'll see how I feel about it once it arrives on Sunday. I may just end up using my current bag, I remembered just how much I like it as I was changing my things over to it this evening.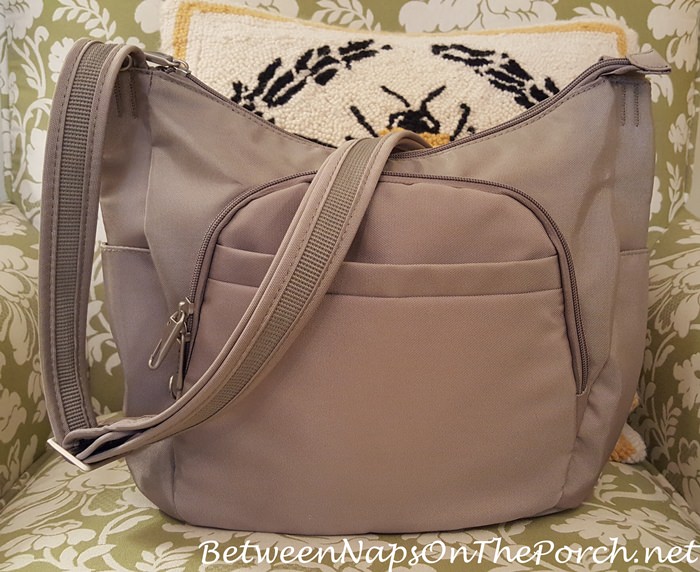 Here's how my current bag is set up/organized inside. There are anti-theft, RFID slots inside to hold my credit cards, preventing a bad guy from scanning them and stealing the numbers. There's a pocket just above the credit cards slots that perfectly holds a passport.
The main compartment of the bag is nice and roomy. I stuck my Egypt travel book in for size comparison, but I probably won't be carrying it around with me every day, although I could since this bag is a crossbody bag and a breeze to wear. I always forget I even have it on.
Often what I end up carrying in the main compartment during the day is my Nikon D7000 with an 18-105mm lens attached. The camera (along with the lens) will comfortably fit inside the main compartment of this bag.
I'll probably keep the little change purse I purchased in Holland inside this main compartment of the bag. Tipping is something that's expected often while traveling across Egypt, so I like knowing I can reach for coins/dollars easily when needed.
My little gift fits easily inside, as well.
There's a large pocket on the front of this travel handbag. That's where I'll keep the antibacterial wipes I'll be using to wipe down the armrests, tray table etc… right after I board the various flights I'll be taking. Not sure what else I'll keep here. A phone will fit in those smaller pockets, but I prefer to keep my phone in another pocket on this bag.
Update: The Wet Wipes ended up in one of the pockets. I placed THESE in the other pocket. The main part of the pocket is now holding a small makeup bag with lipstick, chapstick, sunscreen, etc…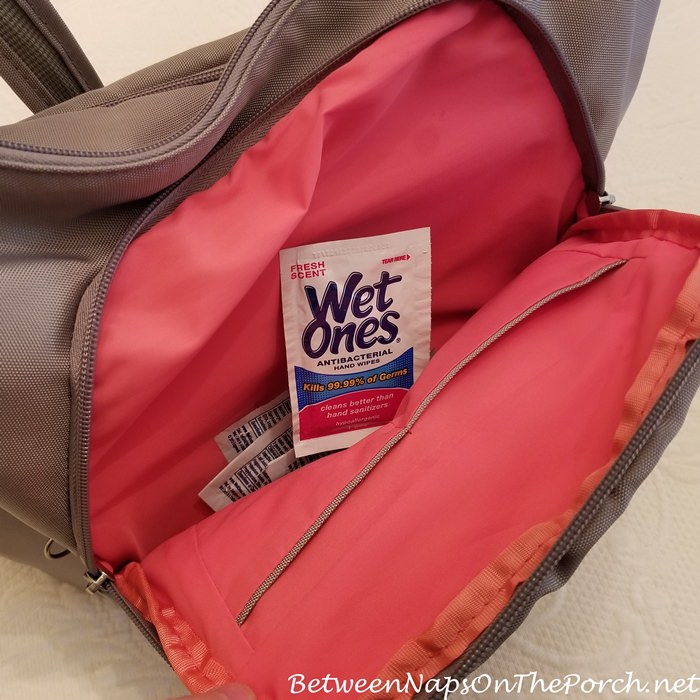 There's a large pocket on the back of the bag where I'll store the itinerary and probably my plane ticket. I may keep my phone in this pocket since this pocket will be against my body when I'm wearing the bag, thus very secure. This pocket can also be "latched" if needed, as can the main compartment of this bag. I love all the security features on this bag!
Forgot to take a photo of it, but see the zipper pocket on the opposite side of the bag from the credit card slots in this photo below? That's where I plan to stash any cash I'll be carrying. I'll probably move my passport over to that pocket once I'm finished in the airport. That pocket is very secure since it's inside the main compartment of the bag which zips and has a latch.
That would also be a great place to stash away any other meds I think I might need during the day. I'm sure I'll add a few more things to my bag, but these are the things I know I'll be carrying, so far.
Water Bottle Feature
I have an easy tip for how to avoid losing your credit cards/cash etc… while traveling, but before I share that, there's one more feature I should share on this bag that's a must when you're traveling to areas where drinking the water could be a problem. On each side of this bag, there are two pockets designed to hold water bottles. A regular water bottle fits easily as seen in this older photo taken a while back.
I wondered if my recently purchased 2-stage filter water bottle would fit–and it does! These water bottle pockets stay zipped up and close into the side of the bag until you unzip them. They unzip to open out for holding a water bottle when needed.
The new filtered water bottle also has a clip, so if I feel the bottle could use a bit more support, I can clip it to one of the hooks on the bag, as shown. It's almost as if they had this special water bottle in mind when they created this travel bag! (Water Bottle is available here: 2-Stage Filter Water Bottle.)
If you're in need of a great anti-theft crossbody travel bag, I can highly recommend this one. You'll find it available in a bunch of colors here: Anti-Theft Travel Bag.
Update: Read how this bag kept a thief from stealing all my credit card numbers while traveling in Cairo, Egypt in this post: How I Foiled a Pickpocket Thief in the Khan Al-Khalili Bazaar in Cairo.
How to Avoid the Nightmare of Losing Your Handbag or Your Wallet
I have a fairly full-proof method for avoiding the nightmare of losing your handbag, wallet, credit cards, etc… while traveling. I guess this is geared more toward women although it would work for men who are carrying a similar messenger bag.
On every trip I take, I have a hard and fast rule I never, ever break. The rule is: from the moment I walk out the door of my hotel room and until I return, I never remove my crossbody bag from my body for any reason. It stays on my body when I eat and even when I stop for a restroom break. I also never use a wallet when traveling.
So let me explain why this works. If you carry your driver's license, credit cards and cash in a wallet, when you take the wallet out of your bag to pay for something, it's super easy to get distracted and walk off leaving the wallet on the counter. Even if you realize you've left it behind just a minute or two later, your wallet will probably be missing when you return to the store. Whatever was in that wallet is now gone for good, including all your credit cards, cash, IDs, etc… That's a nightmare situation I never want to be in!
If you carry a travel handbag that is designed for travel like the bag I've been using, when it comes time to pay for something, you simply reach into your bag (while still wearing the bag) and pull out the card or cash you plan to use. If you accidentally walk off and leave the card behind, all you've lost is one card…not everything. This crossbody bag opens up nice and wide, so it's easy to reach inside for the card that's needed without ever removing the bag from your body.
When out sightseeing, if we stop to eat, I still do not remove my crossbody bag from my body, even though the bag has a mechanism for latching it to the back of a chair. It would scare me having my bag behind me where I can't see it, even if it is secured to the chair. If placed on a chair or the table, it could easily be snatched by a passerby. I always wear it crossbody since it's designed for that, so I just simply push it to the side or let it rest in my lap while I eat. It doesn't get in the way and there's no danger of leaving it behind or having it snatched or pickpocketed.
When I go to the restroom, again I do not remove my bag because I don't want to risk walking out and leaving it hanging on the back of the bathroom door. I simply let it hang on my body while I'm in the restroom. If you're wearing a heavy coat, you may end up having to remove it, but you're taking a risk that you'll forget it when you do.
If you set it on the floor, someone could grab it from the stall next to you. I've even heard of handbags being snatched right off the hook on the door by a person reaching over the top of the door. Even if it's a little inconvenient, it's best to never take your bag off your body when you're out and about while traveling/touring. If I'm dining in the hotel restaurant where I'm staying, I may leave my bag back in the room, but usually, I take it with me even then.
I also keep my Passport inside my handbag and with me at all times. I don't like leaving it in the room safe because I've read too many stores on Trip Advisor of folks having cash stolen out of their room safe while they were out sightseeing during the day. It may be okay to leave it in the hotel's main safe, but I'd be afraid of forgetting and leaving it at the hotel when I left to travel to another destination on the trip. I've always felt my passport was safe in my handbag since my bag never leaves my body for even a moment when I'm out and about.
So far, after 8 trips and 9 countries, I've never lost a single thing other than a hat I left in the overhead bin on an Air France flight. Now I always pack my hat inside my suitcase instead of carrying it in my hand.
It's a simple rule, but I've found it works: Buy an anti-theft crossbody bag and never let it leave your body when you're outside your room. If at all possible, buy a crossbody bag with built-in credit card slots to avoid carrying a wallet that could easily be left behind on a counter.
The Anti-theft Bag I Just Ordered
This is the bag I just ordered today. It has all of the same features as my current bag, including the pockets for water bottles, but looks a bit roomier. Not sure if I'll keep it, will just have to see what I think about it once it arrives on Sunday. I ordered it in the "Dark Gray" color with the grey interior. See additional interior views of the inside and read all about its features here: Anti-theft Travel Bag.
Update: The bag below arrived today and it's smaller than I expected. Also, the sections of the bag are harder to get into, more restrictive openings. So I'm returning it and will continue using the bag I've been carrying on trips as shown in this post above.
Did you notice the plaid pillow in this photo earlier in the post?
I've put the fall-winter bedding back on the bed as seen in this photo below from a previous year. I love this bedding so much and always look forward to getting it back out each fall. It makes the transition to fall and winter a little less painful knowing I can bring out tartans! 🙂
If you love this look, this bedding is surprisingly back in stock again this year. It's available here: Tartan Bedding. They didn't make a bed skirt for it so I had one made from tablecloths that were out of the exact same fabric as the bedding. Read all about that in this post: No More Faking It.
Happy weekend to you! It's finally starting to feel like fall here. Drat!
*If a post is sponsored or a product was provided at no charge, it will be stated in post. Some links may be affiliate links and as an Amazon Associate, I may earn from qualifying purchases. *