Welcome to the 592nd Tablescape Thursday!
A few days ago I mentioned in a post that I had purchased several tartan tablecloths while they were on sale. One of the tablecloths I purchased was a 70-inch round tablecloth to use on my breakfast table. In that same post, I pondered how this previously shared Christmas table setting would have looked atop a tartan tablecloth. (See this previous table in this post: Christmas Table Setting with Magnolia Pheasant Centerpiece.)
Yesterday, eager to take one of my new tartan tablecloths for a spin, I set a table with a wintry, snow/snowman theme. I took this photo this morning and as you can see it's a rainy day out.
I love red and green all throughout the year…
But, then–you knew that already.
Right? 😉
I wasn't sure which direction this table was headed when I first spread out this bright, beautiful, tartan tablecloth, but gradually it morphed into a wintry, snowy, snowman celebration. (Tartan tablecloths in all sizes are currently on sale here: Tartan Tablecloths.)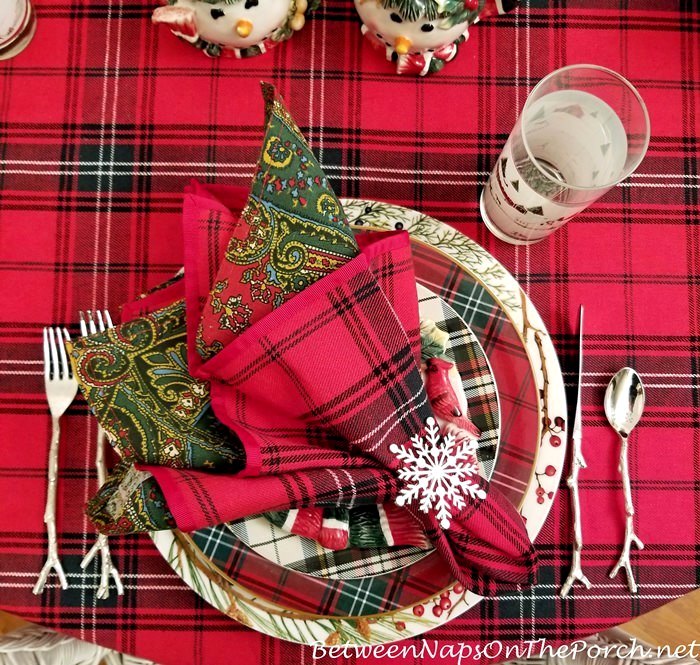 For the napkins, I layered my new tartan napkins atop paisley napkins purchased many years ago. Can't remember where I found the paisley napkins now, probably Homegoods or Marshalls. The tartan napkins are currently on sale here: Tartan Napkins.
I found the silver, snowflake napkin rings many years ago in a Bed, Bath and Beyond. Wish I could find four more!
Here's a bit better picture of them in a previous outdoor, snowy table setting! (View this previous snowy table here: A Winter Table Setting, Tablecloth by Mother Nature.)
I had fun with the layers in this tablescape, starting with a snowman appetizer plate.
I think I found the cute, snowman plates in Marshall's or HomeGoods. It was so many years ago, I'm having trouble remembering now.
I love mixing plaids/tartans. The plaid salad plate is from Pottery Barn a year or two back.
I know you recognize the dinner plate. It's in the same pattern as the tablecloth. The dinner plates are currently on sale here: Tartan Dinner Plates.
I just recently purchased these gorgeous berry chargers. I rarely buy dishware these days, it has to really make my heart sing! These definitely did that the minute I laid eyes on them. They are porcelain china, quite heavy and beautifully made. I think the quality is excellent, much better than what I normally find available online or in stores these days! They remind me very much of the quality chargers I purchased from Neiman Marcus back in 2008. It's hard to find chargers of that quality today, so I was delighted to come across these.
You'll find them on sale here: Pinecone Woodland Charger.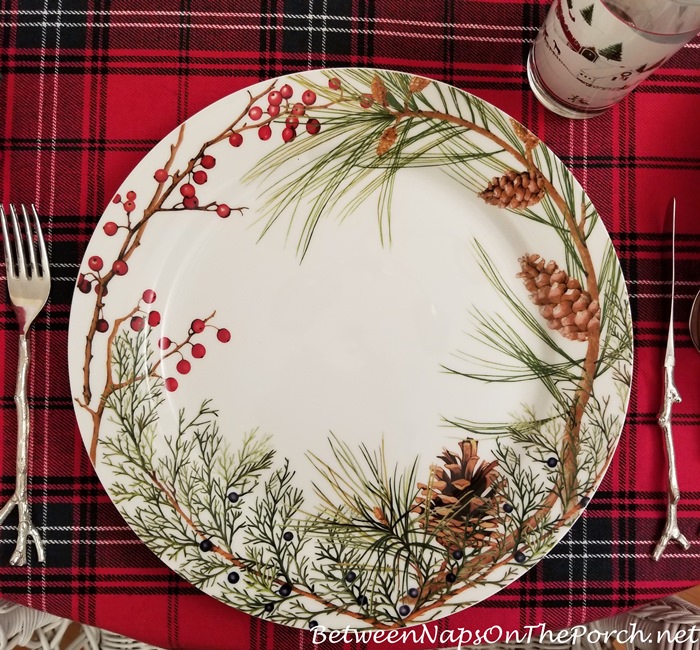 The silverplate twig flatware is from Wayfair many years ago. Though Wayfair hasn't carried twig flatware in years, you can still find it available in both gold and silver here: Silver and Gold Twig Flatware.
These glasses are one of my favorite wintertime treasures for the table.
I love the scene that surrounds the glass!
They are from David Carter Brown's Christmas Valley collection. They can be hard to find, I found these on eBay several years ago.
When I found the snowman plates so many years ago, this adorable teapot, pitcher, sugar bowl and cream pitcher were available in the same pattern. They were just too cute to leave behind!
In the past, I've placed nandina cuttings with berries in the pitcher for a cute centerpiece.
View this previous table setting from January 2010 here: Snowman Follies.
If you would like to add a few tartan napkins or tartan tablecloths to your table setting collection, you'll find the ones I used in today's table on sale at the two links below. I'm so glad I finally purchased these because I never know when this tartan will be discontinued. Long live the tartan! I hope they never quit making this pattern!
Tartan Tablecloths, All Sizes
Tartan Napkins
Hope you enjoyed this wintry, snowy table setting.
Looking forward to setting and sharing many more tables this year. Happy New Year to you!
Looking forward to all the beautiful tables linked for this week's Tablescape Thursday!
Pssst: Did you know Between Naps On The Porch is on Instagram? I would love to have you follow me on Instagram here: Between Naps On The Porch.
Like to know when a new blog post is up and available to read? Subscribe for email updates, it's free and your email will never be shared.
Subscribe here: Subscribe for free post updates via email here: Subscribe.
Tablescape Thursday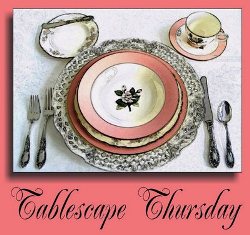 If you are participating in Tablescape Thursday, please be sure to add your permalink below, and not your general blog address. To get your permalink, click on your post name, then copy and paste the address showing in the address bar, into the "url" box when you link up.
You'll need to include a link in your post back to the party to link up and participate. That's so visitors to your blog will be able to find the party and the other Tablescape Thursday participants. Requiring a link back also prevents scammers from linking up to sell their products. Please let me know if you click on a link and find it isn't a tablescape or table related so I can remove it.
This party has ended, click button below for the links to all who participated.
*If a post is sponsored or a product was provided at no charge, it will be stated in post. Some links may be affiliate links and as an Amazon Associate, I may earn from qualifying purchases. *