Welcome to the 769th Tablescape Thursday! Thanks so much for all your comments on yesterday's post. I have so much to share about how things went yesterday. Let me just say, I think I see a Speed Queen TR5 or TR7 washer in my future. More about that later–for now, we've been invited to a wonderful luncheon in the south of France! ♥
Norma, a lovely BNOTP reader who has become a friend over the years, lives in a beautiful home in the French countryside. Recently, she hosted friends for a delightful luncheon that she described as "rustic French." Norma said, "The French luncheon was supposed to be outside, but it was 90 degrees. I have just looked at the forecast for next week and it's over 90 F most days and next Saturday and Sunday 98 F and 104 F! No eating outside, then!" Wow! That's way hotter weather than we even normally see here in the southern part of the U.S.!
Norma said, "I did two versions of this table, one with three vases of wildflowers and one with a stuffed chicken. I thought that might be a step too far!" Ha! I love Norma's sense of humor!
The stuffed chicken centerpiece does feel very farmhouse-like. I need to ask Norma, where does one find a stuffed chicken in France? 🙂
I like both versions of Norma's table, but the pitchers filled with wildflowers are just so charming. Love!
Norma said, "I made the serviettes and the runner. The metal cockerel was made by a friend's son."
I had to look it up to make sure, but I thought the word, "serviettes" is what we call napkins here, and it is. Turns out, it's the British word for napkins. I think I like the word serviettes better–just sounds more elegant to my ear.
Beautiful wildflower centerpiece!
Norma mentioned that the vintage pitchers have some fun, and let's just say, "interesting" expressions on them. Per Norma, one pitcher says, " Women are like matches, when you strike them they lose their heads." The other two pitchers say, "If it rained kisses one would live outside" and " Sanctuary is in the heart of a mother."
Norma added a few more rustic touches to her French countryside table.
Have you ever seen bowls like these? Norma shared that these are actually old French cheese molds. I wonder why they have holes? I guess the cheese needs air or ventilation, or maybe the holes help with removing the cheese from the mold when it's time to do that.
Norma has some really wonderful antique French pieces! This multi-tiered, wooden container would have been used for cheese storage. Fascinating!
Norma made this beautiful appetizer for her rustic French luncheon. Norma said, "This is a very French appetizer called a Tarte Soleil (pronounced 'so-lay') or Sun Tart, for obvious reasons! It is very easy to make and can be filled with whatever you fancy. You can also cut and twist the pastry to look like a Christmas Tree and also like a fish."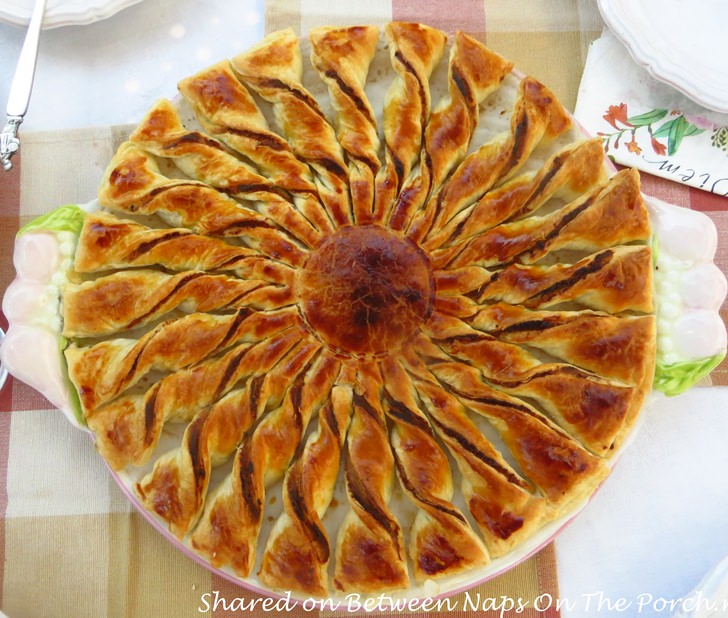 Oh my gosh, I have never seen this appetizer before and I love it! It is so pretty! I would love to try making it sometime! Norma took the time to email the instructions on how to make it, including two diagrams showing how she cuts the pastry, so I'll create a separate recipe post that will be printable in case you would like to try making one. What a stunning appetizer to kick off a party! It would make an incredible centerpiece, wouldn't it? I'm looking forward to sharing Norma's recipe for making it in an upcoming post!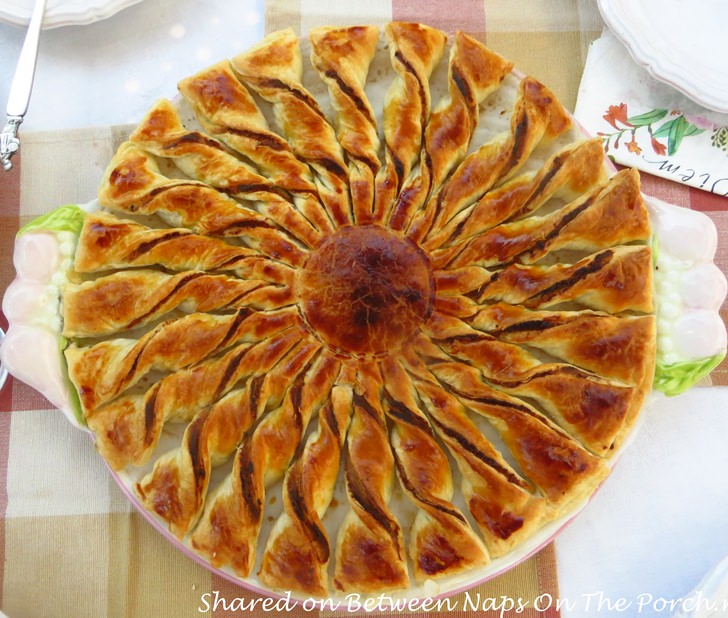 Norma, thanks so much for sharing this delightful, French-countryside table setting! I love everything about it, especially the charming wildflower centerpiece! ♥♥♥
Looking forward to the beautiful tables linked for this week's Tablescape Thursday! (If you enjoyed this post, subscribe for email updates when a new post is up here: Subscribe for post updates.)
Tablescape Thursday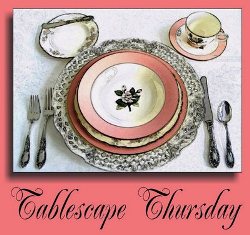 If you are participating in Tablescape Thursday, please be sure to add your permalink below, and not your general blog address. To get your permalink, click on your post name, then copy and paste the address showing in the address bar, into the "url" box when you link up. You'll need to include a link in your post back to the party to link up and participate. That's so visitors to your blog will be able to find the party and the other Tablescape Thursday participants. Please link up table-setting-related posts only for Tablescape Thursday. Please link up table-setting-related posts only for Tablescape Thursday.
You are invited to the Inlinkz link party!
*If a post is sponsored or a product was provided at no charge, it will be stated in post. Some links may be affiliate links and as an Amazon Associate, I may earn from qualifying purchases. *