Happy weekend! For this past Tablescape Thursday, I shared a wonderful table setting Norma put together when she was expecting friends over for a luncheon.
As mentioned in that previous post, Norma also made this beautiful Tarte Soleil to serve as an appetizer. I asked Norma if she would mind sharing her recipe, I would love to try making this stunning appetizer one day, although it's so pretty, it's almost too beautiful to eat! Ha! Norma generously shared her recipe with me so I could share it with you! She included two detailed diagrams showing how she cuts each of the strips that make up the beautiful rays of this Sun Tart. For her tart, Norma used savory ingredients, but she shared, "You can even do a chocolate or Nutella version!" So this wonderful tart could be made as a dessert when using sweet ingredients.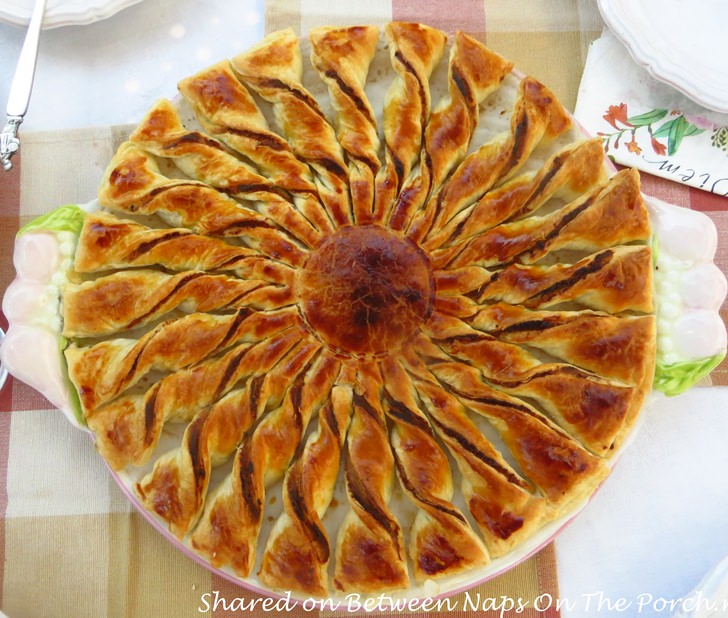 Here are two diagrams Norma included with her recipe showing the steps in cutting the pastry. I've also included these images/diagrams in the printable version of the recipe that you'll find at the end of this post.
Your pastry should look like this once you're done cutting it, and before the twisting of each strip begins.
If you have any questions after looking over the recipe, please feel free to ask those in the comments and I'm sure Norma will be happy to reply. There's a big time difference between the U.S. and France, so if you live in the U.S., it may be a few hours before Norma has a chance to reply.
If you make a sun tarte, please share a photo of it with me at betweennapsontheporch @gmail.com . Norma and I both would love to see how your tart turns out and I'd love to know what ingredients you chose for the filling!
Print Recipe
Tarte Soleil
This beautiful Tarte Soleil can be made with a variety of ingredients and can be an appetizer or dessert, depending on the ingredients used.
Ingredients
2

Ready-rolled, circular puff pastries

1

Small Jar

Sun-dried tomatoes

4

Thin slices of ham

1

Egg (beaten)

See "notes" below for ideas of other possible ingredients/combinations you may wish to try.
Instructions
Chop up tomatoes or run through food processor

Cover the first pastry with tomatoes and thin sliced ham. Don't overfill your pastry or the ingredients will leak out during baking. Try to keep the ingredients even and flat.

Wet the edge of the first pastry and cover it with the second pastry.

Press a glass into the pastry to mark the center, being careful to not push all the way through.

Using scissors, cut each section of the pastry as shown in the diagram, cutting up to the circle, but not into the circle.

Once all sections are cut, place tarte into the refrigerator to chill for about 10 minutes. This makes it easier to twist each section.

Remove tart from refrigerator and going around the pastry, twist each strip twice.

Bake at 350° for approximately 20 minutes until golden brown.

Twist off a strip to eat and enjoy!
Notes
This Tarte Soleil can also be made by substituting the sun-dried tomatoes and ham with a small tub of garlic-herb cream cheese and pieces of smoked salmon--or anything else you may wish to try. Another combination to try is blue cheese and chopped walnuts.
Tip: When adding ingredients to the pastry, don't overfill it. Keep it even and flat, otherwise, the filling will leak out during baking and will be difficult to twist.
*If a post is sponsored or a product was provided at no charge, it will be stated in post. Some links may be affiliate links and as an Amazon Associate, I may earn from qualifying purchases. *