The time was June 1979 and we had just graduated from college. During that final year of school, we lived on campus in a tiny apartment in what was referred to as "married student housing." With our studies now completed, we loaded up a small U-haul and headed off to Aberdeen Proving Ground in Aberdeen, Maryland for Officer Basic Training. Four months later, with that commitment completed, it was time to return home.
Back home again, we moved into our first, real "grown-up" apartment. We were so happy that it had a tiny little laundry closet that was just big enough for a washer and dryer. That meant no more having to carry our clothes to/from a communal laundry room, as we had in college. What a luxury! On December 13, 1979, we purchased a GE Washer and Dryer from a hometown store. I still have the original receipt showing the washer was $306 and the dryer was $225. The total for both, including tax, was $552.24. The label attached to the side of the machine states that it was Made in USA by General Electric, Appliance Park, Louisville, KY 40225.
It has been 43-1/2 years since that purchase and though I'm on my third dryer, the washing machine just had its first issue a couple of days ago. It was making a weird hissing sound and leaked a lot of water out onto the floor. In the past, it has occasionally leaked a small amount, but this time it was a lot. Sadly, I think it's time to say goodbye to this faithful servant.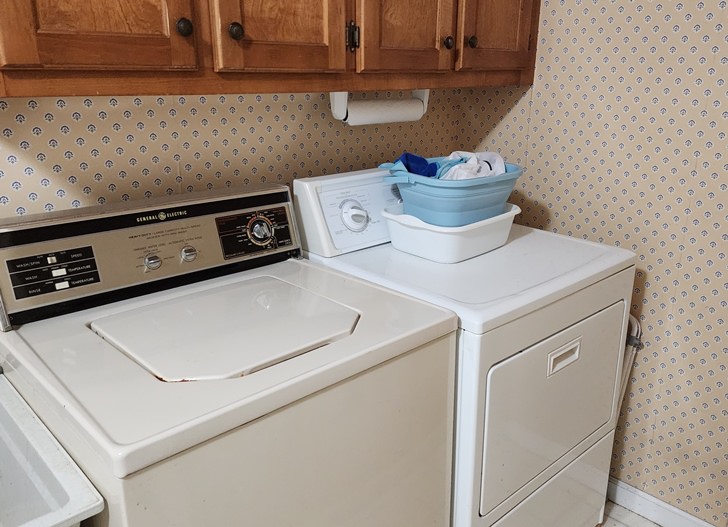 One of the reasons I've held onto this washer all these years, other than a growing curiosity to see just how long it would last, is its awesome handwash basket. When this machine was made back in the late 70s, it came with a good-size, handwash basket that fits right down over the agitator. There is a special setting on the machine that you click over to whenever you want to wash a few items in the basket. I LOVE this basket-I mean seriously love this basket! It will hold 3-4 shirts, or maybe a pair of pants and 2-3 tops, and it is so gentle on clothes. Once my son was grown and off to college, the only items I ever washed in the main part of the machine were towels, sheets, and socks. Any clothing that I didn't personally wash by hand, almost always went into this basket since it was so gentle on clothes.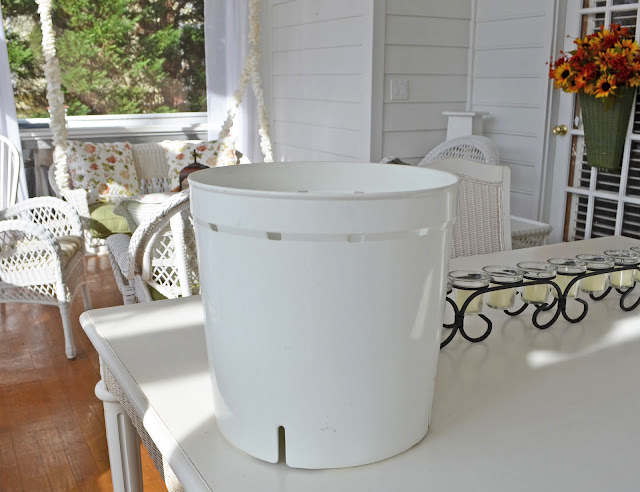 Over the years, I've searched to see if any brands were making washing machines with a basket like this. Not only have I not been able to find a machine with a handwash basket, but most washing machines have lost their agitator altogether and have moved to the impeller method for washing.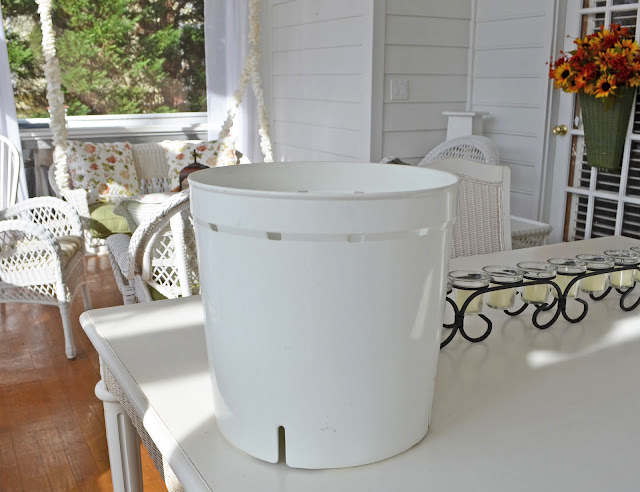 Having put it off as long as I could, it was time to go washing machine shopping. After doing some research, I was super tempted to buy a Speed Queen since they are by far the most highly regarded and recommended machine by many consumer websites, publications, and a lot of appliance repair guys. Speed Queen states that a household doing an average of 8 loads of laundry per week, can expect their washing machine to last approximately 25 years. I typically do 2 loads a week, so I'm sure a Speed Queen would probably outlive me! I also love that they are made right here in the United States in Ripon, Wisconsin.
In the end, I decided to go with an LG machine I had an opportunity to see in a nearby big box store. It was more affordable at around 1/2 the cost of the Speed Queen TR7, the machine I would have wanted from Speed Queen, plus I could get it quickly in just two days. Another factor in my decision is I see a major laundry room renovation in my future. I didn't want to invest $1,429 (cost of the Speed Queen before tax) in a washing machine that I may not be able to use, depending on what direction the renovation goes.
During the research phase, I learned that most washing machines being made today typically last between 10-13 years. Since I don't do that many loads per week, I would expect a washer to possibly even last a bit longer, so I decided to go the more frugal route for now and put those savings toward a future bath renovation. But I must say, I am definitely impressed with the ratings and reviews I read for Speed Queen washers and dryers! Their machines are built the way washing machines used to be built. They appear to be in a whole nother league from the run-of-the-mill washing machines you find today.
This is the washing machine I ordered online after seeing it in person. It's being delivered today. You can read more about it here: LG Washing Machine. I'm not looking forward to the delivery. I don't know what's wrong with me but I have this habit of getting very attached to "things" that have been so dependable in my life. When I sold my 14-year-old car to Car Max almost two years ago, I cried all the way to Car Max when it was time to turn my car in. It felt like a betrayal. It had kept me safe while taking me to all the places I needed to go for many years and it felt like I was abandoning it. I sure hope I don't embarrass myself by crying today when they take away my old friend who has been a true rock for over 43 years. If the lid wasn't rusting so badly, I would have been tempted to see about having it repaired. Does anyone repair 43-year-old washing machines? I hate decisions like this!
So, about that laundry room renovation–many years ago I shared this photo of my laundry room right after having a group of friends over for a dinner party out on the porch. (Read more about that here: After the Party.) I'll never forget that night because a HUGE, monstrous storm arose out of nowhere, and though I tried my best, I could not get my friends to come inside. As the trees swayed like they were in the middle of a hurricane, and rain came onto parts of the porch in big bursts, my friends calmly continued chatting as if nothing was happening! I seemed to be the only one who thought we should REALLY go inside. lol Fortunately, the storm didn't last long and the rest of the evening was uneventful with nice weather.
I've been toying with the idea of moving the island from the laundry room down to the newly renovated storage/utility room in the basement. This seemed like a good time to move the island since I wasn't sure there was enough space to easily swap out the washers. Fortunately, a few months ago I went through everything in the island and cleared out the things I no longer wanted to store there, so there wasn't that much left to clear out.
Oh my word, what a time I had getting that island out of the laundry room! It's been many years but I remember when I brought it home, it barely fit through the door. To make it as light as possible in order to move it, I removed the wood top-which thankfully, is easy to remove, its two doors, a very large, shallow drawer on one side, and the long towel hanger on the other side. This island also came with a small table that pulls out from one end. I've never used it and have always had it pushed in while it was in use in the laundry room. I was able to remove the table from the island as well.
As you can see, the island is currently sitting in my foyer, waiting for a miracle to happen that will transport it out the front door, around the side of the house, and into the basement. lol I'm going to ask the washer delivery guys if I can pay them to help me move it to the basement. If they are not able to do that, I'll ask the guy who cuts my grass if he can help me move it when he's next here. Honestly, I could probably do it by myself by pulling it around the house on a tarp, but it's the two steps off the front porch that have me worried. I'm afraid they would be hard to navigate without damaging the underside of the island.
There have been a few changes since I last shared this storage/utility space with you. I've added a third cabinet down the wall on the left (not pictured) and a false return vent was installed on the wall on the right to give good ventilation to the utility closet on the other side that houses the hot water heater and furnace. I'll share some of the recent updates I've completed in another post sometime soon. Hopefully, that post will include an island here in the basement. 😉 I'm thinking about placing the island in the center of the room, near the far end of the room. That way, all four sides of the island will be accessible as it was designed.
In the meantime, here's how the laundry room looks right now. I haven't seen it like this in many, many years. It's just begging for a full-scale renovation!
I want to tear out the small pantry there in the corner and turn this space into a laundry room/Butler's pantry. Not exactly sure how that would work since it's sort of an odd-shaped room with two doors and a window.
I've sometimes thought of going with a stackable washer and dryer to free up even more space, but not sure if that would be a good idea for resale in the future. Or, maybe I would prefer a front-loading washing machine and dryer. Those seem to be a popular choice these days. I know there were issues with doors on front-loading washers getting a bit molding/stinky. I wonder if that is still an issue. Many years ago I was talking with a contractor about redoing this room and he told me I should get rid of the back staircase and claim that area for the laundry room! What?! Absolutely, no way! The back staircase was one of the features I really liked about this house when I moved here so many years ago.
The back stairway is also a sneaky way to escape upstairs for a robe if the doorbell rings and I'm still in my pajamas. I love a sneaky back stairway and can't imagine tearing it out.
Whatever I do in this room, I envision built-in, white cabinetry/shelving, and a much nicer-looking utility sink with pretty countertops on either side. But first, bathrooms! I keep getting distracted with renovating other rooms. Truth be told, I'd much rather start a Butler's pantry/laundry room reno next than renovate a bathroom. Ha!
It's been a busy few weeks–did I mention my microwave died last week? Well, actually it didn't die, it just sounds like a growling, grumbling ogre has moved into it, one who likes to occasionally throw tennis balls around. I've never heard noises like that coming from any appliance! The microwave is just 18 months old, but unfortunately, it's around 6 months out of warranty. When I called GE, they said, Nope. Best Buy (where I purchased it) said, Nope, too, but American Express didn't let me down! Thankfully, I paid for it with my Amex card, which automatically doubled the manufacturer's warranty. Love that Amex Purchase Protection!
Wish me luck with the delivery today. Maybe a miracle will happen and there won't be a big island filling up my entry after today. Ha!
*If a post is sponsored or a product was provided at no charge, it will be stated in post. Some links may be affiliate links and as an Amazon Associate, I may earn from qualifying purchases. *