Welcome to the 676th Tablescape Thursday!
What would you do if you lost your phone and internet connection for 3-1/2 months?! I just recently heard from my friend, Norma, who lives in France. Norma wrote, "
Well, you will not believe this but we have only just got reconnected after three and a half months of being cut off from the outside world! What happened was that a car went off the road at the top of our lane and crashed into a field, taking with it a telegraph pole that took out our phone and internet connection!"
Norma had to completely rely on a cellphone on which she made hundreds of calls trying to get her utilities restored. Apparently, the utility company was not particularly in a hurry since it was only her home that had been affected in the scenic rural area where Norma lives. She was later told that the hold-up had been in getting a new pole made! Is that not wild? I can't imagine what I would have done during that 3-1/2 months, but I think it may have involved ringing someone's neck!
Norma loves to entertain and recently had friends over for a lovely luncheon outdoors. They started at the front of her home, having aperitifs at a small table. I love the napkins Norma chose for this gathering, especially after the last few years we've all endured! (Carpe Diem = Seize the Day!)
Afterward, the party moved to the back for a lovely dinner. Do you see the festive banner there in the background?

I asked Norma about the banner and she said, "I made the banner out of scraps of different patterns of red and white that I already had."
If you've been reading BNOTP for very long, you know I'm a huge lover of blue and white decor, but one of my other favorite color combinations is red and white. I almost redecorated my son's old bedroom (after he graduated college and moved out) in red and white toile before deciding to turn it into my home office. So my eyes really lit up when I saw Norma's charming red and white table set outdoors in the beautiful French countryside!
Notice the wonderful monogrammed napkins! The monogram is also repeated there in the center of the table underneath the beautiful floral centerpiece. Do you see it?
Initially, not realizing the tablecloth was also monogrammed, I asked Norma about the napkins. Norma said, "I bought this set on French eBay many years ago. there are eight napkins and actually, the matching tablecloth has a bigger version of the same monogram but as it is in the center of the cloth, it is hidden under the vase of flowers."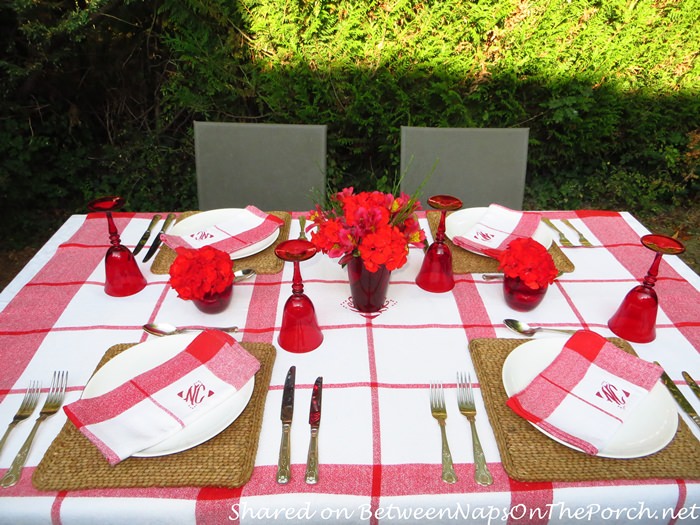 Norma added, "I could not believe that it had my initials and it only cost six pounds, about nine dollars! It looked as if they had never been used."
Wow, this makes me want to immediately start scouring eBay on the daily for monogrammed table linens! What a find!
The flowers are so pretty! I can just imagine how this beautiful setting must have delighted Norma's friends as they rounded the house and saw the banner and this charming table! When it's freezing outside this winter, I will revisit this post to remind myself how summer feels and that it will come again one day.
Thanks so much to Norma for sharing this wonderful summer setting! I'm just not ready to say goodbye to summer just yet, although I know fall is fast approaching.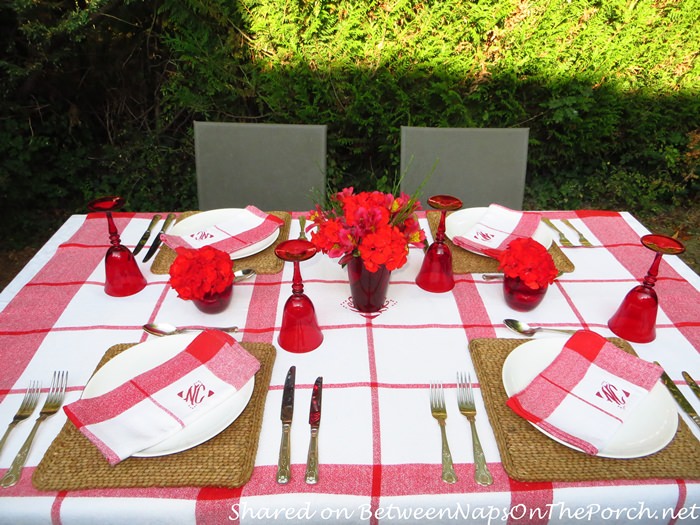 Looking forward to all the wonderful table settings linked for this week's Tablescape Thursday!
Did you know Between Naps On The Porch is on Instagram? You'll find me on Instagram here: Between Naps On The Porch.
Like to know when a new blog post is up and available to read? Subscribe for email updates, it's free and your email will never be shared. Subscribe for free post updates via email here: Subscribe for Post Updates.
Tablescape Thursday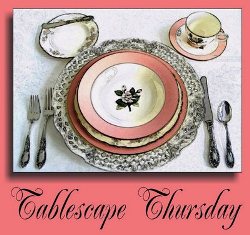 If you are participating in Tablescape Thursday, please be sure to add your permalink below, and not your general blog address. To get your permalink, click on your post name, then copy and paste the address showing in the address bar, into the "url" box when you link up.
You'll need to include a link in your post back to the party to link up and participate. That's so visitors to your blog will be able to find the party and the other Tablescape Thursday participants. Please, don't add your post name/blog name ALL IN CAPS…it tends to create big spaces between the rows of links.
This party has ended, click button below for the links to all who participated.
*If a post is sponsored or a product was provided at no charge, it will be stated in post. Some links may be affiliate links and as an Amazon Associate, I may earn from qualifying purchases. *