I'm back from the "Sailing with the Scotts" cruise and have some fun pics to share. I spent yesterday sorting and going through many of them…and doing this. Yep, it's that time again, time to bring out the wreaths. I'm going to spend the afternoon hanging them and can't wait to see them up. (See how I hang them in this post: How to Hang Wreaths on Exterior Windows )
Looking at that photo above, it's funny how paint in photos can be so deceiving. The upstairs hall is painted a very light yellow called Tea Bisquit, the same color seen here in the upstairs family room.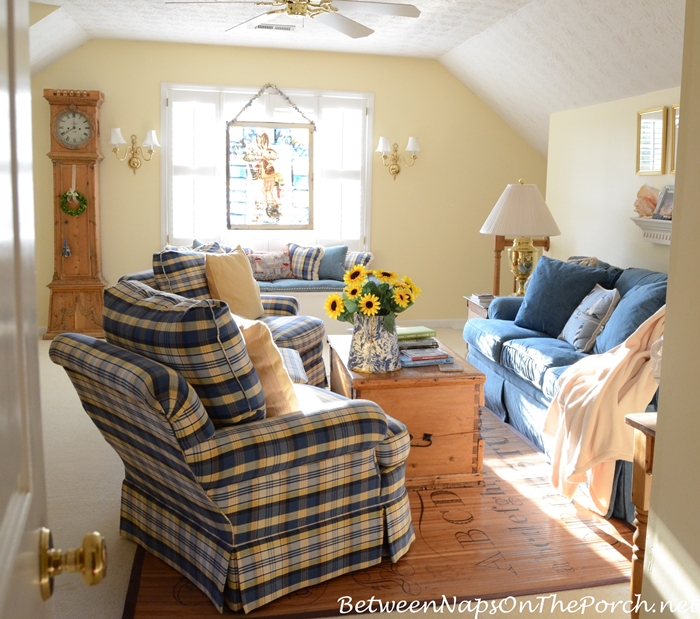 While I'm hanging wreaths today and going through the rest of the pictures from the Sailing with the Scotts cruise…and planning for Thanksgiving…and cleaning the house, (Whew!) I thought I'd share a quick video I uploaded to YouTube last night.
While on the cruise, one day I managed to sneak away from all the crowds and found a semi-quite spot where I could sit and enjoy the sun and the waves while I sipped on a fruity drink.
I managed to bring two of these cute carved monkey coconut drink holders back home in the large suitcase I had checked. They are actually made from real coconuts, carved out to hold a glass inside. I was worried they wouldn't make it through security. Can you imagine how those must have looked going through one of the x-ray/scanning machines–a big, round, ball-shaped object with a skinny cylinder inside. Yikes!
Amazingly, they were still inside my suitcase when I got home. I thought they would be so much fun in a tablescape next summer or to use when I have a friend over and we have drinks out on the porch. 🙂
While I was sitting there, relaxing with my fruity drink and thinking how tiny our ship was in this vast, vast ocean, I suddenly realized a rainbow had formed.
Normally it's hard to see both ends of a rainbow when on land since trees and buildings get in the way. But out here in the middle of the ocean, I could actually see both ends coming down into the ocean. Wow!
Then I realized a second rainbow was starting to form!
Do you see it?
Do you remember Double Rainbow Guy and his video that went viral on You Tube with 42 million views! I guess double rainbows aren't quite as rare as he thought. 🙂 I wonder how rare they really are…good trivia question!
I made a very short video of it for you, trying to capture the full rainbow. You'll find it here: Double Rainbow
Have you ever seen a double rainbow? This was my first time seeing one and it was pretty awesome! Have a great weekend…see you tomorrow for Metamorphosis Monday!
*If a post is sponsored or a product was provided at no charge, it will be stated in post. Some links may be affiliate links and as an Amazon Associate, I may earn from qualifying purchases. *