I've received a lot of questions via email and comments about the recent trip I took to Africa. Today, I thought I'd take time to answer some of those and to make this post a bit more fun so it's not just a bunch of words, I'm including pictures of the souvenirs I brought back, along with some of the little gifts I received during my stay at Mahali Mzuri and Giraffe Manor.
Please Note: The captions under each picture explain what they are and for whom they were purchased.
It would take me a while to go back and find each question in the comments so I'll just paraphrase them in this post. If you have a question, leave it in the comments and I'll do my best to answer it.
The number one, most frequently asked question that I've gotten from BNOTP readers, friends, and fellow travelers I met during my trip to Africa was:
Q: Did you travel alone? Weren't you afraid?" Those questions were usually followed by statements about how brave they thought I was to travel alone and how they didn't think they could do that.
A: I'm never exactly sure how to answer this because I honestly never felt the slightest bit afraid or anxious about traveling alone. That probably makes me weird, but I never did. Now, if I had just booked myself a flight to Nairobi and planned to wing it and fly by the seat of my pants once there, then I would have had some concerns. That would have been outright crazy! But that wasn't how this trip was set up. This trip was very well planned by the agency I used, along with plenty of input from me. (You'll find a link to the agency I used to book my trip at the end of this post: Africa Bound: A Fantasy Trip to Mahali Mzuri and Giraffe Manor.)
I'm pretty used to being independent. I kinda grew up as an "only" child because my sister and brother were much older and were both grown and out of the house by the time I was around 6-7 years old. I usually make friends pretty easily and I was fairly positive there would be other people staying at Mahali Mzuri and going out on safari each day, and there were. I also suspected there would be other folks staying at Giraffe Manor, and there were.
I met some fun travelers the night we dined at Giraffe Manor around this beautiful table. (See more photos of this table here: Dining by Candlelight in Giraffe Manor.) It was amazing to hear how far folks had come to go on safari! Many of the people I met were from Great Britain and Australia.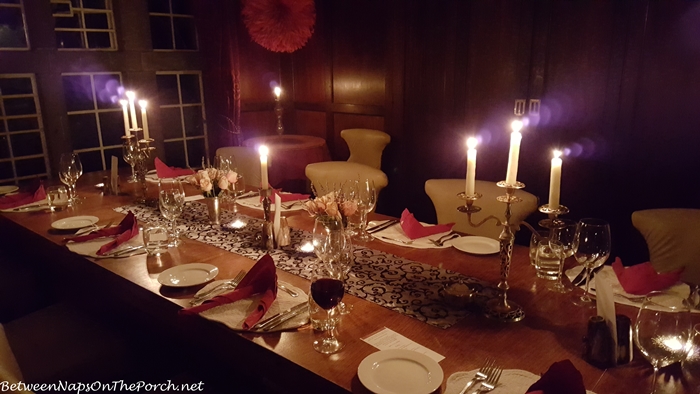 During my stay at Mahali Mzuri, I met some wonderful folks including Jill and Scott who were staying at Richard Branson's safari camp for two of the three days I was there. This photo was taken when our guide pulled over and stopped so we could enjoy the sunset and sip the sundowners Scott made for us.
For each safari outing, the staff at Mahali Mzuri would ask what we wanted to take along. They supplied the ingredients and Scott put together our sundowner for the evening. One thing you must know before going on safari is that sipping sundowers while watching the sunset, is a tried and true tradition, not to be missed. lol I read about that even before I left for the trip.
This was the sunset we enjoyed that evening. I think those are African Buffalo silhouetted against that gorgeous evening sky.
But back to the question about traveling alone…there seems to be this bonding thing that kind of naturally happens when you meet people who have the same interests in travel that you do. We already had something in common to talk about, like our mutual love for travel and animals, so I never felt alone. Heck, I was too busy doing stuff to ever feel alone! lol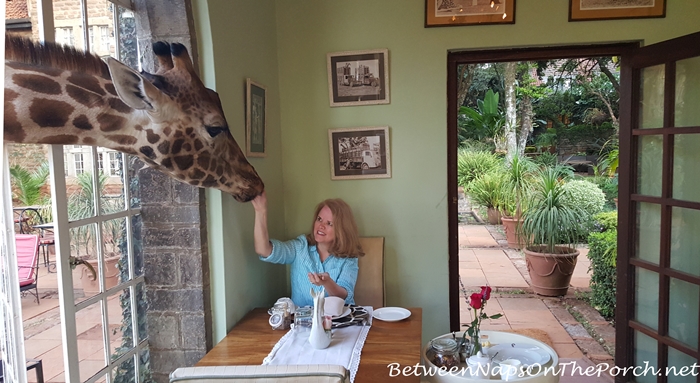 Maybe part of my not being afraid to travel alone comes from the type of work I've done in the past where I had to deal with complex issues and the unknown on a daily basis.
Eight years working as a Case Manager investigating abuse, neglect, and exploitation of the elderly prepares you for just about anything. Every day in that job I found myself confronted with difficult and often dangerous situations. So, yeah…it takes a lot to shock me, and I'm pretty fast on my feet when I find myself in a difficult or stressful situation.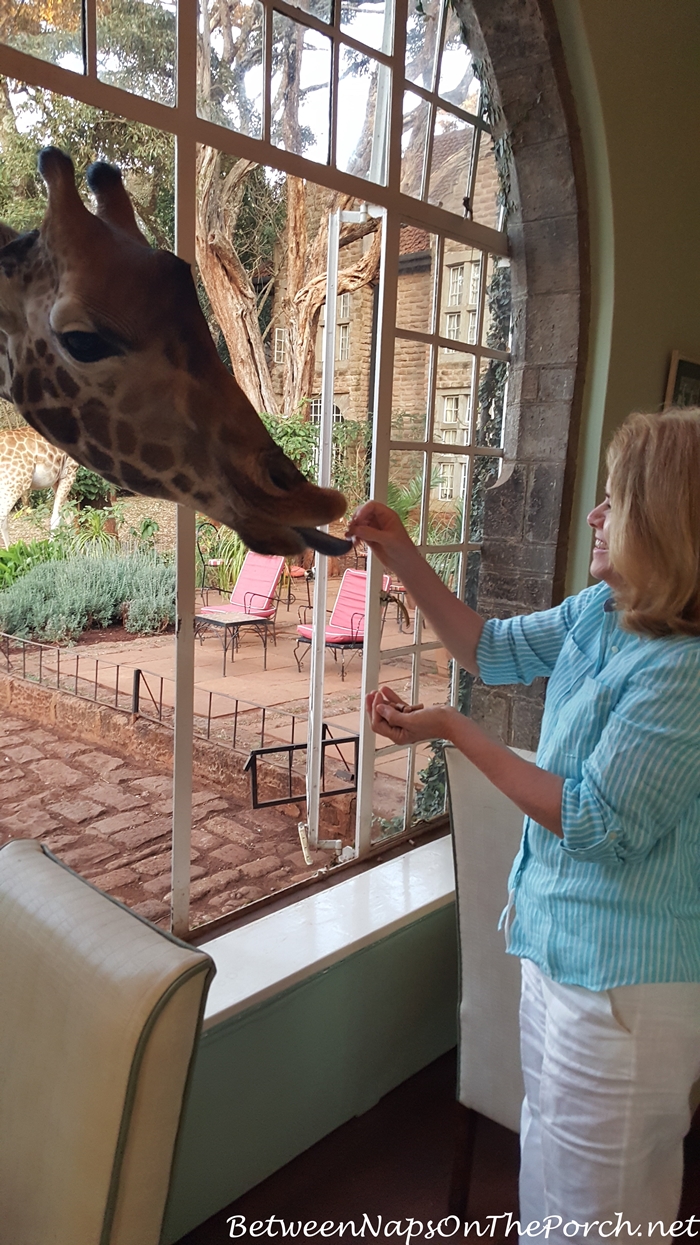 Sorry if this answer is a bit long, but truth be told, I'm not exactly sure why I haven't been afraid or worried about traveling alone. I think just the excitement of traveling and the dream of adventure outweighed any doubts or fears that could possibly creep in.
My only real concern before I left was that a flight would be canceled or significantly delayed. That would have broken my heart since my time in Africa was so limited.
Amazingly, everything went exactly according to schedule, no delays at all. This actually just dawned on me today, that nothing went wrong. With all the flights I had, that's probably nothing short of a miracle. I know things won't always go so smoothly when I travel, but this time they did, and for that I'm grateful!
Update on 5-12-16: You'll find a Safari-themed table setting using these glasses here: On Safari: An African Safari-Themed Tablescape
Q: How did I manage phone communication while in Africa?
A: That's an easy one to answer, I put my mobile phone on Airplane Mode in the Atlanta airport and never took it off until I got back home. I called Verizon before I left to ask about buying a plan that would cover me while in Kenya, and the Verizon employee I spoke with said they had zero coverage in Africa.
About two days before I left, I visited the Verizon store that's about 2 miles from my home and once again asked what were my choices. The employee I talked with GREATLY discouraged me from buying a third-party sim card and putting it in my phone. He said they have folks coming in the store all the time with messed up phones after trips to Italy and other places where they've swapped out their SIM card for another one, and now they can't get their phone to work with their old SIM card back in place. It was right about that point when I decided if someone needed to reach me, they would just have to email or text me–or call the places I was staying.
One thing I did learn before leaving for this trip is that you can have the WiFi turned on full-time on a cell phone while it's in Airplane Mode. I had the wifi on pretty much all the time, so it worked fine in the airports, at Mahali Mzuri and at Giraffe Manor. So did my computer. I didn't use my computer in airports…just at Mahali Mzuri and Giraffe Manor.
Q: What did you do when you needed to go to the bathroom while out on safari?
A: I'm one of those folks who can go a long, long time between bathroom breaks. Safari excursions were usually around 3 hours long so normally it wasn't a problem. When folks did need to go, I was told early on that it's called "checking the tires." lol
A few times we stopped near the woods or a big bush and the person needing to "check the tires" would get out and go back behind the safari vehicle where it was completely private. As you can see in this photo from the Mahali Mzuri website, the back is solid so no one can see out the back of the vehicle.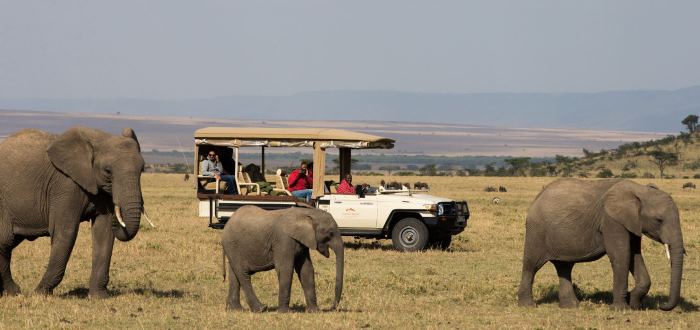 The only time I had to "check the tires" was when we spent an entire day in the Mara on safari. A bush came in handy for that and I had a nice view of hippos on the Mara River to keep me company. We all carried Kleenex or tissue, too.
Q: Some folks asked about the small purse I took on this trip and how it worked. I took this one since I was limited to 33 lbs on my bags. I knew I wouldn't be checking a bag and would be carrying two bags onto the planes: my Pendleton bag with clothing and my camera/laptop bag.
A: This bag was perfect for this trip except for one thing: even though the strap is adjustable, when I shortened it, it never stayed shortened. I always found it had lengthened back out. I think it was because I was lugging two very heavy bags crossbody over my shoulders and body, and they were probably tugging down on the strap the whole time, extending it back out. By the end of the week on my last day of travel, the strap was starting to tear away from the bag, perhaps due to the heavier bags tugging on it so much.
Another thing that may have caused the strap to start tearing away from the bag, was the design of the bag and how the strap connects to the bag. The strap connects down inside the back pocket of the bag, and that's where I kept my cell phone throughout the trip. I was continually getting my phone in and out to take photos all throughout this trip, so that may have put stress on that area where it connects to the bag. I'm just not sure.
If I went on another trip where I couldn't take a normal size purse with me, I'd buy another one of these bags in a heartbeat because I really liked it a lot. It worked just as I had hoped. I would just be more careful with it and probably wouldn't store my cell in the back pocket, just in case.
I'm very glad that my luggage requirements will be completely different on the Italy trip I have coming up. They'll be no flying on small planes like there was on the Kenya trip. This was the plane that took us out into the bush. We landed on a grass strip and I was met by a guide from Mahali Mzuri for the 45 minute to 1 hour drive back to camp.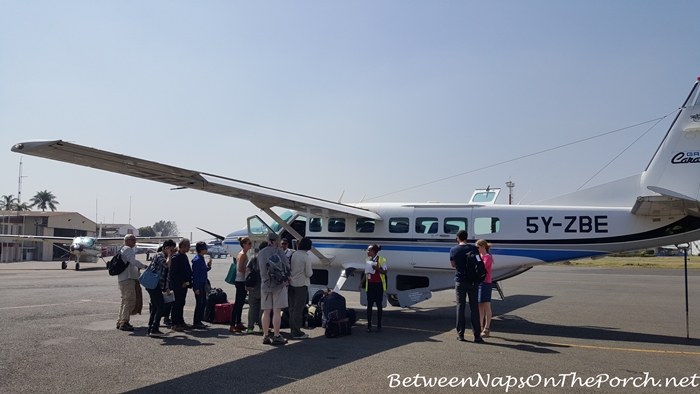 So I can check a full size bag and take this small rolling bag with me on the plane. What a luxury it will be to roll my bag instead of carry it this time!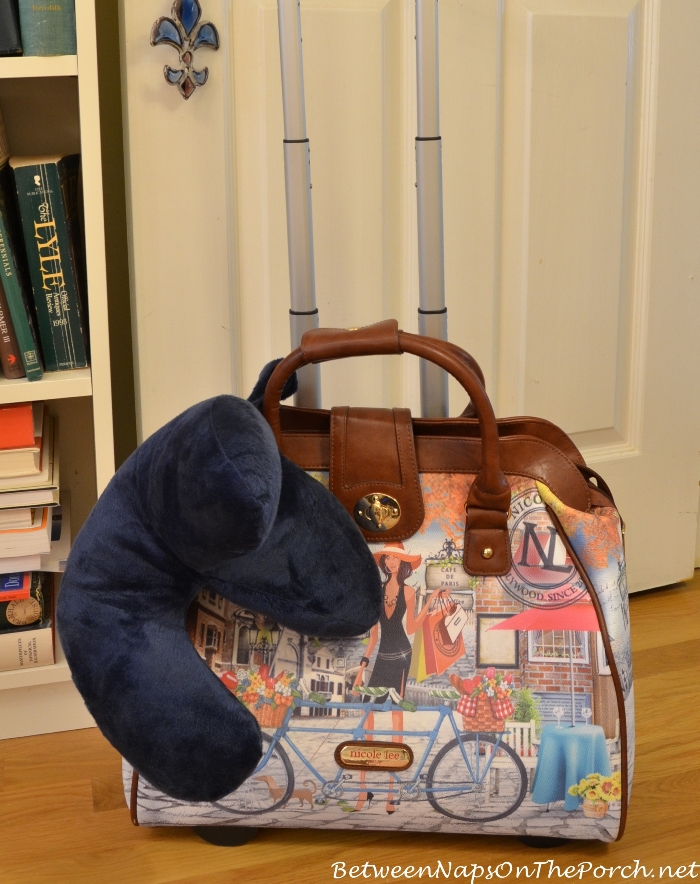 I'll also be using my bigger Travelon purse for the Italy trip. That trip should be a breeze to pack for compared to what I had to do for the Africa trip. (That bag is available here: Travelon Anti-Theft Cross Body Bag)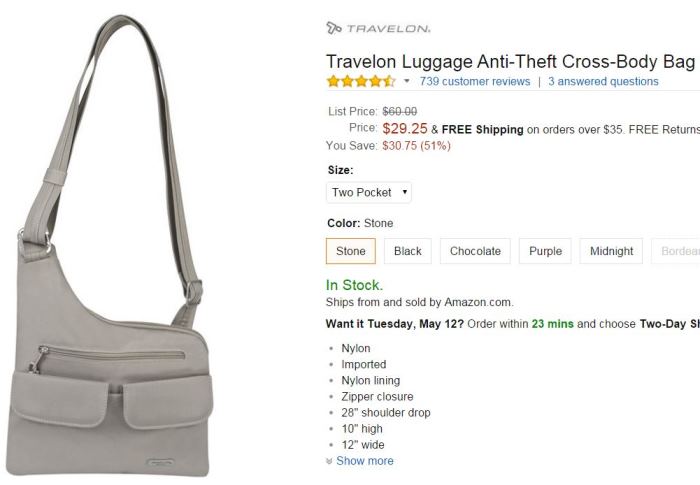 Q: Several folks asked what lens I used and how close we were to the animals in some of the close up shots I shared on Instagram.
This exotic fellow is the Southern Ground Hornbill and he's the largest species of hornbill in the world! When he flies, he has white underneath his wings and the combination of the black, red and white is beautiful!
A: The guides are able to get us fairly close. Most animals just glance over and then continue on about their business. They don't seem to care one bit about the safari vehicles.
The lens I used was a $200 refurbished, Nikon 55-300mm lens I purchased from Adorama a few weeks before I left for the trip. Their refurbished lenses are often their demos. They are refurbished at the Nikon factory and come with a warranty, so it's a good way to save a little when buying a lens. This Agama Lizard was amazing, he appeared almost iridescent in person!
Banana Republic Vest Update: Thanks for convincing me to take it!
Remember the safari-style vest that I was trying to decide if I should take along on this trip when I was planning my packing strategy? I had purchased the vest in Banana Republic around 30 years ago when that was the type of clothing they sold.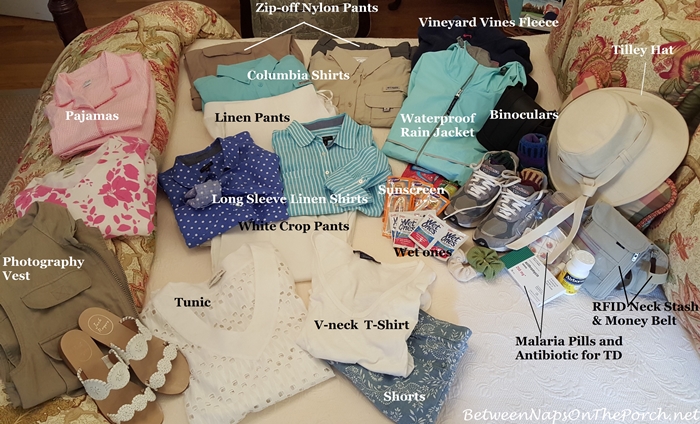 Well, I took your recommendation and I did take it on the trip. I wore it out on safari a few times and loved it. The pockets came in handy for carrying chapstick and other necessities.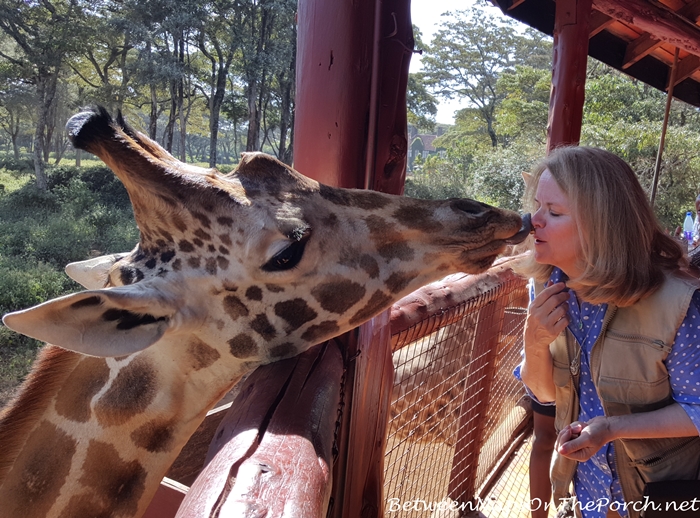 A week or two before I left, I searched online to see if I could find one of those old Banana Republic catalogs from around the time I would have purchased the vest. I found two on eBay and purchased them to see if my vest was in them since they were from 1986-1987 time frame. It was!
This was the other Banana Republic catalog I purchased. I loved the fun picture on the cover. Banana Republic used to have the best catalogs with wonderful drawings and stories throughout. I'm not surprised someone saved them all these years. So glad I could find a couple of them on eBay for old times sake.
Don't you love this picture! I love the giraffe munching on the Christmas tree. Then there's the zebra curled up on the floor with a monkey beside him. Of course, there's a sweet kitty in the chair. This was their holiday catalog back in 1986. Banana Republic still sells safari style clothing under the "Heritage" section on their website, something I learned from watching a YouTube interview with the original founder a few weeks ago.
Oh, before I forget, I want to share a wonderful site Peg shared with me in the comments on yesterday's post. (Thanks, Peg!) It's a site where the authors take you on a live safari every day! Check it out here: Wild Safari Live. It's a good way to see if you would enjoy going on a real safari one day. You just get to skip the bumpy roads part.
Update: If you are considering a trip to Africa, especially to enjoy a safari and see the famous migration of the Wildebeest, do some research to make sure where the migration will be during the time you're visiting and what the weather will be like. Africa has a "short rainy season" and a "long rainy season." Every season has its advantages and disadvantages. The rains move around, as do the Wildebeest, so do a bit of research OR consult a good travel company to ensure you're not dealing with rain all day, every day.
*If a post is sponsored or a product was provided at no charge, it will be stated in post. Some links may be affiliate links and as an Amazon Associate, I may earn from qualifying purchases. *