In September 2015, I took a six day trip to Kenya. While there I stayed at the beautiful safari camp, Mahali Mzuri, where we took two game drives each day, one in the morning and one in the afternoon. That trip was the first time I had ever traveled to another country and though it was brief, every single moment was filled with wonder and enchantment.
It's All About the Animals
I've blogged and shared videos about that trip to Africa several times, including a video tour of the safari camp where I stayed and our candlelight dinner in the bush followed by a performance of the Maasai Warriors.
I've also shared a tour of the room I stayed in at Giraffe Manor and the wonderful giraffe that call it home. But the one thing I haven't had a chance to share are all the photos I took during our safaris out into the Kenyan bush. When you go to Africa, it's all about the animals!
During my stay at Mahali Mzuri, we ventured out into the bush twice a day. Most of our safari adventures took place on the Olare Motorogi Conservancy where Richard Branson's Mahali Mzuri is located, but one day we spent the entire day in the world-renowned Masai Mara National Park and Reserve where we were fortunate to catch the migration of Wildebeest and Zebra across the Mara River. The animal spotting was excellent in both places and I can recommend both if you ever decide to take a trip to Kenya. I still need to upload and share the photos and video I made of the river crossing-migration. It's a sight to behold, for sure!
I've spent the last few days going through the thousands and thousands of animal photos I took while in Kenya. I took an unusually large amount because when you're out on a safari, it can be difficult to get a clear picture. As you would expect the animals are often moving, and though the guide brings the safari vehicle to a complete stop and turns off the engine, because the vehicles have such bouncy shocks, any movement or shifting in the seat by another person in the vehicle will cause your camera to move as well. All a person has to do is turn in their seat and your shot is ruined–not intentionally, of course.
Since I was using a telephoto lens to get as close as possible to the animals, movement added up to a lot of blurry pictures, well that and not having the time or space to use a tripod. If you travel to Africa for a safari, try to take a collapsible monopod with you. I think that would definitely help.
I'm not sure how it normally works since this was my first safari, but I took a gazillion photos to compensate for all the obstacles I encountered. Unfortunately, that meant I had a gazillion photos to sort through once back home, thus the reason I'm so late in finally sharing these with you. I took way too many to share them all in one post, so I've culled it down to around 50-55, half of which I'll share in this post and the other half in a follow-up post very soon.
I hope you enjoy going on safari with me. I'll link to some of the previous posts I've written about this adventure at the end of this post, in case you're interested in reading/seeing more. Thanks for allowing me to share the most wonderful adventure I've taken to date with you, dear Friends!
On Safari in Kenya
We came across a lot of lions during those three days on safari. This pride had just finished dining on Wildebeest and they were relaxing and snoozing in the shade.
I probably don't have to tell you what that pink stuff is on the fur. Glad I'm not a Wildebeest in Africa!
Apparently, this is how you brush your teeth after lunch.
They are gorgeous animals, I love their teddy-bear ears!
Too many lion pics to share them all, but here are a few more of some of the other lions we saw during our trips out into the bush.
One day we came across a rather large pride and they began roaring like crazy. If you follow BNOTP on Instagram, you may remember seeing that video when I shared it there. A few minutes later we heard more roaring around the corner and drove over to investigate. We found this beautiful guy.
I took a lot of photos of him. He was walking with a slight limp and at one point he laid down to rest. While lying down, he began to roar and it was amazing!
Whenever I visit my grandson, Court, he always asks me to play that video. He watches it, then runs away like he's scared. Thirty seconds later he's back asking me to play it again. Ha!
Here's a video I uploaded to YouTube during my stay at Mahali Mzuri where we had super fast wifi. I think Richard Branson must have his own satellite hovering above his safari camp out in the Kenyan bush because the wifi there is as fast (if not faster), than my wifi here at home! And we were in the middle of nowhere! It was wonderful and I've yet to stay during my travels at another place with comparable or even decent wifi that can handle the uploading of several photos, much less video.
During the day we spent in the Masai Mara National Reserve, I saw tons of hippos. 😉
Amazingly, the hippos and crocodiles hang out in the Mara river together! Do you see the tiny baby hippo just inches from the croc's mouth?! I guess crocs don't eat hippos and apparently the hippo's mom knows that.
I saw several hippos with little birds sitting on them. What? lol When I got home I Googled and read THIS article that has some rather humorous photos of a baby hippo trying to get away from the birds that were trying to land on him.
It turns out, the Oxpecker bird has a symbiotic relationship with hippos. They help to keep the hippos free of ticks and other annoying parasites. Fascinating!
This cute guy is a Black-backed Jackal.
He was a hard one to photograph, very shy and always on the move.
You see so many different kinds of gazelles in Kenya. Unfortunately, they are a food source for the big cats, so I guess that's why nature has created so many. I think this is a Grant's Gazelle.
Don't you love the horns! I wouldn't want to get speared by those!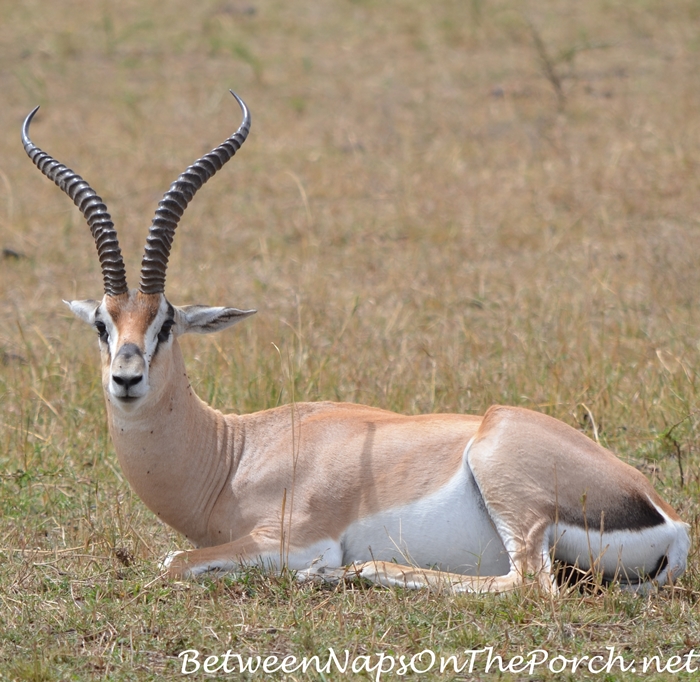 This is what it looks like as you're riding on safari, beautiful vast plains dotted with Acacia trees and other native plants. The animals that aren't predators to each other, often feed together. Below we see a Grant's Gazelle feeding near smaller Thomson Gazelle. That looks like Wildebeest in the background, although it's hard to tell for sure.
I think this is an Impala–if I'm remembering correctly. Such a sweet face, kind of reminds me of our deer.
We saw more Thomson's Gazelles than any other type of gazelle.
Do you see the funny little creature just beyond this Impala?
These guys are Banded Mongooses. I love the look on the face of the one who has spotted us!
Here's a zoomed in picture. lol Is that not the funniest face? 🙂
You can see why they are called "banded" mongoose in this view from the back.
We saw a lot of monkeys while out of safari but they will not let you get close enough for a great picture.
This is a Vervet Monkey. They were never still for longer than a second, so I could never get a clear photo.
We also saw a lot of Hyenas. This is the Spotted Hyena.
On one safari out into the bush, we came across this hyena lying in a big mud puddle right in the middle of the road. She got up to move but when she saw us stop, she laid back down. I was wondering if it might be a female who is expecting because her belly was very big.
Doesn't the face kind of remind you of a bat's face? The ears…the nose…the eyes remind me so much of a bat's face. lol
Looking forward to sharing pictures of Giraffe, Elephants, Waterbuck, Eland, Dik-dik, Zebra, Topi and a beautiful leopard in an upcoming post. One of these days I'll have to finish going through all the bird photos I took and do a short post of those. They have some truly exotic-looking birds in Kenya!
Update: You'll find Part II sharing photos of all the animals above and a few more here: When You're On Safari, It's All About the Animals: Part II.
You'll find additional posts about this African adventure here: Africa
I answer your most frequently asked questions about this trip here: FAQ About Traveling to Africa
See some of the videos I filmed while in Kenya here: Video. You'll find links to 10 "Africa" videos I've upload down the right side of the page at that link.
*If a post is sponsored or a product was provided at no charge, it will be stated in post. Some links may be affiliate links and as an Amazon Associate, I may earn from qualifying purchases. *