One of my fave paint colors I go to time and time again is an old, old Duron color called Sugar Cookie. There's a little story how I first discovered this color.
Many, many years ago, through a job I had at the time, I met a delightful lady who was the wife of a professional coach for a local university. I can't remember now if he was a footfall or basketball coach. Anyway, when I visited their home, I immediately fell in love with the yellow paint color she had used throughout her home. It was, Duron-Sugar Cookie and it was definitely "love at first sight."
She absolutely loved it too and excitedly told me it was the perfect paint color because it goes with everything. She went on to say that due to her husband's career, they frequently moved and she had found over the years that Duron Sugar Cookie worked in every home they moved to and with almost any decorating/color scheme she used in a room.
To emphasize that point, she gave me a little tour of her home and she was right! It was perfect in every room, no matter the fabrics or color scheme. It looked great with reds, blues, greens…all the different fabrics she had used throughout her home.
She also pointed out that it looked great with new furniture or with the warm patina of antiques. She had a lot of beautiful antiques and they were stunning against the soft, buttery color of Sugar Cookie.
I was sold and made a beeline straight for the paint store that day. Sugar Cookie has gradually spread throughout my home over the years.
I've use it in my home office. You may remember my "Paint Panic Attack" I posted about HERE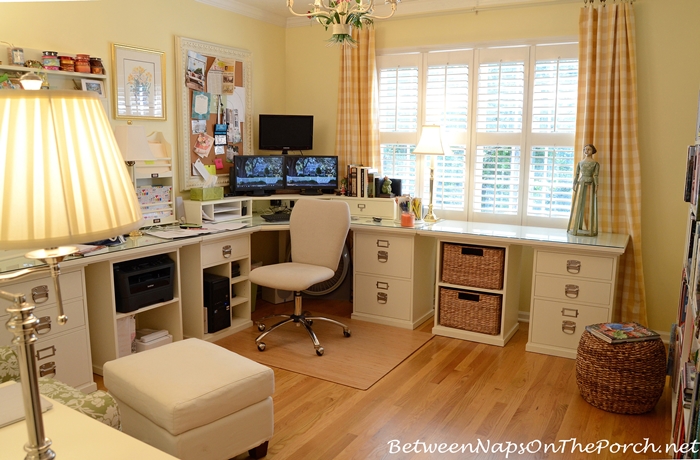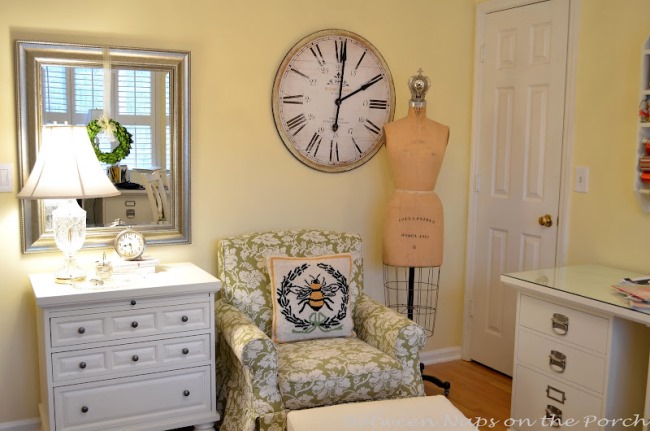 It's in My Entry…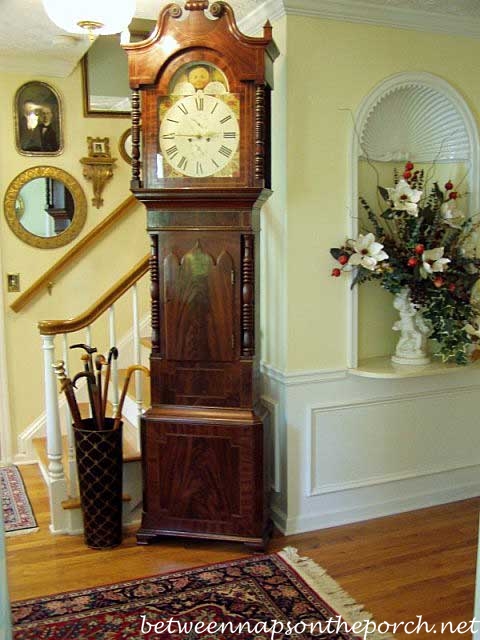 My bedroom…
And my kitchen/breakfast room. (St. Patrick's Day tablescape can be viewed here: St. Patrick Day Table Setting)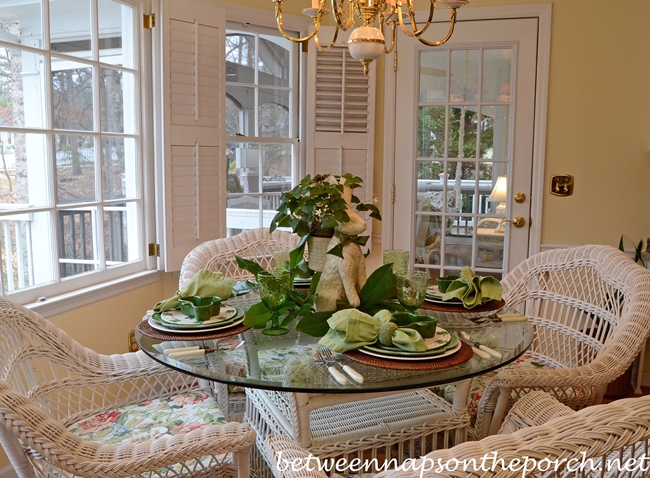 Since Duron is no longer around, I was VERY happy to discover my local Home Depot has an old Duron fan deck they can match to when needed. The only bad thing is, every so often Big Orange changes their paint formulas in their computer. Apparently, the companies change their base paint so the paint formulas have to change, too.
I usually have some paint left over in a can so I take it with me for a match when I need another gallon, but I know that doesn't help those of you who occasionally e-mail or leave comments asking for the name of the paint in my office, bedroom, etc…
A few days ago I stopped by the HD paint counter and asked if they would match to the fan deck again and give me a sticker with the formula so I could share it with you. They did and here's the current formula for 1 gallon of Sugar Cookie (eggshell) in their Behr Premium paint.
Update: January 2014
My son and his wife recently purchased a home and they used Sugar Cookie in several rooms. He offered to e-mail the formula Home Depot gave him for the 5-gallon size, so here it is in case you need more than just a gallon.
The other paint color I've used in my home that I'm often asked about is another old, old Duron color called Tea Biscuit. It's the color you see here in my upstairs family room, also sometimes called a Bonus Room or FROG depending on what area of the country you live in. I just learned that word, FROG (thanks Vikki and Mary!) so I had to work it into the post. 😉 Apparently, FROG stands for "Finished Room Over the Garage." I like that better than Bonus Room, so I'm officially dubbing this the FROG from here out.
Tea Biscuit is a little lighter yellow than Sugar Cookie. Sugar Cookie is a bit more buttery and Tea Biscuit is a little more subtle. I love both colors but went with Tea Biscuit for this room (instead of Sugar Cookie) since I wanted to use a lot of antique pine in here. I felt like the lighter tone/color of Tea Biscuit would provide a bit more contrast and work better with the color of the antique pine furniture.
As with all paints, Tea Biscuit can appear even lighter when the sun is pouring in.
Several folks have asked for the formula for Tea Biscuit. I posted it a while back but just like Sugar Cookie, the formula changed. Here's the current formula (see below) as of 07-18-13 for 1 gallon of Tea Biscuit (eggshell) mixed in Behr Premium paint.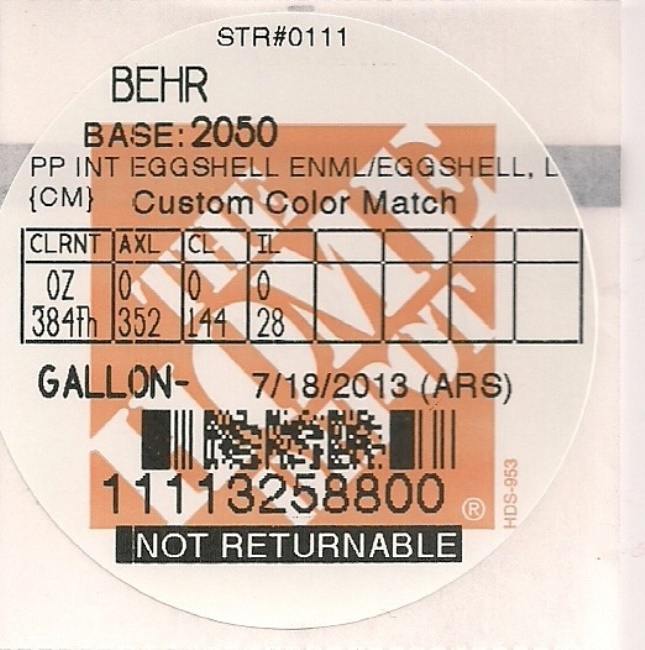 A Little Disclaimer:
I haven't had paint mixed up using either of the formulas posted here in this post. These are just the formulas the nice HD employee printed out for me on 07-18-13 after color matching to the old Duron fan deck they keep under the counter. He printed both formulas out at the same time and handed them to me. I asked which was Sugar Cookie and which was Tea Biscuit. He told me and I jotted it down on the back of each label.
So, all this is to say, please don't fuss at me if these formulas do not produce the results you wish. I'm just the messenger. 🙂 Hopefully their color matching system did its job correctly and hopefully the formulas didn't get mislabeled. I did my best to get them for you so hopefully these will work.
You should see the look on the faces of the paint guys when you walk up and tell them they have an old Duron paint fan deck under the desk and you would like the current formulas for Sugar Cookie and Tea Biscuit. They look at you a little strangely because most of them don't know the fan deck is there and they don't really understand why I want the formulas but don't want any paint mixed up. See what I do for you! I love you guys that much! 🙂
Guest Room is Different…It's a Custom Match
The yellow paint color I used in the guest room isn't Sugar Cookie or Tea Biscuit. It was a color the paint store mixed to match the yellow in the floral Sanderson fabric used for the curtains, the pillows and the table topper thingy. It's a brighter yellow than either Sugar Cookie or Tea Biscuit.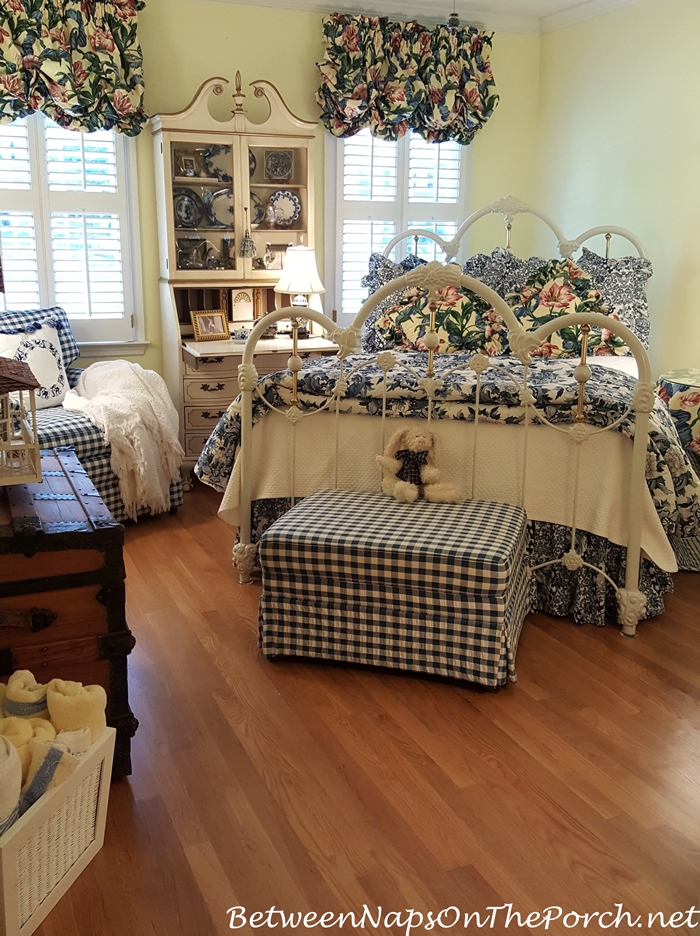 While we're discussing paint colors, I'll go ahead and include the paint color/name for the dining room so I can link to this post for future questions/reference. The red I used in the dining room is Benjamin Moore, Raspberry Truffle. It's not too bright and not too dark. You can see Raspberry Truffle online HERE although it looks really different online than it does in person. I like the description they have of it at that link.
I first came across this color while on an historic home tour in Marietta, Georgia. It was in a small den and the room felt absolutely wonderful. If I had a small den I would use it there. Since my den/family room is paneled with judges paneling and I really wanted this color somewhere in my home, I decided to use it in the dining room. I still love it after all these years. Maybe one day I'll get a wild hair and change it, but it's nice and cozy for fall and winter dining which is when this room is normally used. During the spring and summer, dinner parties are usually on the porch.
Another color I get asked about a lot is my front door.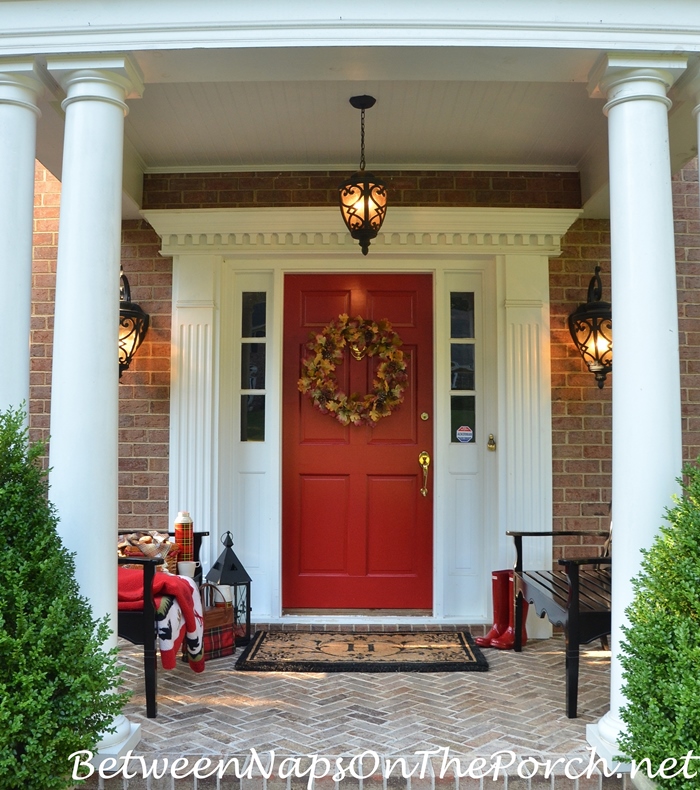 It a Benjamin Moore color called, Heritage Red and it's only available in their Aura line of paint. Not all BM stores carry the Aura line, so it's a good idea to call around to the locations in your area to see who stocks it to avoid driving to a store that doesn't carry it. It's a bit pricey but you only need a quart for most doors, so that helps.
Hope this post helps with all those paint question you may have had.
Have an awesome weekend! See you on Monday for Metamorphosis Monday!
*If a post is sponsored or a product was provided at no charge, it will be stated in post. Some links may be affiliate links and as an Amazon Associate, I may earn from qualifying purchases. *