A Dovecote in the Garden Landscape
Recently, I posted about a kind soul who came to my "rescue." That post contained lots of photos of the large dovecote in my perennial garden that runs along my driveway. I received several e-mails from readers asking for more information about this bird house and where I found it.
My interest in a dovecote for my garden came from years of going on garden tours. Often, while on the tours, I would come across these huge, beautiful dovecotes, and each time they captured my heart. But once I'd go home and price them, I would forget the idea of owning one. I could never understand why they were so expensive.
Over the years, to satisfy my desire for a dovecote, I bought smaller birdhouses similar in design, and always, after just 2-3 years they totally fell apart…just rotted away. Four years ago, I added a screened-in porch and a front porch to my home. Since the front porch completely transformed the front of my home, I decided to spruce up the large perennial garden along my driveway with a real dove cote. The brand I had always seen on the garden tours was Lazy Hill. I could always tell because the Lazy Hill dovecotes have a small, copper plaque along the bottom of the house. I had been told many times by homeowners (while on the garden tours) that the Lazy Hill feeders had been in their garden for years, so apparently they held up well to the elements. I was beginning to understand why they cost as much as they did since all my other bird houses usually fell apart after only 2-3 years. After my experience with the knockoffs falling apart, I was ready for the real thing.
The Lazy Hill dove cotes are really meant to be a focal point in the garden, a decorative feature, but don't tell the bluebirds who nest in mine year after year.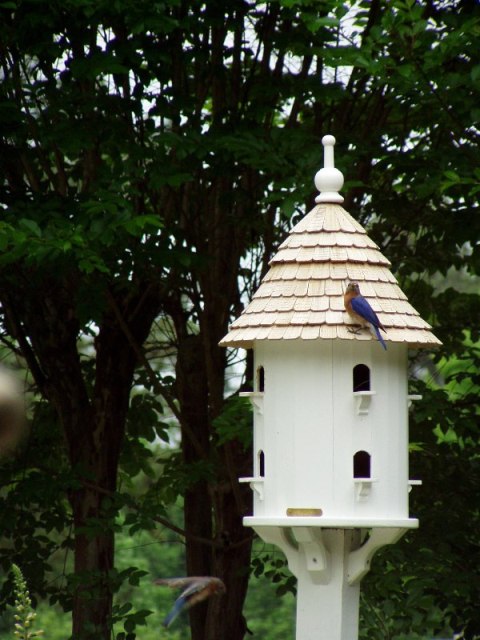 The roof of the Lazy Hill dovecote is cedar so it naturally grays to a lovely patina. At Christmastime, the dovecote in my garden gets a wreath. I love having this bird house in my front yard because I enjoy seeing it each time I return home. Four years later, I have to say, it has been one of the best investments I've ever made for my garden landscape.
When I bought mine, I priced them locally and online. The best price I could find was from Wildlife Cottage, a seller on eBay. I think he's still on eBay…or at least he was last time I checked. The dovecote comes with mounting brackets and I used those to attach it to a 4 x 4 pressured treated post I purchased from Home Depot. I pre-drilled the holes into the post because those posts are hard as rocks. Then I just used the long screws that came with the house to mount it to the post. I painted the post with the same exterior paint that had been used to paint the front porch.
Here's a photo from Wikipedia showing actual doves inhabiting a dovecote. Each cavity houses one pair of doves. Doves are supposed to make wonderful pets, according to what I read online. Interesting! It sounds like there's a fair amount to do though, to keep them safe.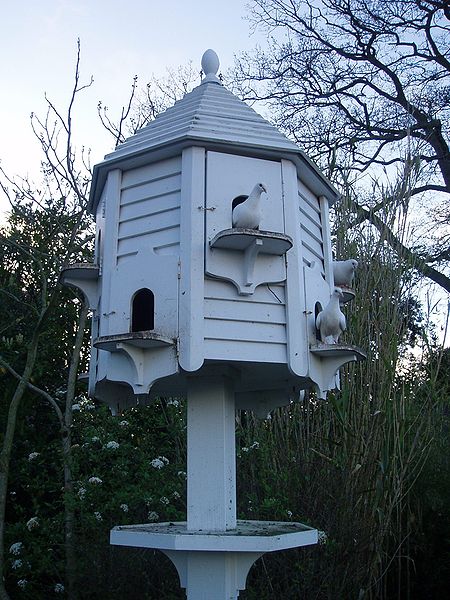 Dovecotes have a fascinating history dating all the way back to Roman days. Though many have disappeared over the years, during the 17th Century England had over 26,000 dovecotes on the grounds of monasteries and manor houses. Doves at that time were considered a food source, for both the eggs and the birds themselves. Dovecotes like the one below in Sussex England, often housed 500+ doves!
They were built in lots of different designs/styles. This dovecote is in a commune, Colombier at Manoir d'Ango in France.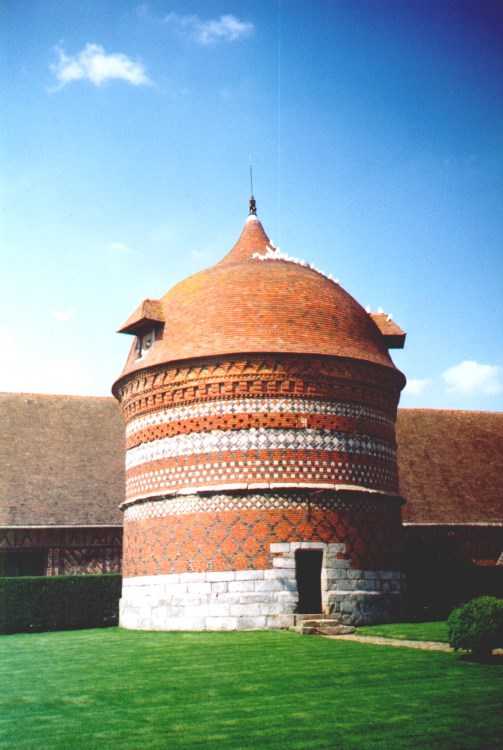 My dovecote is around 4 years old and it still looks the same today as the day I installed it in the garden…except for the graying of the cedar roof. If you didn't want the roof to gray, I would think you could treat it with a stain or whatever is recommended for a cedar home. I personally opted to let it gray since I like that slightly aged look.
In late winter, I clean out the old nests and my tool of choice is really high tech: a coat hanger. The directions at the Lazy Hill site say the roof comes off for cleaning, but I've never tried removing it since the coat hanger technique works so well. My house is made of wood but I noticed online, they are now made of "solid cellular vinyl."
Hope this information is helpful. I do recommend the Lazy Hill brand dovecote since mine has held up so well. My bluebirds would definitely give it a thumbs wings up.
Links available in this post:
Front Porch
Screened-in Porch
*If a post is sponsored or a product was provided at no charge, it will be stated in post. Some links may be affiliate links and as an Amazon Associate, I may earn from qualifying purchases. *