I know most of us won't be throwing a big New Year's party this year, but the two recipes I'm sharing today are awesome for any size gathering, be it small or large.
This is my absolute favorite punch recipe ever! At Christmastime, I dip the champagne rims in colored sugar for a festive look.
When I make it for New Year's, I dip the rims in these adorable nonpareils. I love how festive this punch looks for a New Year's party!
If you would like to try this recipe for your holiday celebration, you'll find a printable recipe for the punch here: Delicious Punch for Christmas or New Year's.
Devils on Horseback
A while back when we could still gather for parties, I tried out a new recipe called Devils on Horseback for a party I was attending. It was a huge hit and everyone wanted the recipe. Since then I've made Devils on Horseback several times for family and they absolutely love it, too.
Originally, I tested the recipe using prunes since that's what was recommended in the recipe. I also changed it up a bit, making it with Medjool dates since I love those more than prunes. Since then I've stuck with always making it with dates. To make this tasty appetizer, you don't need a lot of ingredients–just bacon, pitted dates, Stilton or blue cheese, fresh sage (unless you don't like sage) and wooden toothpicks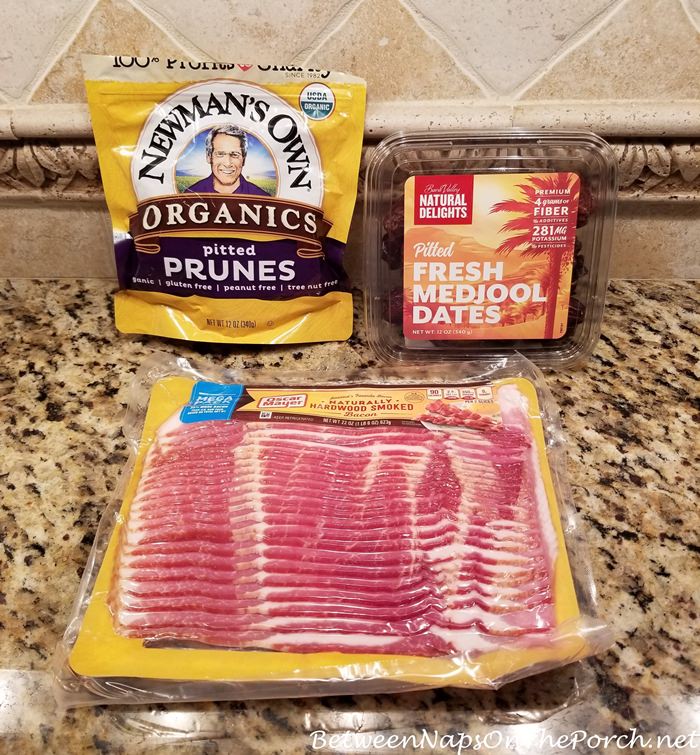 These are the toothpicks I used, you'll find them available here: Toothpicks.)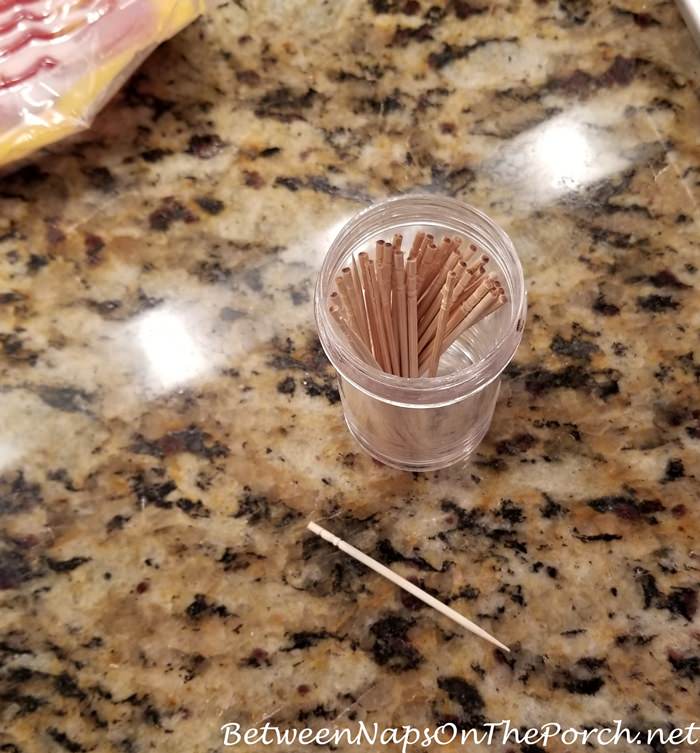 This is a photo from when I made them the first time. That time I cut each bacon slice into thirds but I found that a bit too short for wrapping. So I recommend cutting each strip of bacon in half, that's how I always make them now.
To make Devils on Horseback, Preheat your over to 400 degrees, cut your bacon strip in half, cut a pitted, Medjool date in half, stuff the hole in the date (where the pit used to be) with Stilton or blue cheese and wrap the bacon around the stuffed date tucking a fresh sage leaf in between the two ends of the bacon just before securing it all together with a wooden toothpick. Bake for around 30-35 minutes until bacon is brown and crispy/well done.
Tip: It's a good idea to soak your toothpicks in water for about 15 minutes in advance. They tend to keep their color a bit better during the baking process.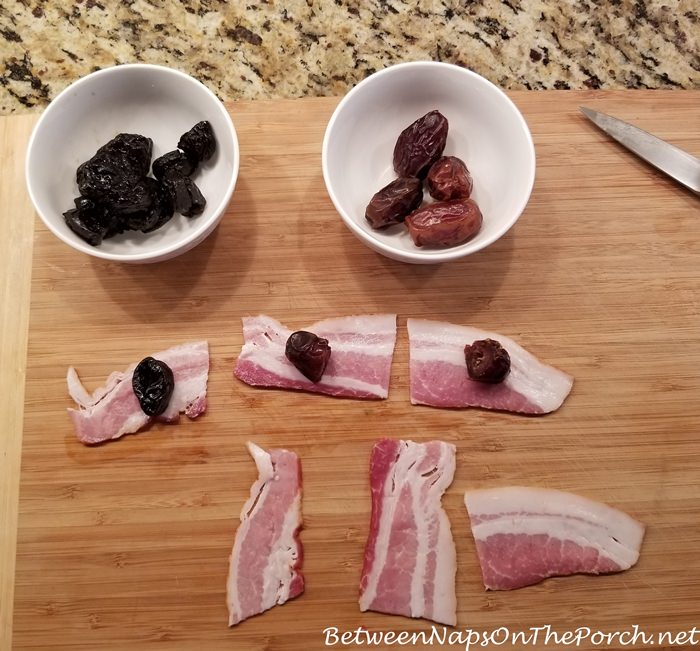 Here's how they look when done. They smell wonderful while cooking!
If you look closely, you'll see the little sage leaves peeking out where the arrows are pointing below. It's just impossible to describe how good these are! If you take them to a gathering, be prepared to share the recipe a million times! lol Everyone wants to know what is inside them and how they are made. They taste complicated, yet are so easy to make!
Have you ever made Devils on Horseback? It's an appetizer/snack that you can whip up in minutes if you suddenly find you have guests coming over. All you need is bacon, dates, and toothpicks–and maybe some cheese if you want to stuff your dates with a bit of cheese.
Here's a printable version of this recipe. Enjoy!
Print Recipe
Devils on Horseback
This is my favorite version of this recipe, hope you enjoy!
Ingredients
12

Slices

Bacon

12

Pitted

Medjool Dates

1

Carton

Crumbled Stilton Cheese or any Blue Cheese

1

Pkg

Fresh Sage Leaves (optional)

24

Toothpicks
Instructions
Preheat oven to 400 degrees.

Soak 24 wooden toothpicks in water for around 15 minutes.

Cut bacon pieces in half. (Should have 24 bacon strips when done.)

Cut each pitted date in half. (Should have 24 date halves when done.)

Stuff each date half with crumbled stilton cheese. They are very easy to stuff because there will already be a hole where the pit used to be.

Wrap each stuffed date with a half slice of bacon, tucking a small-medium sage leaf in between the ends of the bacon where they overlap. Stick a toothpick through to hold the wrapped bacon in place.

Place the bacon-wrapped, cheese-stuffed dates on baking sheet covered with parchment paper or aluminum foil. I used aluminum foil and that worked fine.

Bake for around 30-35 minutes, checking to make sure bacon is brown/crisp and fully cooked before removing from oven.
Notes
This recipe is fast to make and always a huge hit! When I've taken it to a party, everyone wanted the recipe.
Note: If you're not a fan of sage, feel free to leave that ingredient out. Also, this recipe can be made using prunes. I've tried it with prunes but much prefer dates. 
*If a post is sponsored or a product was provided at no charge, it will be stated in post. Some links may be affiliate links and as an Amazon Associate, I may earn from qualifying purchases. *