Welcome to the 709th Metamorphosis Monday!
It was a long time coming but I finally have all the cabinets back in the garage and filled back up. Before I share the "After" here's a little reminder of where we started. The garage walls were in need of a fresh coat of paint and much better lighting than the builder-grade lights that had been here for 40 years.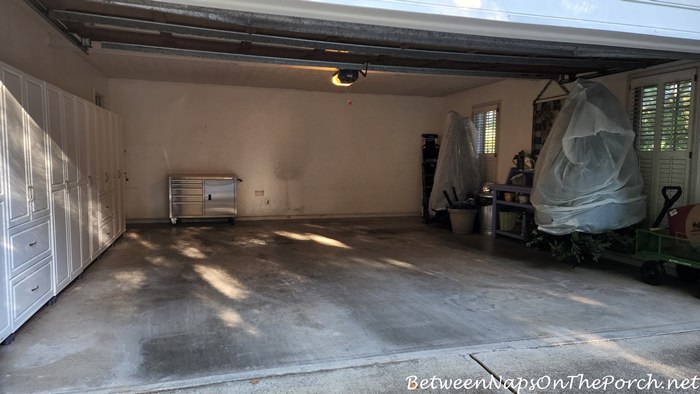 Previously, I had 6 dish storage cabinets down one of the side walls of the garage. This had worked great except for the cabinet on the far left. Over a period of 4 years of being shoved against that corner near the opening of the garage, it was starting to show some wear on the bottom shelf. Apparently, moisture was occasionally coming in through the small opening between the garage door and the wall. So I decided early on that I'd move that one cabinet to the front wall of the garage once the makeover was complete.
This is how the garage looked after its makeover–so much lighter and brighter!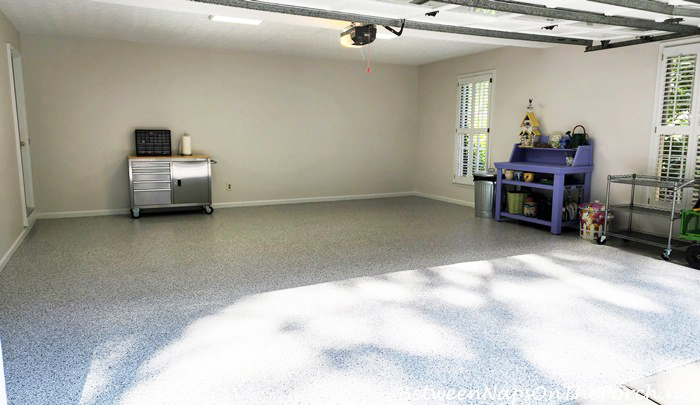 The flooring has to be my favorite part of this transformation. I had no idea it could make sure a difference! The garage feels so much cleaner now.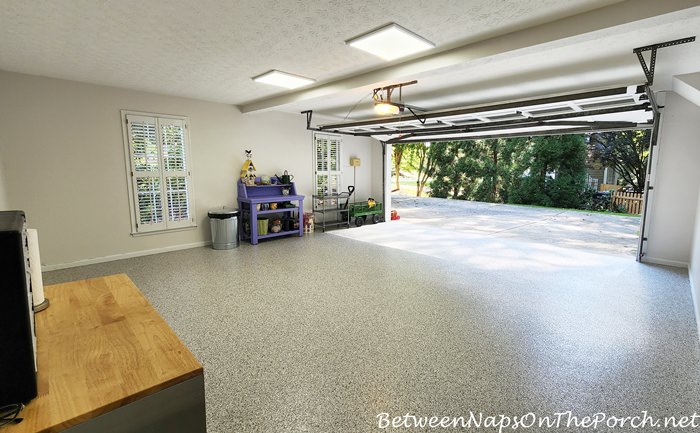 Paint definitely helps transform a room inside a home, but for a garage transformation, for me the flooring is the key factor. There are no words to explain how much I love this flooring! So how does the garage look now with the cabinets back in place?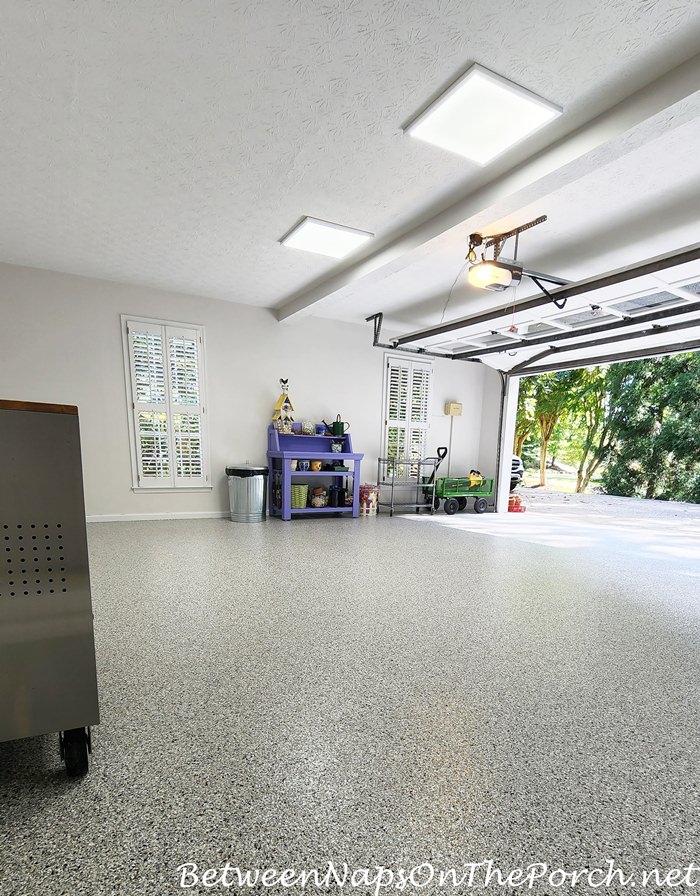 Here's the view looking in…a bit shadowy this morning since these photos were taken early this morning and the sun was hiding behind the clouds.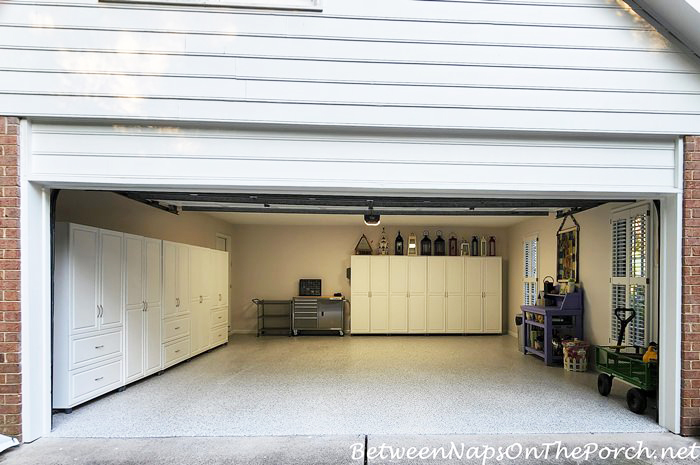 I knew when I moved that single cabinet to the front wall of the garage, I would need to add a couple more to go with it. A single cabinet alone would have looked really odd on that wall all by itself. After sitting down and plotting out what type of additional storage would work best for my needs, I ended up buying 3 additional cabinets–1 style with drawers and 2 without.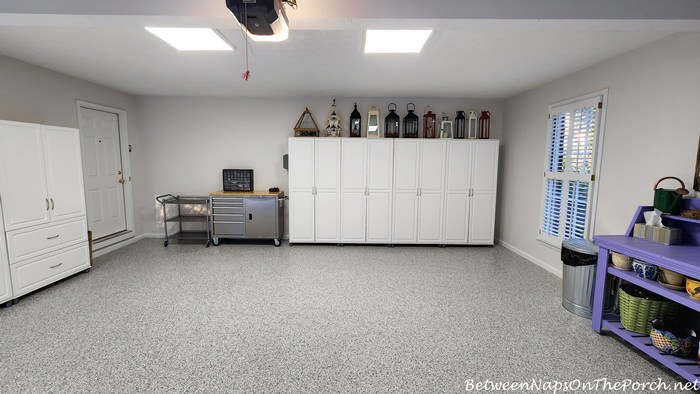 The one I purchased with drawers ended up along the side wall of the garage. So I have 3 with drawers and 2 without on this side wall. I'm looking forward to sharing how I'm using them in a future post.
I also purchased two additional cabinets without drawers. Those ended up here on the front wall along with two that had previously been along the side wall.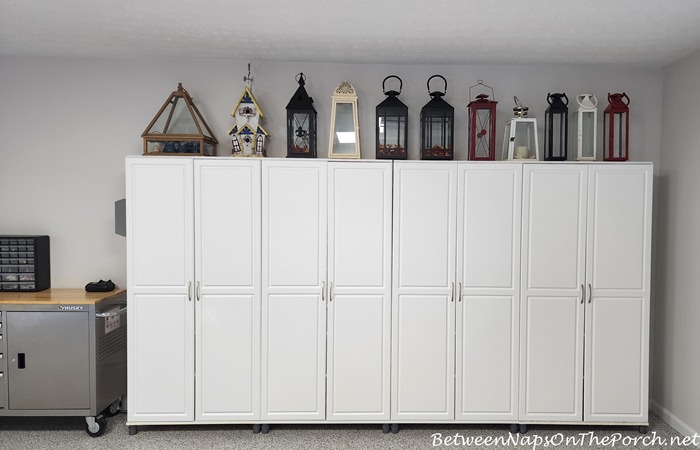 I added something else along this side wall of the garage–do you see it there on the far right?
Since I have one less cabinet on this wall now, I ended up with this little spot by the door that turned out to be perfect for this umbrella holder I've had for many years. Previously, the holder was in the laundry room that's just to the left once you enter in through the garage door. I think I found it in Old Time Pottery, I've had it so long that it's hard to remember. It's nice and heavy so very supportive and won't tip over, but I'd like to find a cuter one for this spot.
I placed my tallest/biggest lanterns across the top of the new cabinets on the front wall of the garage. They look cuter there in person than they do in photos. Most of the smaller lanterns are stored in one of the new cabinets below. I'll create a separate post sharing what's inside each cabinet real soon. I'm still adjusting the spacing of the doors on these cabinets so don't look too closely at those. lol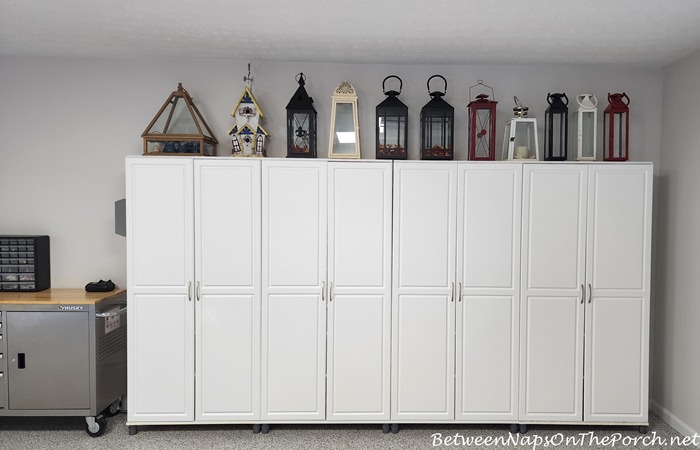 The cabinet doors have taken 10 years off my life this go around. Argggh! After working countless hours out here trying to get them to attach properly, I finally decided there was something wrong with the hinges. Back Story: When the first new cabinet arrived, the one with drawers, there were 3 defects/issues: a bad cam screw, two bad K panels (side panels for the drawers) and a hinge that was missing a screw. When I called for replacement parts, the customer service person I was talking with said she would send out those three parts and would also send out 6 new hinge sets. Ummm, Oookayyy. I mentioned I wasn't having an issue with the hinges but thanked her for offering to send those since it would be good to have them on hand.
Ha! Wouldn't you know, the next two new cabinets I ordered, the two without drawers, the hinges were a blooming disaster. They would not properly lock into place no matter how many gazillion adjustments I made. I've previously put 7 of these cabinets together without having any hinge issues, so this definitely wasn't my first rodeo! After I couldn't get the hinges to work on the two new, drawerless cabinets, I wondered if she had been getting a lot of customers calling with hinge issues. I used up the 6 new hinges she had previously sent on one of the new drawerless cabinets and called them back for another 6 replacement hinges for the 2nd new drawerless cabinet.
I closely examined one of the old non-working, non-locking hinges (the hinge on the far left) against the new replacement ones she sent and I could only find one small difference. Notice the tiny white spacer thing on the "bad" hinge on the left. The opening of that little white thing faces a different way than it does on the working hinges that you can lock into place.
Here's an even closer view. I have no idea if that's why they weren't working, but I noticed the new hinges that I received that do work, have that little white thing opening/facing a different direction.
I'm still absolutely loving the paper towel dispenser! I've used it so much since I added it to the side of the cabinet, I figured it was probably getting time to refill it. I opened it up and it's still practically full! It holds a ton of paper towels and they dispense beautifully. The paper towels were so inexpensive for how many you get. I won't need to buy any more for ages! (Paper towel dispenser is available here: Paper Towel Dispenser. These are the paper towels I am using inside: Paper Towels.)
Not sure if I'll hang the wood flag I made so long ago back on this wall where it used to hang. I'm taking my time deciding what I place back on the walls–just enjoying the clean openness of everything right now.
The potting bench is back in its original spot, along with the painted bunny window above. The bunny window looks better hanging in front of an actual window, of course, but I love it here with the potting bench.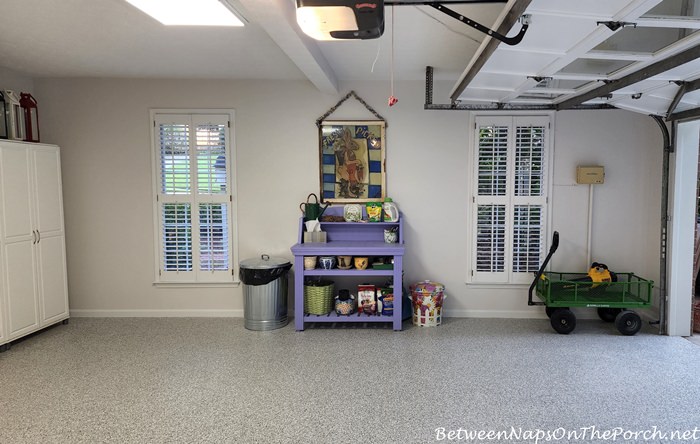 Here's another view of the flooring and how it looks against other objects here in the garage.
One of the things that made this makeover soooo much easier was this amazing stud finder. It worked like a dream and helped me locate the studs (for securing the cabinets) the first time, every time. (Stud Finder is available here: Stud Finder.)
Also, this cart saved me a gazillion trips! When it was time to bring the dishes back out, I would load it up in the dining room with dishes, push it over to the garage door and start unloading it. I can't imagine how many trips I would have made without it! It also came in handy when I was adding the doors back to the cabinets. I pulled it over to the cabinet I was working on at that moment and it held the tools, hinges, etc…. that I needed as I worked. It also held the few glasses or dishes I needed to remove as I attached the doors. I didn't want to risk my hand slipping and breaking anything. I wish I had purchased this cart many years ago, it's amazing how much I've used it since buying it. (Cart is available here: Heavy Duty Cart.)
The painter still has to return to repaint the four shutter panels, but other than that, the garage is finished. Yay! It feels great to pull in and not have to worry about running over cabinet doors that are still laying on the floor due to non-working hinges. Ha! I have SO MANY stories from this renovation! It's times like this I wish I made YouTube videos because all the craziness and shenanigans would be a lot more fun to share that way–like the hail storm that came during the time my car was still living outside right after the new flooring was installed! Thankfully it was small hail and not the golfball or baseball size!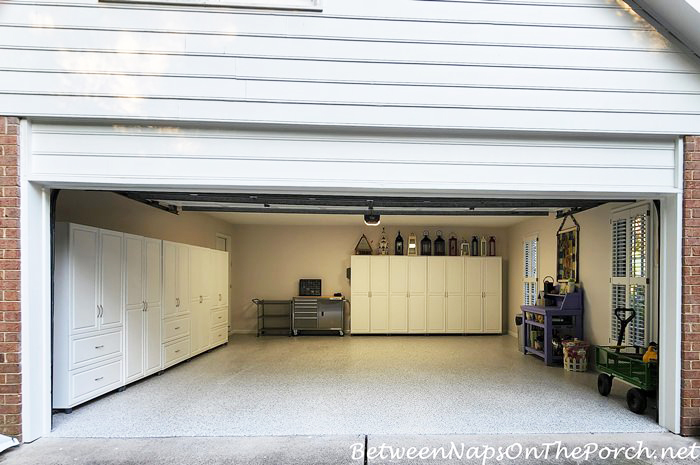 Thanks for coming along on this adventure! Looking forward to opening up these cabinets and giving you a look inside real soon!
Looking forward to all the wonderful Before and Afters linked for this week's Met Monday!
Pssst: Did you know Between Naps On The Porch is on Instagram? You'll find me on Instagram here: Between Naps On The Porch.
Like to know when a new blog post is up and available to read? Subscribe for email updates, it's free and your email will never be shared. Subscribe for free post updates via email here: Subscribe.
Metamorphosis Monday
Metamorphosis Monday is a party that's all about Before and Afters. Please link up your Before and After projects like DIY projects, room makeovers, craft projects even recipes. Any Before and After is great! Please do not link up Table Settings, save those for our Tablescape Thursday party on Thursday.
If you are participating in Met Monday, you'll need to link your post to the party using the "permalink" to your MM post and not your general blog address. To get your permalink, click on the name of your post, then copy and paste the address that shows in the address bar at the top of your blog, into the "url" box for InLinkz when prompted.
NOTE: Please do not link up more than 3 posts from your blog. In order to link up, you'll need to include a link in your post back to the party so visitors to your blog can find the other party participants. When linking up to the party, give the InLinkz system time to find the link in your post to avoid having your link held for moderation/approval. Thanks!
This party has ended, click button below for the links to all who participated.
*If a post is sponsored or a product was provided at no charge, it will be stated in post. Some links may be affiliate links and as an Amazon Associate, I may earn from qualifying purchases. *