Welcome to the 718th Metamorphosis Monday! Happy Halloween! Did you go to any great Halloween parties this year? Jackie, a lovely BNOTP reader who has become a friend over the years, hosts an amazing Halloween party each year! She always chooses a theme for the party, then completely transforms her home around that theme. You may remember last year's theme which was Star Trek.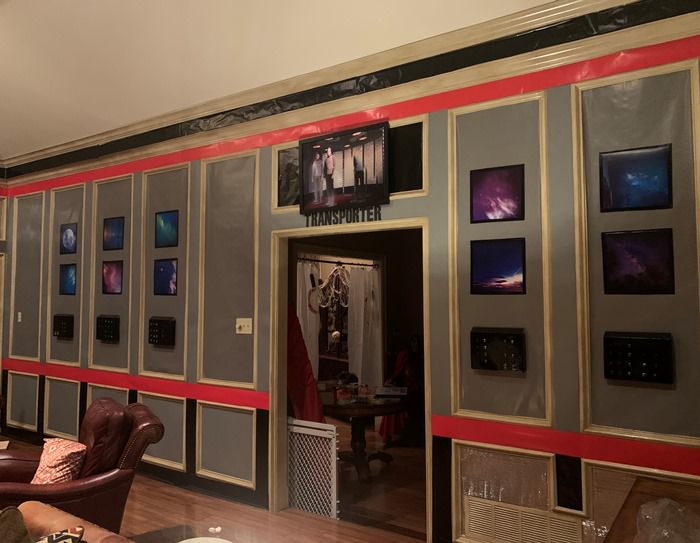 If you're a Star Trek fan and missed that post, you'll find it here: Boldly Go Where No Man Has Gone Before, A Star Trek Themes Halloween Party.
This year, Jackie went with a James Bond theme and as usual, she did an amazing job of setting the scene in so many of the rooms in her beautiful Texas home. I have a confession, I've never watched a James Bond movie before, but if you are a James Bond fan, I know you're going to recognize a lot of the "scenes" Jackie created for the party. Before guests even step foot in Jackie's home, they were entering the world of James Bond. Jackie rolled out the red carpet for her guests. Ohhh, look–there's an Aston Martin parked out front! I did a bit of research and discovered that Aston Martin DB5 was the first Aston Martin to appear in a James Bond movie. That was in the 1964 James Bond film, Goldfinger. Apparently, it left a big hit with audiences and Aston Martins ended up appearing in six more Bond films including Thunderball, GoldenEye, Tomorrow Never Dies, Casino Royale, Skyfall, and Spectre.
Stepping inside Jackie's home, we spot our first character, the infamous model who was painted gold in the movie, Goldfinger.
All around the entry/foyer, Jackie memorialized the title of every James Bond movie ever made. Do you recognize the guy with the white mask and heavy coat in the corner? He snuck into the party from the last Bond movie, No Time To Die.
In one room, Jackie decorated in a "Day-of-the-Dead" theme harkening back to the opening scenes of the James Bond thriller, Spectre.
Do you remember the movie, Casino Royale?
The music for the party (and the dance floor) was in this room with a wonderful view out to the pool. Perfect backdrop since I'm sure there were a lot of pool scenes in so many of the Bond movies.
Jackie decorated the walls with target practice silhouettes. Ha! Perfect for a Jame Bond party!
Jackie said, "In the main room (Jackie's living room) I used pipe and drape to cover the walls and decided to go with red table coverings and black chairs."
Each table was decorated with a centerpiece of roses, casino chips, and diamonds to spark memories of three James Bond movies: Day of the Dead roses for Spectre, chips for Casino Royale, and diamonds for Diamonds are Forever. Jackie's attention to detail is incredible when she decorates each year for her annual Halloween party!
Jackie said, The kitchen was the Casino Royale movie. There were actually two movies named this–one was more of a spoof." Can you believe there's a kitchen under here somewhere?! Amazing how Jackie can completely transform a space!
More Day of the Dead decor for the movie, Spectre. Jackie makes all her own decorations so you can just imagine the time and work that goes into each of her parties!
Jackie said, "Spectre was one of James Bond's more recent movies." The opening scene occurs during a "Day-of-the-Dead" celebration. This is James, as he appeared in that opening scene.
Of course, James always has a female companion with him.
In this room that Jackie decorated in the theme of the movie, Spectre, with Day of the Dead decor, Jackie paid tribute to the actors who had previously been featured in James Bond movies but have since passed away.
Some additional James Bond inspiration…
Do you remember Miss Moneypenny? Jackie turned her library into Miss Moneypenny's office. Per Wikipedia, "Miss Moneypenny, later assigned the first names of Eve or Jane, is a fictional character in the James Bond novels and films. She is secretary to M, who is Bond's superior officer and head of the British Secret Intelligence Service (MI6)."
Miss Moneypenny, ready to assist as needed.
The library was also the room where Q, who creates all of James Bonds's gadgets, could be found. Q, which is supposed to stand for Quartermaster, acts as the head of the fictional research and development division of the British Secret Service in James Bond movies.
The library is also where Jackie shared many of the gadgets that played a big role in so many James Bond movies. There's a Laser Polaroid Camera from the 1989 movie, License to Kill.
The loaded backgammon dice that was used by Khan to ensure his victory in every game in the movie, Octopussy…
Another prop from Octopussy–a crocodile-shaped submersible sued by Bond to enter Octopussy Island.
The "Deadly Briefcase" from the 1963 movie, Russia with Love.
The infamous exploding toothpaste from the 1989 movie, License to Kill. Ha!
Thanks so much to Jackie for taking us into the world of James Bond for Halloween this year. What a fun experience this must have been for all her guests! Can you imagine the anticipation they must feel each year, wondering what Jackie will dream up and create for them?! This is definitely a party I would never want to miss!
Pardon me while I slip into my Aston Martin for a James Bond-inspired exit. Happy Halloween! Hope you have a fabulous one!
Looking forward to all the great Before and Afters linked for this week's Met Monday!
Pssst: Did you know Between Naps On The Porch is on Instagram? You'll find me on Instagram here: Between Naps On The Porch.
Like to know when a new blog post is up and available to read? Subscribe for email updates, it's free and your email will never be shared. Subscribe for free post updates via email here: Subscribe.
Metamorphosis Monday: Metamorphosis Monday is a party that's all about Before and Afters. Please link up your Before and After projects like DIY projects, room makeovers, craft projects even recipes. Please do not link up Table Settings, save those for our Tablescape Thursday party on Thursday. If you are participating in Met Monday, you'll need to link your post to the party using the "permalink" to your MM post and not your general blog address. To get your permalink, click on the name of your post, then copy and paste the address that shows in the address bar at the top of your blog, into the "url" box for InLinkz when prompted. NOTE: Please do not link up more than 3 posts from your blog. In order to link up, you'll need to include a link in your post back to the party so visitors to your blog can find the other party participants. When linking up to the party, give the InLinkz system time to find the link in your post to avoid having your link held for moderation/approval. Thanks!
This party has ended, click button below for the links to all who participated.
*If a post is sponsored or a product was provided at no charge, it will be stated in post. Some links may be affiliate links and as an Amazon Associate, I may earn from qualifying purchases. *