When I was a little girl, one of my favorite shows on TV was Bewitched. My best friend and I would pretend to be Samantha and her mischievous cousin, Serena. I always wanted to be Samantha, I loved her personality and thought she was beautiful…still do. So, I was pretty excited when I heard they were making a Bewitched movie starring Nicole Kidman and Will Ferrell.
In the movie, released in 2005, Isabel Bigelow, played by Nicole Kidman, is a real witch who has decided she wants to live a normal life. She moves to Los Angeles where she is spotted by Jack Wyatt, played by Will Ferrell, while browsing inside a book store. Jack has just gotten the part of Darrin in a remake of the classic TV sitcom, Bewitched and he thinks Isabel is perfect for the part of Samantha. He talks her into auditioning for the part and she gets it. So we have a TV show being filmed within the movie. Ironically, Jack is pretty much a jerk throughout the movie but Isabel falls for him anyway. There are lots of silly twists and turns, but today we're checking out the cute cottage that to me was the real star of the show.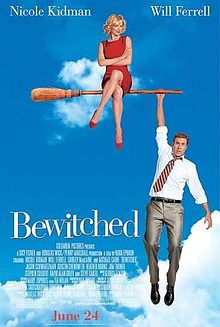 Though the movie was a bit of a dud, the house featured in the movie was just plain adorable! Do you remember it? As part of her attempt to live a "normal" life, Isabel moves into this cute cottage. Here's how it looks in the very beginning of the movie as the beginning credits are rolling by.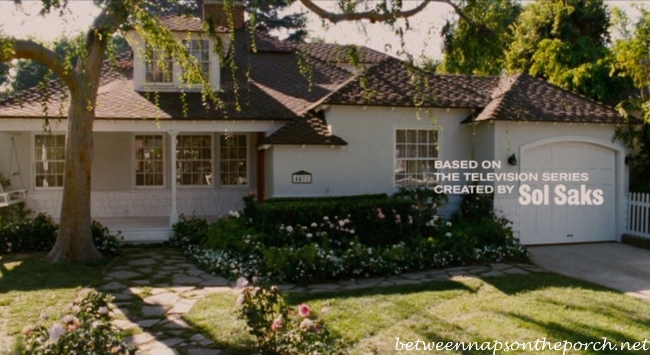 Later in the movie after Isabel moves in, a cute bench appears on the porch. A lot of things "appear" in the movie, just as you might expect.
I had to include this scene in our movie house tour because it's one of my favorites. I backed up the movie a couple of times just to see this wonderful path. It tells you more than anything, this house is going to be delightful. Wouldn't it be fun to take a stroll down this wonderful path lined with fragrant, pink roses.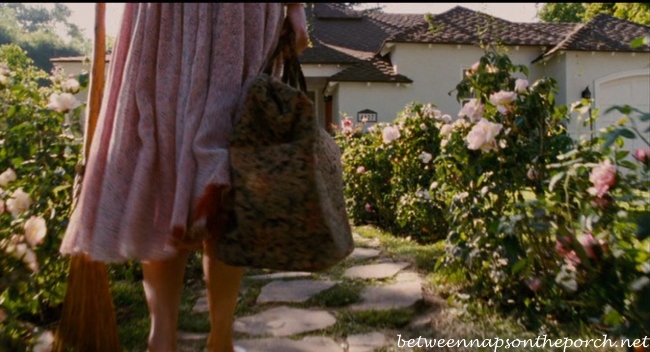 Roses are everywhere! They climb the white picket fence (of course there's a white picket fence!) and they line the shrubs in front of the home. We could name this home "Rose Cottage" couldn't we?
I have good news and news that may slightly disappoint. The good news is, the house is real! It's located at 4427 Radford Avenue in Studio City, California. Anyone live near there?
Here's the current street view from Google Maps and it still looks pretty much the same as it did in the movie. I wonder how often folks stop, gawk and take pictures of this darling home. I would so be doing that if I passed by. Yup, I have no shame. I can gawk with the best of 'em!
In real life the garage is a detached, two-car garage located back behind the house. In the movie, they created a one car garage and placed it right up front, attached to the right side of the house. Even the garage is cute, isn't it? Love the style of the garage door. Even at night this house is inviting. There's something so magical about lamplight glowing behind sheer curtains in a window. It just makes you feel safe and like all is right with the world.
Okay, now for the slightly disappointing news. It isn't that bad, but it's my duty to let you know, the interior views in the movie are not from inside this home. As with most movies, the interior rooms were filmed in a studio. They almost always have to do that because most homes, especially adorable little cottages, can't accommodate all the equipment and "stuff" they need to film a movie.
Finding out the interiors were created for a movie, doesn't really upset me. In many ways the interiors ARE real because they were real on a sound stage at least during the filming of the movie. And wouldn't we rather they create the cottage of our dreams on a sound stage than never have that wonderful interior come to life at all? We can take inspiration from these wonderful spaces and transform out own homes if we so choose, right?
In the movie, Isabel drives a cute convertible Volkswagen Bug. Or, is that a Volkswagen Beetle? I can never tell the difference. Let's go inside!
The Bewitched movie home has an entry, albeit a small one. I love all the painted paneling. It feels authentic and I'm imagining it would have been the old original, stained paneling that the previous owners painted.
The door is red, perfect for a cute cottage. I wonder if the door on the real Studio City home was originally red or if they painted it that color after the movie was made.
The interiors are soft and muted throughout. Here's Aunt Clara (played by Carole Shelley) arriving in her usual way, via the chimney. Ha!
The living room feels and looks cottagey with painted pieces and a cushy, floral, skirted sofa.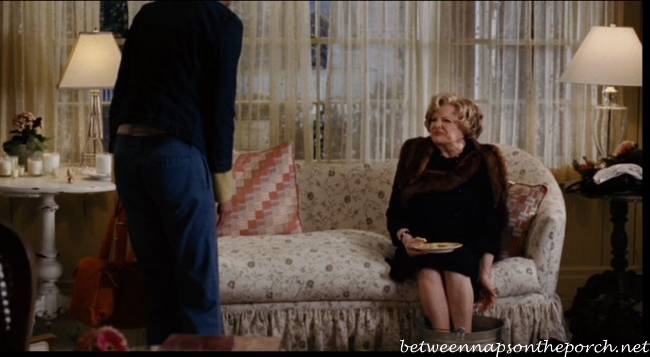 I thought it was interesting how the TV is just right out there, not hidden or tucked away. I guess they designed it that way since throughout the movie it plays a pretty big part.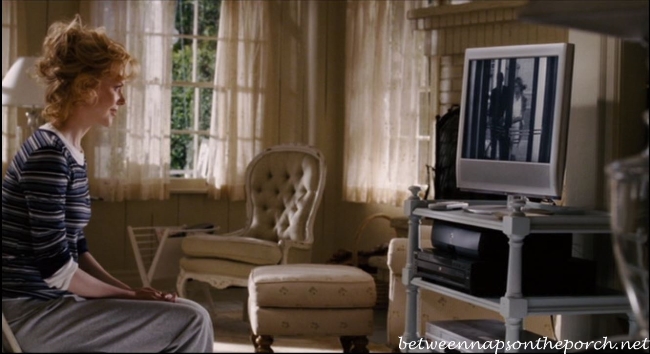 In this scene you can tell Isabel has just moved in since boxes are everywhere. Actually, this scene was the only time I really felt like the movie was being filmed in a studio and not inside an actual home. You just wouldn't expect high ceilings inside a small cottage house with the exterior we saw earlier.
Also, this gazebo-type structure was so different. I've never seen anything like this built inside a home. Have you ever seen a home with this type structure inside? It's kind of cool, though. What do you think…do you like it? Beautiful chandelier!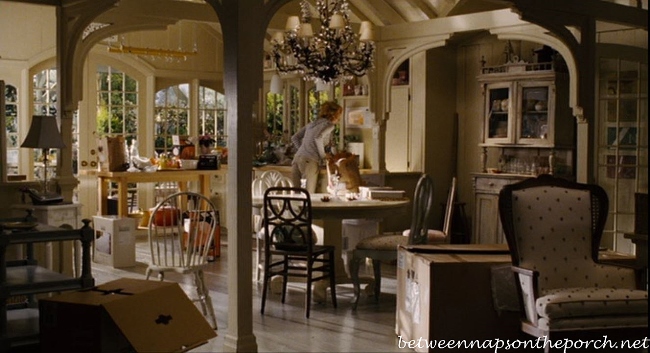 Another view across this space looking the other direction. Look at alllll those beautiful windows and French doors! In this scene Isabel has just met her next door neighbor, Maria Kelly played by Kristin Chenoweth. You'll see Maria again when they are dining in the garden.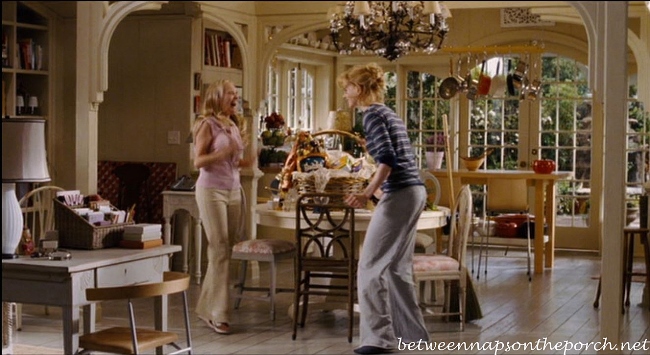 The kitchen has a most unusual layout…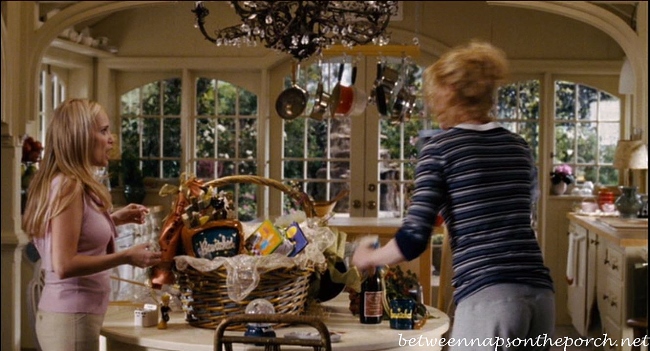 In this evening view you can see the sink on the far right.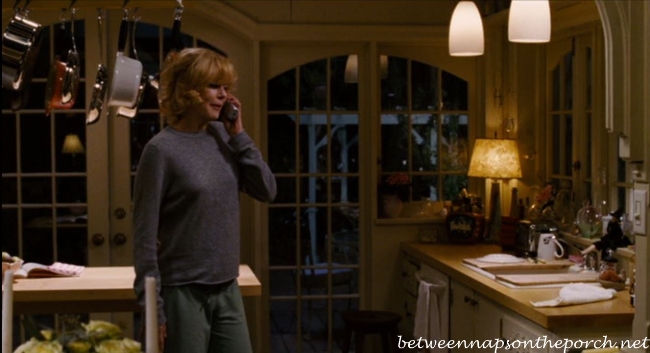 The stove is all the way across the kitchen on the far left. This is definitely not that triangle layout kitchen designers recommend for the major appliances/areas of a kitchen. You would do a little walking in this kitchen, especially with the small island in the center. Umm, now where is the refrigerator? I never could find it, maybe they just left it out. Do you see it in any of these kitchen scenes?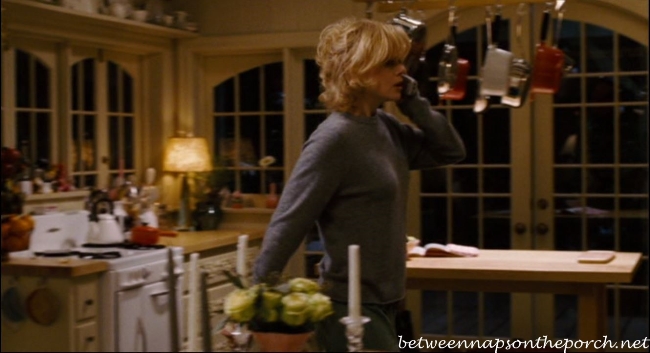 One thing I was absolutely crazy about when I saw the movie was all these amazing windows that swing out. It's like the kitchen is built inside a sunroom…there are so many windows! I think I'd be willing to sacrifice cabinet space to have a kitchen with this many windows. The pot rack helps for storage. I could totally deal with this if there was another room just off the kitchen, like a large butler's pantry where the other kitchen stuff could be stored. Would you enjoy a kitchen with this many windows?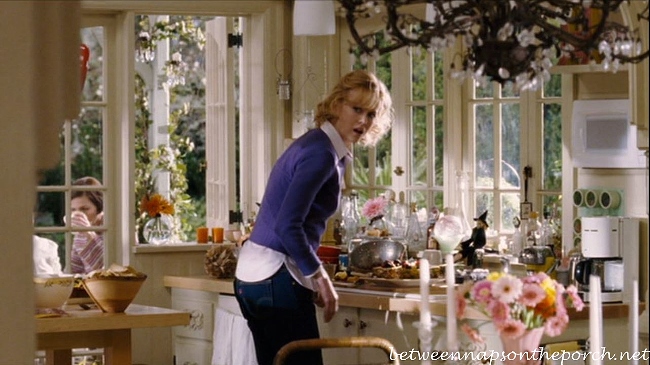 I included this shot so you could see the spice storage system. It's one of those where the spices are in metal containers and they stick to a magnetic board. There's the microwave, just above the spices. I love studying all the little details the set designers include in movie houses. It really is fascinating. I would so love that job! 🙂
The only thing that bothered me about the kitchen is it felt very cluttered. The rest of the house doesn't feel that way but the kitchen is filled with chotskies and stuff everywhere.
I LOVED this! Talk about bringing the outdoors in and having a seamless flow to the outside! Windows thrown open, French doors thrown open…it's wonderful! That other set of French doors off to the left lead to Isabel's bedroom. I can just barely see the mirror of the dresser through the doors. We're going in there in just a sec.
Do you see a chandelier hanging down over the table in this view below? Yea, me neither.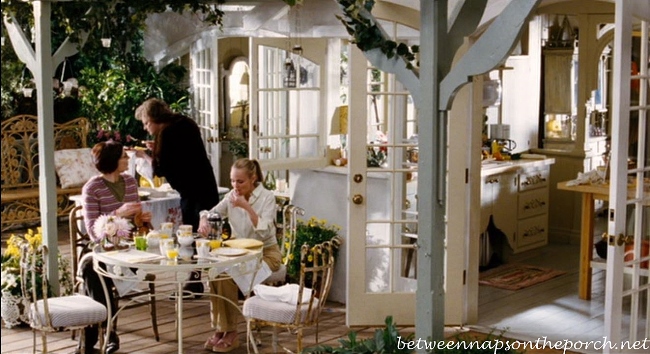 But I think there's one hanging down in this view. Or, is it back behind the table? It must be back behind them because part of it is obscured by the pole. Must be another table back there…now that will bug me until I watch the movie again.
Another view looking back toward the kitchen…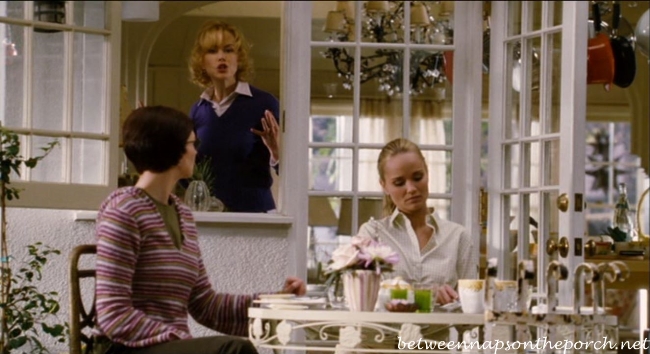 This was a fun scene out in the garden at night. The candles are really amazing! I think this is the scene where Aunt Clara is casting a spell on Jack so he will fall in love with Isabel. You knew there had to be at least one scene like that in the movie somewhere!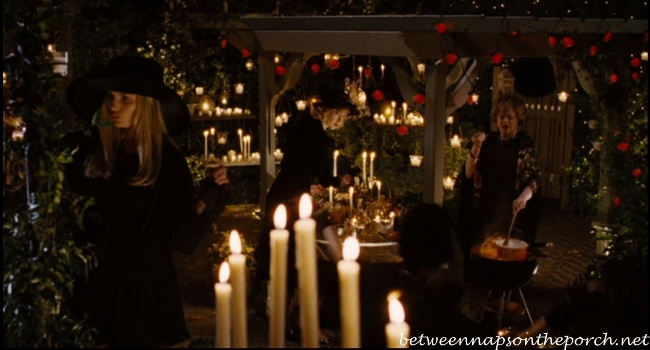 Isabel's bedroom is a serene haven, although I don't think I"d be able to sleep at night with a window open and the curtains pulled back. Oh, did I mention Isabel has a black cat? Of course she does…she's a witch! No respectable witch would be without a black cat. 😉
I can't remember the kitties name right now…anyone remember? Update: Thanks to Joyce for remembering, the kitties name is Lucinda. Ha! I just realized the t-shirt Isabel is wearing says, "I'm a witch."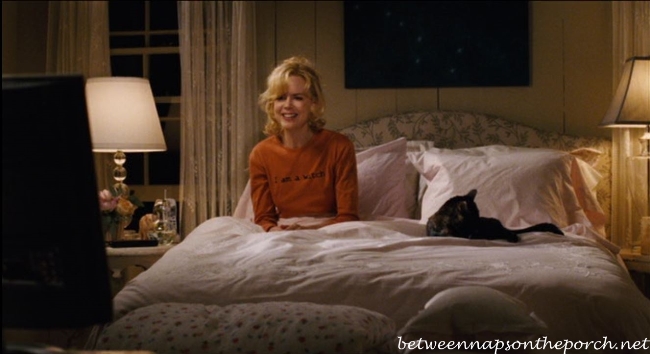 Here's that adorable dressing area we got a glimpse of through the French doors. So that means the main bedroom opens onto that wonderful garden space. I want this house! 🙂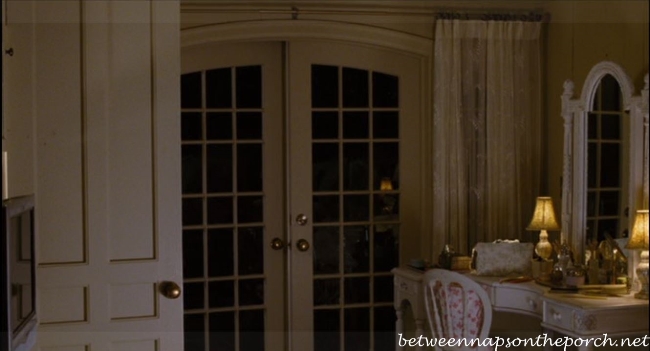 In the movie, the "set house" that's being used in the filming of Isabel and Jack's TV series takes place in this home. This house (per seeing-starsdotcom) was actually located in Culver Studios where Gone with the Wind and King Kong were filmed. We get to see the rooms in this home but if I added them to this post, it would be way too long. I'm tempted to create a short post showing those, too.
What's so cool is how they tie their TV series house into the end of the movie. At the very end when Isabel and Jack are together, happy and preparing to live happily ever after, they drive up to this house. Looks familiar, right? It's just like their TV house. In real life it's located at 510 S. Lucerne Blvd. Los Angeles in the Hancock Park neighborhood.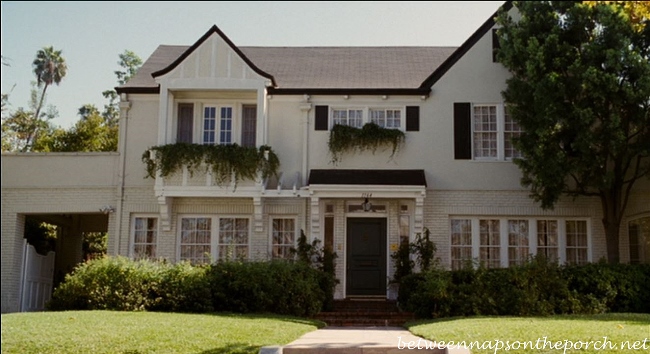 Anyone from that area or Studio City where Isabel's cute cottage is in real life?
So, what did you think of Isabel's adorable cottage? Could you live there? Could you cook in a kitchen with so little cabinet space? I do believe I could sacrifice cabinets for all those wonderful windows, French doors and garden views! We would just need a big butler's pantry located off the kitchen, right?
If you enjoyed touring this movie house, appreciate so much giving it a Google +1…thanks in advance!
Love movie house tours? You'll find lots more under the Movie Houses category at the top of BNOTP, or click here: Movie House Tours.
*If a post is sponsored or a product was provided at no charge, it will be stated in post. Some links may be affiliate links and as an Amazon Associate, I may earn from qualifying purchases. *