So, apparently landscaping the front yard wasn't a big enough project to take on this fall. Somehow I've also embarked on a little makeover in the master bedroom.
Here's how my bedroom has looked for the last 10 years. I still love this bedding but I've always dreamed of having both a "winter" look and a "summer" look for my bedroom. These colors are great for spring and summer but they have always seemed out-of-place during the winter months.
Before I could really get going on creating a winter look, I had another little issue that needed to be dealt with first…it was time for a new mattress. I need to share a little back story first though, which will help the rest of this post make sense.
Years ago when I fell in love with this bedding, I knew the day I purchased it I would need to have a custom bedskirt made. Ready-made bedding always comes with a standard size dust ruffle and the drop for my bed is around 24-25 inches. I didn't really mind that it would need a custom bedskirt because that's one of my favorite sneaky decorating tips….use something ready-made then make it special by adding a custom touch, in this case, the bedskirt. I also loved that the longer bedskirt would make the moiré fabric that much more of a focal point.
This post was a lot longer but I just deleted a big chunk of it to save you a long story. In a nutshell, when I had my bedskirt made, I used a professional seamstress recommended by the fabric store where I purchased the fabric. Besides taking weeks longer than promised, she made the bedskirt the wrong length despite coming to my home and taking measurements.
I had shown her a picture of a bed in a magazine where the bedskirt sloped outward from the bed so she had a picture to guide her. The bedskirt she made didn't even come close to touching the floor, much less slope outward. I don't know how she did it but somehow she managed to fix it. It never did quite slope out as much as the one in the picture, but it was close enough.
If you guys ever want to hear the whole bedskirt debacle story, let me know and I'll share it. I learned a good lesson from it so it may be worth sharing some day. I hate to sound negative on zay blog, but sometimes things go wrong, ya know?
Years later when I had hardwood flooring installed in this room, it wasn't quite as tall as the carpet had been so it was even harder to get the bedskirt to slope out from the bed, but it still did somewhat as shown below.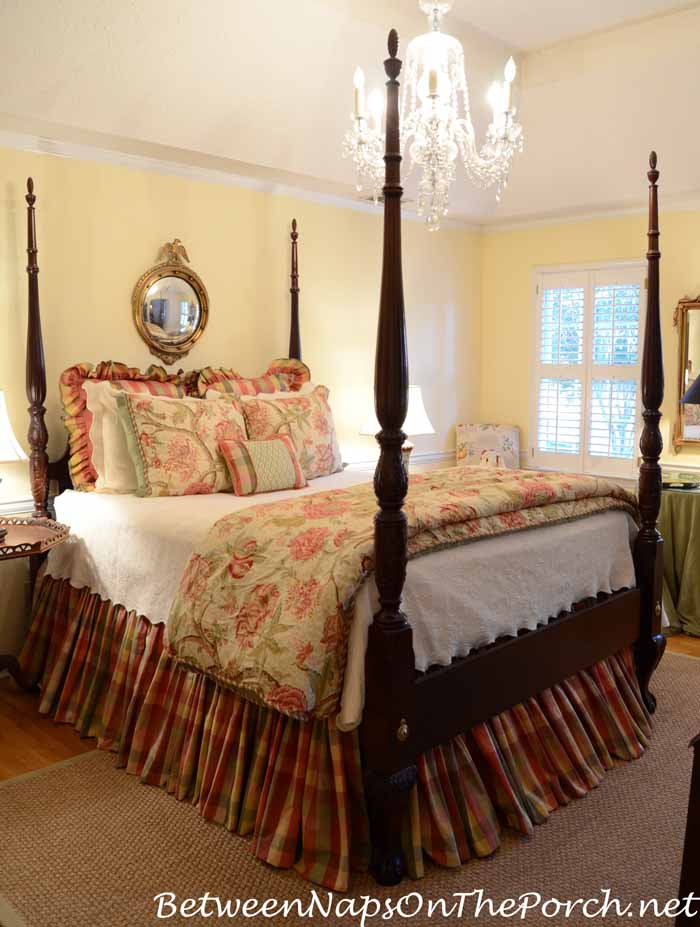 Fast forward to today and I'm itching for a fall/winter look for the bedroom. First things first, though…I needed a new mattress. My current mattress is at least 15 years old (gasp) and had started to kind of slope toward the center. It wasn't horrible but enough that I knew I needed to deal with that first.
Today, I was puzzling over how I hate shopping for a mattress. I think most of us probably dread having to buy a new mattress. For one thing, they can be expensive and truthfully, they are not a whole lot of fun. You can't drive a mattress, you can't watch a movie on it or play music on it, you can't go dining or dancing in it and no one ever sees it. Yet, it may be one of the most important purchases we ever make considering we spend 1/3 of each day in close contact with it. Plus, it can fully make or break how the other 16 hours of our day turns out.
After doing a bit of research, I came across a mattress online at Macy's that is on sale and has rave reviews. Have you shopped for mattresses lately? I have not but this turned out to be one of the easiest things I've ever had to buy. I was pretty sure which one I wanted but I made a trip over to Macy's to check them all out.
After trying the ones I had chosen online, the one I thought I'd want turned out to be the one I did want. It's a "Beautyrest" and if from the Vanderbilt Collection. I don't like a soft mattress so that ruled out the pillow-top versions. I went with what's called a "tight-top" in the "firm" (not plush) style. Tonight will be my first night sleeping on it so the jury is still out. If you want to know how it sleeps, I'll report back in a couple of days. I'll link to it at the end of this post, as well.
This morning I stripped everything off the old mattress in preparation for the delivery. I also stuck a piece of masking tape on the headboard marking the current height of the mattress. I wanted a clear way of seeing how much higher the new mattress set was once it was in place.
In this picture below, the new box spring and mattress are in place and as you can see, the masking tape I had placed on the headboard is now hidden behind the new mattress. If you scroll back and forth between the picture above and the one below, you can see how much higher the new mattress/boxspring set is based on how high it comes up on the headboard.
Also, notice how the bedskirt is now completely off the floor. I hadn't tucked the end of the bedskirt behind the footboard yet when I took the picture below. I can tuck the bedskirt behind the footboard but I can't tuck the sides of the bedskirt behind the side rails due to the slats getting in the way. I like how the fabric looks over those anyway so it works out okay.
Before I purchased the new set, I measured and compared the height of my old boxspring with the listed height of the new boxspring and the height of the old mattress with the listed height of the new one. Here's what I knew would happen: the dust ruffle would now fall straight and just touch the floor AND the bed was going to be about 3 inches taller overall than it had been. I could live with that.
There are so many variables when buying a new mattress/boxspring. The boxspring for the set I was looking at came in two different heights: standard which is 9 inches and low-profile which is 5 inches. My old boxspring was 8 inches in height so I went with the 9 inch boxspring.
I knew that extra inch would raise the bedskirt up an inch but that was okay because if I hated how it looked, my bed's side rails are adjustable to a lower setting. The bed was designed with two different height settings. I have always had the side rails in the slightly higher slots. For now, I'm leaving them in the higher position since I kind of like the bedskirt just hanging down for now…it's a nice change.
The new mattress is around 2 inches taller than my old mattress…so overall my bed grew about 3 inches in height.
So here's how the bed looks now.
Here's the view from the other side. I asked the guys who delivered the bed if I was the only crazy person who liked a bed being way up high. They said, "Oh no…we see lots of high beds, some much higher." One of the delivery guys said they have seen them as high as "up to here"…holding his hand up around breast level. He said folks even have to use stairs to get in them. (Cough, cough.) My steps were tucked out-of-the-way in the dressing room at the time. 😉 I don't actually need the steps, but I do love how they look!
Now that the bones are in place, it's time for the fun part. My inspiration for my new winter look comes from Mr. Lauren. I've always loved his tartan bedding. Unfortunately, this is an older picture or I'd be trying to track down that red duvet!
So here's the trouble I've been stirring up so far: I've found a couple of tartan sets that I like online. I ordered two last week to try, with plans to return the one I don't like. I had a $111.00 gift certificate that I was able to apply toward the bedding below and shipping was free, so that helped a lot. What prompted me to order it wasn't the picture below; in fact I'm afraid the tartan design may be a bit bigger in scale than I want.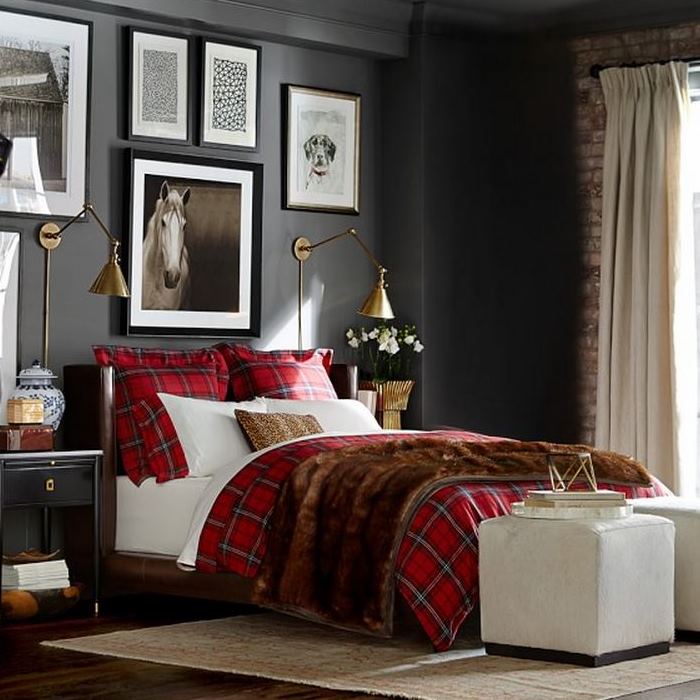 It was when I realized three stockings I bought on clearance in Williams-Sonoma last year are the exact same fabric as the bedding! I love the way those stockings look and feel! They are 55% linen and 45% cotton. I really don't like polyester bedding so once I realized this bedding was the same fabric as the stockings, I knew I had to see it on my bed.
If I stay with this option, I will have to come up with a fabric for the bedskirt, purchase the fabric and have the bedskirt made, so I have to really LOVE this bedding to do all that. We'll see how I feel once it arrives.
Here's a big ol swatch of the fabric from the WS Home website. If you've been reading BNOTP for very long, you know I love red and green together. One look at my living room and dining room and there's no denying it.
The other bedding I've ordered is this one. It was a lot less than the WS bedding. It's made of 100% cotton flannel…Yay, no polyesters had to die to create this bedding!
So, here's what I did. I ordered the duvet cover and the shams in the flannel bedding below. AND, I ordered a sheet set in California King size (even though I have a Queen size bed) because based on the measurements, there should be enough fabric to have a bedskirt made for my bed from the sheets.
I also ordered a Queen set of the sheets but I may not open/keep those since I don't think I want the sheets to be the same pattern. If I just keep the shams, duvet and king size sheet set (which will ultimately be the bedskirt) I will only be spending $143 (before tax) for everything! Then, I'll just have the labor cost of having the bedskirt made. I know I could make one but I'm going to turn it over to a professional, if I do keep this bedding.
The Williams-Sonoma set is a good bit more so I'll have to absolutely be ga-ga over it, to keep it. Whatever I go with, I'll be using it from October through March of every year…so for about 6 months of each year. That will definitely soften the blow of seeing summer come to an end each year…knowing it's time to bring on the tartan!
Here's a link to the mattress I purchased from Macy's. I went with the Tight-top/firm set, not the pillow top and/or plush sets. The Pillowtop Plush seems to be the most popular…I don't like a soft mattress so I didn't go with that one. The one I chose had four, 5-star reviews so that sounded pretty promising. Plus, they let you return/exchange within 30 days so that's good.
Once the bedding(s) arrives, I'll let you know which one I'm going with or if I return them both! Keeping my fingers crossed that one will give the room the look and feel I want for fall and winter.
Update: You'll find the finished bedding in this post: Master Bedroom With Tartan Bedding
Love tartan fabric and decorating with tartan? Check out Julio's gorgeous living room for lots of wonderful ideas for decorating with tartan fabrics: Decorating With Tartan Fabrics
Tartan or plaid ribbon is great for Christmas gift wrapping. I lucked out and found some for a bargain one year…read more about that in this post: Plaid Ribbon For Christmas Gift Wrapping
*If a post is sponsored or a product was provided at no charge, it will be stated in post. Some links may be affiliate links and as an Amazon Associate, I may earn from qualifying purchases. *