See that chicken over there, the one running around without a head. It's name is Susan. 😉 I'm sure that's how I've looked the last few days as I've been running errands and completing last-minute preparations for my trip to Morocco.
I'm usually not a putter-offer, also known as a procrastinator. When I need to get something done, I usually get on it. But one thing I've been putting off for ages is getting new glasses. I have gas permeable, multi-focal contacts that I wear occasionally. Since they don't totally correct the astigmatism in my left eye, I end up wearing my glasses a lot.
Shopping for glasses has always felt terrifying! I have built it up in my head to be this huge, scary monster. What if I chose the wrong frames? Glasses are expensive so the idea of having to wear glasses I don't like or spending a lot of money to have them remade, always scares the willies out of me. Turns out, I've been worried for nothing.
The glasses I've been wearing for the past 10+ years are from Sams. I oddly ended up with two pairs because Sams accidentally made them twice, so they sold the second pair to me at a good discount. One day the pair I most often wore just randomly snapped in half. Gaaah! I was very thankful I had a spare pair, but I've lived in fear that one day the remaining pair would do the same!
As I've been preparing for this trip, I was thinking about how awful it would be if my one and only pair of glasses decided to snap in half like the other pair. I waited to the last minute to address this issue due to my fear of eyeglass shopping, but LensCrafters came through for me and got my new glasses ready in less than a week.
After your prodding in the comments on THIS post, I visited my eye doctor a couple of weeks ago. He said the beautiful, sparkling stream I saw on that very strange day, was definitely an ocular migraine. He added that it was interesting it had occurred the evening after I'd had a sinus/allergy related headache earlier in the day because he's currently in the midst of a study looking into that very thing. Apparently, they aren't expecting in their study to find that ocular migraines could have a connection to allergies or allergy-induced headaches, but that's how my day had started before I had mine that evening. He did a thorough examination and pronounced my eyes to be very healthy with no signs of glaucoma or cataracts or anything like that. So, good news on that front!
Earlier in the week, with eyeglass prescription in hand, I visited a LensCrafter that's just a couple of miles from my home. I was pretty impressed with how they measured for my glasses, technology today is pretty awesome! They had me look in the direction of a camera-like device and with one click, they had the measurements.The process has come a long way since I last got glasses.
It's so hard choosing a frame because there are so many to pick from these days. My current glasses are frameless, except for across the very top, but the way they were designed, they were terrible about randomly catching my hair and breaking it off–painful and annoying!
These are glasses I ultimately settled on. I'm a huge Tiffany fan, love their jewelry. It was a bit of a leap for me to go from almost frameless glasses to an actual frame, but I decided to try something different. Thankfully, LensCrafters took a lot of the fear out of it with their pretty liberal exchange and return policy which states that new glasses and sunglasses can be returned for a refund or exchange within 90 days from the date of purchase. If I had realized they did that, I wouldn't have waited so long to get glasses!
Oh, and if you have Triple A, you get 30% off everything, even off their top of the line best lenses, the Varilux lens. They didn't ask to see proof that I had Triple A, though I did have my card with me. They just took me at my word.
Here's how the glasses look on the side. I love, love, love the Swarovski crystal butterfly. I Googled to compare pricing and found the frames for close to the same price as what I paid, here: Tiffany Eyeglasses. Mine are the 51 mm size.
So glad I'll have reliable glasses for this upcoming trip. I'll take my old ones as a backup, just in case.
The other new item I purchased for the Morocco trip is a new Travelon Bag. I've really enjoyed using my other bag below on previous trips, so I took a look to see what other styles they have available. (Bag below is available here: Travel Bag.)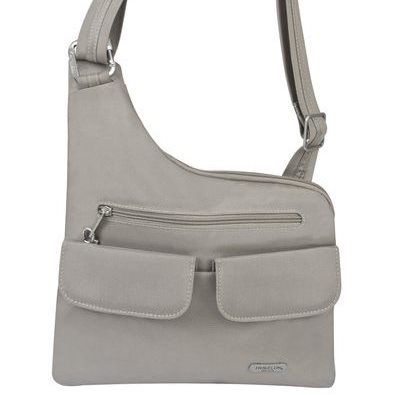 This is the new style I just purchased, it should be arriving on Monday. I decided to go with a black one this time, just for something different.
This bag comes in a gazillion colors so it was really hard choosing. I made sure that it has all the same amazing features as my other bag: Cut-Proof shoulder strap so a bad guy can't run by and cut it off my shoulder, RFID Protected Credit Card Pockets so no one can scan by the bag and get my credit card information, slash-proof pockets and a locking closure so no one can unzip it without my noticing. I love my other bag and can't wait to try this one out.
If you like the look of this bag, it's available here: Travel Bag. Be sure and read about all its great safety features that make it so perfect for worry-free travel.
Update: I love the look of blue one too, especially since I'll be wearing jeans a lot on this trip, so I just ordered that one, too. Returns are free, so that will make it easy to return one. The tough part will be deciding which one to return! You'll find it in blue here: Travel Bag.
Update Again:
Okay, just ordered this bag because it may be big enough to hold my DSLR camera with a lens on it, based on the reviews. I'll compare them all and choose one to keep. Hope it comes in time to possibly use. This bag is available here: Anti-theft Travel Bag.
I have several posts planned, including a post sharing what clothes I'll be packing for this trip. I can't wait to share Morocco with you over the next couple of weeks!
When I travel, I always post a lot of photos on Instagram since it's the easiest and fastest way to share. So, if you would like, you can follow me on Instagram here: Between Naps On The Porch. If you haven't yet registered for Instagram, you can still check out the pictures I'll be posting there each day by visiting the BNOTP blog and clicking on the little Instagram logo over on the sidebar. It's the one that looks like a camera below.
Instagram is by far, my favorite social media. It's pure eye-candy! I love searching for my favorite "subject" or topic there because there's so much to see, no matter what your interest.
See you on Monday for Metamorphosis Monday, dear Friends!
*If a post is sponsored or a product was provided at no charge, it will be stated in post. Some links may be affiliate links and as an Amazon Associate, I may earn from qualifying purchases. *