Thanks so much for all the amazing suggestions, ideas and input on yesterday's post. So much great information, things I would never have thought about. I will be referring back to your comments again and again when I am closer to beginning my master bath renovation. Your comments have also tremendously helped others who are facing a bath renovation, as well. There's nothing like hearing from folks who have been through it! So thank-you for that!
A Very Weird, Very Strange Day
I had this very strange day about two weeks ago. I started to not blog about it, but it was so odd I thought it might be interesting to share with you. If you're not into weird stories, skip this and scroll on down for some pretty bedding pictures. Otherwise, grab a cup of tea or your preferred beverage and keep reading. 🙂
It was a Saturday morning and I awoke that day with a painful headache that began to intensify very quickly. I thought it might be a sinus headache because it was right behind my left eye. It felt like someone was inflating a balloon behind my eye, very much like the headaches I used to get as a teenager.
I used to have what I'm pretty sure were migraines when I was in high school. They would occur about 3-4 times a year and from the time they started to the time they were at the "kill-me-now-and-put-me-out-of-my-misery" stage, was usually about 20 minutes. I'd call my dad when they would start but by the time he could get to the school to pick me up, I would be dying in agony. I'd cry all the way home in the car, take two aspirin once home, crawl into bed covering my face from the excruciating light coming in through the windows and cry myself to sleep.
When I'd awake a few hours later, I would be completely exhausted. The headache would be mostly gone, but any sudden movement was extremely painful. I'd spend the rest of the evening moving in slow motion, barely turning my head. Usually the next morning after a full night's sleep, things would be pretty much back to normal. I didn't know about things like migraines back then and had never taken anything more powerful than an aspirin.
So when I awoke a couple of weeks ago with an intense pain behind my eye, it felt very much like that headache I used to get in high school. Thinking it might be sinus related, I immediately took an Advil Sinus and Congestion tablet. It helped greatly, but the pain still nagged on all day.
After about four hours, with the pain still there and getting worse again, I got more serious about it and took two regular Advil. That helped a lot and by the end of the day I was feeling much better. The pain was almost totally gone and I figured that was the end of it. Ha! Not quite. Hold that thought!
The Next Bizarre Twist
Then the day took another strange turn. That night, I was sitting in my office working and I started to hear the weirdest sound just outside my office windows. It sounded like a very, very large bush, like the kind that has grown to be the size of a small tree, was scraping down or near the windows. The noise sounded as if it were going to come through the windows!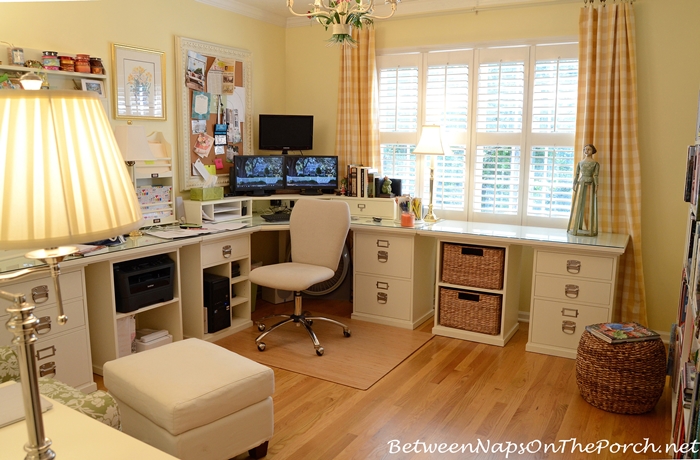 At first I just froze and listened. A lot of thoughts started flying through my mind. Was it the raccoons that sometimes visit the feeders at night? I glanced down at the time on my computer, it was only 8:30. No, it couldn't be that because the raccoons don't make that type noise and they don't usually stop by until after midnight.
I continued listening to the bizarre noise, and as I listened I began to feel very afraid. It was so loud and so strange, unlike anything I'd ever heard outside my office windows. My survival mode kicked in and I jumped up and ran toward the office door. Whatever it was, was not stopping. I had no idea what it was but something inside of me must have decided that I needed to run in the opposite direction. The noise sounded as if it was literally an inch outside my windows, about to burst through the windows at any moment.
As I reached the door to my office, it stopped. It had seemed to go on for a long time, maybe 8-10 seconds, but now it had finally stopped. I stood in the doorway listening, afraid to even move. After a few minutes I got up the nerve to go downstairs and look out the kitchen bay window that overlooks the deck just beneath my office.
The deck was empty, nothing there. What the heck was that? I was pretty shook up but after a bit I went back upstairs and somewhat nervously sat back down at my desk. The rest of the night was uneventful and the noise did not return.
More Weirdness!
After working a bit longer, I headed off to bed. As I was getting ready for bed, I suddenly realized I was losing the vision in my left eye, the same one that had the intense headache behind it that morning. Ummm, could this day get any stranger?!
What I was seeing through that eye was truly bizarre. The best way I can describe it is this: it was as if I were looking through a beautiful stream, and the sun was shining down on the stream so brightly, it was sparkling brilliantly in the sun as it flowed by.
It appeared to be flowing from the right to the left and it completely filled all the vision in that eye. It was actually really beautiful, like coming upon a gorgeous stream on a hike in the woods, and watching the sun light it up creating the most dazzling, sparkling effect. It was mesmerizing!
If I hadn't awaken that morning with an awful headache directly behind that eye, I probably would have felt panicked about what was happening, but I forced myself to think logically and decided it was probably just something similar to what I had experienced many years ago.
Many years ago when I was still working as a Case Manager, I awoke one morning and before I could leave for work, my vision began to change in one eye. That time there was no pretty, sparkling stream. Instead, the vision was reduced to a small circle or tunnel. I could only see out of an area about the size of a silver dollar. There was no pain, just greatly reduced vision in that one eye. I can't remember which eye it was now.
That day, I went to Dr. Google and with great difficulty read about something called an Ocular Migraine. It sounded exactly like what I was seeing, or rather–not seeing. I was relieved that day to read that often there is no pain with that type migraine. Whew! So glad to read that! I had never forgotten those headaches in high school!
When that ocular migraine happened so many years ago, I called work and told them I'd be late because I didn't think I should drive until my vision was normal again. I remember trying to wash a load of clothes that morning and I couldn't see the whole panel of knobs on the washing machine all at one time. It was like someone had put a paper towel roll over my eye so I had to move my head across the panel, seeing only small sections of it at the time in order to select the correct settings.
Looking through the sparkling stream a couple of weeks ago, I attempted to Google and read again. It was more difficult this time, but I managed to read though the eye I could still see through. It said that one symptom of a migraine can be altered vision that looks as if you're "looking through a crumpled up piece of shiny cellophane." I figured that was a close enough description to the "sparkling stream" I was seeing and decided not to worry.
I went on to bed, but couldn't fall asleep. After about 30 minutes I got up to get some water and my vision was completely back to normal.
The Next Day–and What Was That Noise Anyway?
The next day I awoke with no headache (thank goodness!) and headed downstairs. I stepped out onto the deck to fill up all the bird feeders, then remembered the noise from the night before. I looked around and there was nothing on the deck. It looked the same as it had the night before when I had nervously peered through the shutters. I walked over to the rail and looked out. Oh. My. Gosh! Here's what I saw. A very big tree was down on the ground.
It was so big, it stretched all the way across the whole yard.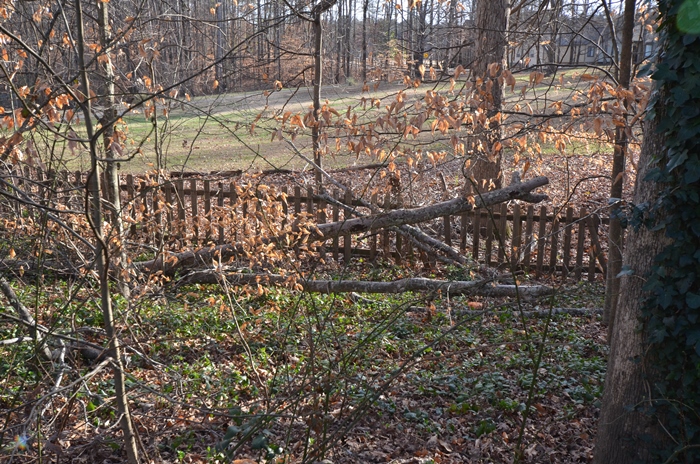 The trunk of the tree is partially covered in ivy that started growing in the wooded area of my yard a couple of years ago. I have someone whose going to help me get rid of the ivy very soon, but first we'll need to get rid of the tree.
Do you see the leaning tree in this photo taken back in 2008 when the screened porch was under construction? I had three trees removed about the time the porch was built, and when I asked about the leaning tree, the tree guy told me he thought I should leave it. He said that it wasn't uncommon for trees to lean and he thought it added "character."
I was already spending a lot of money to add the porch and for the removal of the other three trees, so I decided to take his advice and leave it. I could tell if it ever did fall, it wouldn't land on the house since it was leaning away from the house. I figured it might take out a section of the fence across the back, but that would be it.
Amazingly, it didn't even do that. It just laid itself down across the back of the yard and somehow managed to do it without hurting any of the other trees. A branch knocked off one of the pickets on the fence. Glad all that "character" didn't cause any real damage!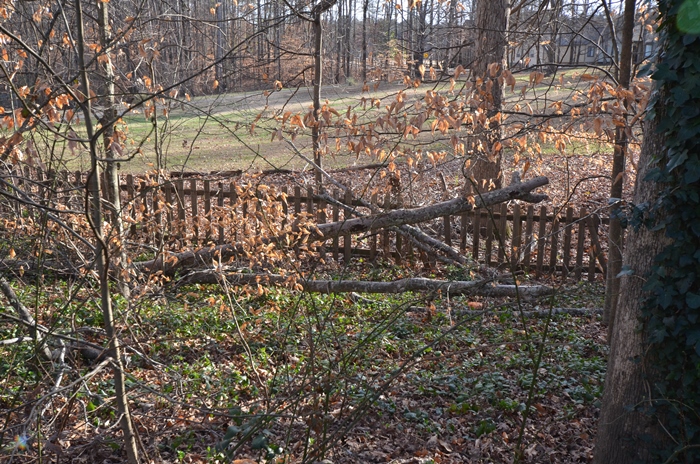 Well, now we know the answer to the age-old question: If a tree falls in a forest and no one is around to hear it, does it make a sound?" The answer is YES, yes it does! A BIG, SCARY sound!
It will be just fine with me if I never have another crazy day like that one! 🙂
Now for Something Pretty!
Before I close out this post, I thought I'd share the last of the photos I took when I visited Pottery Barn recently. Just inside the front door I saw this! Love this beautiful, blue and white buffalo check bedding. The color is so soft, so pretty!
It definitely feels like spring, doesn't it? If I didn't already have blue and white bedding in my guest room, I would have been super tempted to buy this for that room. (Bedding is available here: Blue and White Bedding.)
I also loved this toile lighthouse pillow and came close to buying it. I still may have to go back for it. Pillow is available here: Toile Pillow.
Thanks again for all your fabulous input on yesterday's post. Love you guys…you are the BEST! ♥
*If a post is sponsored or a product was provided at no charge, it will be stated in post. Some links may be affiliate links and as an Amazon Associate, I may earn from qualifying purchases. *