Welcome to the 519th Tablescape Thursday!
These embossed chargers I recently shared in a post just arrived a couple of days ago. They are still in their packing boxes in my entry, been so busy I haven't had a chance to unpack them, yet. I was impressed with the shipping/packaging, each charger is individually boxed and well padded.
I couldn't resist opening up one to see how they looked. Love them and can't wait to use them in a table setting soon! They are wondefully large, heavy and well-made. I'm very pleased with the quality. Unfortunately, they are no longer on sale as they were when I blogged about them a few days ago, but you'll find them available here: Embossed Chargers.
I don't get a chance to create children's tables very often, need to move closer to my grandsons. So I was really excited when Elena shared a table she created for her grandson recently.
Elena wrote, " I had an uber Beauty and the Beast birthday party for my daughter last March, and at the same time I set a shark birthday party table for my grandson Landon (9 years old now). Daughter's and grandson's birthdays are one day apart, I celebrate both birthdays on the same day. This year Landon asked me if I could do a "boy table" for him. "You always do pink princess parties, NaNa," he told me LOL. So for this year, I had two pink princess tables and the third table in the kitchen was a sharkie table for grandson and the boys."
Love the shark napkins Elena made for her grandson's birthday table…are those not the cutest!
Oh my gosh, I love those shark plates!
The salad plates Elena used are part of the ongoing series of Dapper Animal Plates that West Elm carries.
These are a hoot! I looked to see if the shark plates are still available at West Elm, but I didn't see them.
These are their newest additions to the Dapper Animal series. I love Miss Lion! She looks like she's heading out the door for a Ladie's Tea, doesn't she? Or, maybe she going shopping for the newest, just-out Dior handbag. Yeah, I think that's it…she looks like a handbag lover to me. 🙂
I also love the duck, he would be awesome in a Fall setting and later in a Father's Day table setting. Really all of these (except Miss Lion) would work great in a Father's Day table. I hope West Elm keeps this Dapper series going for a long time…they just get better and better.
You'll find this Dapper Animals Collection available here: Dapper Animals and here: Dapper Animals.
Shark tumblers from HomeGoods are perfect in this whimsical shark-themed table setting. The beautifully painted stemware was a find in a little shop in Venice, Italy. So beautiful!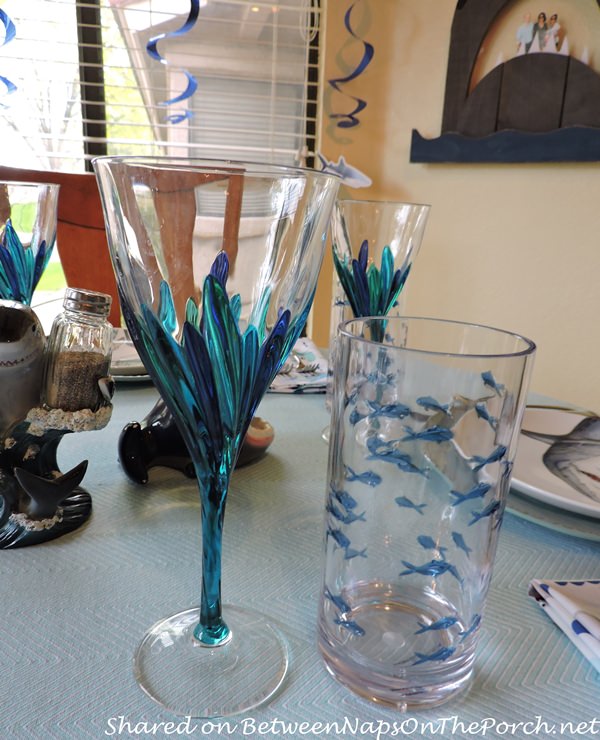 Elena found many of the shark decorations seen in her centerpiece here: Great White Shark.
This whimsical shark salt and pepper holder is still available here: Shark Salt & Pepper. I was thinking how great this would be if having friends over for a "Jaws" movie party.
A friend of Elena's made this awesome wooden sign depicting the whole family being swallowed up by a Great White! Sooo good! 🙂
Thanks so much to Elena for sharing this wonderful shark-themed table she created for her grandson, Landon's 9th birthday! I know he must have loved it…a birthday celebration he will always remember! ♥
Sources for Elena's Table:
–Aqua cotton tablecloth–Home Goods
–Napkins–hand-sewn, shark fabric from fabric.com
–Resin large great white shark figurine–Amazon
–Simple Lenox flatware–QVC
–Small blue sharks with open bites–Burlington store (they're holders for kitchen sink scrubbing pads)
–aqua glass pebbles and sea glass–Michael's
–Shark salt and pepper shaker holders–Amazon
–Acrylic tumblers with blue and aqua tiny fishies–Home Goods
–Painted glass stemware–from a gorgeous little glass shop in Venice Italy!
–Aqua blue dinner plates–Pottery Barn
–Dapper beach shark animal plates–West Elm
–Wooden great white shark swallowing the family (wall decoration)–handmade by a friend
–Colorful large cut-out cardboard sharks on windows–Amazon
–Blue foil streamers with sharks (window decorations)–Amazon
Looking forward to all the beautiful tables linked for today's Tablescape Thursday!
Pssst: I post almost daily to Instagram. Follow Between Naps on the Porch on Instagram here: Between Naps On The Porch.
If you enjoyed this post, subscribe for free email updates when a new post is up here: Subscribe for post updates.
Tip: Please do not use a Hotmail e-mail address to subscribe if you can avoid it. Hotmail is notorious for filtering out perfectly good emails. Google and you'll find tons of people complaining about this. I've found Gmail to be awesome, it's what I use and it's free! Plus, they don't filter out the e-mails you want in error like Hotmail does.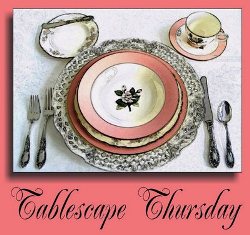 Tablescape Thursday
If you are participating in Tablescape Thursday, please be sure to add your permalink below, and not your general blog address. To get your permalink, click on your post name, then copy and paste the address showing in the address bar, into the "url" box when you link up.
You'll need to include a link in your post back to the party to link up and participate. That's so visitors to your blog will be able to find the party and the other Tablescape Thursday participants. Requiring a link back also prevents businesses and scammers from linking up to sell their products. (Yup, that really happens, unfortunately.)
*If a post is sponsored or a product was provided at no charge, it will be stated in post. Some links may be affiliate links and as an Amazon Associate, I may earn from qualifying purchases. *