Welcome to the 502nd Metamorphosis Monday!
Happy weekend to you! I hope you're having an awesome one! I know it's not Monday yet, but I have an appointment on Monday so I thought I would go ahead and put this post up now.
Before we dive into a mini-project I'm working on in my office, if you're a Talbots credit card holder, Talbots is having a big sale right now sitewide. (I got this yesterday, so ignore that it says "Tomorrow.") Basically, anything you buy online at Talbots today is 30% off with the code: CLASSIC30. Update: That sale ended up they just announced a Flash sale, so check that one out!
I really like some of the new styles they are getting in for fall, like this beautiful tweed jacket with pearl accents. Sooo pretty and so classic! Tweed jackets always make me think of Chanel. This jacket will never go out of style…which is why I love buying classic styled clothing. You'll find it available here: Tweed Jacket.
A Little Office Project
I took this photo of my office this morning using a wide-angle lens, I wanted to capture as much of the office, as possible. Unfortunately, wide angle lenses tend to skew the shape/size of a room, making certain views look longer than they really are. For reference, the office is approximately 11-1/2 feet wide and 13 feet deep from the door to the windows. It looks so much longer in this photo, I know.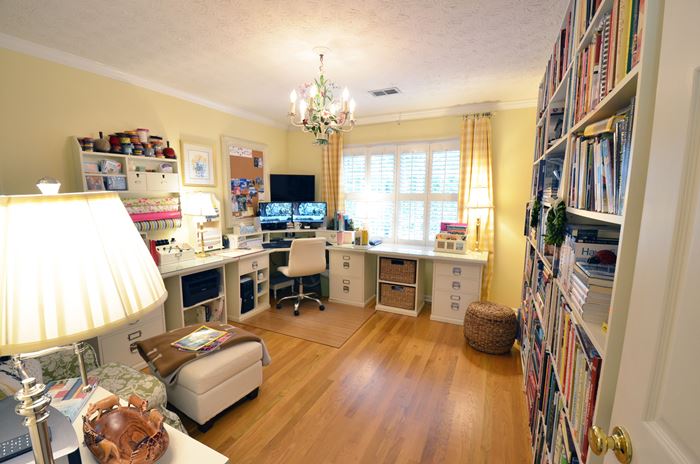 Here's another photo taken a while back with a normal lens…so this is the normal shape of this room.
In the photo below, each arrow is highlighting a lamp here in the office. Friends, I'm a lamp fiend! I truly love them! I've never been a big fan of overhead lighting, just find it to be rather harsh. Overhead lighting rarely does anything good for the appearance of a room where lamp lighting is easy on the eyes and illuminates a room beautifully.
Soft lamp-light can truly transform a room giving it so much warmth and coziness. We're going to need that very soon with fall and winter coming up. I had the chandelier on in the picture since I wanted the extra light for taking photos. Normally it's off unless I'm putting something together (like a new office chair) or need it for some other task I'm working on.
When furnishing a room, I try to spread lamps out all around the room to give the room full coverage. I just recently added the lamp on the far right of the desk to this room. I don't know why I never had a lamp there before, but I love how it looks in the evening lighting up that corner of the room.
I already had that lamp…stole it from a chest in the Upstairs Living Room. I've already found a replacement lamp for the chest, just have to buy a shade for it. I think I'll work on that this week.
My living room/den provides another good example of how I like to blanket a room in lamp-light. In this room, I'm using five lamps strategically placed around the room to provide light where it's most needed for reading, etc…
In this older photo (sorry about the blurriness) you'll see two more lamps on the bookcases at the other end of this room. A tall brass lamp is tucked into the corner while a little rooster lamp illuminates one of the shelves.
Here's a little close-up of the rooster lamp tucked onto one of the bookcase shelves.
The only place in my office that still lacks light in the evening is this side. I've been thinking for some time about adding a little lamp to one of the bookshelves.
I even cleared a spot out on a shelf a couple of months ago in anticipation of purchasing a small lamp, but I was never able to find anything I really liked. Small lamps can be really tricky to find!
I only have about 11-3/4 height with which to work. Keeping that in mind, I went lamp-shopping online a couple of days ago.
Note: If a lamp below catches your eye, click on the name of the lamp for additional photos and more information.
Loved this cute birdie lamp, but it's about 2 inches too tall for my shelf.
I also liked this one a lot, but again, it's just barely too tall for my shelf.
Update: A similar lamp is also available here: Blue and White Teapot Lamp.
Then I started noticing all the adorable stained glass lights available. I don't really need a lamp for task lighting on the shelves, so something decorative would be fine. This light is really cute but probably a bit too small.
Butterfly Tiffany Style Lights
These Butterfly Tiffany-Style Lights turn on with just a touch…love that idea.
If you can dream it, someone has probably created it. This lamp would be perfect for the photography-camera buff!
This lamp is the perfect height for my shelf and I love the dragonfly design on the bottom and on the shade. Sooo cute! Wonder if I can find a spot for it out on the porch.
If you need a smallish shelf lamp, you'll find a ton of small lamps here: Small Lamps. If you only wish to see classic, traditional-style small lamps, go here: Classic Traditional Small Lamps.
What Did I Choose?
So what did I choose? Well, I did something kinda weird. lol I started thinking about how I wish there was a lamp designed in the style of a house since the books I keep here in the office are almost all design/decorating books. That made me think about the Dept. 56 lit houses. I have so many of those, but all the ones I have are "Christmas" houses and are decorated with holiday wreaths. Ummm.
So then I started Googling for lit houses that didn't have Christmas decorations on them. I was surprised to come across a collection Dept. 56 created many years ago called, Literary Classics. I had never heard of that series! I noticed none of the houses in that collection were decorated for Christmas like the homes in most of the Dept. 56's collections, so that was perfect!
Out of the homes they made for that collection, the one I liked the best was Aunt Polly's House from the book, The Adventures of Tom Sawyer. It was so inexpensive, I decided to order one just to see how it would look here in the office.
I could just picture this beautiful little house glowing all evening long here in the office. It seemed the perfect little light for my decorating library since it's both a house–and one that featured prominently in a literary classic.
If you would like one of these little houses for your decor library, you'll find a bunch of them here where I purchased mine: Aunt Polly's House. I can't wait until it arrives and I can see it on the shelf. I don't think it will be too tall. I noticed the book that comes with it is taller than the house, and I know the average size of most Dept. 56 houses, so I think it will be fine, height-wise.
This lighting choice was probably a twist that you didn't see coming! Me, neither! We'll see how it works out, once it arrives.
Have a great weekend! I am starting to think about fall decorating, though I'm not ready to go whole-hog in that direction. It's still very much summer here in Georgia…but the autumn ideas are starting to creep in. A little. 🙂
Looking forward to all the fabulous Before and Afters linked for this week's Metamorphosis Monday!
Pssst: I post almost daily to Instagram. Follow Between Naps on the Porch on Instagram here: Between Naps On The Porch.
If you enjoyed this post, subscribe for free email updates when a new post is up here: Subscribe for post updates.
Tip: If possible, please do not use a Hotmail e-mail address to subscribe. Hotmail's servers are notorious for filtering out perfectly good emails.
Metamorphosis Monday
Metamorphosis Monday is a party that's all about Before and Afters. If you are participating in Met Monday, please link up using the "permalink" to your MM post and not your general blog address. To get your permalink, click on your post name, then just copy and paste the address that shows up in the address bar at the top of your blog, into the "url" box for InLinkz.
In order to link up, you'll need to include a link in your MM post back to the party so the other participants will have an opportunity to receive visits from your wonderful blog readers.
Please observe these few rules:
Please link up Before and After posts that are home, gardening, decorating, crafting, painting, sewing, cooking, fashion or DIY related.
Be sure to include a link back to the party in your post, so your readers will be able to find and visit the other bloggers who are participating.
Do not link up to the party if you're only doing so to promote or sell a product.
To those who are linking up: If you notice a shop or online store linking up to sell products (yes, unfortunately, that does happen) please let me know so I can remove their link and block them from participating in future parties. No one wants to click a link expecting a Before and After, only to find a spam link to an online business/store.

*If a post is sponsored or a product was provided at no charge, it will be stated in post. Some links may be affiliate links and as an Amazon Associate, I may earn from qualifying purchases. *