Winners of A Teeny Bit of Trouble Giveaway:
Thanks to everyone who entered the giveaway! I first ran the InLinkz Random Number Generator, to choose one winner for the $100 Amazon Gift Card. The generator chose #226, Sally. Congrats, Sally! Please e-mail me at betweennapsontheporchatgmaildotcom.
I ran the Generator once again asking that it select 6 winners, the winners who would be receiving of a copy of Michael's latest book, A Teeny Bit of Trouble. The Generator selected the following winners below. Please email me at at betweennapsontheporchatgmaildotcom with the address where your book should be mailed.
Congrats to all the winners and a huge Thank-You to Michael Lee West for sponsoring this wonderful giveaway!
A Teeny Bit of Trouble & A Big Giveaway!
Welcome to the 189th Tablescape Thursday!
Time to celebrate! A Teeny Bit of Trouble, the long awaited sequel to Gone With a Handsomer Man, was just released, Tuesday!
To celebrate, author Michael Lee West is giving away 6 copies of her new novel that hilariously chronicles the latest escapades of our heroine, Teeny Templeton. But wait…it gets even better! One winner will receive a $100 Amazon Gift Card! Whoo, hoo! That's $100 to spend on anything that strikes your fancy at Amazon! (As always, you do not have to be a blogger or have a blog to enter.)
Teeny loves to bake so I couldn't resist whipping up some Red Velvet cupcakes to celebrate the release of A Teeny Bit of Trouble. The table I put together for this week's Tablescape Thursday takes the cover of the book one step further. I decided it was time Teeny caught her man, at least for today!
A Teeny Bit of Trouble is Michael's 8th novel, if I have counted correctly. I think I have almost all of them except for A Teeny Bit of Trouble which should be arriving any day.
My collection made a fun centerpiece for this book-release celebration tablescape.
I can't wait to see what trouble Teeny's been cooking up now! When we last left Teeny in Gone with a Handsomer Man, she had Coop O'Malley in her clutches.
Things were definitely heating up. Now the only question is, did she get her man? Did they get married and settle down?
And what about the mystery visitor who appeared at the end of the book with a knock at the door?
Here's a brief synopsis found on Amazon:
"In this hilarious follow-up to GONE WITH A HANDSOMER MAN, Charleston pastry chef Teeny Templeton witnesses a murder and discovers that her laywer-boyfriend, Coop O'Malley, has been keeping secrets.
After Charleston pastry chef, Teeny Templeton, witnesses a murder, she discovers that her lawyer-boyfriend, Coop O'Malley, has been keeping secrets: the victim's ten-year-old daughter may be his child."
"As more lies explode, Teeny finds herself trapped in Bonaventure, Georgia, a zany"little Savannah," where she must deal with her commitment phobia, gather DNA from a ten-year old child genius, outwit a stalker, decode an encrypted diary, and fend off advances of an ex-beau, a handsome plastic surgeon who's crazy-in-love with her."
"Teeny's life gets maddeningly complicated by a series of not-so-teeny troubles: an uneasy love triangle, a gossip-mongering tarantula breeder, an wise-cracking Southern Belle with early Alzheimer's, Coop's lovable Chihuahua-toting granny, and clues that point to the illegal trafficking of human organs. But when a suspect is arrested, the bodies keep piling up and Teeny doesn't know who to trust. As the murderers close in, Teeny unearths a revelation that becomes a game-changer and flips her world upside-down."
I can't wait to see how it all comes out! In the meantime, how about an awesome giveaway to kick off the new release!
Giveaway with 7 Winners: One (1) Winner will receive a $100 Gift Certificate and Six (6) Winners will each receive a copy of the book, A Teeny Bit of Trouble.
How the Giveaway Will Work:
Using the InLinkz Random Number Generator, one person will win a $100 Amazon Gift Certificate. Six folks will win a copy of A Teeny Bit of Trouble. When I run the InLinkz generator, I will first run it to select 1 winner and that will be the winner of the $100 Amazon gift certificate. I will run the generator again asking it to select 6 winners and those folks will each receive a copy of A Teeny Bit of Trouble.
How to Enter:
Michael wants to get the word out about the release of her latest novel. Here's how you can help AND give yourself several opportunities to win this wonderful giveaway. Important: Be sure to leave a comment for each entry to increase the chance that the random number generator will select your name.
1. To enter this giveaway, "Like" A Teeny Bit of Trouble on Amazon.
2. For a entry, Follow Michael Lee West's blog, Rattlebridge Farm.
3. For a third entry, Follow Michael Lee West on Facebook.
*Important: Be sure to leave a comment for each entry since the winner will be selected using the InLinkz random number generator.
♦This giveaway ends at midnight on Wednesday, April 18, 2012.
♦Please Note: Due to shipping costs, this giveaway is limited to residents of the U.S.. You do not have to be a blogger or have a blog to enter. Be sure to leave an email where you can be reached in the event you should win.
Best of luck to everyone!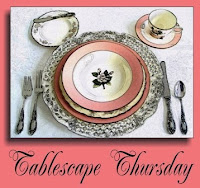 Please Read:
If you are participating in Tablescape Thursday, please be sure to add your permalink below, and not your general blog address. To get your permalink, click on your post name, then just copy and paste the address that shows up in the address bar, into the "url" box when you link up.
You'll need to include a link in your post back to the party in order to link up and participate. That's so visitors to your blog will be able to find the party and the other Tablescape Thursday participants.
If you would like to use the Tablescape Thursday logo button in your post, just copy and paste it to your computer and upload it to your post as you would any photo. Or, grab the html code you'll find under the "Parties" heading at the top of this blog.
Please, don't add your post name/blog name ALL IN CAPS…it tends to create big spaces between the rows of links. Thanks!
Let's try something fun today! Please visit the person who linked before you and after you…that way everyone will get some visits. Hope you'll visit more, of course.




Welcome! Thanks for coming to the party!