Welcome to the 566th Tablescape Thursday!
This past Saturday we visited Max Gate, the home Thomas Hardy built after he became a successful writer.
I hope to share additional photos of the home in the future, but for this week's Tablescape Thursday, we're going inside the dining room.
I always appreciate the beautiful homes I visit during my travels, but sometimes I think I appreciate them even more once I'm back home and have time to really study the photos I've snapped during my visit.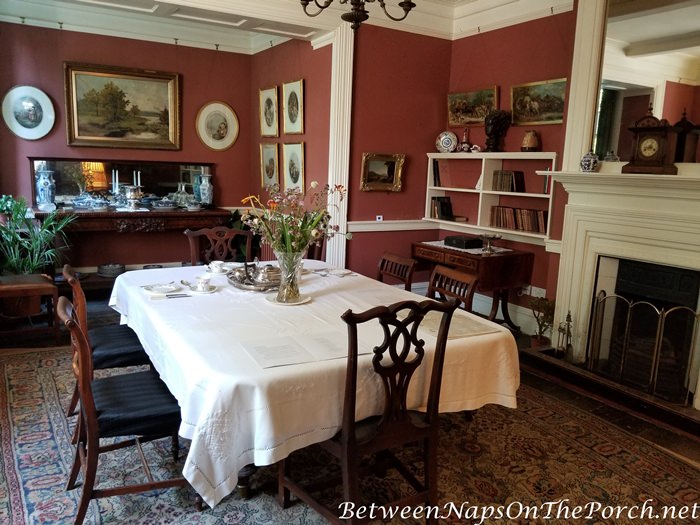 The table was set for tea this day, much as it may have been during the time Hardy was living here.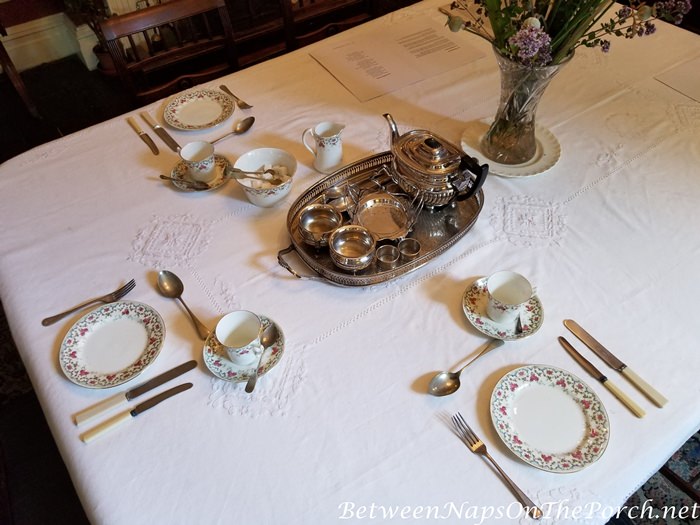 I was super tempted to turn over the plate to see the maker of this beautiful pattern.
Do you recognize the pattern? So pretty and delicate!
I love the built-in bookshelves and the fireplace in this beautiful dining room. I've always dreamed of having a dining room with a cozy fireplace and built-in bookshelves. I so love the idea of dining to the sound of a crackling fire, surrounded by wonderful books!
The other side of the dining room…
Beautiful sideboard/buffet!
Lovely pieces on the sideboard…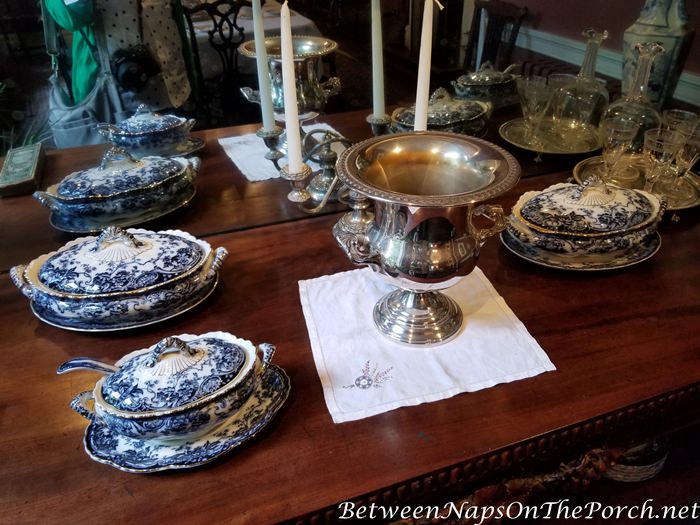 Tucked in one corner I spotted a lovely secretary. I noticed they are using the shelves inside the secretary for china/crystal/stemware storage. I think I'd prefer to see it filled with wonderful, old books.
Before I end this post, I thought I'd share the breakfast I've been opting for most mornings while traveling through England. This is what's normally referred to on the menu as a "Full English Breakfast." I've so enjoyed these hearty breakfasts! I will miss them once I return home.
Speaking of returning home, I have to be downstairs in the lobby of our hotel by 6:00 AM tomorrow to head for the airport, so I'm publishing this post a bit early since time will be short in the morning.
I spent today visiting the Natural History Museum and the Victoria and Albert Museum where I was thrilled to see the Christian Dior: Designer of Dreams exhibition was still in full swing. The exhibit had been scheduled to end a few days ago prior to my arrival in London, so I was so excited to find it had been extended. Looking forward to sharing the photos I took during my visit.
This was one of the gowns I saw on display today, Princess Margaret's stunning birthday gown. It's truly a wonderful exhibition and if you find yourself in London, I encourage you to stop in to see it. It's purported to be the largest exhibition ever of the beautiful designs/fashions of designer, Christian Dior.
This evening, I'm off to the theater to see the play, The Mousetrap. Have you ever seen it? The Mousetrap is a murder mystery play by Agatha Christie and it first opened in London's West End in 1952. Per Wikipedia, it has been running continuously since then and is the longest-running West End show in history. It also has the distinction of being the longest initial run of any play in history with its 25,000th performance taking place on November 18, 2012! Wow!
The play supposedly has a surprise or twist ending so the audience has been traditionally asked to not reveal the ending to anyone after leaving the theatre. Too funny! Can't wait to see it this evening!

I have so many wonderful photos and experiences to share with you from this trip! Looking forward to writing those posts once I'm back home!
Pssst: Follow Between Naps on the Porch on Instagram here: Between Naps On The Porch on Instagram .
Tablescape Thursday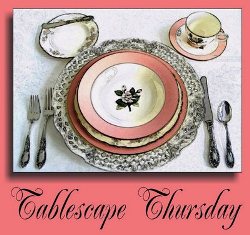 If you are participating in Tablescape Thursday, please be sure to add your permalink below, and not your general blog address. To get your permalink, click on your post name, then copy and paste the address showing in the address bar, into the "url" box when you link up.
You'll need to include a link in your post back to the party to link up and participate. That's so visitors to your blog will be able to find the party and the other Tablescape Thursday participants. Requiring a link back also prevents businesses and scammers from linking up to sell their products. Please let me know if you click on a link that isn't a tablescape or table related so I can remove it.
This party has ended, click button below for the links to all who participated.
*If a post is sponsored or a product was provided at no charge, it will be stated in post. Some links may be affiliate links and as an Amazon Associate, I may earn from qualifying purchases. *