Last week's Tablescape Thursday included yummy cupcakes.
Here's a wider view of the tablescape…
The cupcakes were decorated with little flowers in celebration of spring.
Today, I though I'd share how I made the little flowers. It's soooo easy, you're gonna love this!
To begin, take a hand full of miniature marshmallows and cut them in half on the diagonal. It's important to cut them on the diagonal because they will become the "petals" for your flowers. Cutting them that way will give them more of a "petal" shape. Your scissors will get a bit gummy as you cut, so just rinse/scrub off the blades along the way, as needed. If they get too sticky, the scissors tend to squish the flower petals instead of cutting them cleanly.
There are two different ways to do this next step: 1 Sprinkle some colored sugar into a baggie and drop in your marshmallows and shake 'em around a bit, OR…
Place your sugars into small bowls and dip the sticky side of the marshmallow into the sugar. I opted for the second method. I found it easier to get the sticky side coated well when dipping them into the sugar.
After you've frosted your cupcakes and BEFORE the icing begins to harden up too much, place your petals on the top of your cupcake (sugar side up) arranging them in a flower shape. You can give your flowers 4 or 5 petals…whatever you wish.
Then just poke a small, round candy into the center to create the center of your flower. I used these little mini M&Ms and just turned them over so the M&M logo didn't show.
If you like, place 2-3 small flowers on each cupcake. I have three on this cupcake below. You can barely see the white one in the photos since I used white, sparkly sugar for it.
Or, if you prefer, make one big flower.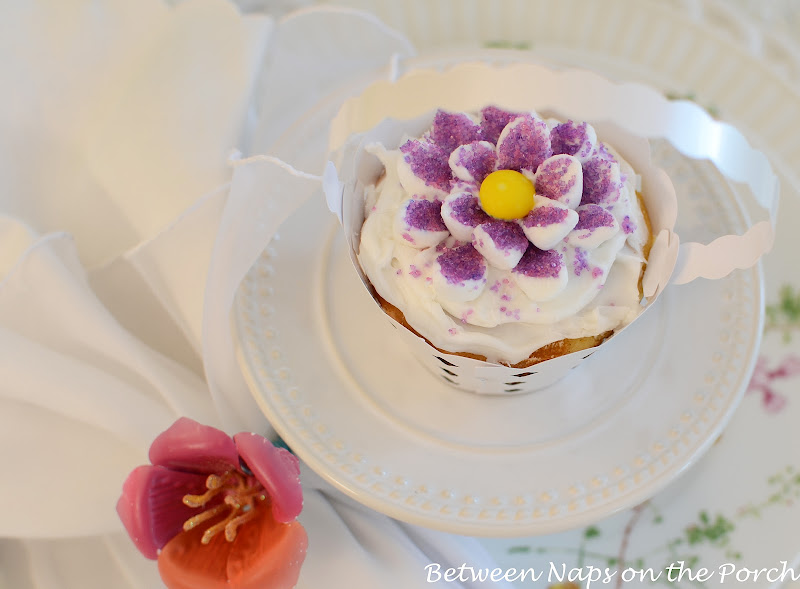 I used regular size skittles for the centers of the bigger flowers. Regular size M&Ms would work as centers for the bigger flowers, too.
That's it…super easy!
View this spring tablescape featuring the marshmallow cupcakes here: Spring Table Setting. For additional recipes, just click on the category, Tablescapes located at the top of the blog and scroll toward the bottom of that page.
Pssst: I post almost daily to Instagram. Follow Between Naps on the Porch on Instagram here: Between Naps On The Porch.
See you tomorrow for Tablescape Thursday!
Receive BNOTP updates right in your Inbox:
To receive the latest posts, as well as updates about upcoming blog parties, subscribe To BNOTP posts via an RSS Reader. Or, have BNOTP delivered right to your Inbox. You'll find links to subscribe via RSS and e-mail at the top ride sidebar of the BNOTP home page.
*If a post is sponsored or a product was provided at no charge, it will be stated in post. Some links may be affiliate links and as an Amazon Associate, I may earn from qualifying purchases. *