It has been a busy, busy weekend! I've been storing the Halloween goodies back up under the eaves and somehow, I found myself rearranging furniture. I have never been one to move furniture around, mostly because when I buy furniture, I buy it go in a certain spot in my home. But I've certainly been moving it around this weekend! I'm looking forward to sharing that for Metamorphosis Monday. What have you been up to this weekend?
I have some awesome favorites to share with you from last month and I hope you find them helpful. Have I ever mentioned that I'm a big-time worrywart? lol Years ago I sent my son and daughter-in-law these Red Cross lights that come on automatically when the lights go out. (Red Cross Lights are available here: Red Cross Emergency Lights.) I also ordered lanterns for them, as well. My daughter-in-law was so thankful to have them when they had a storm that year and all the lights went out.
Last Christmas I gifted my son and dil this weather radio. In addition to being a radio/weather radio, it's also a flashlight and can be used to charge a phone during an emergency. It can run on batteries or it can be charged up via the sun. It also has a hand crank that can be used to charge it up. It has so many features, I can't remember them all!
The last time I visited, my son was raving about this radio saying that when they had tornadoes in the area this past spring, he couldn't find up-to-date information on the TV or on any of the radio stations. Then he remembered the weather radio and was amazed but how it pinpointed exactly where the tornadoes were and kept them up to date every few minutes. That made me so happy that he had remembered the radio and that it helped in that stressful situation.
I have a small weather radio but it doesn't have as many features as the one I purchased for my son/dil, so after hearing him sing the praises of this one, I decided to purchase one for myself. Haven't had a reason to use it, yet–but I'm glad I have it! I think I'll turn it on today just to see how it works. If you don't have a weather radio, definitely consider getting one. This one is available here: Emergency Weather Radio, Hand Crank, Solar, Battery Operated, Phone Charger.
I've been using my Aquaphor Lip Repair a lot this past month since I've been running the heat inside a lot more. Definitely a must for the cold-weather season. It's available here: Aquaphor.
Recently, I replaced my 14-year-old SUV. I had to let it go since the hybrid battery was 25,000 miles outside its warranty and it would have been an insanely expensive repair when it died. I cried all the way to CarMax the day I sold it. Have you ever done that when selling a car? I was surprised by how attached I had become to that car. Sometimes I just don't like change, even when it's an improvement. lol What is wrong with me?!
After replacing my old SUV with a new one in early fall, I wanted to protect the light-colored seats from denim transfer since I was still wearing jeans and hadn't switched over to my winter cords. To protect the seats, I've been using a sheepskin seat pad/cover. The first one I purchased matched the seat beautifully, but it kept sliding around as I got in and out of my SUV, which was super annoying. I ordered this one below and it's perfect. The color doesn't match as well, so I've re-ordered it in a different color that should be here on Tuesday, but I love the way this one is designed.
It has straps that hook underneath the front of the seat and it keeps the seat cover in place. I love that it's wool because it's super cozy and I don't get a shock when getting in and out of the car. Also, when I turn on the seat warmer, I can still feel it through the wool pad.
Even though I'm full-time wearing all my Talbots cords now instead of my denim jeggings, I've kept the cover on the seat because I love how it feels. I love that I'm not sitting on a cold seat when I first get in the car in the winter. I'll probably even keep it on the seat come summertime, just depends on how much I'm wearing my denim jeggings. In the summer, I mostly wear light summer dresses and shorts. If you worry about denim transfer, you'll find this cozy sheepskin cover here: Sheepskin Cover for SUV/Car/Truck Seat.
If you've been reading BNOTP for a while, you know I love Ugg Boots. I had never tried them until a BNOTP reader shared how warm they are. I'm always cold in the winter so I gave them a try and LOVE them. I have a shorter style in black that I purchased just to wear around the house in the wintertime. I live in those during the fall and winter months.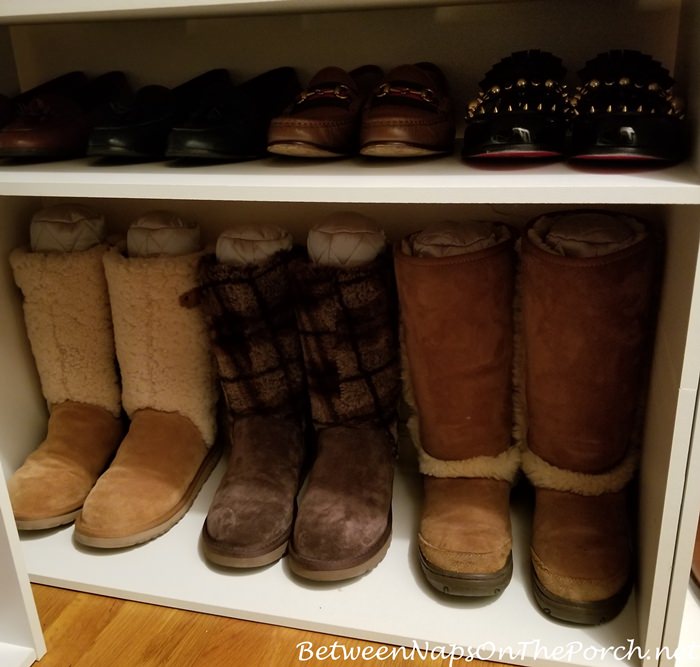 I love my Ugg boots but sometimes I wish they had a bit more arch support. I came across these wool insoles and ordered a pair. They are awesome! I've since ordered a second pair for another pair of my Ugg boots.
I wear a size 7 in summer shoes and sandals but always buy a size 8 in my winter shoes and boots since I like to wear thicker merino wool socks in the wintertime. I even wear them with my Ugg boots, though I know most people don't wear socks with Uggs. I just prefer to always wear socks in the wintertime and the wonderful, merino-wool socks (that I buy HERE) make all my boots, including my Uggs, feel that much more cushy and comfortable.
Since my Ugg boots are a size 8, I purchased these insoles one size down in a size 7 and they fit perfectly into my boots. I love the extra arch support they give to my boots! If you could use a bit more arch support in your Ugg boots or just more cushy warmth in your other boots, you'll find these wool insoles here: Sheepskin Wool Insoles.
Last month I bought these big 17-1/2 inch light-weight planes for my grandsons. They were a huge hit and my daughter-in-law messaged me a video of one of my grandsons playing with his plane while his brother was at football practice. I love how big they are and how they light up at night. They were such a big hit with the boys and so inexpensive, I ordered another set so they would have spares in case anything happens to one of them. They would make a great Christmas gift if you have little ones on your Christmas list this year. You'll find them available here: Large LED Light Airplanes.
Happy Weekend! See you tomorrow for Metamorphosis Monday!
*If a post is sponsored or a product was provided at no charge, it will be stated in post. Some links may be affiliate links and as an Amazon Associate, I may earn from qualifying purchases. *