Welcome to the 653rd Tablescape Thursday, a blog party sharing beautiful table settings for all occasions!
Almost 5 years ago, I posted this delightful table created by Elena, a lovely reader, now friend, of BNOTP. (View that previous table here: Alice in Wonderland Mad Hatter Party.)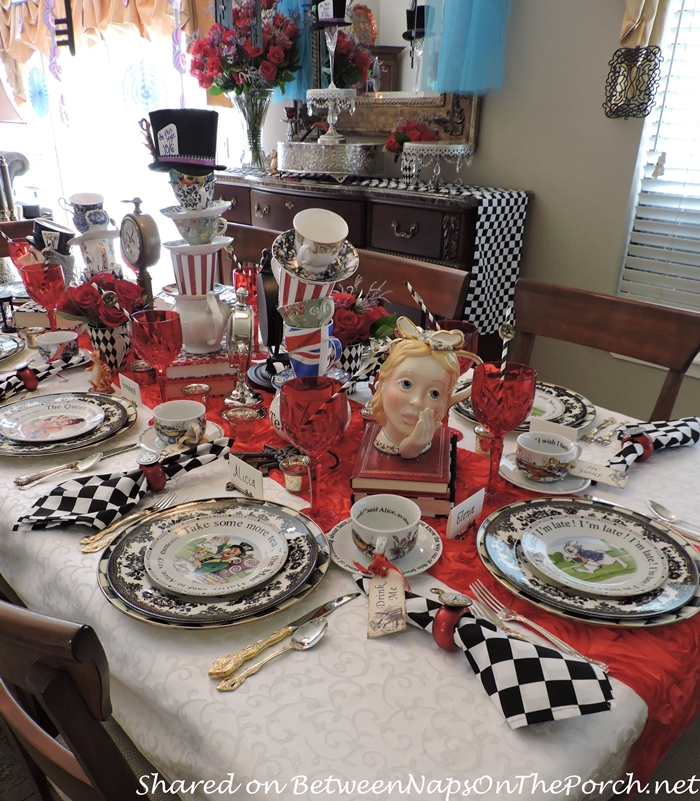 Elena has done it again! Recently, she created a wonderful, whimsical table for her daughter's birthday celebration and the beautiful centerpiece of the table featured the humorous "talking flowers" from the Disney version of Alice in Wonderland.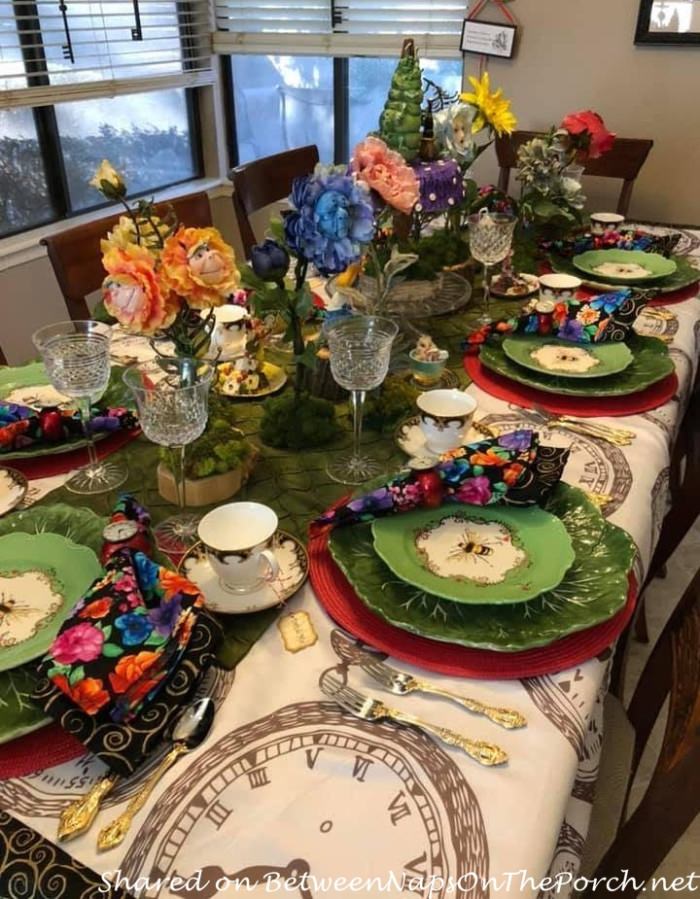 After I saw Elena's fun table, I did a quick YouTube search for the flower garden scene and it's quite funny. In that scene, Alice finds herself in a beautiful garden surrounded by talking-singing flowers.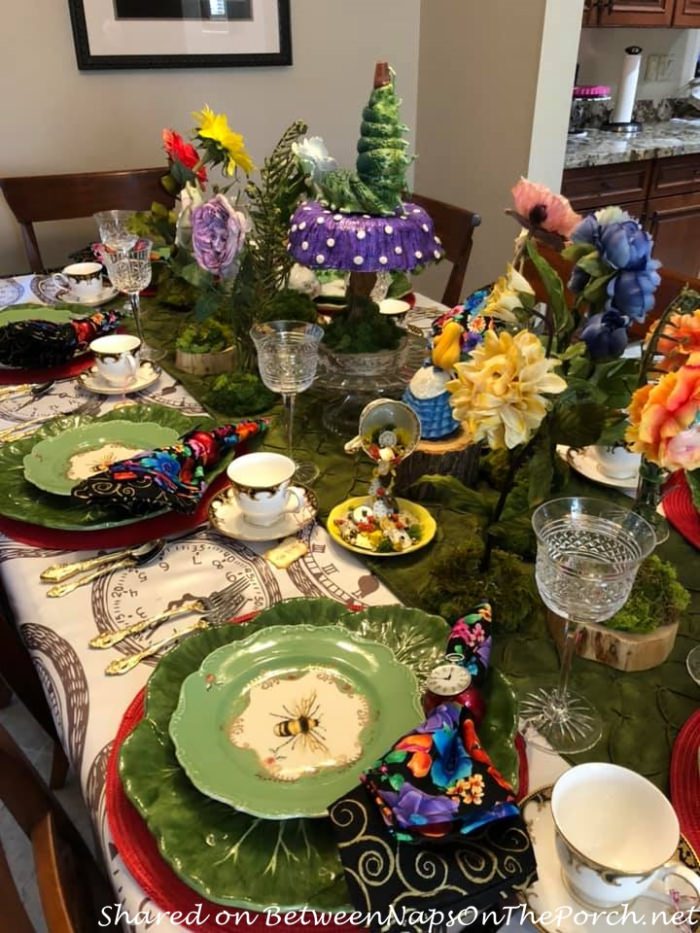 Eventually, these funny, personality-filled flowers decide that Alice may be a weed so they quickly oust her from the garden before she can "go to seed." lol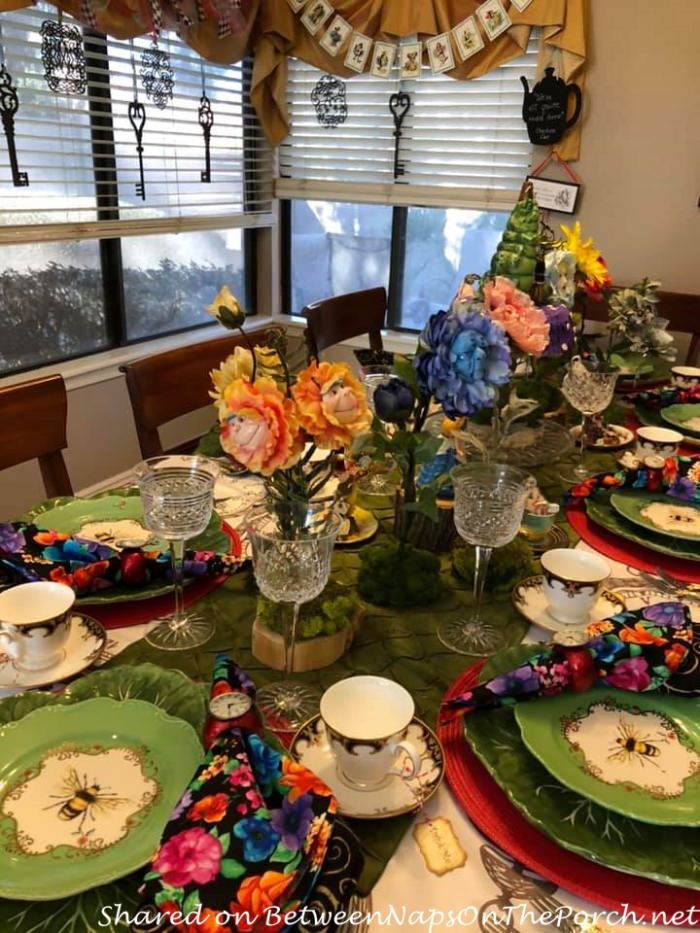 Love the clock-themed tablecloth Elena used for this whimsical birthday party table! It was a find in Walmart years ago. Elena said, "It wasn't quite the right size, so I added/sewed crazy gold, swirl—on–black fabric to the ends of the tablecloth to make it the right size. I used double napkins—the black swirl fabric, topped with gorgeous floral fabric that looks so much like the animated Disney "Talking Flower" scene from 1951."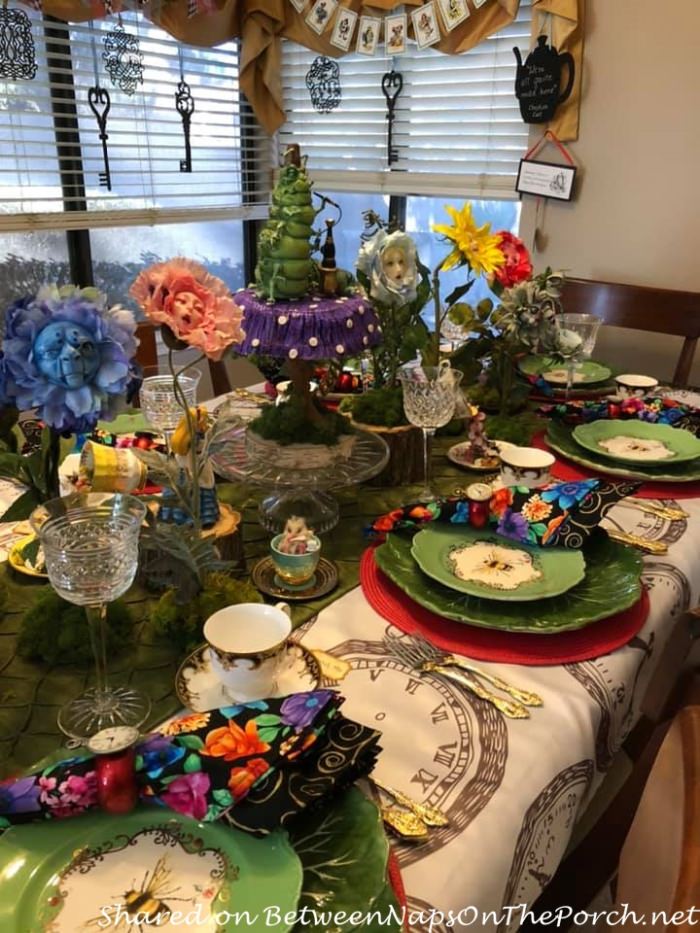 Elena placed red round placemats on top of the tablecloth and ran a pinch-pleated, green taffeta runner down the center of the table. Elena said, "Some of the talking flowers are on small wood slices for height variation.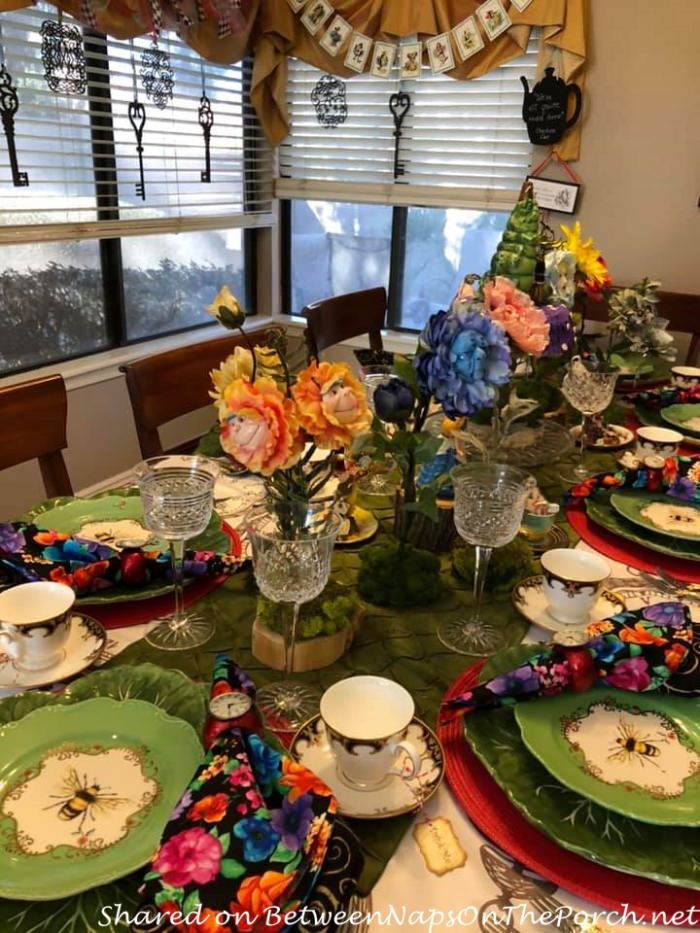 Elena found her adorable bee-themed plates in Anthropologie. How perfect for a flower/garden-themed table setting! Unfortunately, I do not believe they are available there any longer.
The beautiful cabbage chargers were a find in Pier 1. I love those! Elena and I both miss Pier 1 terribly! Wish someone would reopen the stores again, shopping online just isn't the same.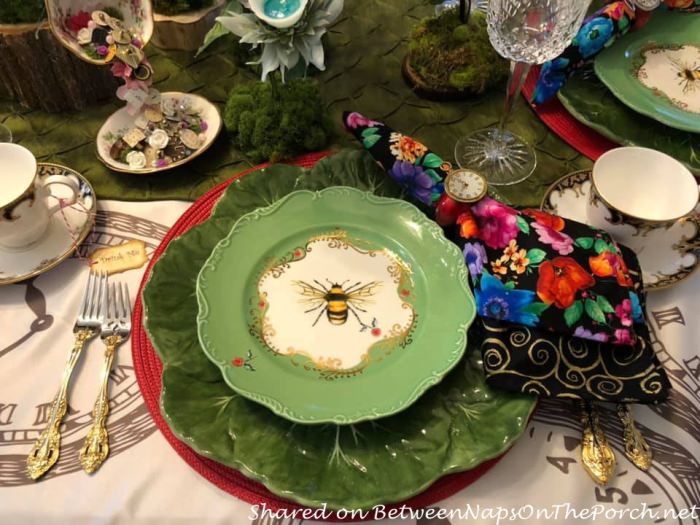 Of course, an Alice in Wonderland table would not be complete without Alice herself. Dormouse is so sleepy, he has fallen asleep in one of the teacups!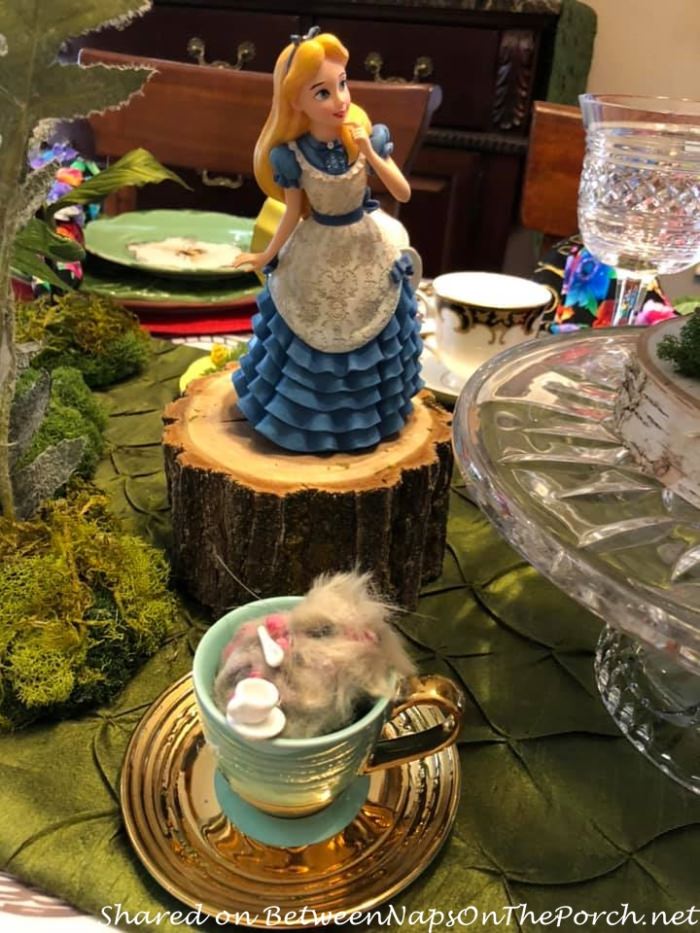 The "talking" flowers in this table setting are just as personality-filled as those in the movie!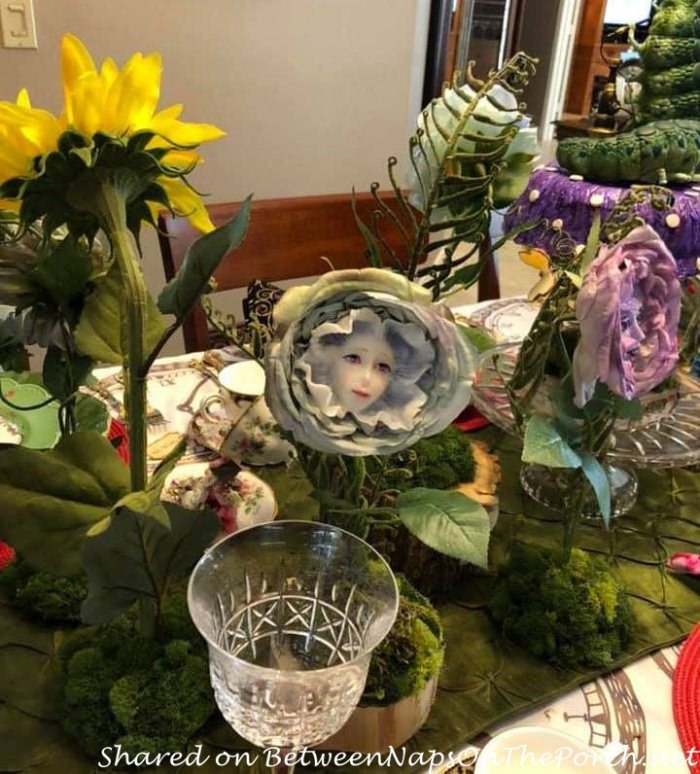 Isn't Alice beautiful?! Elena found all her "talking" flowers online here: Alice in Wonderland Flowers.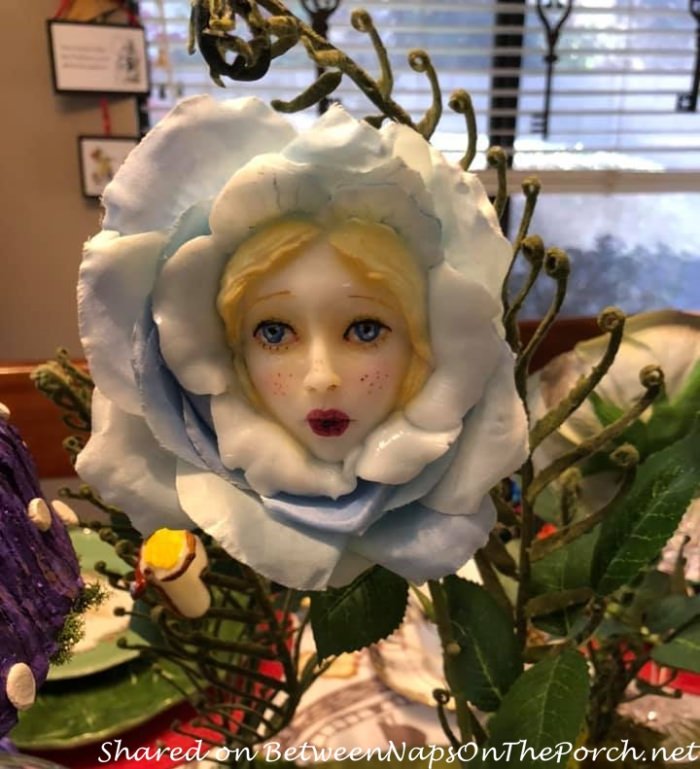 The face on each flower is so detailed!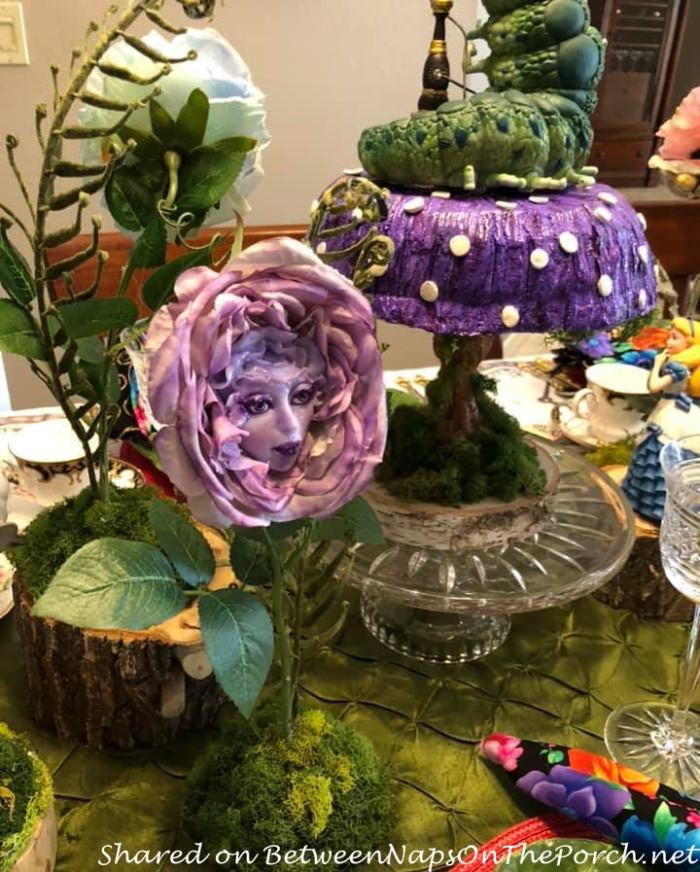 Though these flowers do not actually talk or sing, their wonderfully expressive faces really bring the story/movie to life!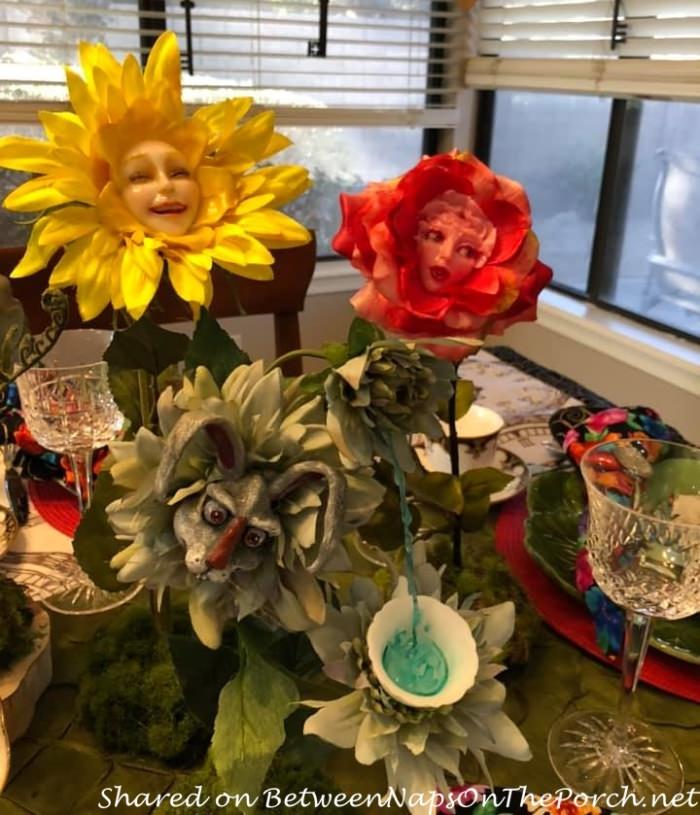 This one called Tickled Tink is one of my favorites! Just love her happy, laughing face!
Absolem looks a little scary, doesn't he? lol That fits perfectly since he's a little scary in the movie, too! Ha!
I just love these! I've put together a couple of AIW tables over the years and if when I do another one in the future, I would love to incorporate a few of these adorable flowers into the table. You can see all the flowers that are currently available here: Singing-Talking Flowers from AIW.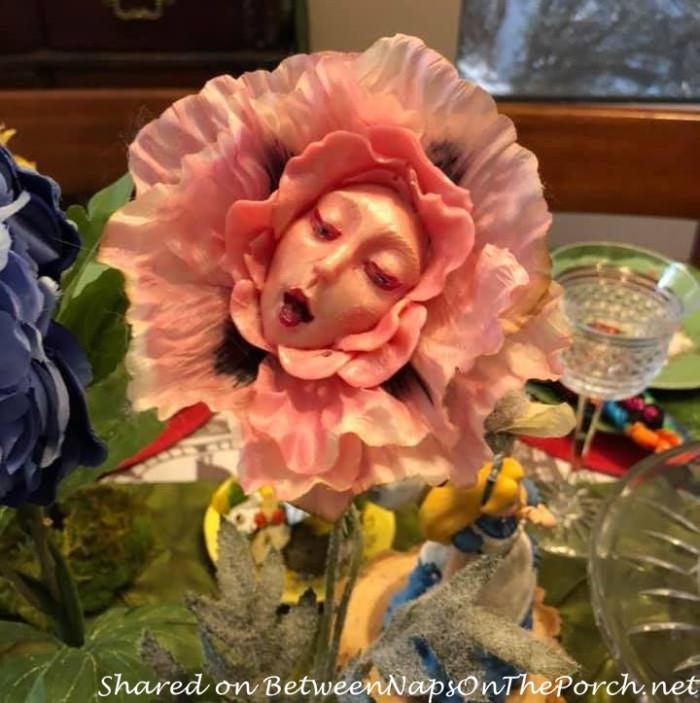 Elena also decorated her sideboard for this birthday celebration.
Elena made these whimsical "floating" teacups and I just love them!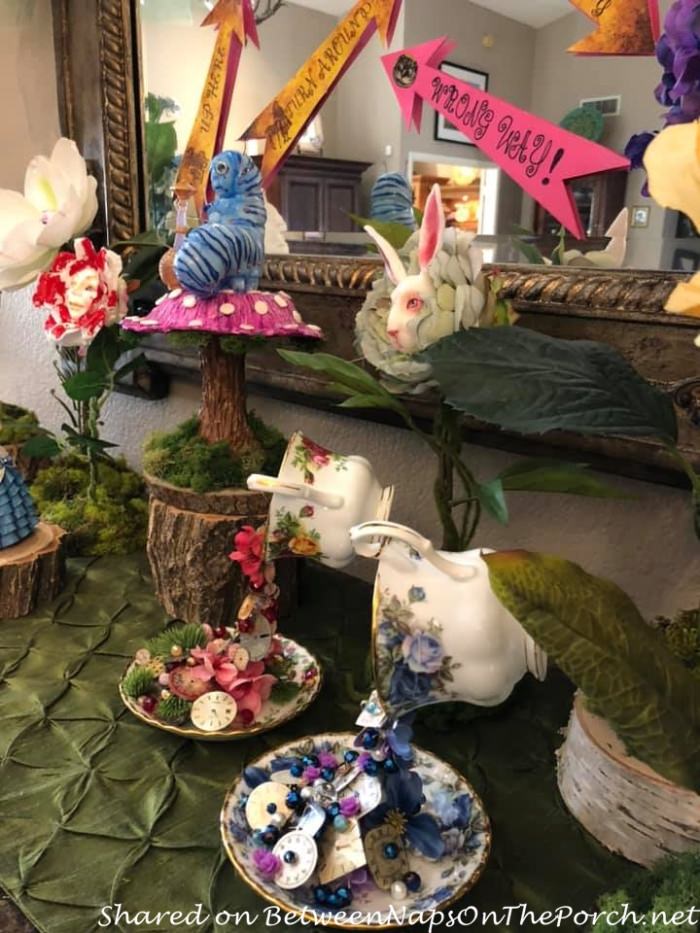 Aren't they amazing?!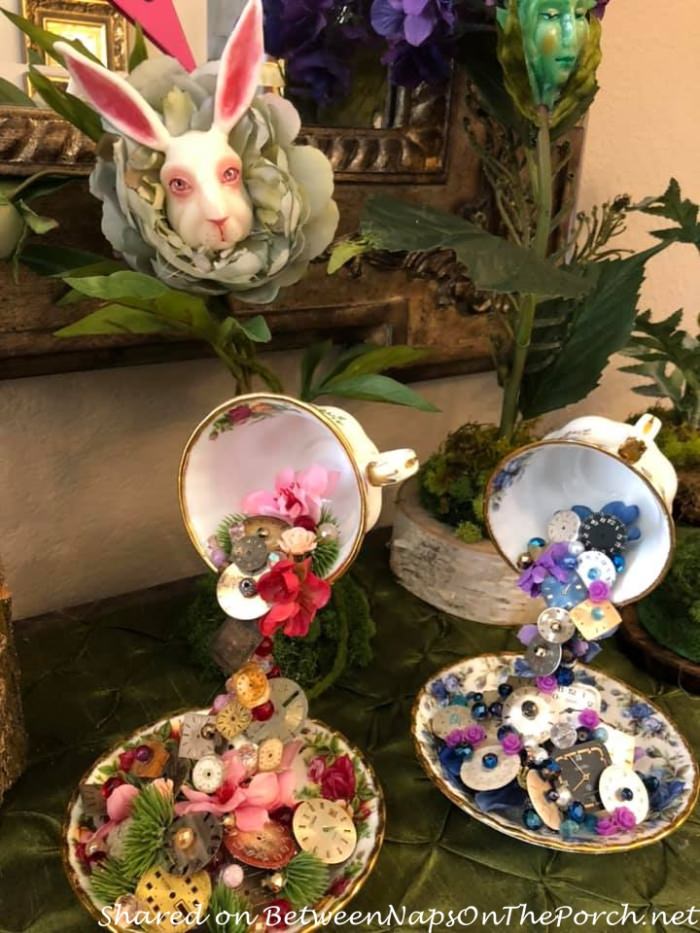 Elena has promised to share a tutorial with us and I can't wait to see how she made these! So fun!
Wouldn't it be fun to see this fantasy table setting and sideboard in person!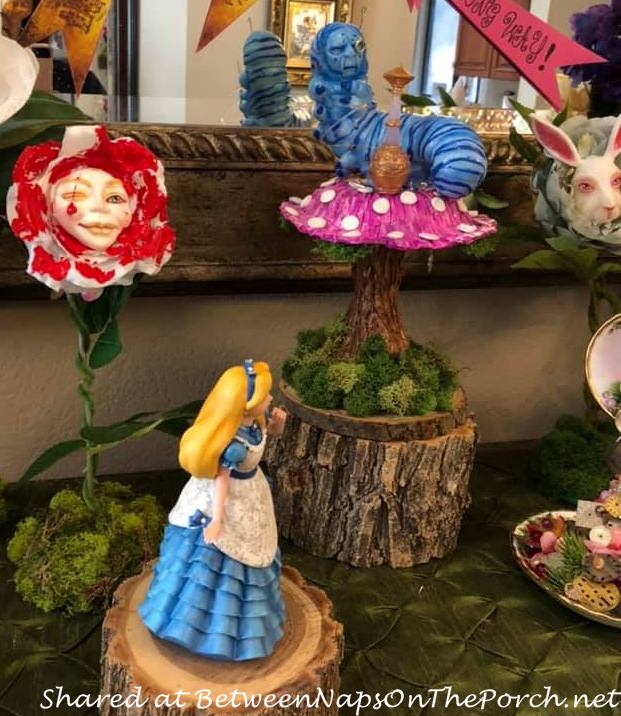 More of the wonderful "talking" flowers–such detail!
There are so many wonderful flower designs–love how different each face looks!
I can't get over how different all the faces are and some are quite funny! (See them all here: Whimsical Talking Flowers.)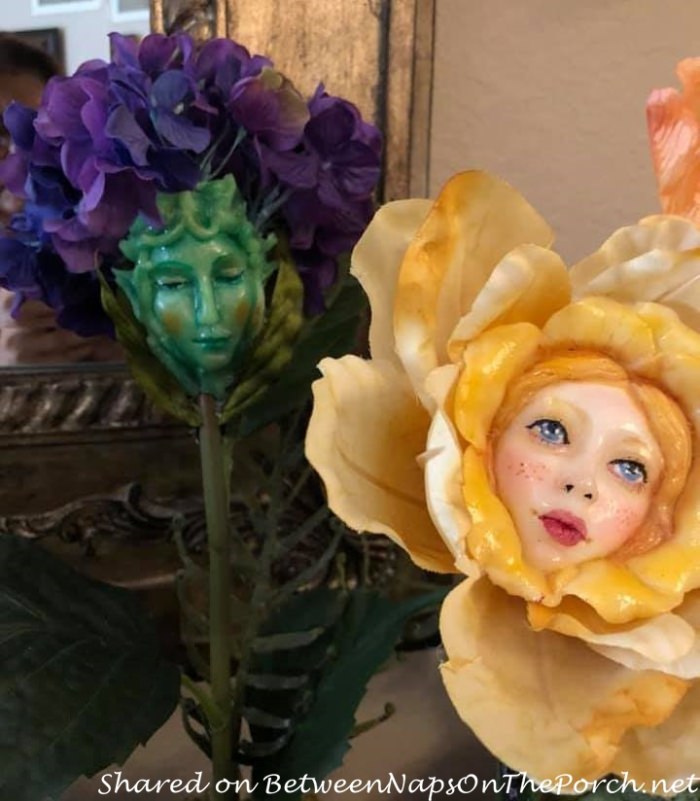 Elena, thanks so much for sharing this absolutely delightful table setting! I would love to have seen your daughter's face when she arrived and saw this wonderful birthday party celebration!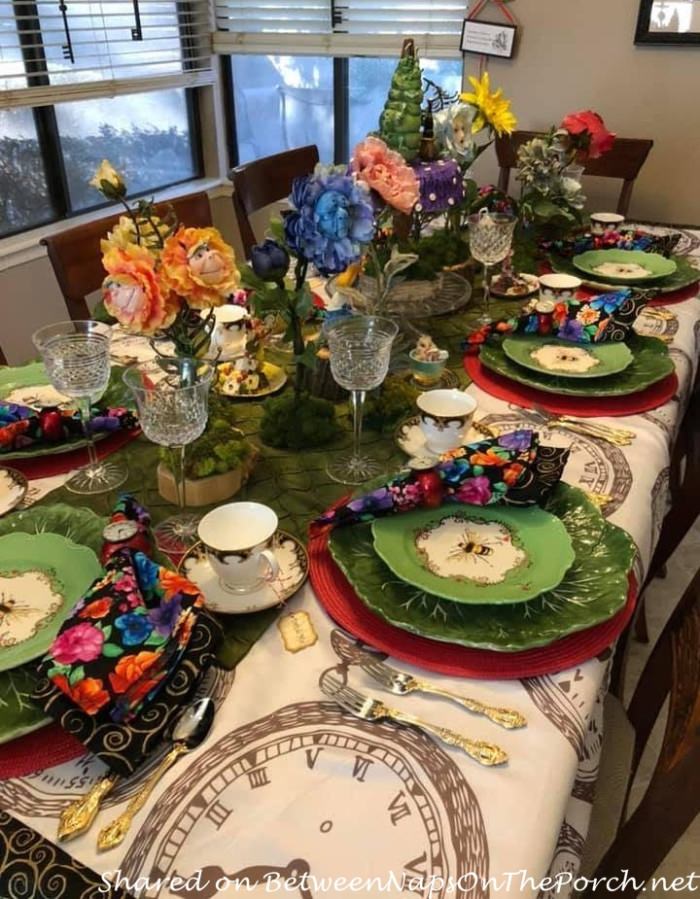 Elena also decorated her mantel and a console table for this birthday celebration. When I share her tutorial for making the floating teacups, I'll share the photos of how she decorated those areas for the party, as well!
Here's a list of where Elena found all the lovelies she used to create her table setting.
Talking Flowers, Blue Absolem caterpillar, and sleeping Dormouse—Etsy Shop HERE
Large green Absolem caterpillar—By American McGee, from eBay
Floating china teacups—individual teacups from eBay, stout coat hanger wire, E6000 glue, vintage genuine watch faces from Etsy, beads, and flowers from Michaels
Hand made purple and pink mushrooms—wooden bases, modeling clay, moss, tools, and paints from Michael's
Hand-made tipsy teacup towers—various teacups, teapots from eBay, Good Will, Home Goods
Hand made Mad Hatter top hat—mini hats from The Halloween Store, decoration supplies from Michaels
Alice figurines from Hallmark Store and eBay
Various china teapots from eBay: Royal Albert Moonlight Roses, Paul Cardew Cheshire Cat, Paul Cardew Dormouse, Paul Cardew White Rabbit
Little Dormouse's espresso cup—from Home Goods
Wood slice pedestals—from Etsy
Various banners and window decorations—hand made, supplies from Michaels
Mirror arrows and Cheshire Cat grin teacup—hand made, supplies from Michaels
Green moss table runners—White Petals store on Etsy
Green moss sparkle tulle and various ribbons—Joann Fabrics
Red placemats—Amazon
Green cabbage leaf charger plates—Pier One
Bee salad plates—Anthropologie
Handmade napkin rings—red napkin rings from Amazon, pocket watch faces from Michaels
Black and white bone china teacups and saucers— Marchesa pattern from Lenox.com
"Drink Me" tags on teacup handles—from Etsy
Crystal wine goblets—Waterford Crystal from ShopHQ
Waterford Crystal cake pedestal—from ShopHQ
Flatware—Oneida gold-accented Michelangelo
Looking forward to all the wonderful table settings linked for this week's Tablescape Thursday!
Did you know Between Naps On The Porch is on Instagram? You'll find me on Instagram here: Between Naps On The Porch.
Like to know when a new blog post is up and available to read? Subscribe for email updates, it's free and your email will never be shared. Subscribe for free post updates via email here: Subscribe for Post Updates.
Tablescape Thursday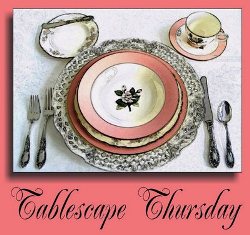 If you are participating in Tablescape Thursday, please be sure to add your permalink below, and not your general blog address. To get your permalink, click on your post name, then copy and paste the address showing in the address bar, into the "url" box when you link up. You'll need to include a link in your post back to the party to link up and participate.
That's so visitors to your blog will be able to find the party and the other Tablescape Thursday participants. Requiring a link back also prevents businesses and scammers from linking up to sell their products. (Yep, that really happens, unfortunately.) If you see a post that's not table setting related, please let me know and I'll remove it.
Please, don't add your post name/blog name ALL IN CAPS…it tends to create big spaces between the rows of links.

This party has ended, click button below for the links to all who participated.
*If a post is sponsored or a product was provided at no charge, it will be stated in post. Some links may be affiliate links and as an Amazon Associate, I may earn from qualifying purchases. *