Welcome to the 415th Tablescape Thursday!
Last October, Elena threw a fabulous Mad Hatter Dinner/Tea Party for her parents who were celebrating their 86th and 87th birthdays! The party was a big celebration and Elena ended up setting five tables, three indoor and two outdoor.
Elena created the cutest "tipsy teacup towers" to use as centerpieces for each of the tables. The main dining table here in the dining room had three teacup towers down the center.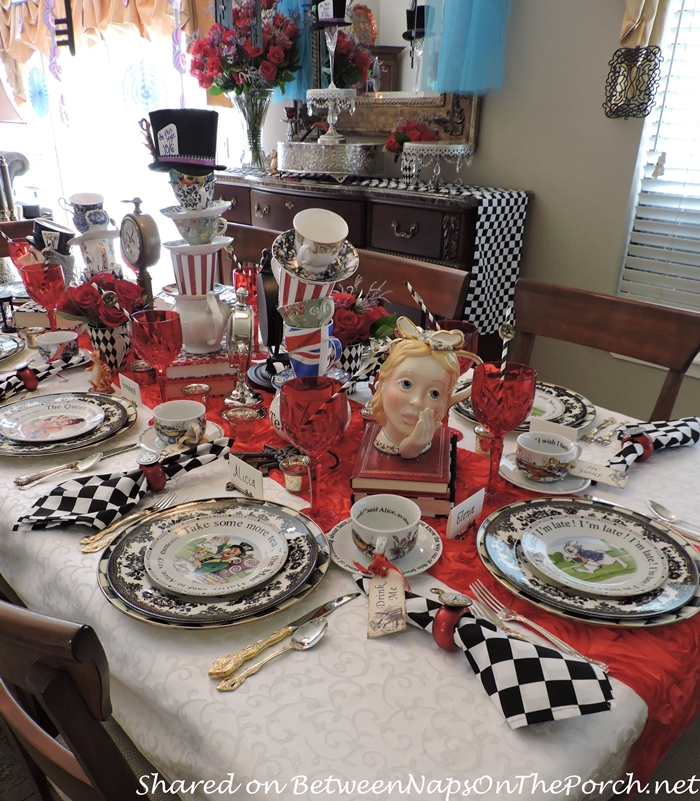 Elena made her napkins with fabric she found at Joann and online. The black/white checkered chargers are MacKenzie-Childs and are available here: MacKenzie Childs Courtly Check Chargers and here: MacKenzie-Childs Charger Plates
Elena said, "Every teacup had a "Drink Me" label, and every goblet had an old-fashioned paper straw with a picture of the Cheshire cat's smile on the top of it."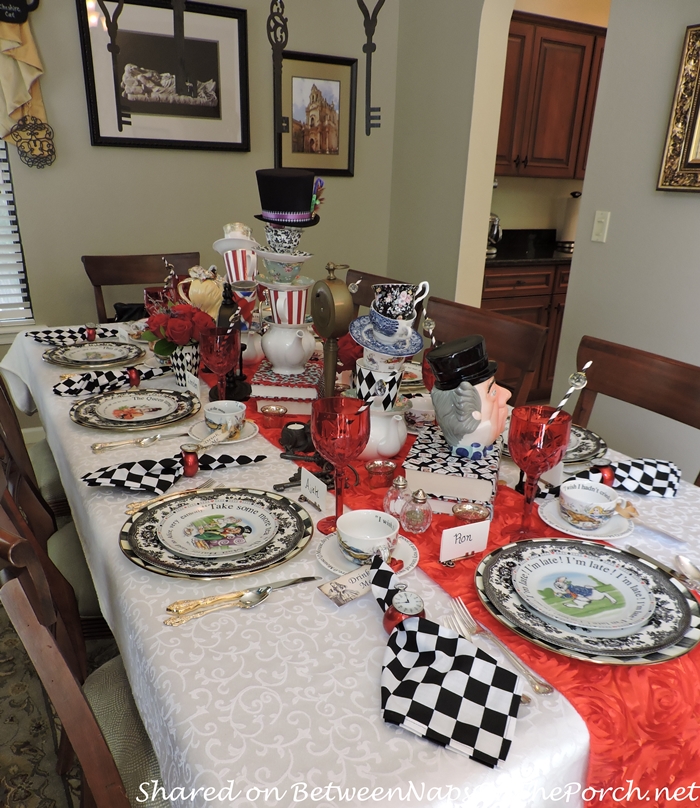 The teacups and saucers at each setting were designed by Paul Cardew. Elena made the clock napkin rings from red, acrylic napkin rings she found on eBay, attaching 3-D clock faces she found in the scrapbooking section of Michaels. Love those!
Elena used both gold and stainless flatware from Oneida, the pattern is Michelangelo. The skeleton key placecard holders were found on eBay.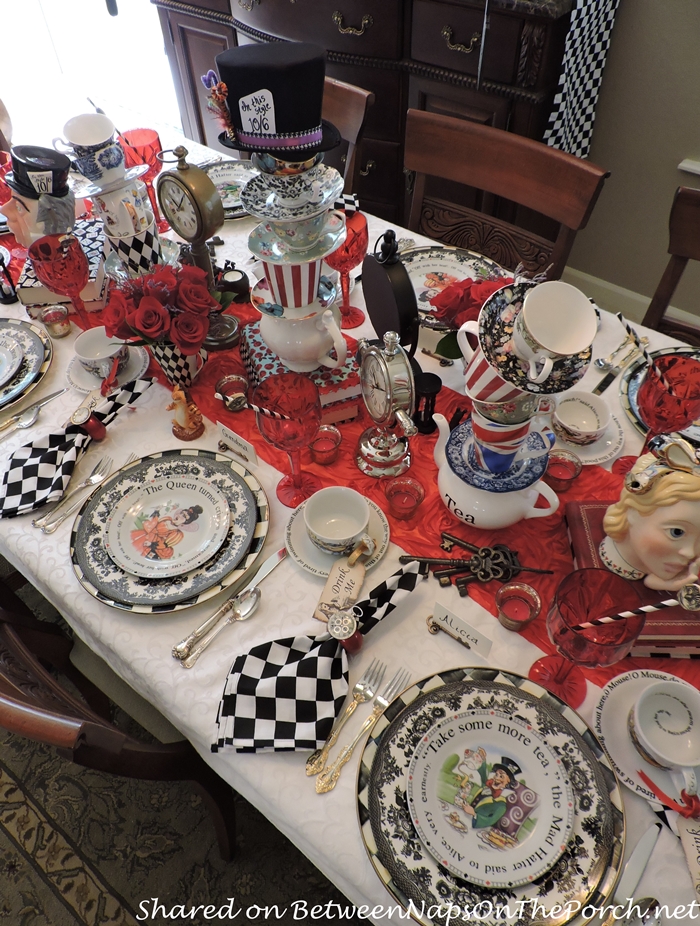 Alice is looking rather thoughtful, isn't she?
The Mad Hatter definitely looks rather mad! Those eyes! lol
I'm in love with these cute tipsy, teacup towers Elena made for her table centerpieces! I need to make a couple of these for a future AIW tablescape sometime.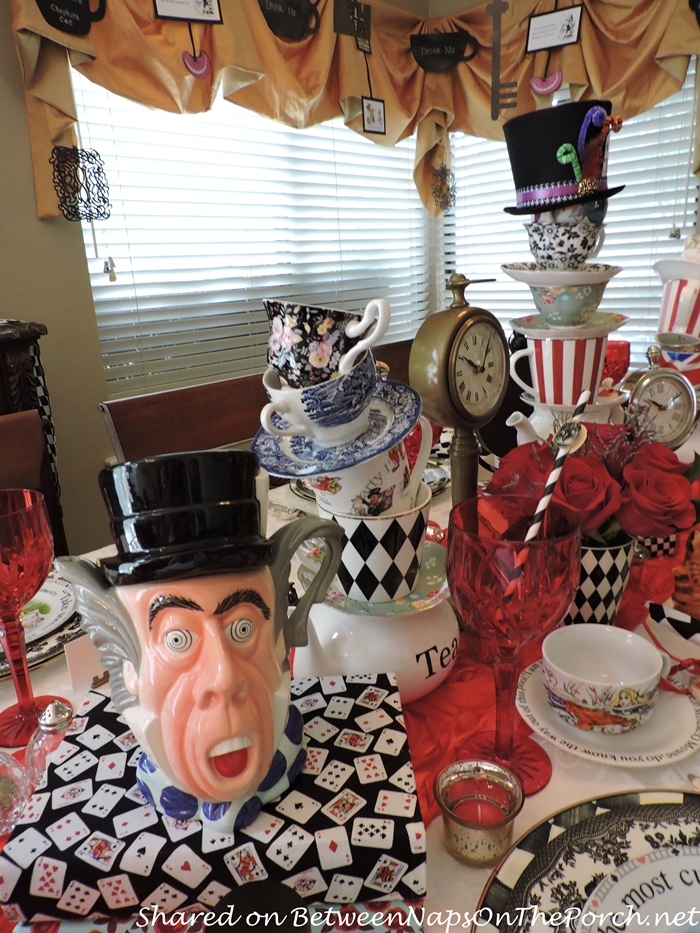 Elena said, "I made all the teacup towers by hand, using mismatched china teacups, teapots and ceramic glue. I made a total of nine teacup towers for this party. Most of the teacups and tea pots came from Home Goods, Marshalls, and thrift shops.
I used Beacon Brand 527 (clear, acetone-based) glue; it was an absolute necessity because it hardened within one hour. To hold cups and saucers in place while the glue dried, I used clear package sealing tape and rubber bands. The key to a good tipsy teacup tower is having a heavy base so it won't tip over. In my case, a large teacup or teapot filled with glass marbles made the best tower bases."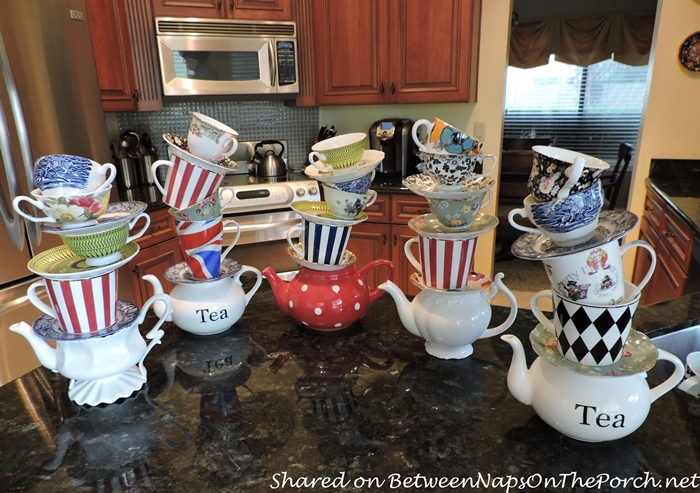 Elena decorated throughout her home for the occasion. I love this quote from the book, Alice's Adventures in Wonderland." I think the full quote is, "We're all quite mad here, you'll fit right in." lol I think I need a little sign like that for my office. 🙂
Do you see the pink hookah pipe? Elena said, "If you look carefully, you'll see a pink hookah pipe in honor of the hookah caterpillar character." Elena purchased the hookah pipes that you'll see on several of the tables in a local tobacco store.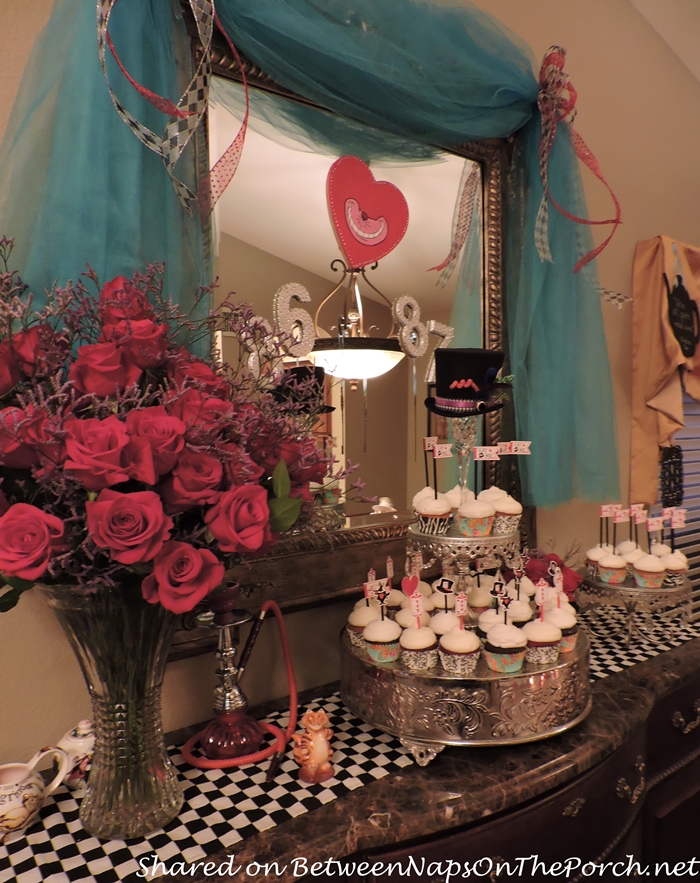 You can see the napkin rings Elena made a bit better on the table she set in her kitchen.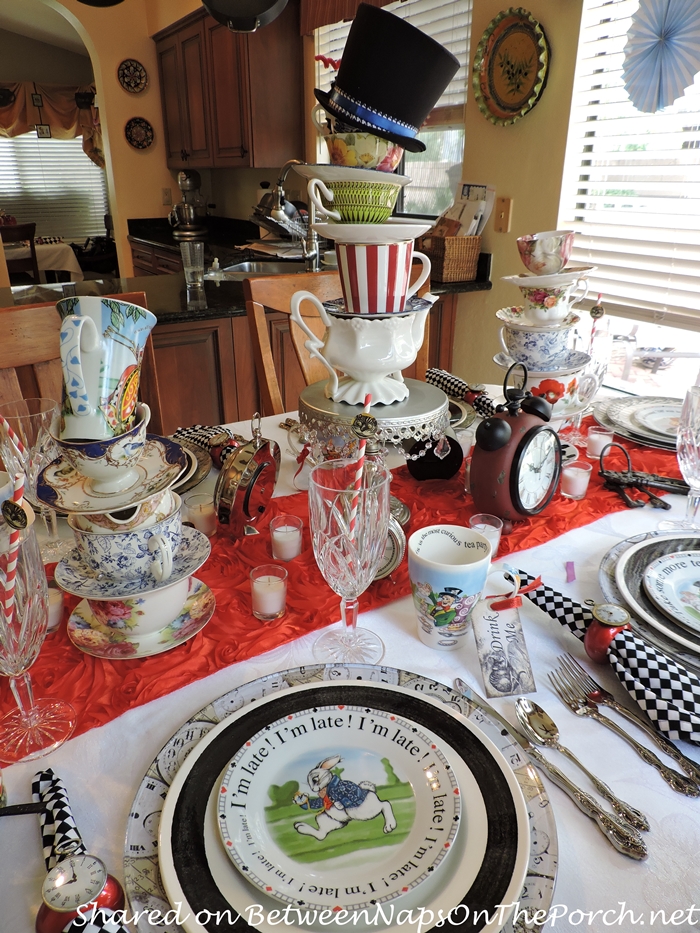 To make the clock chargers for the table shown above, Elena followed the tutorial I posted a while back here: Pottery Barn Clock Plates, Make Your Own. Love how they turned out!
The checkerboard porcelain plates Elena used for this table were a find on eBay.
The blue goblets Elena use on this outdoor table are Marquis by Waterford. Elena decorated this table with clocks, keys, pipe and one of her adorable tipsy, teacup towers.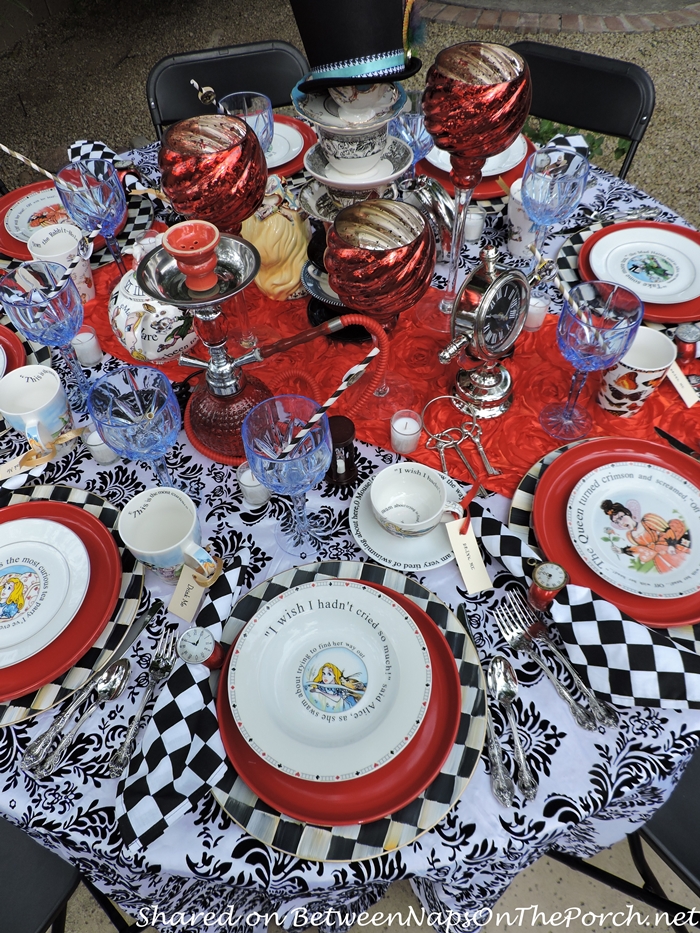 She used similar decorations for her other outdoor table, including a whimsical Mad Hatter teapot.
Love the checkerboard napkins Elena made for her tables! So much thought and love was put into this birthday celebration! I know her parents must have absolutely loved every minute!
Elena set up a drink table outside using Mr. Sharkie, her Pottery Barn shark drink cooler. He looks rather dapper in his Mad Hatter top hat!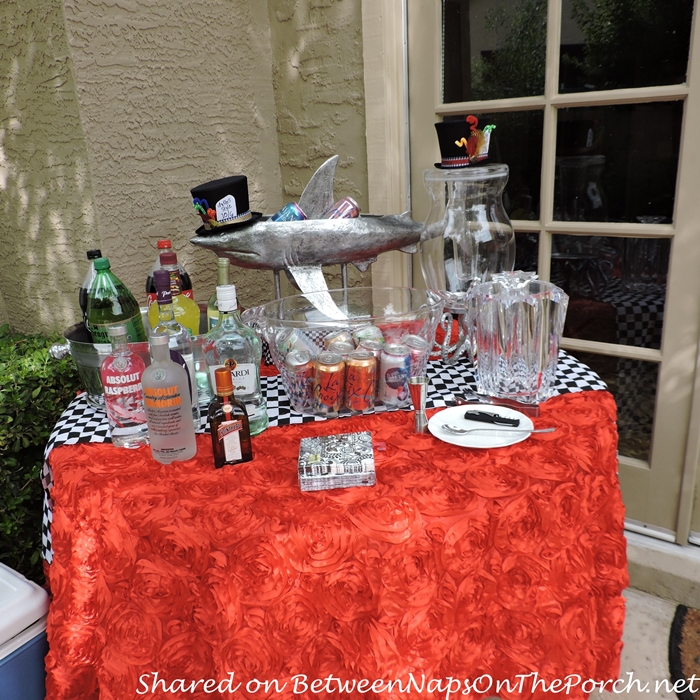 Elena and her hubby made these two Cheshire Cat piñatas. Eleana even painted the Cheshire cat design! Wow, they turned out amazing! Their grandson picked out all the candy with which they were filled.
Elena said, "Hubby and I made the piñatas the old-fashioned way, how we were taught to make pinatas in first grade (literally) : blow up a rubber punch ball, cover it with newspaper and paper tower strips dipped in flour paste. When it's finally dry and relatively smooth, coat it with several coats of acrylic gesso to seal the surface for painting. Then sketch and paint the cat's face and hiney using acrylic paints. Mr. Cheshire Cat was so much fun to make, and I was sad when the kids bashed him up to release the candy."
Thanks so much to Elena for sharing this amazing birthday celebration she put together for her lovely parents! Such a special day that I know they will never, ever forget!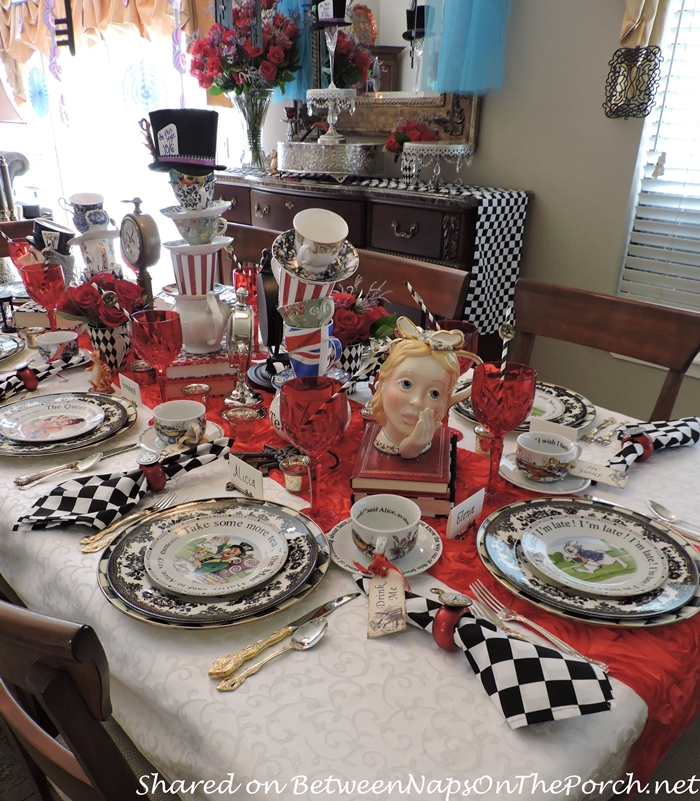 You'll find additional Alice in Wonderland themed tables at the links below:
Whimsical Valentine's Day Tablescape: Alice in Wonderland Style
Alice in Wonderland Table Setting, Featuring the White Rabbit
You're Invited to an Un-Birthday Party, Alice in Wonderland Style
Looking forward to all the beautiful tables posted for this week's Tablescape Thursday!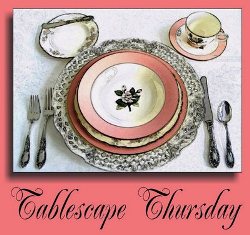 If you are participating in Tablescape Thursday, please be sure to add your permalink below, and not your general blog address.To get your permalink, click on your post name, then copy and paste the address showing in the address bar, into the "url" box when you link up. You'll need to include a link in your post back to the party to link up and participate.
That's so visitors to your blog will be able to find the party and the other Tablescape Thursday participants. Requiring a link back also prevents businesses and scammers from linking up to sell their products. (Yep, that really happens, unfortunately.)
Please, don't add your post name/blog name ALL IN CAPS…it tends to create big spaces between the rows of links.
*If a post is sponsored or a product was provided at no charge, it will be stated in post. Some links may be affiliate links and as an Amazon Associate, I may earn from qualifying purchases. *