I love wearing casual dresses during the spring and summer months because they are so comfortable and cool for our hot, humid days. A dress that I purchased last year and really enjoyed wearing was this Lilly Pulitzer dress below called the Ophelia Swing Dress.
I love the patterns Lilly P designs for their clothing so was happy to discover last year that they are now making some of their dresses a bit longer. In the past, it seemed that most of their styles were geared toward a much younger age group, but in the last couple of years, I've noticed that has changed. They are creating styles that are suitable for all ages now.
I played around today and assembled four outfits that I think would be fun to wear for spring and summer. Hope these will provide a bit of inspiration for your spring/summer wardrobe this year.
Outfit #1
I love wearing this white, Dior Saddlebag bag during the spring and summer. Its size and casual, fun style works so well with a lot of the dresses I wear during the summer months.
One of the design features I love in the Ophelia dress is the back design. So pretty and feminine!
This particular fabric/pattern isn't available this year but you can see this year's Ophelia swing dress here: Ophelia Swing Dress. See all of Lilly Pulitzer's dresses available for this spring and summer here: Summer Dresses.
I paired this dress with my favorite sunhat available here: Sunhat with Bow in Navy, Pink, or White. Hard to see in this photo, but the bow is navy in color. I purchased the aqua beaded necklace in Maui a few summers back. I love how it looks with this dress. The cute Bon Bon earrings are a recent purchase this spring.
Here's a better view of the earrings. Usually when I wear earrings, they never really show due to the length/thickness of my hair. These do show and I love that! If you like this style of earring as much as I do, you'll find them in this pretty ombre blue here: Blue Bon Bon Earrings. There's a pretty pink version available here: Pink Bon Bon Earrings.
The white sandals are sadly no longer available but they were originally purchased here: Summer Sandals. I liked these sandals so much, I ended up buying them in several colors.
Outfit #2
Do you remember the pretty, pink French Rose jeans I shared a few weeks back?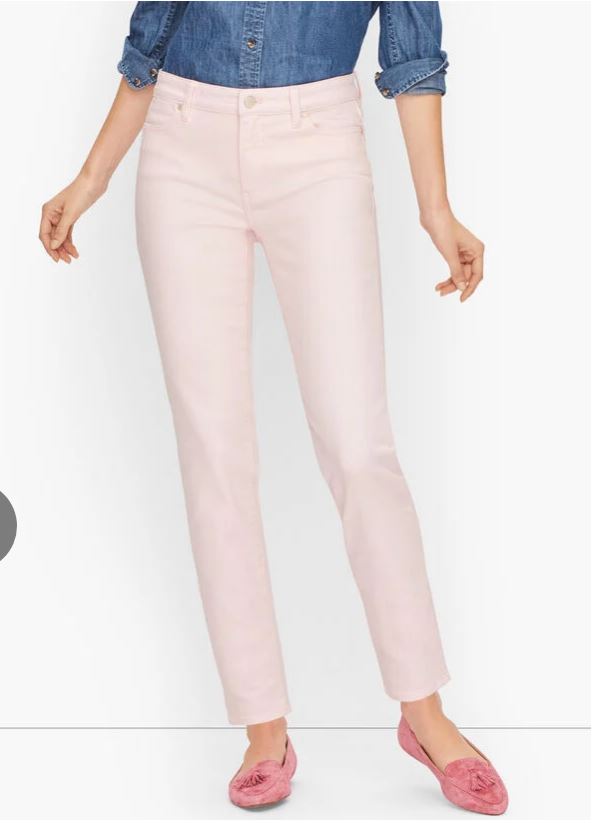 I love the color pink so a lot of my summer shirts have pink in their design. For this ensemble, I paired these soft-pink jeans with two different tops.
The shirt shown below is from Talbots a few summers back. Sunhats are pretty much a staple for me during the summertime. I prefer to wear those rather than put sunscreen on my face. I especially love this particular sunhat with the pink bow. You'll find it available here: Sunhat with Bow in Navy, Pink, White.
I purchased this Lilly Pulitizer top right at the end of summer last year–love the bright colors!
You may remember that I'm a HUGE fan of this particular style shirt from Lilly. It's just so lightweight and so airy, perfect for the hottest of summer days. I also like how it comes down longer in the back for a bit more coverage. You'll find it available in a lot of fun patterns/designs here: Lilly Shirts.
This shirt also comes in a long-sleeve style which is great when you need to keep the sun off your arms. The long-sleeve style can be found here: Long Sleeve, Light Summer Top.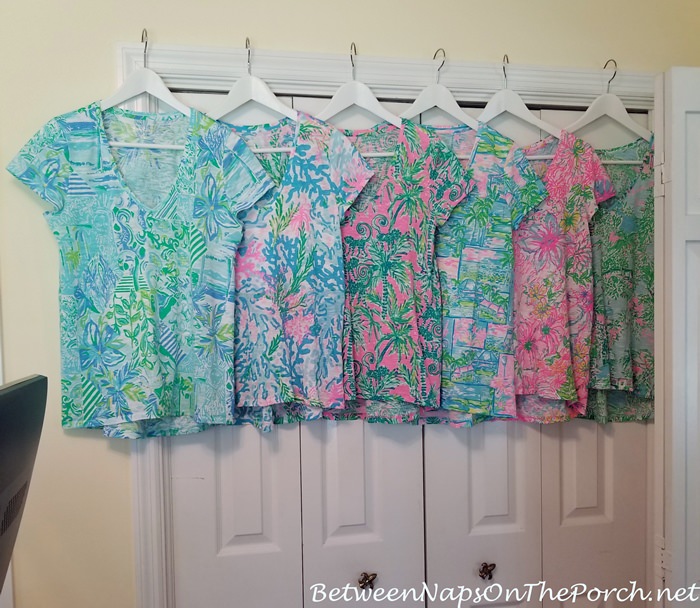 I discovered these cute pink sneakers a few summers back. I don't think this exact style is still available but there are some very similar styles here: Pink Sneakers.
Can't recommend these rose-pink denim jeans enough–I just adore the color! You'll find them in their regular fit here: Pink French Rose Jeans. If your waist is smaller in proportion to your hips, you'll find the curvy style that I prefer here: Curvy French Rose Jeans. (Don't forget to use the code CELEBRATE at checkout for 40% off any regular-priced item. That discount code expires on April 3rd. Update: Just discovered today that the sale is 40% off any one item and 25% off everything else. Awesome sale!)
Here's a close-up from a previous post of the pink Bon Bon earrings. I love these earrings so much! They are lightweight (which I really like) and the posts do not irritate my super picky ears. Usually, I can only wear earrings that have 14k gold posts or my ears get really irritated, but whatever they used for these posts, they do not irritate my ears. You'll find these earrings available where I purchased mine here: Pink Bon Bon Earrings.
Outfit #3
This dress was a find from Talbots a few summers back. I've paired it with another one of my favorite sunhats and two blue and white Brahmin bags.
The scarf was purchased while I was in England last summer. I was wearing this very dress the day I came across it in a gift shop and it went so well with my dress, I ended up wearing it the rest of the day.
The bag is by Brahmin from several years back. If I'm remembering correctly, the pattern was called Blue Delft. I haven't purchased a Brahmin in a few years but I used to buy them often and the quality was always excellent! I still have quite a few Brahmin bags. (See this year's selection of Brahmin summer bags here: Brahmin Bags.)
Update: Just found one of Brahim's Delft handbags available here: Brahmin Delft Blue Bag.
You'll find this very affordable sunhat that I've paired with this ensemble here: Hello Sunshine Sunhat.
Do you recognize the necklace? It's a beautiful gift from my dear friend, Teresa, for my birthday. I love how it looks with this dress!
Here's a better view of it from this previous post: Beautiful Necklaces Crafted from Vintage Porcelain China. You'll find the shop where these are handmade here: Handmade Necklaces from Vintage China.
The earrings I've paired with this outfit are available here: Blue Bon Bon Earrings. (The pink version is available here: Pink Bon Bon Earrings.)
Though the blue gingham dress is no longer available, I love this dress that I spotted on the Talbots website this evening. I received a coupon in the mail recently for 40% off any regular-priced item with the code CELEBRATE at checkout. I'm very tempted to use it for this dress! You'll find this dress available here: Blue Dress.
Outfit #4
I have fallen hard for Tommy Bahama dresses over the last few years. It all started when I took a trip to Maui and visited the TB store there. They had a great sale going that day and this was one of the dresses I purchased during that visit. You'll find all the summer styles for this year here: Tommy Bahama Summer Dresses.
I've paired this dress with a pink Chanel Mini Flap Bag purchased years back when Chanel prices were a lot more reasonable. Unfortunately, they've had a lot of price increases over the years, so I doubt I'll be purchasing another one in the future. If you like smaller bags, you'll find a large selection of both new and pre-loved mini-flap bags here: Chanel Mini Flap Bag.
For this spring/summer ensemble, I've paired the dress with espadrille style sandals purchased a few summers back from Talbots. Talbots always has a lot of cute shoes for summer. You'll find this year's summer styles here: Shoes for Summer. If you see a pair of shoes that you love, don't forget to use the code, CELEBRATE at check out for 40% off any regular priced item! (That coupon offer expires on April 3rd per the coupon card I received in the mail.)
The sunhat is available here: Sunhat with Bow in Navy, Pink, White.
I love wearing Hermes enamel Clic H bangles during the summer for a fun pop of color.
The necklace is another beautiful piece handmade from porcelain china. What a lovely way to recycle a broken plate instead of just tossing it out. You'll find handmade necklaces and other jewelry pieces like this necklace here: Necklaces Made from Beautiful Vintage China.
The pink Bon Bon earrings are available here: Pink Bon Bon Earrings.
I hope you enjoyed this summer-fashion-themed post. If you did, please leave me a comment letting me know and I'll put another one of these together again this spring.
*If a post is sponsored or a product was provided at no charge, it will be stated in post. Some links may be affiliate links and as an Amazon Associate, I may earn from qualifying purchases. *