Welcome to the 600th Metamorphosis Monday!
Last week I shared this photo of a bedroom with a star-covered ceiling. I loved the look of this so much, I ordered a few stars to see how they would look on my bedroom ceiling.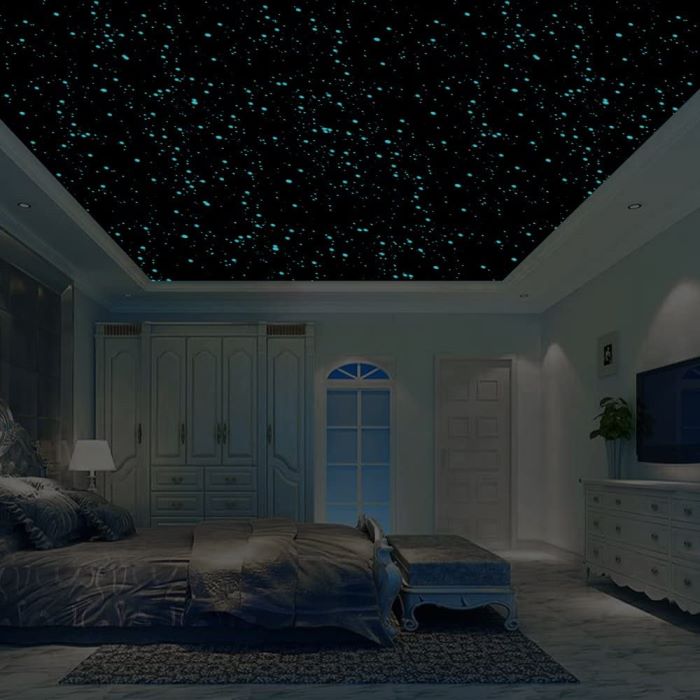 After doing a little test run with a few stars, I decided to go for it. I ordered a bunch more stars from different companies and got to work placing them on my ceiling.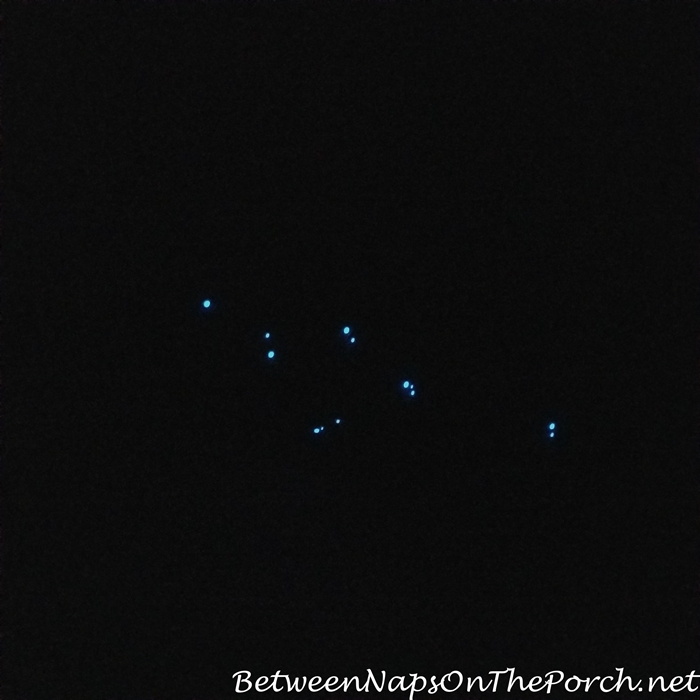 I didn't think my bedroom was that big but let me tell ya, a tray ceiling requires A LOT more stars than your typical flat ceiling! As I got deeper and deeper into this project, I realized this was another shell charger project! lol
If you've been reading BNOTP for a while, you may remember when I undertook to make my own shell chargers after seeing a set of these shell chargers going for a small fortune on eBay because they were no longer available. Pottery Barn did eventually bring them back for a season, but that day on eBay they sold for over $200 for just six charger plates.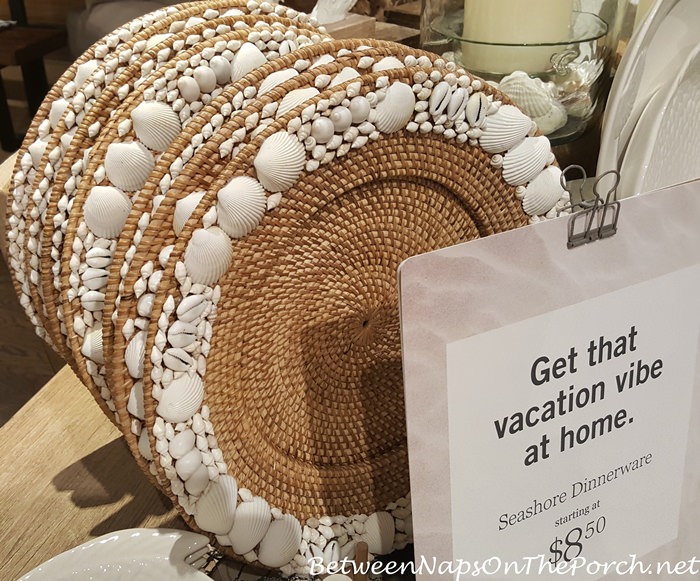 Here's how mine turned out and though I love them, they were a ton of work! Really not that much work, just very time-consuming. Definitely time-consuming!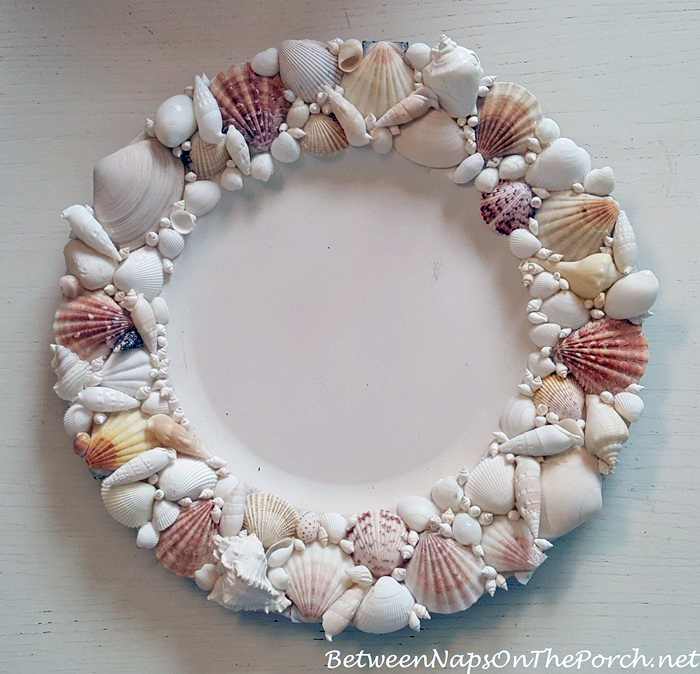 After my fingertips had recovered, (shells are sharp!) a glutton for punishment I made six more chargers mixing in a bit of colorful "sea glass" I found in Marshalls. You'll find the tutorial for making these shell chargers here: Shell Chargers.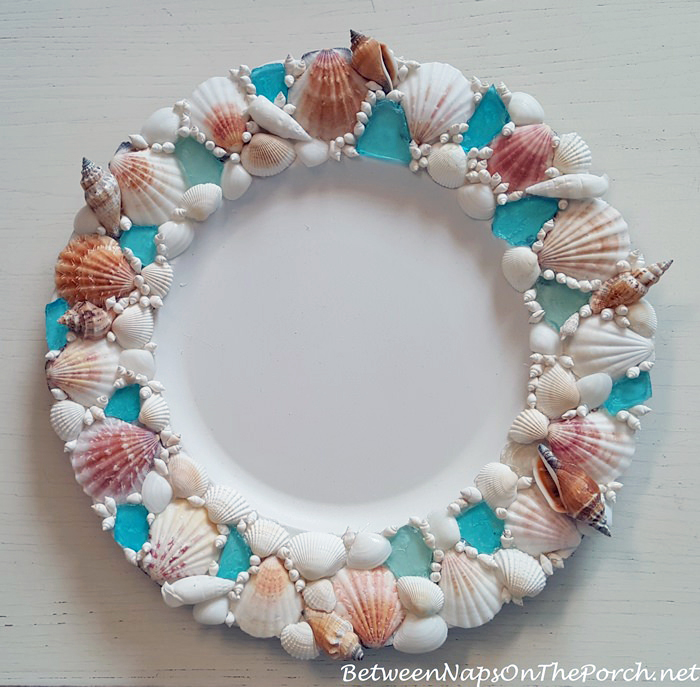 So, as I placed stars on the ceiling of my bedroom and realized that I needed A LOT of stars to get the effect I wanted, I felt like I was in the middle of another marathon shell charger project. lol Audible, as usual, got me through it!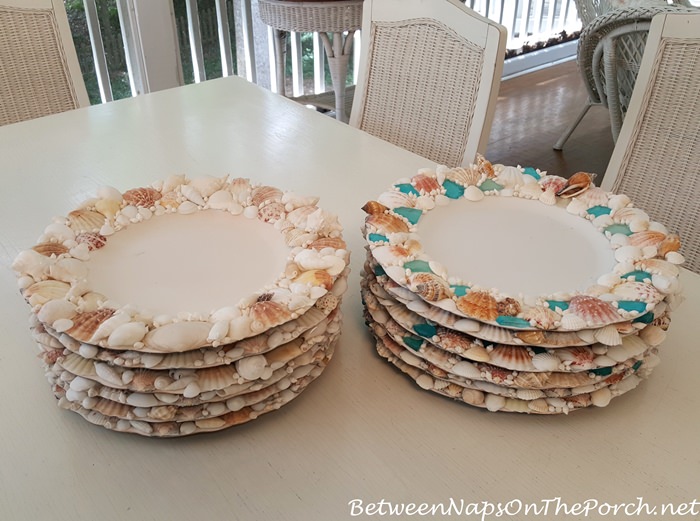 No matter how hard I tried to photograph it, I wasn't able to fully capture the beauty of what it's like to lay in bed and look up at over 4,000 gleaming, sparkling stars in a night sky. While I was placing those 4,000+ stars, the image I held in my mind was how the stars looked the two nights I spent camping in the Sahara Desert in Morocco. Unfortunately, my camera couldn't capture that star-filled sky, but it was truly magnificent!
Here's a photo from Naadam (one of my favorite places to buy cashmere sweaters) of the Mongolian Desert sky. This photo gives you a little idea of how our nighttime sky really looks when you get away from all the cities and lights. It is truly amazing and unforgettable!
So, as you look at these photos, just know that in person it turned out a million times more beautiful than I'm able to show in pictures. Here's the view looking in through the door, the same view as seen earlier in this post by daylight.
As you step into the room and glance up, you can just see the moon shining directly over your head. I placed the moon on the slanted section of the wall directly over the door so I could see it while lying in bed.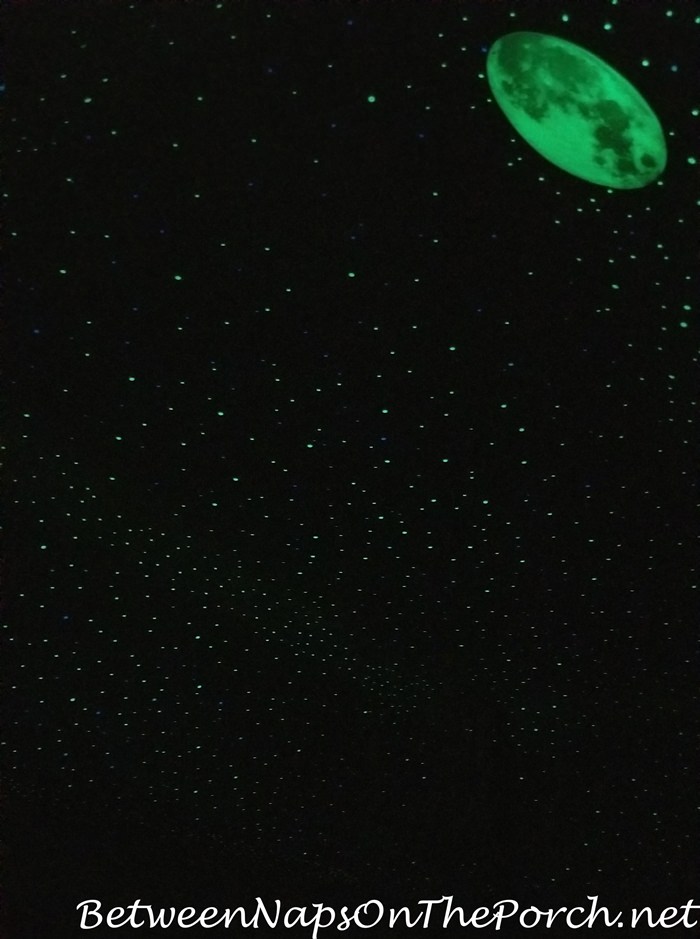 A view looking up, only the stars are SO much brighter in person than how they appear in these photos.
As mentioned, I added a moon just above the door where you enter the room. I took this photo laying in bed, and though one of the 4-bed posts is sticking up in front, I wanted to share this view because you can just barely make out one end of the tray ceiling at the far right end of the photo.
Here's a better view of the moon. You can just see the edge of the door frame below. I think this photo was taken before I added stars to the flat, vertical section of the tray ceiling. That's what that blank area is going horizontally around the room. If you look closely, you can just barely see parts of the chandelier on the left.
As mentioned, I used over 4,000 stars to cover my entire tray ceiling. That's a lot of stars! You can see why I felt like I was back making shell chargers again. lol If you have a normal, non-tray ceiling, it wouldn't take near as long!
Here's an even better/sharper view of the moon and stars. It's really hard to get good photos in a pitch-black room with only the light from the stars and moon. With the moon on the slanted section of the tray ceiling, it reminds me of one of those nights when the moon looks HUGE and is just appearing/rising up over the horizon. It feels more realistic than if I had placed it on the flat part of the ceiling up top.
A wider view…
To place the moon, I did not peel off the backing since the reviews indicated it's hard to remove if you want to reposition it.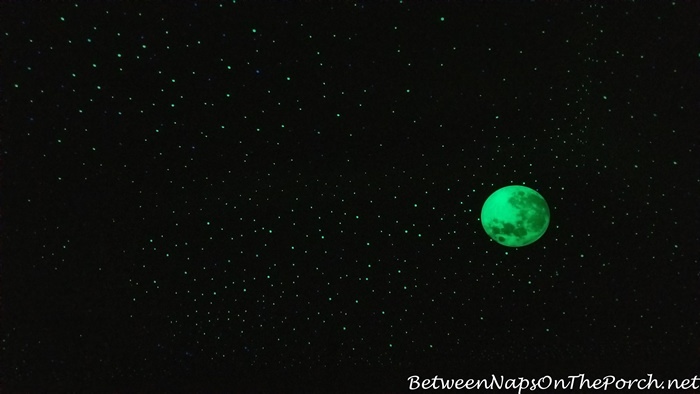 Instead, I used Museum Wax and that worked great! (You'll find museum wax here: Museum Wax.)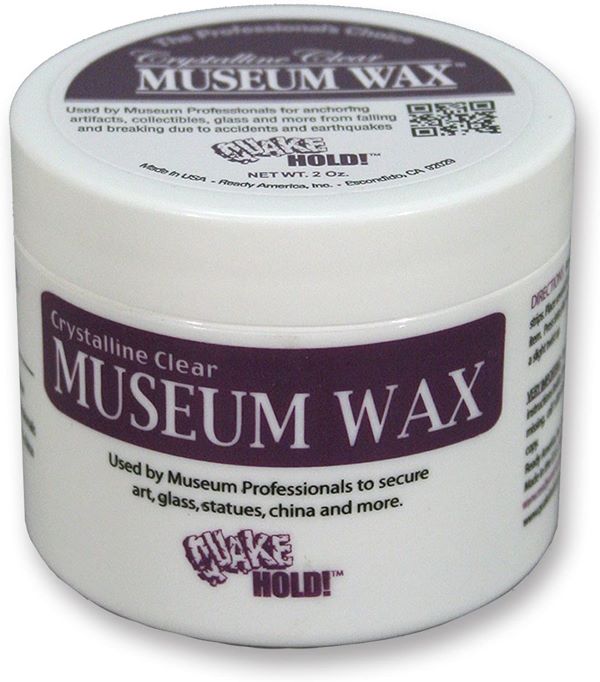 In this older photo from when I had the chandelier installed in this room, you can see the shape of the tray ceiling. At first, I wasn't going to place stars on the flat, vertical part just below the flat ceiling at the top, but once I had stars on the slanted part and on the ceiling, it looked weird not having them on that flat, vertical section when the lights were off.
Tray ceilings are perfect for creating a night sky because they literally curve down a bit around you. It feels very much like your outside looking up at a night sky. So not having stars on the vertical section was sorta ruining the effect.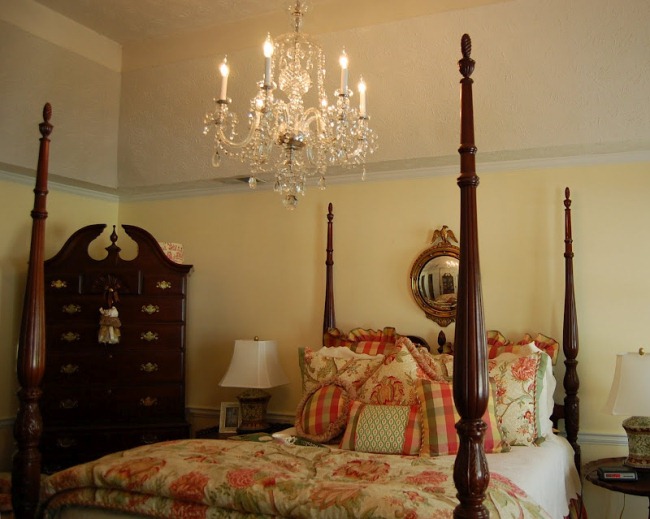 To place the stars on the very top of the ceiling,What I used a fancy high tool. What tool is that?
This one–a broomstick with some tape on the end. Lol For placing these on the slanted parts of the ceiling, I stood on one of my step ladders. I have two, a shorter one and a really tall one I use to clean the ceiling fans on the screened porch.
But for placing the stars up on to the very top, the highest part of the ceiling, I placed tape (upside down) on the end of a broom handle, taped it in place, then placed a star, upside down, onto the tape.
Tip: If you do this, when you first place the tape onto the broomstick, you need to de-sticky it a little by taping it a few times with your finger or palm. Otherwise, the star will want to stay stuck to the tape and not to your ceiling when you press it against the ceiling. That was the most frustrating part of this project–having the tape be sticky enough to hold onto the star, but not so sticky it wouldn't let go of the star. I kept adding more tape as the tape became no longer sticky. I could usually place around 20-25 stars before I had to add or change out the tape.
At night, when I'm getting ready for bed, I turn on the chandelier and lamps for about 15 minutes while I'm brushing my teeth and putting on my PJs. Then once I'm in bed, I use this flashlight that I purchased recently to give the stars an extra boost. (Flashlight is available here: Black Light Flashlight.) I was using a smaller blacklight flashlight but I ordered this slightly bigger floodlight blacklight since my ceiling area is so large and there are so many stars. It makes charging them a bit faster.
To charge them, as I'm lying in bed I run the light over all the stars which only takes about a minute. Then they shine beautifully for several hours. If I awake during the night, say around 4 am, they are still shining, only more muted by then.
I had a question on my previous post asking if the stars are so bright they keep you awake? Here's the best way I can describe how bright they make the room: they make the room bright enough that you can make out the outline of objects in the room but not so bright that when you close your eyes, you detect light in the room. When I'm lying in bed, I can just barely see the chandelier, the four posters of the bed and other furniture in the room, but when I close my eyes, I can't detect any light in the room.
This photo from one of the ads for the stars, best shows the effect on the ceiling, but any room where they are used will be much darker than in the photo below. The actual room will appear more like my photo above. Of course, the room gets darker and darker as the night goes on since the stars begin to dim a bit.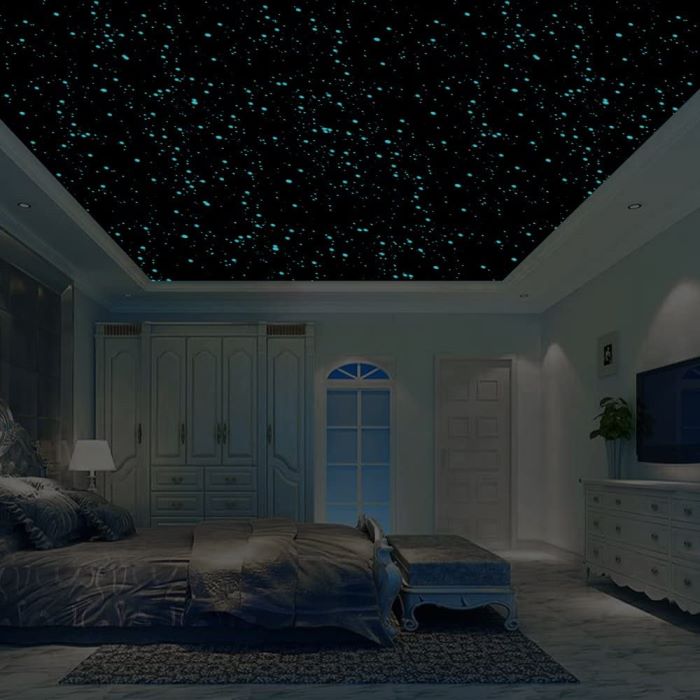 If you decide to add stars to the ceiling of one of your rooms, these are the ones I used and recommend. Note: The green stars glow the brightest and seem to stay glowing bright the longest.
Green Stars with some fun star-shaped stars
Sky Blue Stars (Don't buy the "Blue" stars at that link, stay with the "Sky Blue" stars. The ones labeled "Blue" didn't glow as brightly as the Sky Blue stars.)
Moon (Don't stick this moon directly to the ceiling or wall, it can be hard to remove. Use something like Museum Wax which works great.)
Hope you enjoyed this magical transformation! I wish I could really convey how beautiful it is in person. I literally gasped the first night as I lay in bed and looked up! Each night I can't wait to charge them up with my Blacklight flashlight and turn off the lights. It feels like I've been transported to another place, a truly magical, enchanting place. It's a wonderful escape from all the cares and worries of the day.
Looking forward to all the wonderful Before and Afters linked for this week's Met Monday!
Pssst: Did you know Between Naps On The Porch is on Instagram? You'll find me on Instagram here: Between Naps On The Porch.
Like to know when a new blog post is up and available to read? Subscribe for email updates, it's free and your email will never be shared.
Subscribe for free post updates via email here: Subscribe.
Metamorphosis Monday
Metamorphosis Monday is a party that's all about Before and Afters. Please link up your Before and After projects like DIY projects, room makeovers, craft projects even recipes. Any Before and After is great! Please do not link up Table Settings, save those for our Tablescape Thursday party on Thursday. 🙂
If you are participating in Met Monday, please link up using the "permalink" to your MM post and not your general blog address. To get your permalink, click on your post name, then just copy and paste the address that shows up in the address bar at the top of your blog, into the "url" box for InLinkz when prompted.
In order to link up, you'll need to include a link in your MM post back to the party so the other participants will have an opportunity to receive visits from your wonderful blog readers.

This party has ended, click button below for the links to all who participated.
*If a post is sponsored or a product was provided at no charge, it will be stated in post. Some links may be affiliate links and as an Amazon Associate, I may earn from qualifying purchases. *