n March, right after I purchased cupcake stands from Pottery Barn for this Easter table setting, out of curiosity I typed "Pottery Barn chargers" into the search engine on eBay.
This auction for shell chargers popped up. Wow! Shell chargers! Not great for Easter but perfect for summer dining on the porch. Unfortunately, the bidding quickly escalated way beyond the amount I would have been willing to pay.

Ultimately they sold for $213.49 + $20 for shipping. That's $233.49 for 6 chargers!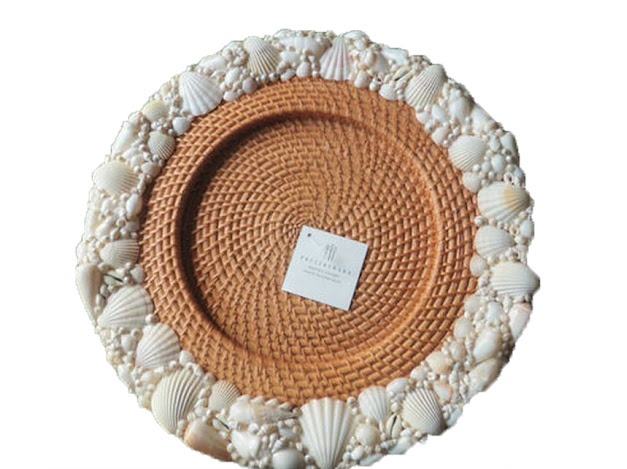 PB has shell chargers for summer this year, too. I don't like them near as well as the previous year's model. Which ones do you like best?
I got an idea, a wickedly good idea.
Since I have lots of shells from a trip we took years ago to Sanibel and Captiva Islands and you can find shells in all the discount stores pretty inexpensively, why not make my own shell chargers!
I scrutinized the PB chargers to see how they were made. I really liked how neutral they were in color. Being primarily white, I knew they would go well with almost any dishware. The PB charger almost appears to have little pearls mixed in with the shells.
To supplement my existing shell supply, I purchased this bag of shells at Marshalls for $7.50. I also bought a smaller bag of shells from Big Lots for $4.
I thought about looking for some faux pearls like those in the PB charger, but ultimately I ordered 450 teeny, tiny Dove shells from an online store called, Florida Shells & Gifts, to help fill in the gaps. The Dove shells were $2.99 + $5.95 shipping.
I needed a base for my chargers and knowing how expensive woven/rattan chargers can be, I decided to use these plastic chargers I no longer need. I bought a dozen of these years ago, long before I started blogging.
Two years ago I purchased these gold, glass chargers at Hobby Lobby on clearance for around $1.99 each for a fall table setting.
I use them for Christmas table settings, too.
So, since I really don't need the plastic chargers anymore, I decided to spray paint them and use them as the base for my shell chargers.
I forgot to purchase primer, so it took lots of white paint to completely cover the gold chargers. This pic was taken after a few of coats of paint. I used an entire can of white spray paint from Michaels to cover up the gold on all six chargers. Next time, I'll definitely remember the primer!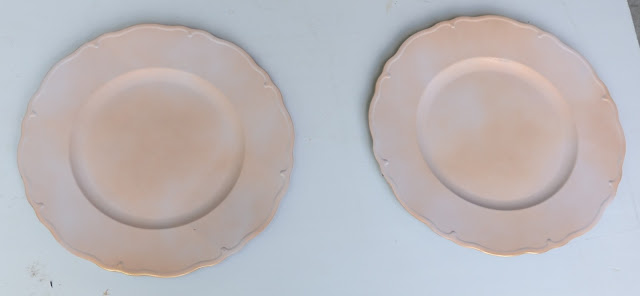 After the chargers were dry, I began placing the largest shells around the outer edge of the charger, alternating the direction of the shells for interest. Initially I tried gluing the shells on with some E6000 glue I already had. That was taking way too long to dry and it just didn't feel like it was going to hold very well. So I broke out the glue gun and hot glued the shells along the rim of the charger.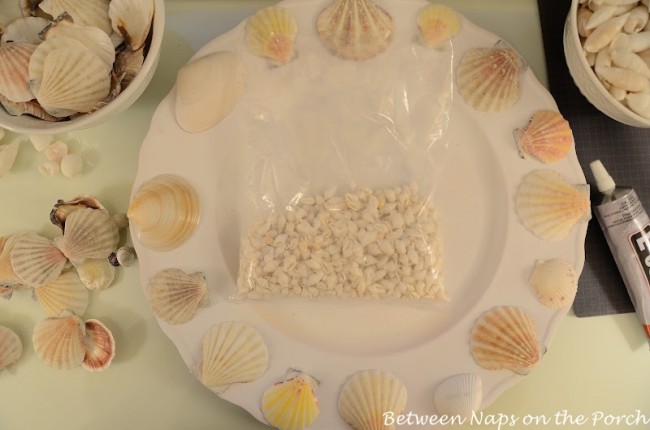 Tip: You need to use shells that are fairly flat so they won't bump into your dinner plate when you use them in a table setting. Bigger/taller shells work well around the outer edge where they won't interfere with the plate.
Periodically place the plate you wish to use on the charger to make sure you have clearance.
I didn't have any trouble with the white plates I knew I'd be using with these chargers, but I did check periodically to make sure the shells weren't creating a problem for the plates. I placed small shells closer in toward the center to avoid any problems. It's okay if some of the shells touch your plate, as long as your plate will lay flat without wobbling.
It took a very, very long time to glue on the shells. Here's how it looked when finished. Actually, I still need to go back and add a few more Dove shells here and there to finish filling in the gaps, but it's almost completely finished.
Choosing where to place the shells is kind of exhausting…a little like putting together a never-ending puzzle. The process gets faster as you continue along. I pre-arranged the big shells first before starting the gluing process. Then I glued them on and began the process of filling in with medium and small size shells. The teeny, tiny Dove shells were the last to go on. It took a couple of hours to cover this charger while watching An Affair to Remember. Love that movie!
Tip: You can see a couple of scratches where the hot glue accidentally dripped onto the center of the plate and I scraped it off. You may need to do a little bit of touch up painting when done if this happens to you, too.
The dove shells I used to fill in those last little spaces come 450 shells to a bag. I ordered them from here: Florida Shells & Gifts. The dove shells were just $2.99 + $5.95 shipping. I know 450 shells sounds like a lot, but they are tiny, tiny so it takes a lot to fill in the gaps on six chargers.
Since the dove shells only cost $2.99 per bag of 450, if I had to do it over again, I'd order 2-3 bags instead of 1 since the biggest expense is the shipping, not the shells. I ended up ordering more and used almost two full bags of the dove shells to completely fill in and cover six chargers.
The "White Cay Cay" shells (found at the same online store) were also great for covering gaps. They are small, but not as small as the Dove shells. I had lots of those in the bag I found in Marshalls, but did ordered more online.
I let my shells hang over the edge of the charger just a little in some places. I didn't want the edge of the charger to show, plus I just liked how that looked. Remember, your chargers don't need to be perfect. Your dinner guest won't be scrutinizing them like we tend to do when we are actually making them.
Here's a side by side comparison. Once finished, my final cost should be around $18 for all 6 chargers, $27 if I order more Dove shells. They are a fair amount of work to make, or at least time-consuming, but totally worth it to save over $200.
If you wish, you can spray the finished charger with a matte sealing spray available in hardware and craft stores. That will make clean up a bit easier if something drips on the charger during a summer dinner party.
Imagine doing these with all white shells and touches of blue or aqua sea glass. Wouldn't that be beautiful? So many possibilities! It will be a while before you see them in a table setting…got about 10-12 more hours of arranging and gluing ahead of me! But once they are done I'll have 'em forever, so it will be worth all the work.
Update: You can see all six chargers in their completed state in this post: Pottery Barn Knockoff Shell Chargers Completed.
See them in use in a beach themed table setting here: Beachy Tablescape
Happy Summertime!
*If a post is sponsored or a product was provided at no charge, it will be stated in post. Some links may be affiliate links and as an Amazon Associate, I may earn from qualifying purchases. *