Welcome to the 599th Metamorphosis Monday!
Have you ever ordered something and when it arrived it exceeded your expectations? That doesn't happen very often, does it? I've been wanting to create a starry sky effect on my bedroom ceiling but my first attempt didn't work out so great.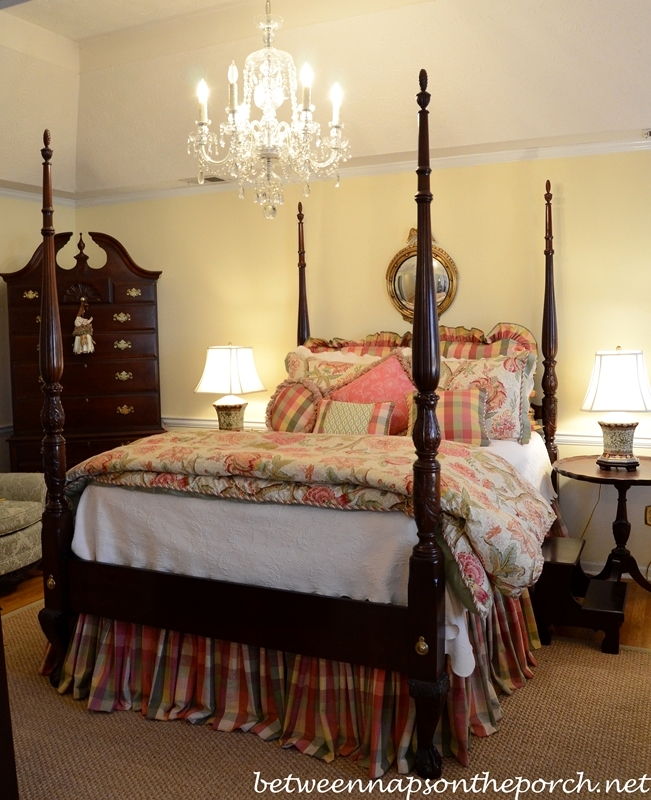 At first, I ordered one of those machines you see online that projects stars onto the ceiling. I should have taken photos of how it looked, but I was so disappointed with the effect I didn't think to do that. It was a big failure. It only lit up about 1/2 of my bedroom ceiling no matter where I placed the machine. It really would have needed to be directly underneath the chandelier to have a chance of lighting up the whole ceiling. That would have put the star machine in the middle of my bed, not a good plan!
Also, the stars that it cast onto the ceiling were a sickly green color. I don't know about you, but when I look up into the night sky, I do not see lime-green stars! Plus, the shadow of the chandelier blocked off a section of the "sky."
I had seen photos of rooms like this one below but they were created using stars you actually stuck onto your ceiling. I was reluctant to try those, thinking they would be impossible to remove when/if I moved one day. Also, I worried they could possibly damage the paint on the ceiling.
Plus, the reviews were mixed. Some reviews were great while others said the stars barely glowed at all. Most of the not-so-great reviews seemed to be from people who were using them in a room that received very little light during the day. My bedroom is very sunny during the day so that was encouraging, but I was still worried about the ceiling and if the stars would damage the paint if I ever removed them.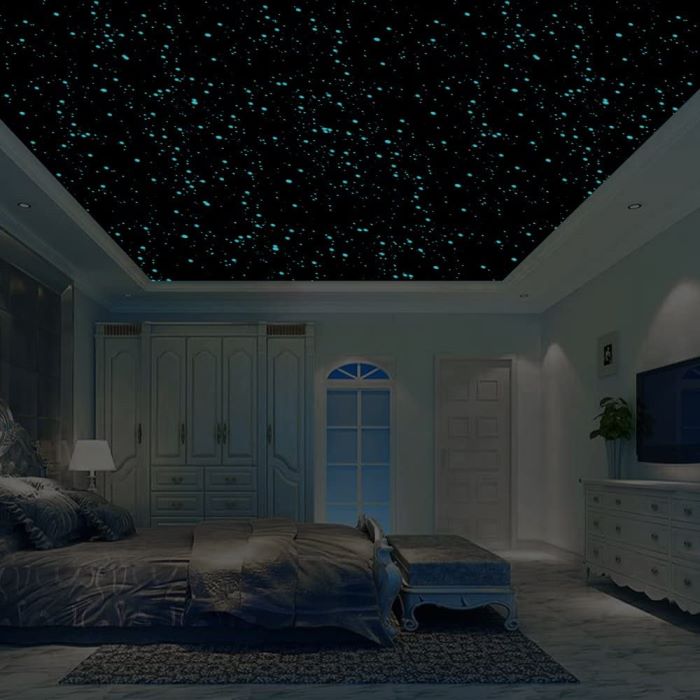 After the star machine failure, I decided to go for it and ordered one batch of these domed-style stars that were described as looking "realistic." Here's how they looked when they arrived. You'll notice there are a few stars missing on one sheet–those are the stars I removed to try on my ceiling.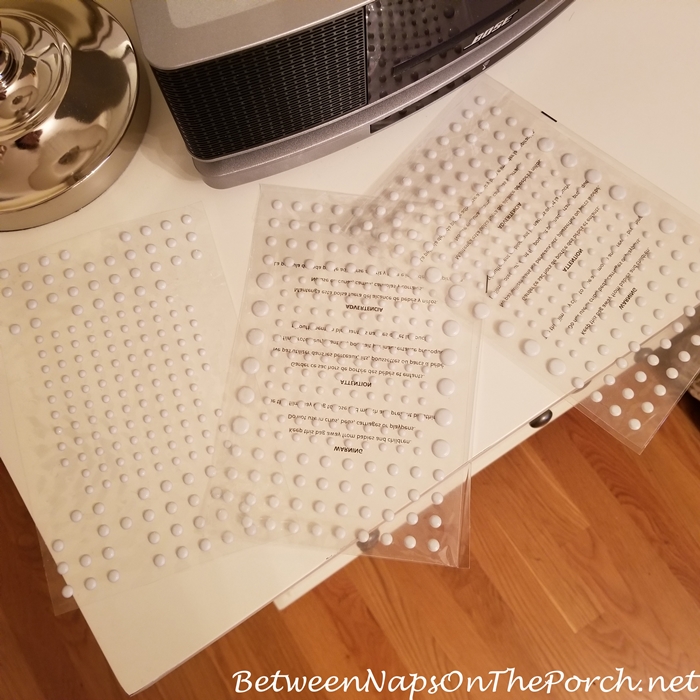 Initially, I only placed three stars on my stippled ceiling as a test. Later I went back and placed quite a few more. This type of ceiling finish was very popular in my area in the 1980s when my home was built.
I was very happy with how they looked during the day. You would never notice them if you didn't know they were there and searched for them. Honestly, I didn't care if they were visible, as long as it was fairly subtle. This photo is of the slanted part of my tray ceiling, so not the highest part of the ceiling in my bedroom.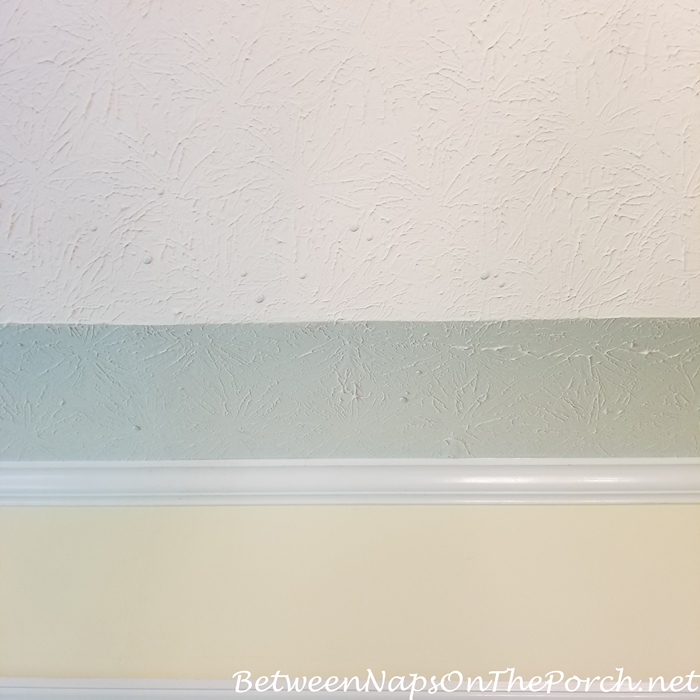 Little Background Story: During the time I was staying in Ohio, I ordered a black light to use on one of my grandson's "glow-in-the-dark" puzzles. The puzzle would never glow very well after they put it together and I had read online that if you shine a black light on a glow-in-the-dark puzzle, you only have to keep the light on it for a few seconds and it will glow for many hours afterward. Apparently, Glow-in-the-Dark items charge very quickly under a black light–literally in seconds.
Once I was back home, I ordered another blacklight for a different reason. I had heard that Hermes boxes have a hidden design on them that's only visible under a blacklight. I was dying to see if that was true.
It is true, by the way! There really is a hidden pattern on all Hermes boxes that can only be seen with a blacklight. I'll get out my blacklight today and take a photo of the hidden images and add them to this post. So check back in a few hours to see what's hidden on all Hermes boxes. It's pretty cool!
Update added later: Here's how a Hermes box looks underneath a blacklight. The Hermes logo is hidden in each of their boxes. Sooo cool! I love little mysteries like this!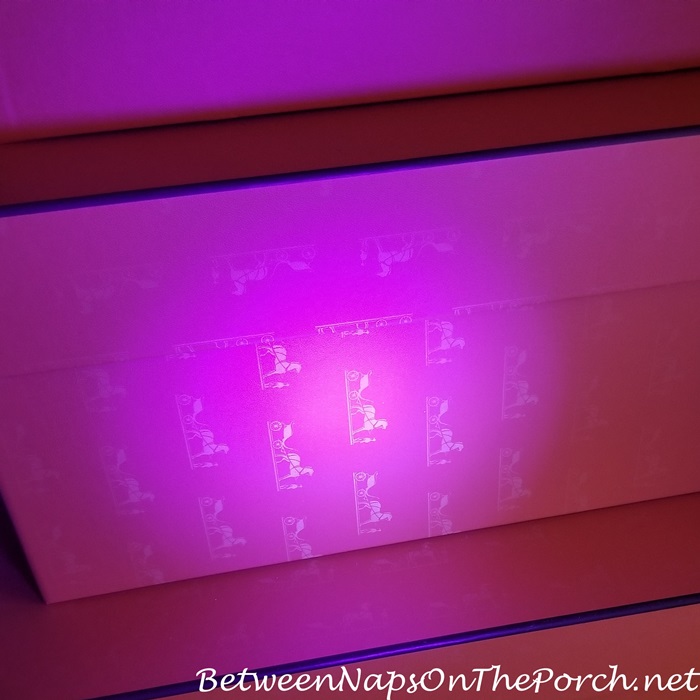 Even their smallest boxes, like this Twilly box, has the Hermes logo hidden in the box only visible via a blacklight.
So how did those few stars I placed on the ceiling look that night? As mentioned, initially I only placed 3 stars on the ceiling as a test, then I forgot to even look for them until I had been in bed for a couple of hours. When I remembered, I noticed they were indeed glowing and that was without the use of a blacklight. They had only been charged by the light coming in through the windows that day. I wondered how bright they had been when I first turned in since I forgot to look up and notice.
Since I couldn't sleep, I grabbed the step ladder that was still in the hall outside my bedroom and I added a few more stars to the ceiling. Then I grabbed my blacklight and shone it on that little section of stars for about 5 seconds.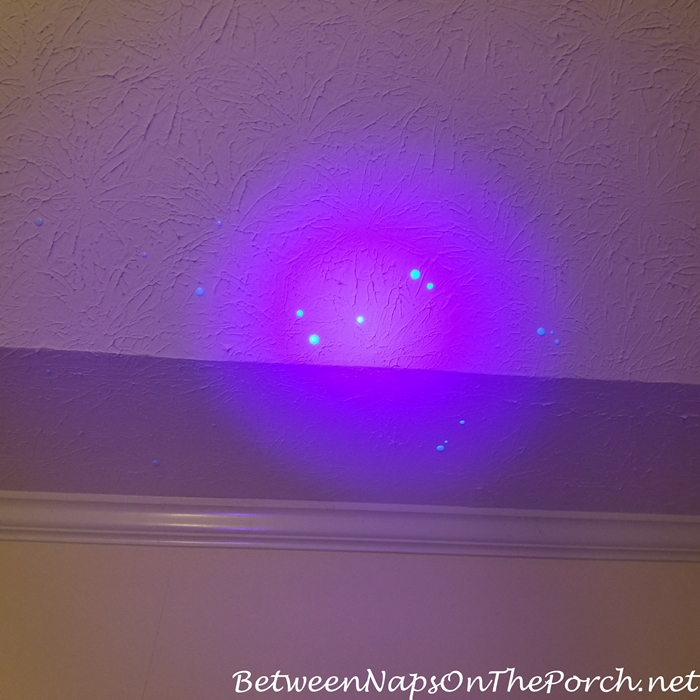 Here's how they looked standing close to them when I turned off the light.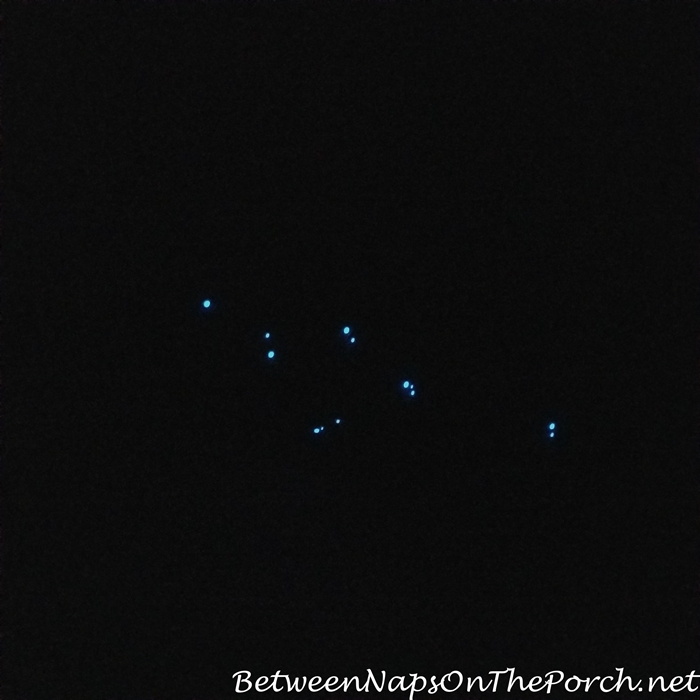 Here's how they looked from my bed. I love them sooo much! I had trouble going to sleep last night because I didn't want to close my eyes and stop looking at them! Wouldn't these be amazing on the ceiling of a home theater, or in a nursery or a kid's room? I would even love them in a living room. Imagine watching TV every night under the stars.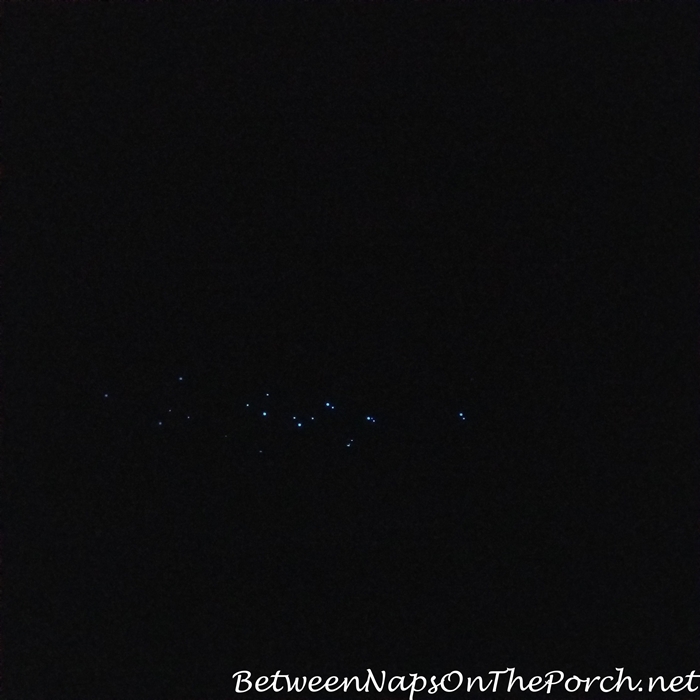 I ordered a bunch more stars last night before going to sleep around 2 AM. I ordered this set in both Blue and Light Blue. You'll find it available here: Stars for Ceiling.
I ordered this set available here: Stars for Ceiling.
I ordered this set available here: Stars for Ceiling.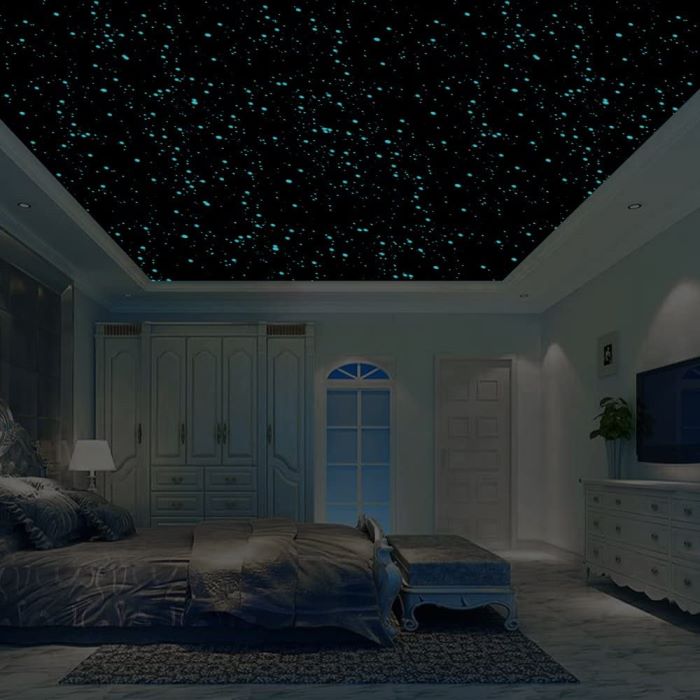 And finally, I ordered this set available here: Stars for Ceiling. I don't know if I'll use them all but I wanted to try different sets to see what I like best. If I don't use them, I can always return them.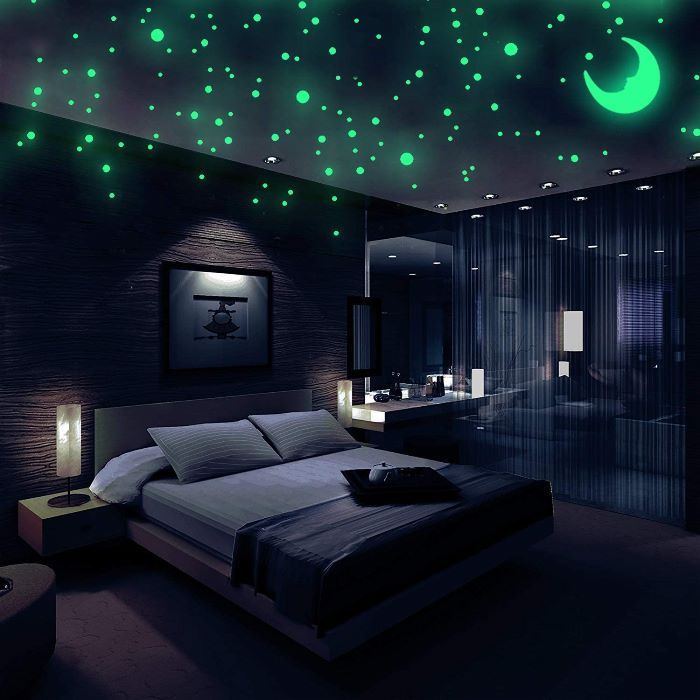 Some things to know when ordering these:
They come in various colors. I ordered them in Blue, Sky Blue and one set of the Green ones. I may not use the green ones, depends on how they look at night, but I've read that the green ones are usually the ones that glow the brightest. I may not need to worry about that since the "Sky Blue" ones that I placed as a test, glowed very well.
Don't buy flat stars, only buy domed-shaped stars because those are the ones that are supposed to look the most realistic and like stars in the night sky.
These may not work on super textured ceilings like popcorn ceilings, although some of the reviews seem to indicate they do. They are working well on my stippled ceiling. One nice surprise I didn't anticipate: the stippled texture of my ceiling actually helps camouflage the stars during the day. You don't even notice them unless you know they are there and search for them.
When I tested removing them, the stars I placed on my ceiling popped right off leaving no damage behind. If you order some of these for your ceiling, do a test with 2-3 stars before putting them all up. I don't think I would have cared if it had left a mark since I plan to leave them up indefinitely and could always have the ceiling painted if I ever do decide to move. It will probably need it by then anyway. But so far, they don't seem to be damaging the ceiling when removed, at least not the ones I tested.
If you have a sunny bedroom as I do, you probably won't need to charge them with a black light. Mine glowed nicely from the light coming in earlier that day. If you do buy a blacklight, you'll only need to run it across the stars for a few seconds to REALLY charge them up. This is the blacklight I use: Black Light.
The stars will glow for several hours and gradually fade away during the night. So by morning, as you're rising for the day, they will no longer be visible–kinda like real stars in the night sky.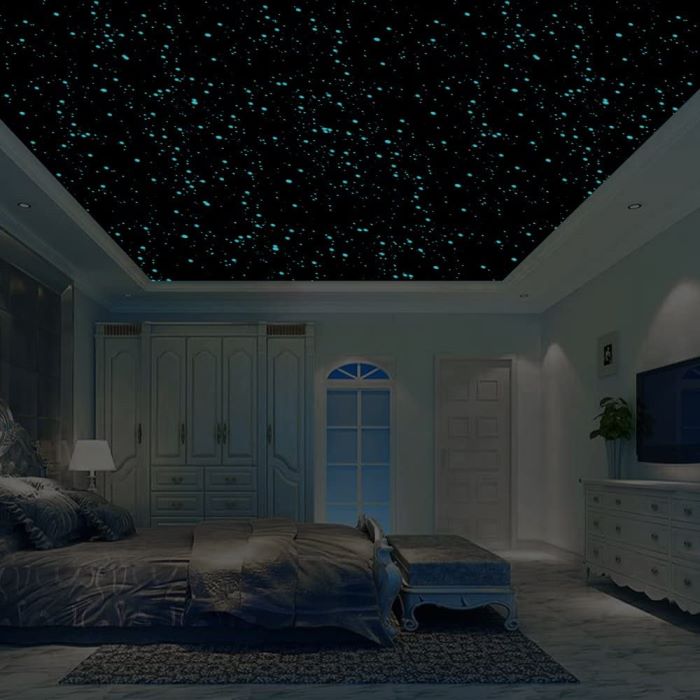 I can't wait to share how they look once they arrive and I get them all up and in place.
Since I have a high tray ceiling, it will be tricky placing them at the top of the tray. I have a tall step ladder I use for cleaning the ceiling fans on the porch once a year. That will help but I may have to come up with another method for the area directly over my bed.
Update: Oh my gosh, placing them on the tray ceiling is sooo easy. I found a way to do it that's fast and doesn't even require standing on the bed. I'll do a post soon sharing how I'm placing them on the tray ceiling without using a ladder or risking life and limb. lol
Looking forward to all the wonderful Before and Afters linked for this week's Met Monday!
Pssst: Did you know Between Naps On The Porch is on Instagram? You'll find me on Instagram here: Between Naps On The Porch.
Like to know when a new blog post is up and available to read? Subscribe for email updates, it's free and your email will never be shared.
Subscribe for free post updates via email here: Subscribe.
Metamorphosis Monday
Metamorphosis Monday is a party that's all about Before and Afters. Please link up your Before and After projects like DIY projects, room makeovers, craft projects even recipes. Any Before and After is great! Please do not link up Table Settings, save those for our Tablescape Thursday party on Thursday. 🙂
If you are participating in Met Monday, please link up using the "permalink" to your MM post and not your general blog address. To get your permalink, click on your post name, then just copy and paste the address that shows up in the address bar at the top of your blog, into the "url" box for InLinkz when prompted.
In order to link up, you'll need to include a link in your MM post back to the party so the other participants will have an opportunity to receive visits from your wonderful blog readers.
This party has ended, click button below for the links to all who participated.
*If a post is sponsored or a product was provided at no charge, it will be stated in post. Some links may be affiliate links and as an Amazon Associate, I may earn from qualifying purchases. *