Tracking shows these chargers I ordered recently are arriving today…hope they are as beautiful in person as they are in this picture. Would love to set a table with them for this week's Tablescape Thursday if they arrive in time.
I'm yearning for another set of blue and white dishes. I only have one set and would love another to mix and match. (Pssst: If you missed it, these chargers are still on sale here: Embossed Charger.)
Yummy Foods
I've had this on my mind to share with you forever. I love these Amy Organic low-salt soups! These two below are my favorites. I was shocked the first time I opened a can of the Lentil Vegetable because it is almost allll vegetables. I'm not normally a big soup fan because so many canned soups are watery with few veggies, and they are often too salty. Love these because they are wall-to-wall vegetables and low salt. They are great for a quick lunch.
I also love their chili, it's the closest to homemade that I've found. I've only seen it available in Medium and Spicy, so I don't think they make it in a mild. The medium is really mild though…not too spicy.
I just purchased the Quinoa, Kale and Red Lentil soup last night to try. Unfortunately, they didn't have it in a low-salt version, but I really wanted to try it anyway. Just wanted to share these since they have become faves.
Another two products I'm really enjoying these days are Stok's iced coffee and their Peach tea. The coffee is so much more mellow and smoother than any of the other brand iced coffees I've tried. I'm not a hot coffee drinker, but I do enjoy a glass of iced coffee around 3:00 in the afternoon when my energy starts to slump.
I just purchased the Peach tea last night. I figured since I like their coffee so much, why not try the tea, especially since it only has 60 calories in a 12 oz glass. That's a lot fewer calories than you find in Cokes, which I also so love…so figured it was worth a try. Had a glass this morning and really like it!
A2 Milk…Always Sold Out!
You guys know how much I love A2 milk. Well, apparently it's catching on. My local Publix used to only have two rows of A2 milk (2% and Whole) but it looks like they've increased from two to four. This is usually how the shelf looks when I shop for it in the evening, I always have to ask for it and they usually have it in back. I'm happy to see others are finding it and loving it as much as I do, so hopefully, they will keep carrying it.
If you have trouble with milk, you may want to give it a try. It's all natural, just comes from cows who naturally have the A2 gene and not the A1 gene that gives us milk lovers so much grief. (Learn more about A2 milk here: A2 Milk.)
Bracelet Storage
I've been storing my bracelets on this little stand I found in Marshalls a couple of years ago. It has worked fairly well but has one big flaw. You often have to remove several bracelets to get to the one you wish to wear. Right now I'm just storing these three on it since I've found another storage system for my bangles.
I saw something similar to this one below on Instagram recently. I searched and found it here: Bracelet Storage-Organizer.
Since some of my bangles are wider than others, I cut a few of the little dividers out to widen the space for those bigger bangles. The dividers easily pop loose on one side and I used scissors to cut it away from the other side.
I love wearing and collecting Hermes Clic H bangles, especially since my last name starts with an H which makes them feel more like a monogrammed bracelet. I usually look for them when traveling since they are about 2/3rds the cost when purchased abroad and in airports.
Necklace Spacer
Recently I shared this neat little necklace spacer that keeps necklaces from tangling up when you're wearing more than one. It was inexpensive ($13.99) since it's not real gold, so I knew it would eventually turn/change color.
Update: This necklace spacer is supposed to be gold-filled, also. Maybe mine turned so quickly because I have a tendency to spray perfume on the back of my neck. Also, I normally don't take my necklaces off when showering, although I may start doing that since I read recently that chlorine is hard on gold, even real gold. (This necklace spacer is available here: Necklace Spacer.)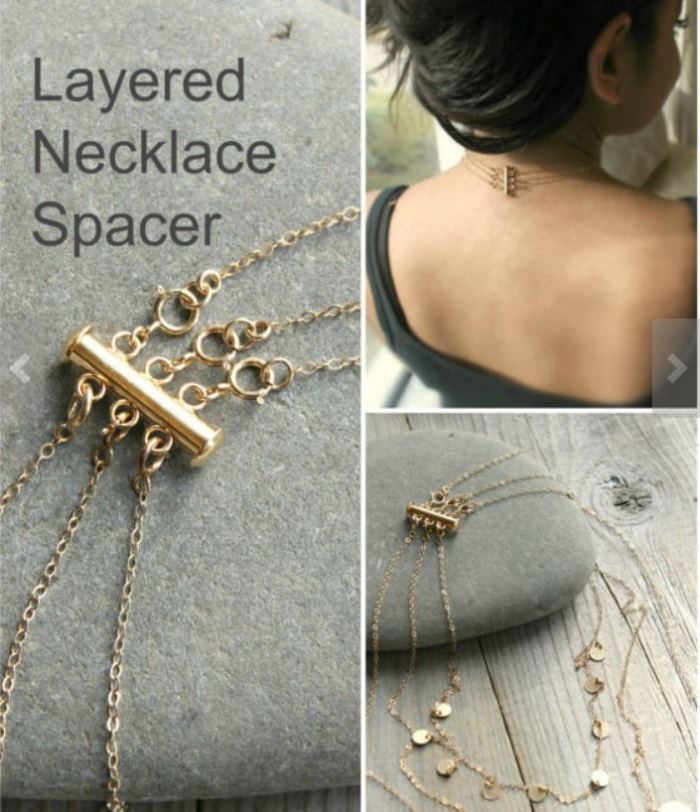 StrandAlign
I've tried several times to find a necklace spacer that is 14K gold. I searched again recently and found this one called StrandAlign. It's 14K gold-filled and claims to not tarnish or fade. I ordered the 3-necklace style shown below, even though I only wear 2 necklaces. It was only a few dollars more and thought it might come in handy if I ever do want to wear three at the time.
It arrived quickly and so far, I'm loving it. I do love how easy these necklace spacers are to open–meaning you don't have to unhook any of the necklaces when you wish to take them off.
So far this one is working great and hasn't tarnished or faded–so I'm optimistic. It's available here: StrandAlign. By the way, none of the items I've shared in this post are sponsored, just sharing what I like and am using in case you find it helpful.
A New Wicker Bag
So you know how much I love wicker bags…I've shared these two bags I've purchased in the past. I don't know what it is about wicker, but I just love how it looks and feels, especially for summer. (Both wicker bags below were from here last summer: Wicker Bags.)
Recently I splurged and purchased a designer wicker bag I had been eyeing since last summer. I was surprised when they brought it back again this past spring, I thought I had missed it for good since it has been out of stock for weeks now. I love the soft pink color because it's very neutral in person.
If you love wicker and were eyeing this bag earlier in the spring, it's back in stock here: Wicker Bag. I removed the tassel from my bag, but kept the shoulder strap. I wore it shopping in Phipps Plaza in Atlanta on Saturday and I have never in my life gotten so many compliments on a handbag.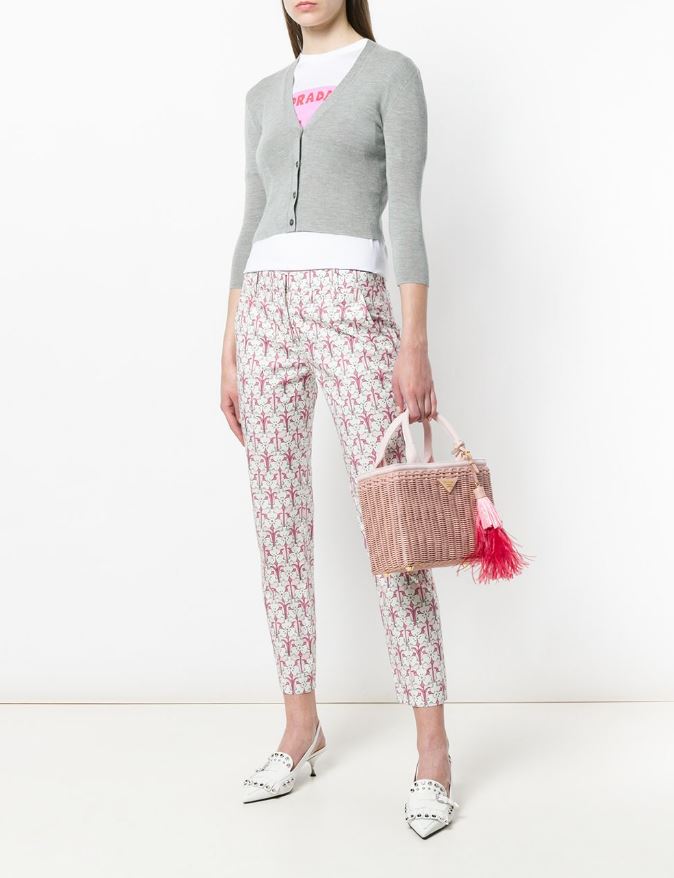 I stopped into the Prada store inside Saks and the sales associates there had a fit over it. Apparently, they had never stocked it in store, so they hadn't had a chance to see it in person. Anyway, just sharing it in case you are a wicker bag fan and thought you had missed the chance to purchase this bag. I'm wearing it as much as I can before fall arrives. Still in the mid/upper 80's here every day, so summer is still very much with us.
How are the temps in your part of the world? Hope you are staying cool!
*If a post is sponsored or a product was provided at no charge, it will be stated in post. Some links may be affiliate links and as an Amazon Associate, I may earn from qualifying purchases. *