Often when sharing an update here in my bedroom, I end up sharing this view of the room. But just around the corner and out of view is another room.
Previously this was a 4th bedroom, or 5th if counting the Bonus/Frog room, but the first owners of my home closed off the entrance to this room from the upstairs hallway, cut a big opening in the wall to connect it to the Master Bedroom and added two large closets in addition to the walk-in closet already in this room. They also added in some built-in cabinetry/drawers and a desk/vanity not visible in the photo below.
The pretty dresser you see in the photo below belonged to my late mother-in-law. When she passed many, many years ago, neither of her daughters wanted her childhood bedroom furniture so we purchased it from the estate. I used the dresser here in my dressing room for many years with the bed and chest of drawers stored in the basement. Three to four years ago, one of the daughters asked if she could have the bedroom suite for her guest room. I was sad to give it up but I said yes, knowing my mother-in-law would have loved one of her daughters to have her childhood furniture in their home.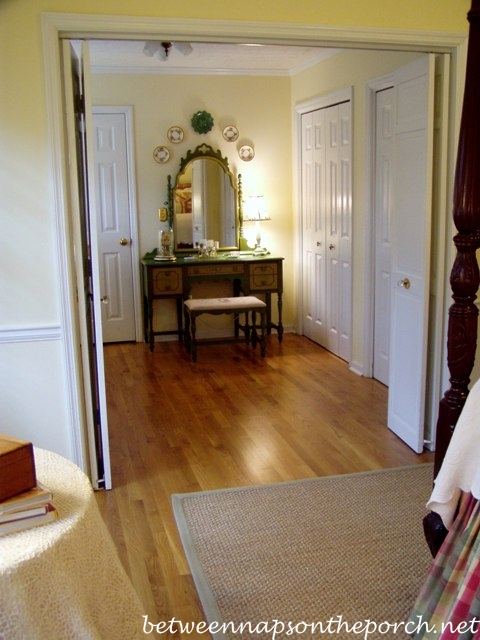 In the end, the timing worked out pretty well because shortly after parting ways with the dresser, I bought a Peloton bike. This dressing room turned out to be the perfect spot for it. Recently I decided to remove the large, somewhat wobbly (due to their large size) folding doors that are attached on either side of this opening. The doors are better visible in the photo above.
Unfortunately, I didn't think to take a photo of how this opening looks with the doors removed, but it feels much more open. I saved the doors (they are stored in the basement) in case I change my mind or the next owner of my home wants to add them back. Who knows, the next owner of this home may want to tear out the two additional closets, built-in cabinets and desk/vanity, reopen the door to the hallway and make this back into a bedroom. It would be the perfect spot for a nursery.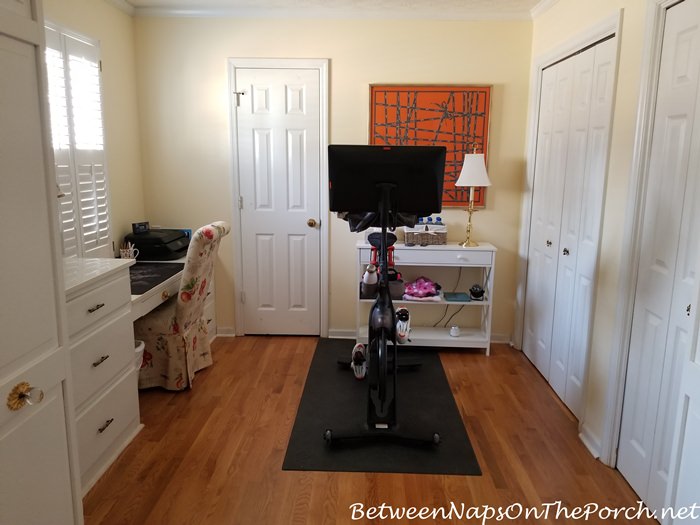 A few years back I added a small refrigerator to this space. A congruence of occurrences recently spurred me to remove it. Over the past year, I haven't been using it as much as I had in the beginning. I spend most of my time in my home office so I forget it's in here except for when I'm biking.
Also, with the large bi-fold doors removed, the side of the refrigerator was suddenly very visible from the bedroom. Aesthetically, I wasn't too keen on how that looked. I've also missed the extra counter space, it had always come in handy for storing the pillows I take off my bed at night. I could still fit them on the counter, but I didn't like placing them there so near the refrigerator.
I decided to donate or give away this refrigerator and add a small refrigerator to my home office space. A friend was happy to pick-up the refrigerator for her college-age children so that worked out great!
Where did I have in mind for a mini-fridge here in the office? Here's a photo of the office taken with a wide-angle lens–funny how long the lens makes the room look. See that spot on the right between the end of the desk and the bookshelves?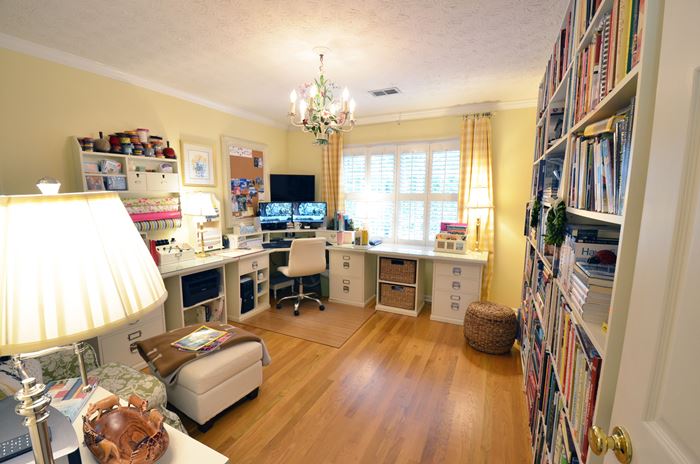 I thought that corner spot would possibly work for a small refrigerator.
You can see it a bit better in this photo. If I was going to put a refrigerator here, I wanted something cute…maybe even a bit retro looking. When I started shopping for a small refrigerator, I was reminded again how hard it is to find a mini-fridge that doesn't have a small freezer built into the design I didn't need a freezer here in the office, just wanted a refrigerator.
I finally found one that fit the cuteness standard. lol First off, it's the cutest shade of blue and I love its vintage/retro vibe. The reviews were awesome and though it a good bit bigger than my last mini-fridge, the cost was a lot better!
It fits perfectly in this corner, though it took some finagling to get it here. I had to unload the bookcase on this end, scoot it out to scoot the refrigerator in, then reload the bookcase back. Good exercise! lol
The manual states this refrigerator needs 1-inch clearance on either side and 1-1/2 inch clearance in the back so that worked out well in this space. I know this photo makes it look like the door won't open very far, but there's actually more space than it looks from this angle.
You can see how far it opens in this photo–plenty enough room to reach what I need. I'm amazed how spacious it is inside! It has another shelf, but I removed it so I could store a full-size pitcher with a built-in filter to avoid using a lot of bottled water during the day. (Filtered pitcher is available here: Large Pitcher with Filter.)
The little thing hanging on the top shelf in the door is a small thermometer I had in my previous refrigerator and it shows this cute fridge gets really cold! It took it about 48 hours to reach the temperature I wanted which is around 37 degrees, but once it reached it, it hardly ever runs. I LOVE this fridge! Having a mini-fridge in your home office will definitely spoil you. Also, I find I drink a lot more water throughout the day with it so close at hand.
I think it's available in other colors, but I purchased this pretty, retro-blue one here: Blue Retro-Style Refrigerator.
If you do like having a freezer in your mini-fridge, this one is also available in bright red and a cute retro green with a freezer here: Retro Mini-Fridge and here: Retro Mini-Fridge. The interior door layout appears to be slightly different in this version of the fridge with a freezer.
I think if I were going for the version that includes a freezer, I'd be tempted to go for this one with the two separate doors. Sooo adorable! This style comes in 5 colors.
I love this little fridge! You'll find it in red, green, blue, black and white with a freezer and two doors here: Retro Mini Refrigerator with Two Doors.
I can't believe how inexpensive it is, especially compared to the one I bought before that's not even as big!
Hope you find this post helpful if you've been thinking of adding a small refrigerator to your home office or bedroom.
*If a post is sponsored or a product was provided at no charge, it will be stated in post. Some links may be affiliate links and as an Amazon Associate, I may earn from qualifying purchases. *