Welcome to the 743rd Metamorphosis Monday! A few days ago I shared an addition I had purchased for the heated bird bath I keep out year around on my deck.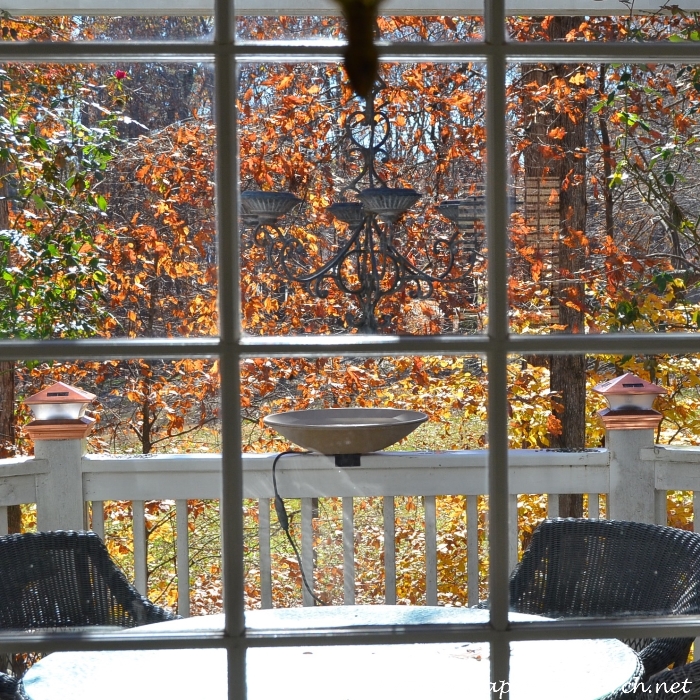 I had ordered a solar fountain for the bird bath. This bird bath see a lot of visitors throughout the day so I thought it would be something the birds would enjoy.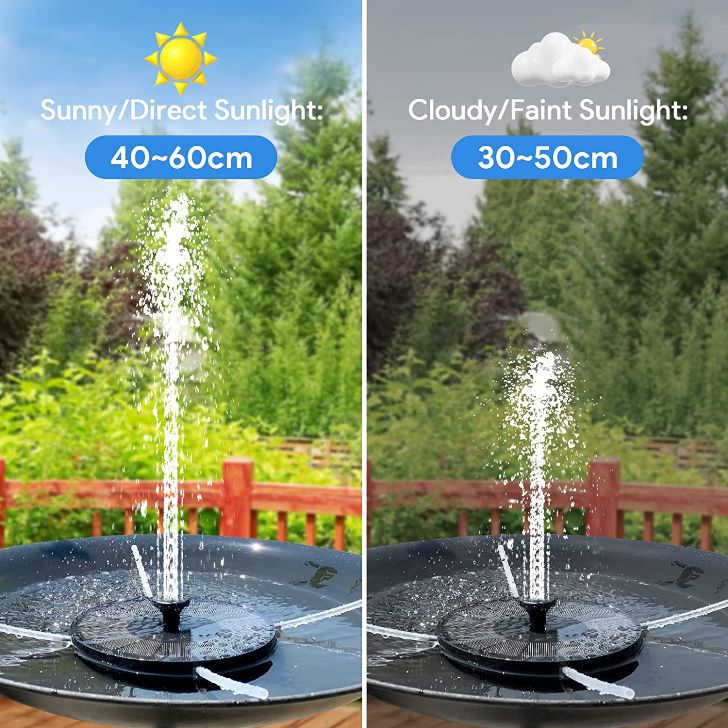 The solar fountain arrived yesterday and I pretty quickly realized my backyard is a bit too shady for it to work at its peak performance. It would shoot water up in spurts, pausing between each spurt/spray. I moved it to this section of the deck near the stairs where the deck sees a bit more sun.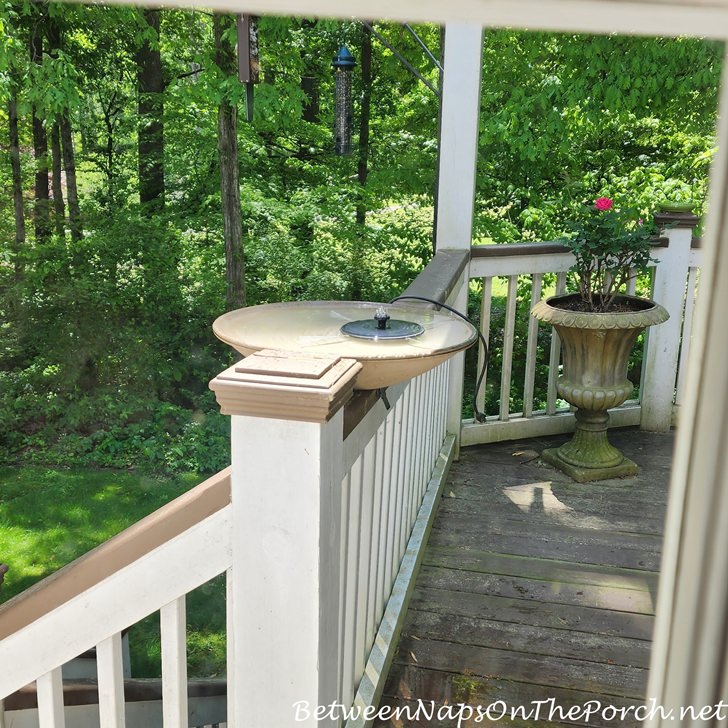 As the sun traversed across the sky and its rays found little open spots in the tree canopy above my deck, the fountain came to life! Unfortunately, it didn't last very long since I have so many trees in my backyard.
So I think what I'm going to do is place my other birdbath back where it normally stays and purchase another birdbath that I can place atop this little bistro table here on the deck that's on the other side of the porch.
This end gets full sunshine throughout much of the day so the fountain should work well here.
Just wanted to share how the fountain was working. If you have a bird bath in a sunny area on your deck or in your yard, it works really well. (Solar fountain is available here: Solar Fountain for Bird Bath.)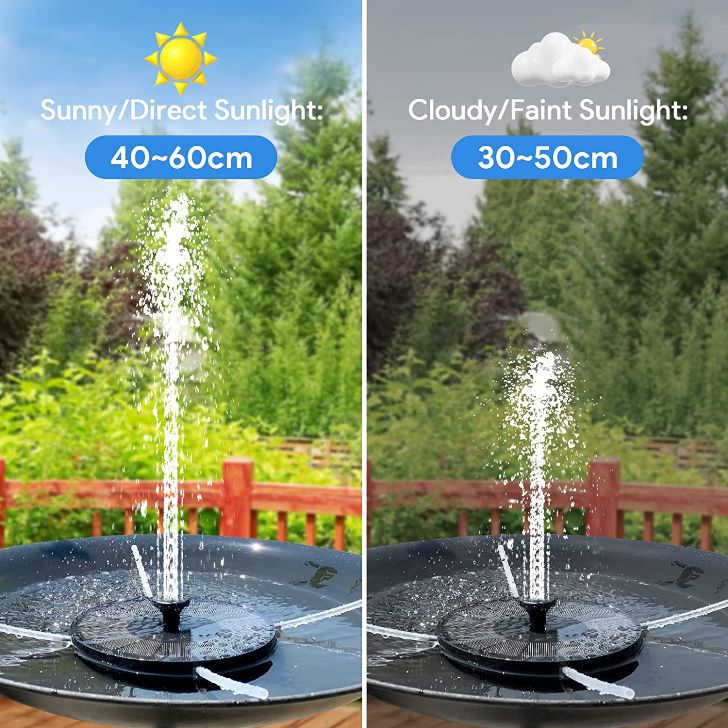 Today, I have a representative coming out from the company who did my epoxy flooring here in the garage.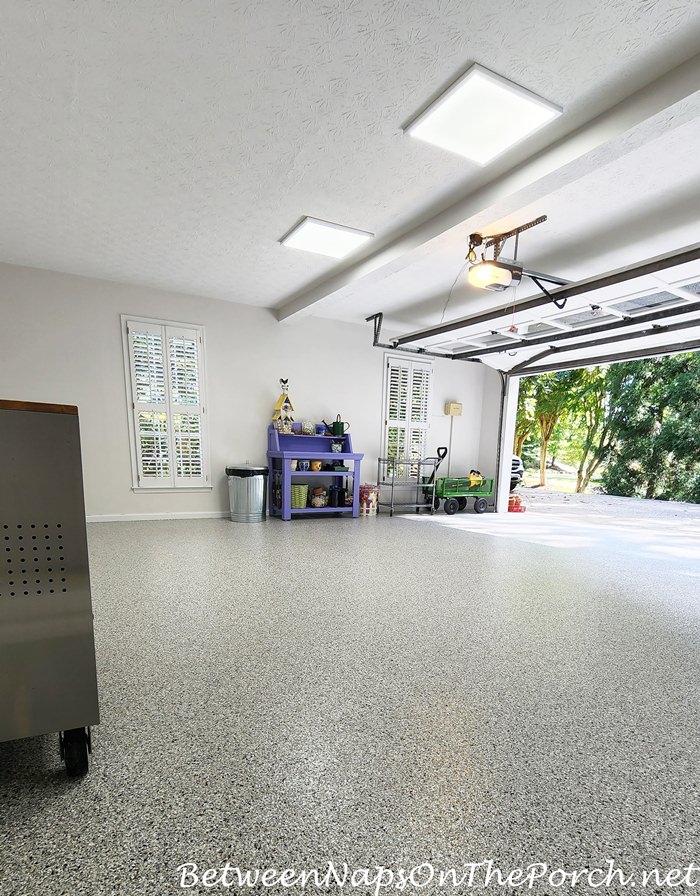 When I did the garage makeover, I got a quote for doing the exact same flooring in this unfinished part of the basement. He's coming out to look at the room again and to verify what we'll be doing. So, hopefully, the flooring will get installed here sometime in the next few weeks.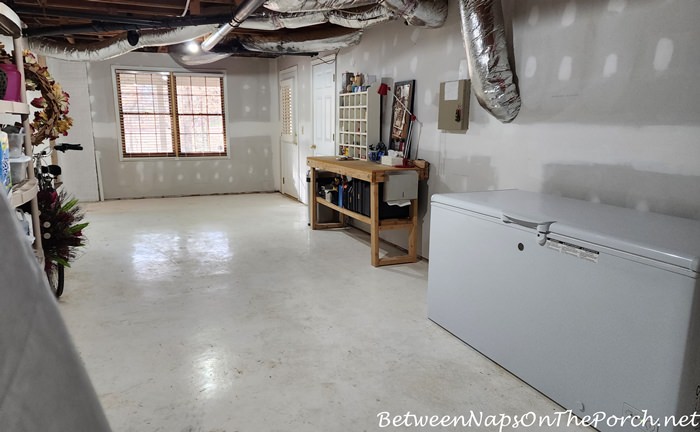 Every time I come down here to retrieve something I have stored in this area, which is almost every day, I imagine how the flooring I have in the garage would look in this space. I can't wait to see that flooring in this space because I have so enjoyed having it in the garage. I'll keep you posted on that and share how it looks once it's done.
Not sure when I'll get the flooring done here on the almost-finished side of the basement. I think that will have to wait until after I get at least one of my bathrooms renovated since it will be a more expensive update. I never use this side, so I guess that's why I'm itching to get the floor done on the unfinished side since I'm in there almost daily. There will definitely be some big updates this year–looking forward to sharing all of those with you as they occur!
Looking forward to all the great Before and Afters linked for this week's Met Monday! Pssst: Did you know Between Naps On The Porch is on Instagram? You'll find me on Instagram here: Between Naps On The Porch. Like to know when a new blog post is up? Subscribe for email updates (it's free) and your e-mail will never be shared. Subscribe for free post updates here: Subscribe.
Metamorphosis Monday: Metamorphosis Monday is a party that's all about Before and Afters. Please link up your Before and After projects like DIY projects, room makeovers, craft projects even recipes. Please do not link up Table Settings, save those for our Tablescape Thursday party on Thursday. If you are participating in Met Monday, you'll need to link your post to the party using the "permalink" to your MM post and not your general blog address. To get your permalink, click on the name of your post, then copy and paste the address that shows in the address bar at the top of your blog, into the "url" box for InLinkz when prompted. NOTE: Please do not link up more than 3 posts from your blog. In order to link up, you'll need to include a link in your post back to the party so visitors to your blog can find the other party participants. When linking up to the party, give the InLinkz system time to find the link in your post to avoid having your link held for moderation/approval. Thanks!

You are invited to the Inlinkz link party!
*If a post is sponsored or a product was provided at no charge, it will be stated in post. Some links may be affiliate links and as an Amazon Associate, I may earn from qualifying purchases. *