Happy Weekend! How is your weekend going? I've been going pretty much non-stop today, which is basically what I do every day. lol I find it hard to sit still for long, anyone else like that?
My day started out with running errands this morning, then I forced myself to work on weeding the front yard the rest of the day. I'm still fighting Spiderwort, I dig it up every year and every year tons of it comes back! Arggg!
And to think I actually planted this stuff in my yard on purpose! It behaved itself in the beginning when it was first planted, but once it decided to spread, it went insane! Never, ever plant Spiderwort in your yard unless you want it taking over every island and flower bed in your entire yard!
Working several hours until my legs became wobbly and my back was starting to hurt, I knew it was time to stop. After a quick shower, I realized I just barely had enough time to make it down to Hermes in Atlanta for a quick exchange. Yesterday, I purchased a bracelet that I've had on my wishlist for over a year, but the sales associate accidentally boxed up a different bracelet. I didn't discover it until I was back home.
I thought it would be sometime next week before I could get back to Atlanta to make the swap, but after my shower I surprisingly felt refreshed enough to make the drive into Atlanta. Normally, I have to psyche myself up for that, but the idea of driving in a cool car with the A/C blasting while listening to a good book on Audible, seemed like paradise after a day of digging out poison oak, Spiderwort and weeds. lol It's all about perspective, ya know!
Can we just talk Hermes bangles for a second–they are truly little works of art! The beautiful designs on their enamel bangles are inspired by the designs created for their iconic silk scarves. I love so many of their designs, especially the equestrian-themed ones, but this one really stole my heart the first time I saw it over a year ago.
The name of this bangle is, "Dans un Jardin Anglais" which translates to, In an English Garden. It depicts a garden filled with flowers, roses, bunnies hiding in grass and a beautiful bird in flight. Such a perfect design for spring and summer!
One side…
The other side…
These pics don't show the second bunny, but he's in there somewhere. The narrower version of this bracelet depicts a squirrel. Not sure why they left the squirrel off the mid-size bracelet. I guess they try to make each "size" bracelet of a particular design, slightly different.
I prefer their Clic H bracelets trimmed out in Palladium, but I actually liked how this bracelet looked trimmed in rose-gold. It's looking rosier in this pic below taken this evening in the office, but in normal lighting earlier today, the rose-gold looked subtle, almost like a cross between palladium and gold.
I just found the widest version of the bracelet online at another site, and it shows a fox! Sooo cute! Tip: If you're ever trying to find a specific bracelet or item on the Hermes website and it shows that it's sold out, call a Hermes store. If they don't have the piece you want in stock, they can often find it in another Hermes store and have it shipped to your home, or at least that's been my experience.
If you have trouble wearing bangle bracelets, check out this post where I shared a sneaky trick for getting those impossibly small bangles over the hand and onto the arm: The Secret to Fitting a Small Bangle Over a Wide Hand.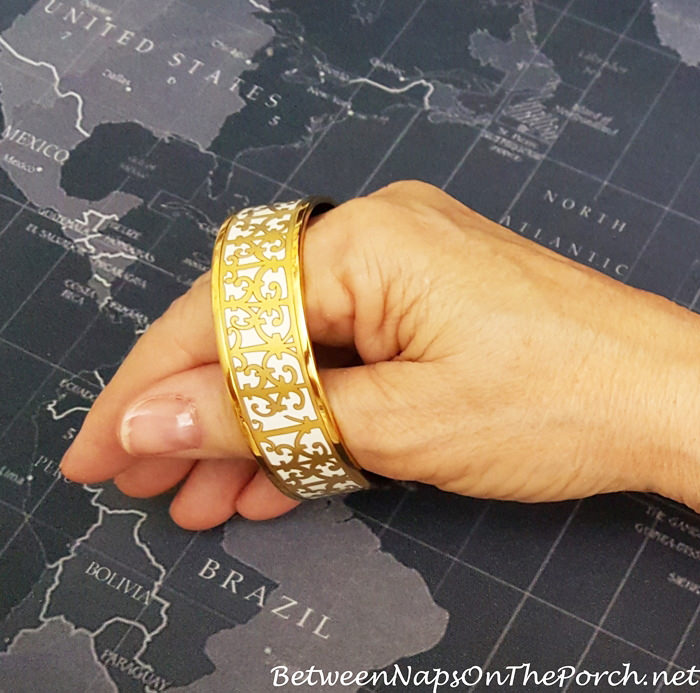 Memorial Day Sales Happening This Weekend
Are you shopping any of the Memorial Day sales this weekend? One of the big sales I heard about was at Nordstrom. They are having their "half-yearly sale right now. Half-yearly…is that the same as semi-annual? lol
I love this ruffled-hem dress that's part of the sale. It looks kinds short on the model, but models are always tall so I have feeling it would be longer on us shorter folks. It comes in four different colors, including black. You'll find it on sale 40% off here: Ruffled Hem Dress.
Update: In love with wicker bag with white accents. Wicker gets me every time! It's available 20% off here: Wicker Bag.
Anthropologie is giving an extra 40% off "home" sale items, 25% off sale clothing and 20% off furniture/decor. Catch that sale here: Anthropologie.
L.L. Bean is giving 20% off everything with the code: SUMMER20. See that sale here: L.L. Bean.
Williams Sonoma is also giving 20% off any order, plus free shipping with the code: SPRING. Find the WS sale here: Williams Sonoma.
J. McLaughlin has a lot of their dresses, shirts, etc… on sale 50%. See their sale here: 50% off .
Talbots is offering 40% off all their sale items, with 50% off when purchasing 2 or more. See that sale here: Talbots.
Pottery Barn is having a graduated sale where the more you spend, the larger the percentage off. If you've been eyeing a large piece like a sofa, chair or office furniture, this may be a good time to buy. You'll find the Pottery Barn sale here: Pottery Barn.
Hope you're have a relaxing Memorial Day weekend. I'll be back out digging up more Spiderwort tomorrow, still have a lot left to get out. Ugh.
See you on Monday for Metamorphosis Monday!
*If a post is sponsored or a product was provided at no charge, it will be stated in post. Some links may be affiliate links and as an Amazon Associate, I may earn from qualifying purchases. *