A week or two ago I ordered these black jeggings during an awesome sale. I loved them the moment I noticed the beautiful button detail on the side near the bottom of each leg.
I've never seen jeggings with a decorative button detail like this and I love it! (Jeggings with jewel button detail are available here on sale: Bejeweled Jeggings. All jeans and jeggings currently on sale can be found here: Jeans/Jeggings Sale.)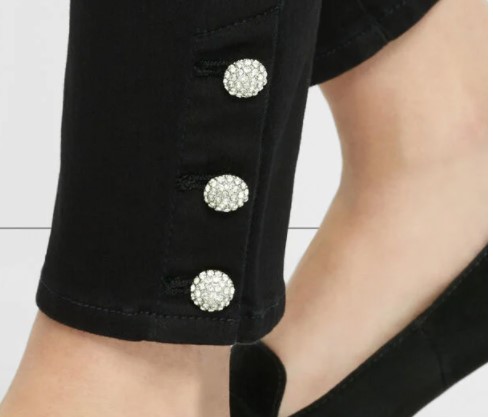 After they arrived, I wanted to give them a quick wash before I wore them but I was a bit worried about the buttons. I normally turn my jeans inside-out when washing them to help preserve the color a bit better, but I was worried about what the jewel buttons would do to the denim fabric, scrubbing up against it during the wash. Even if I didn't turn them inside out, the buttons would still be rubbing against some part of the jeans during the wash process. Ummm, what to do?
I considered using these button covers that I use on all of my jeans/pants waist buttons to protect my shirts. They are great for regular buttons but can be a struggle to get on since they fit very snuggly. I compared the covers to the jewel buttons and realized very quickly that they were never going to fit over the jewel buttons–the jewel buttons are way too big for that. Even if I could have figured out a way to force them on over the top of the jewel buttons, they would probably have pulled out the little stones when I tried to remove them after washing the jeans. Regular button covers were definitely not going to work. (Button covers below are available here: Button Covers to Protect Shirts and Prevent Holes.)
I tried researching ways to protect buttons while washing clothes and saw a suggestion that mentioned covering them with velcro. It suggested cutting a slit in the velcro, placing the piece of velcro under the button (via the slit), then placing the other connecting velcro on top. That would create a little pocket that would hopefully encase and protect the button. Umm, I like that idea!
I decided to give that a try. A lot of the velcro I found online has adhesive on one side so you can mount it to a wall or some other surface. I definitely didn't want velcro with adhesive on one side. After a bit of looking, I finally managed to find this velcro shown below that does not have an adhesive side. It comes in different widths and I went for the 2-inch wide size, thinking that should fully cover the button since the button is around 3/4 inch in size. Hopefully, the velcro pieces I cut to go over the buttons will be reusable, so I'll save the pieces I cut to reuse each time I wash these pants. (This non-adhesive Velcro is available here: Non-Adhesive Velcro.)
The Velcro I ordered should be arriving today so I'll let you know in a future post how this worked. Fortunately, these black jeans won't need washing very often since they won't show dirt easily. Also, they won't be worn every day since I'm pretty much living these days in my super warm and favorite corduroy jeggings (currently on sale HERE) and my new bow-covered jeggings (on sale HERE).
What do you think? Do you think this idea will work for protecting the fabric of my black jeggings? Have you ever used this velcro idea over buttons when washing a garment? Love to hear your thoughts!
*If a post is sponsored or a product was provided at no charge, it will be stated in post. Some links may be affiliate links and as an Amazon Associate, I may earn from qualifying purchases. *