Still haven't turned the corner on this cold, or whatever it is. When I talk, I sound like a man, or maybe a frog–or maybe a man with a croaking frog in his pocket. lol It's embarrassing! When I go someplace like the grocery store, or have to call someone on the phone, I sound ridiculous. Oh well, not much I can do about that.
Spent much of the day in bed, just sleeping and trying to get over this yucky stuff, but I didn't want to let the weekend get by without sharing a quick post. A few folks asked about the centerpiece in Thursday's Christmas table setting, specifically how I incorporated the magnolia leaves. (See table setting in this post: 12 Days of Christmas Table Setting)
To give Mrs. Goose a bit of height in the center….
I placed her atop the Nora Fleming pedestal I purchased recently and shared in this post: One Dish, Many Celebrations. When I bought this piece, I was thinking how much I liked the height and how it might come in handy later in a centerpiece. I didn't expect to need it for that so quickly, but it was exactly the height I needed for Mrs. Goose in this past week's table setting.
To create the centerpiece, I tucked magnolia branches up underneath the pedestal. The ends of the stems were not visible standing or sitting at the table, but if they had been, I would have covered those with some additional magnolia leaves.
Next I tucked small magnolia branches up underneath Mrs. Goose. I expected her to be a wobbly mess while I was doing this, but surprisingly, she wasn't. So I was able to take my time walking around her, tucking branches under her base as I went.
One thing I quickly learned was how much better the centerpiece looked if I used branches that were naturally curving upward, instead of those that just stuck straight out.
As seen below, when they curved upward, they kind of enveloped Mrs. Goose, creating a bit of a nest for her in this 12 Days of Christmas table. (Six Geese a Laying) 🙂 Definitely more pleasing to the eye than if they branches just stuck straight out.
One more tip: The magnolia branches with smaller leaves worked best in this centerpiece. Magnolia trees can have really large leaves, but the big leaves were just too big. Smaller ones were easier to work with and fit in where they needed to go.
Hope that helps break down the centerpiece a bit more and perhaps answers a few questions.
In that post, I also shared this photo of my kitchen with magnolia branches everywhere. It always looks like this when I'm working on a floral or greenery centerpiece, or trying to decorate the mantel with greenery. Another question I received (I think on Facebook) was about the platter on the counter.
This platter was part of the Better Homes & Gardens Christmas dinnerware that you've seen me use in tablescapes over the past few years. I've had this platter for 2-3 years now, I think I purchased it the first year the dishware appeared in Wal-Mart, if I'm remembering correctly.
Here's how this year's platter looks. I'm kinda kicking myself for not buying one when I was in Wally World recently. I love it, too! In the platters, they often include the designs found in the salad plates of the pattern that year, or from year's past. For example, the platter I have above, depicts the barn, deer, bunny and the sleigh seen on the salad plates that were out that year.
The platter below depicts the woody car that's on this years plates. It also depicts the deer, bunny and owl that has been on salad plates over the past couple of years. They may still be on the salad plates that go with this set when it's ordered online, not sure since I haven't looked at those this year. I love the little village in the background.
Oh, I just noticed that we can still see the red barn that's on the other platter, too. I think it was on a previous salad plate, as well. Really love the continuity they have going with this pattern from year to year. This dinnerware is available online here: Christmas Dinnerware.)
When I was in Wal-Mart a few days ago, returning the 12 Days of Christmas salad plates I had purchased a few weeks ago, since I ended up buying two whole sets online as seen in my recent table setting…
…I noticed that they have a lot more of this pattern in stock now at my local store. It appears the dinner plates are almost all sold out. The pretty platter that goes with this set is visible there on the bottom shelf. This set is available online here: 12 Days of Christmas.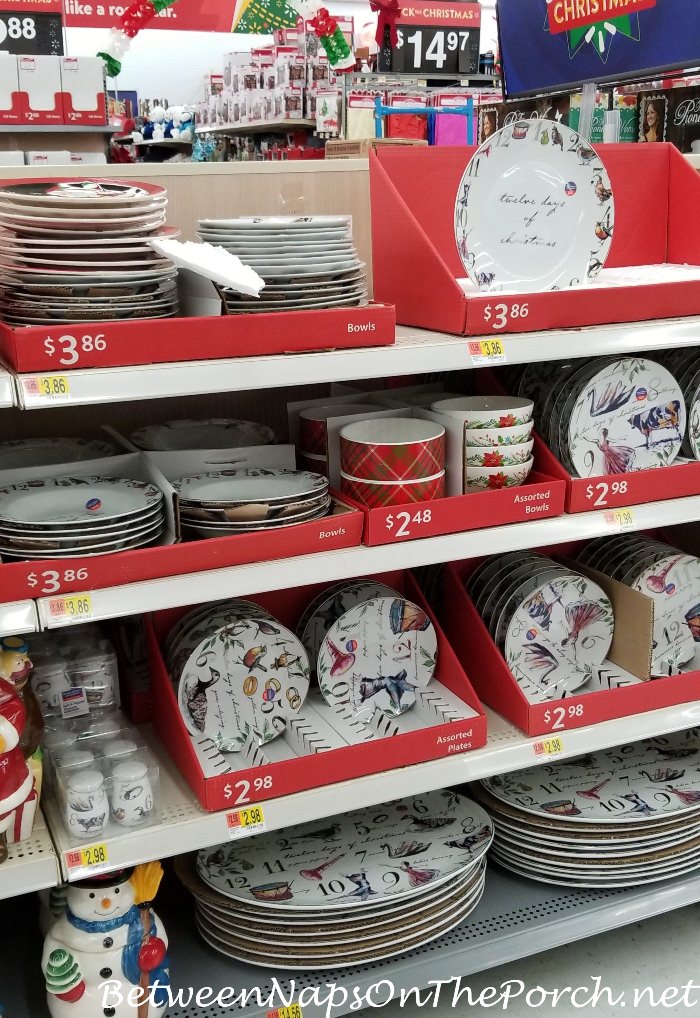 There's even a nice pedestal this year. I picked one up and it's heavy! I barely resisted buying it.
A Christmas Home Tour
Switching gears, yesterday I attended the Marietta Pilgrimage Christmas Home Tour. Photos aren't allowed inside the homes, but I snapped a few photos while on the tour. I loved this!
They used a vintage toy fire truck for a pretty Christmas display in the garden. Do you see the tree it's carrying–undoubtedly back to the fire station. 😉
One of the homes on the candlelight tour…
I've always loved this home and it was especially beautiful decorated for Christmas. It wasn't on the tour, unfortunately.
One of my favorite homes, a Victorian called Mockingbird Hill, was on the tour this year. The driveway was lined with little lanterns which were clear jars filled with candles.
Double porches are the best!
Imagine sitting up there on a pretty day, watching the birds and the world go by.
Enjoy the rest of your evening. See you soon for Metamorphosis Monday!
*If a post is sponsored or a product was provided at no charge, it will be stated in post. Some links may be affiliate links and as an Amazon Associate, I may earn from qualifying purchases. *